Brunch is the best. It's one of those portmanteaus that we actually like (unlike smog or motel, ugh) because it sparks such joy. Drinking during the day is also something sparks joy.
So obviously, we jump at the chance to combine the two, which is why we've decided to share this round-up of the best bottomless brunches and lunches in Brisbane, so you can join in on the fun.
Rita's Bar
Teneriffe
If you prefer a little spice over your standard bacon and eggs come brunch time, then we have just the spot for you. Rita's, the Teneriffe tequila and taqueria bar has joined the brunch gang, slinging two hours of specialty margarita jugs and four different types of bottomless tacos every Saturday and Sunday from 10am. Yep, we're drooling already. You can make a booking via their IG DMs or just walk on in and let the good vibes roll.
When: Saturdays and Sundays, 10am to 2pm
Cost: $75 per person
Find out more here.
City Winery
Fortitude Valley
Wishing you were ensconced in one of Australia's many stellar wine regions, spending an afternoon sipping on rosé and nibbling charcuterie at a top notch winery? Well, there's no need to pack your bags, you can do that right here in the heart of the Valley at City Winery. Even better, you can do it for just $65pp with their new Lazy Sundays, which scores you a two-hour drinks package and a grazing selection to share with your fellow wine-loving friends. To get in on it, just book in for any Sunday and pre-select the package here.
Hey Chica
Fortitude Valley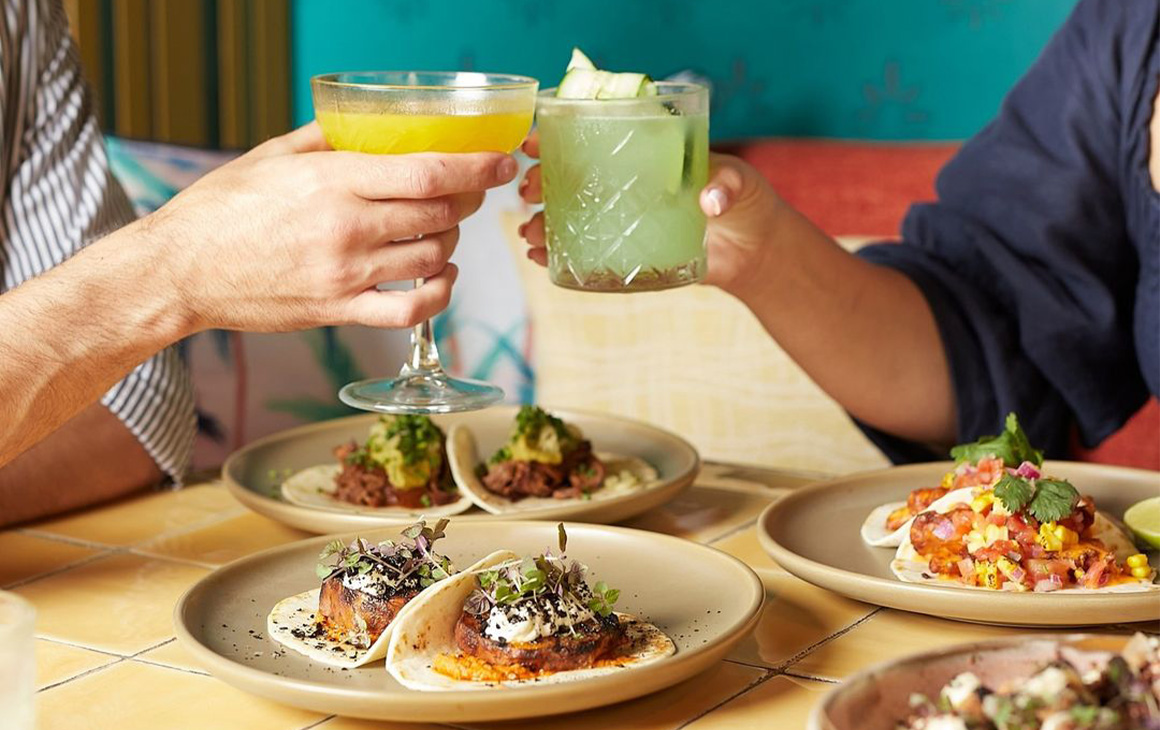 Did somebody say tacos and tequila? Yes, we did—get your amigos together for a cheeky brunch at Hey Chica's new Autumn Social every Friday and Saturday. With a two-hour brunch package on offer for just $85pp, this Latin American-inspired venue is the perfect spot to socialise and enjoy some great music while stuffing your face with endless tacos and guac, and washing it all down with salty margaritas.
Maggie May
Newstead
Your favourite 70s inspired supperclub is now doing brunch, so don your best flared denim and get down there. Every Saturday and Sunday, Maggie May serves up a two-course brunch of mouth-watering breakfast plates like crispy pork belly with poached egg and creamed corn and wild mushrooms on toast with creamed leeks and Gruyere. Alongside your breakfast you can sip on your choice of two hours of either bubbles and tap beers for $69pp or cocktails, bubbles and tap beers for $99pp.
BAR KAZBA
Fortitude Valley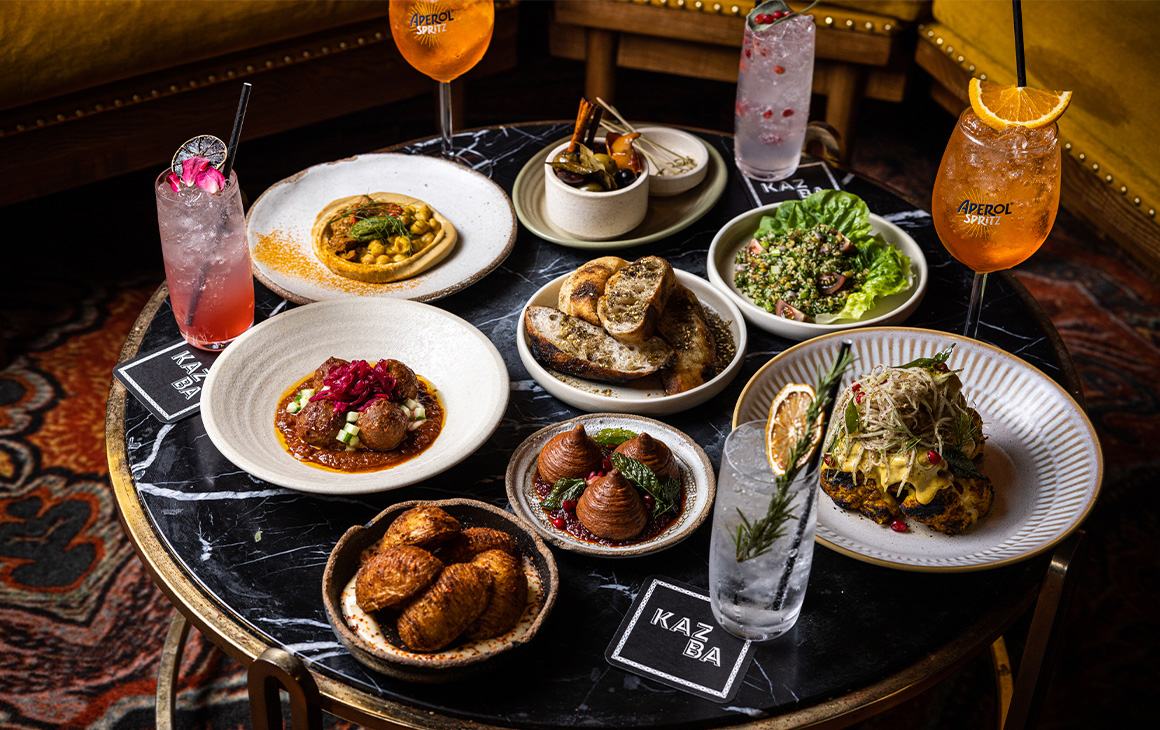 If you're looking for something a little more exotic, BAR KAZBA has you covered with their Yalla Saturdays on the last Saturday of every month. Here brunch consists of endless plates of small mezze like stone baked Za'atar flatbread, halloumi doughnuts, kofta balls, hummus, triple cooked crispy spiced potatoes and BBQ cauliflower shawarma. The best part though? The Persian dessert station to hit at the end. You'll pair it all with three hours of Aperol spritzes, G&Ts and house wine, while a live DJ plays Arabic house and party tunes well into the afternoon. Bonus, the long lunch will only set you back $69pp—so find a date and prepare to kick up your heels at Yalla Saturdays.
Mucho Mexicano
South Bank
Spice up your weekend plans with a Mexican brunch at Mucho Mexicano. 'Trombas And Tacos' is serving up a killer menu of saucy, authentic tacos, with fillings like wagyu beef cheek, grilled achiote chicken, roasted cauliflower, pulled pork and more. Wash these down with 2.5 hours of frozen Tromba margaritas and mini Tromba margaritas for $79pp and you might just want to return every weekend for this Mexican fiesta.
Fiume Rooftop Bar
Howard Smith Wharves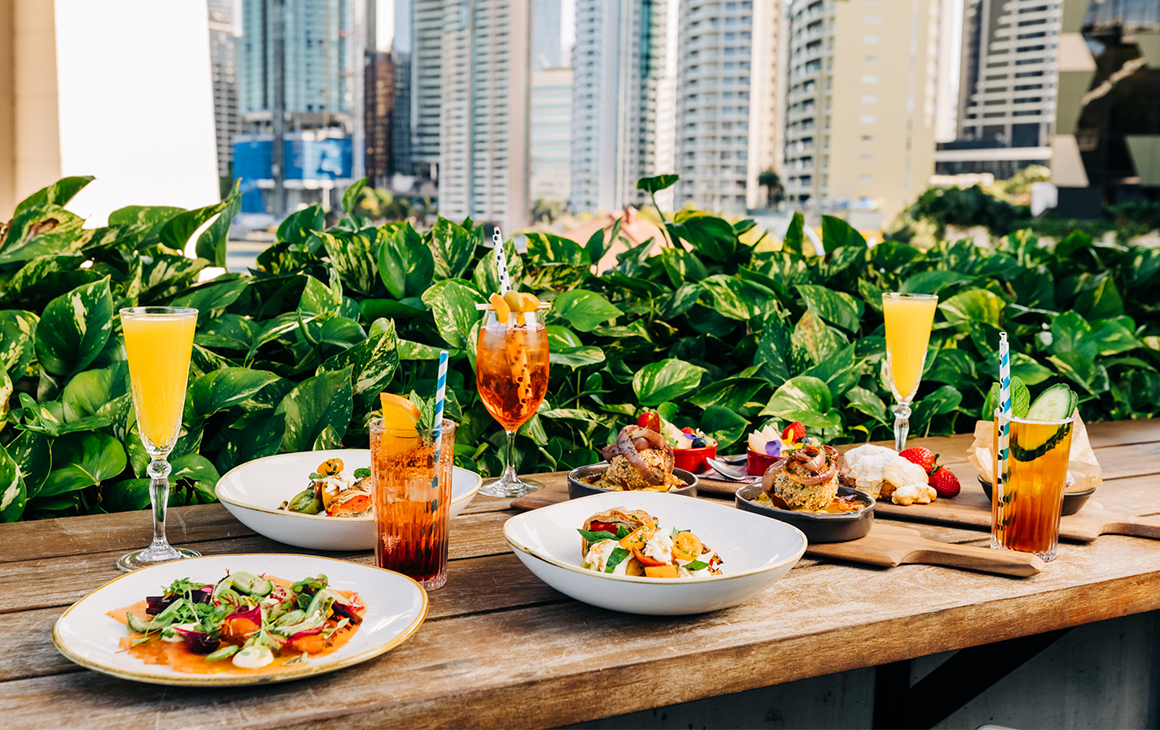 As far as we're concerned, sipping mimosas over Sunday brunch with 360-degree views of the Brisbane River is about as good as it gets. For $110 per person, you can now experience this luxury thanks to Fiume Rooftop Bar's latest bottomless brunch offering. From 11am every Sunday, enjoy a three-course brunch featuring local delights like Stanthorpe apple and tonka bean crumble, hibiscus flower with basil seed-cured salmon, and Barambah yoghurt pikelet with riberry jam as well as a two-hour beverage package that includes DIY mimosas, bellinis, and Kir Royal. If you're feeling extra bougie you can also upgrade to a Taittinger champagne package or the Signature Sips package with three extra cocktails for an additional $30 per person.
Olé
South Bank
Want to brunch like the Spanish? Olé has got you covered with their bottomless feast that they've dubbed 'Mas Tapas y Sangria'. Every Saturday and Sunday from 11.30am, you can indulge in a five-course spread of tapas and 2.5 hours of tipples for $79pp. Sip on frozen Tromba margaritas, jugs of sangria and Spanish mimosas as you snack on plates of croquetas, pan con tomate, patatas bravas and cauliflower fritas and pretend you're on a beach somewhere in the south of Spain.
Comuna Cantina
Brisbane City And Everton Park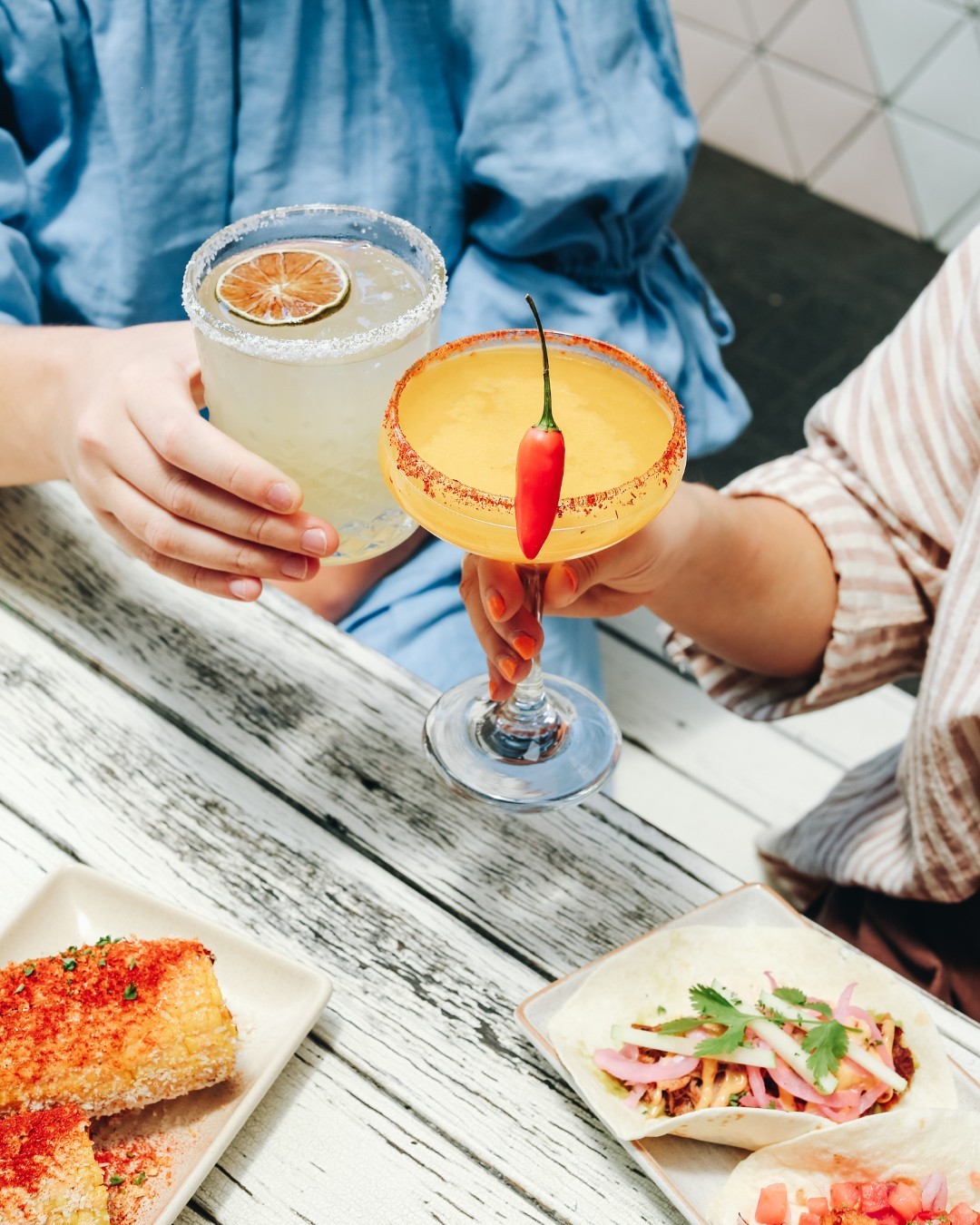 If endless platters of tacos and a couple of spicy margaritas sounds like your ideal Sunday afternoon, fire up the group chat and get a crew together for Comuna Cantina's margaritas and tacos sesh. This pastel pink joint dishes up two hours of the goods every Sunday from 2pm for $75pp, with crunchy haloumi, grilled chicken and pulled pork tacos to pair with Tommy's, pineapple and watermelon margaritas. Corn chips with guacamole are also included in the package, along with tap beers and wines. Best of all, they can even do gluten and dairy free. Find out more here.
Cielo Rooftop
Fortitude Valley
Everyone knows the only logical way to spend Sunday arvo is on a rooftop, soaking up the sunshine, indulging in banquets with bottomless drinks, right? And when it comes to deciding where to go, Cielo Rooftop ticks all the right boxes—we're talking about a four-course Italian banquet lunch with two hours of wine, beer or mocktails and doing it all with an incredible view in front of you. It's a big yes from us. Long lunching at Cielo will set you back $59pp and bookings are essential. Secure your spot for this Sunday here.
Summa House
Fortitude Valley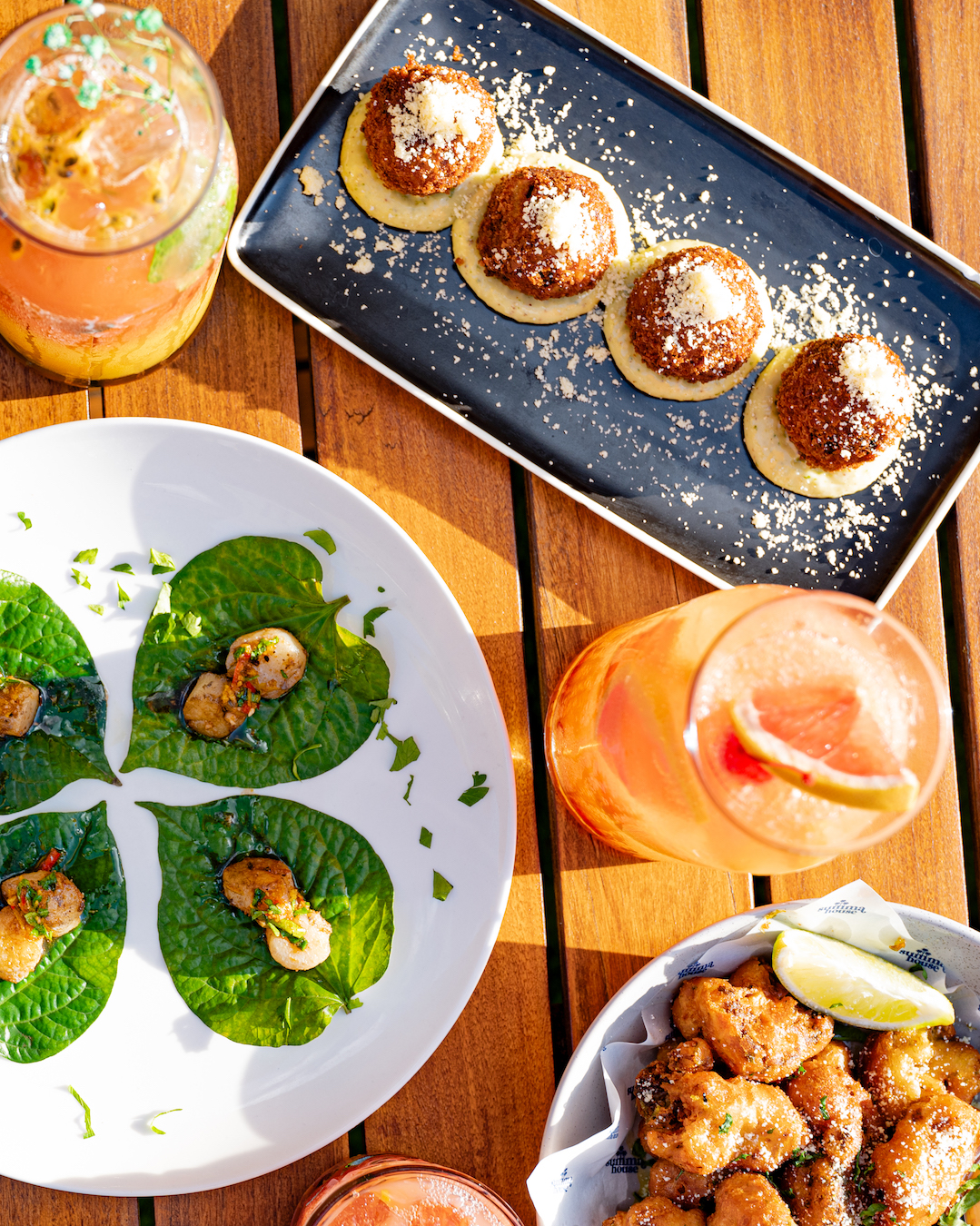 For a brunch that packs a punch, Summa House's Pow Wow menu fits the bill. Your weekend can be filled with a range of tapas including corn fritters, crunchy chicken sliders and popcorn chicken washed down with cocktails jugs and house beer and wine for two hours for $65. You can also opt to elevate your experience with Pow Wow Plus for $110 for bougie food options like sticky pork pancakes and lobster buns paired with menu cocktails and house spirits, wine and beer. They'll even cater for for vegetarian and gluten-free. Hot tip: They also do an evening version on Wednesday, Thursday and Friday nights if you're not a morning person.
When: Saturdays and Sundays, 12pm-3pm
Cost: $65 or $110 per person
Find out more here.
Newstead Social
Newstead
Newstead Social has launched its version of a boozy brunch with a six-course menu and beverage package on offer every Saturday and Sunday from 11am. Steering away from the usual breakfast classics, the menu boasts delicious brunch options (perfect for a hearty Sunday feast, if you ask us) inclusive of popcorn chicken, porcini and truffle arancini, lamb tacos and pork ribs. There is also a vegan substitute menu available for those opting for a planet-friendly brunch. For the generous price of $55pp, either menu is paired with two hours of mimosas, house wine and selected beer.
When: Every Saturday and Sunday, 11am
Cost: $55 per person
Find out more here.
Lina Rooftop
South Brisbane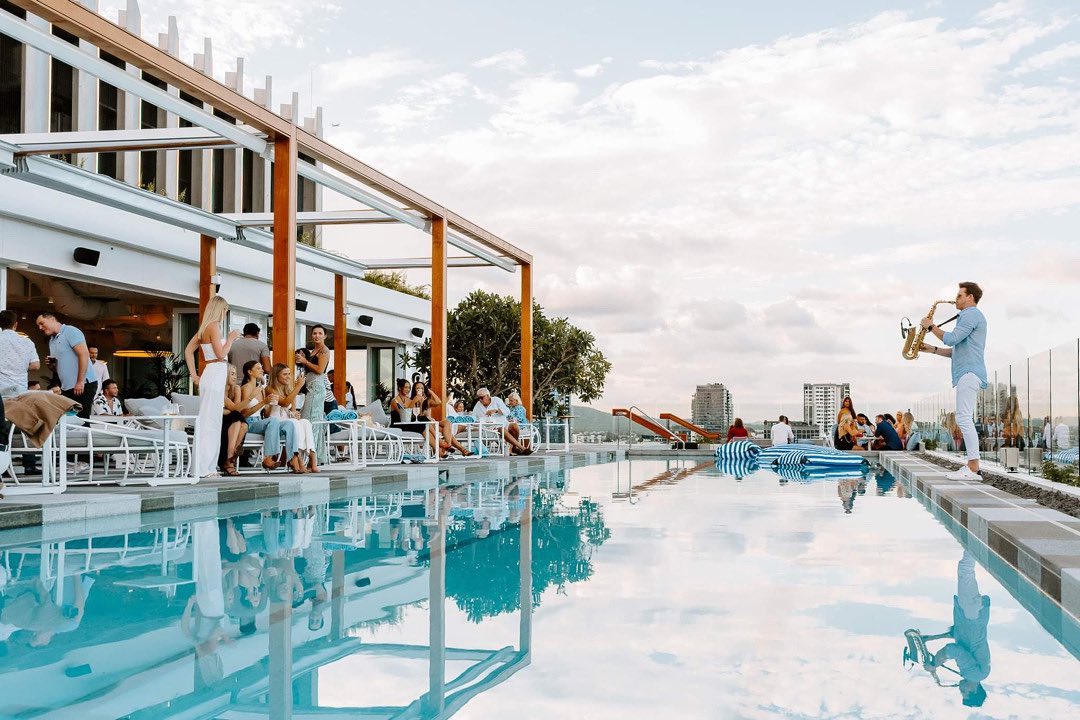 You can't beat a rooftop venue for some luxe Sunday vibes, and Lina Rootop's latest offering doesn't disappoint. Their new Sunday brunch offers a two-course brunch featuring grilled king prawns, slow roasted lamb shoulder and roasted eggplant, with two options for a paired two-hour drinks package, both offering a Bloody Mary or bellini on arrival: the Silver package with house beers and wines for $89pp, or the Gold package with added spirits, spritzes and slushy cocktails for $125pp.
Massimo
Brisbane City
The question on everyone's lips when Massimo reopened after the floods was, 'Are the bottomless lunches back?' The answer is, yes, yes they are, so book yourself in as soon as possible. Available Fridays, Saturdays, Sundays and public holidays, this Italian banquet will have your table groaning under the weight of the food. For $99, you'll get a shared feast of dishes like chargrilled lamb with truffle risotto, a half or whole roast chicken with sides and house donuts filled with Nutella, paired with two hours of wine, sparkling or beer. Belissimo.
Madame Wu
Brisbane City
With its sweeping river views and laid-back vives, Madame Wu does Supreme Sundays, a two-hour package offering a mouthwatering Asian fusion banquet and a premium drinks menu with wines, tap beers and cocktails. The deal comes in at $100pp, and bookings are available between midday and 2.30pm.
When: Sundays
Cost: $100 per person
Find out more here.
Vici
South Bank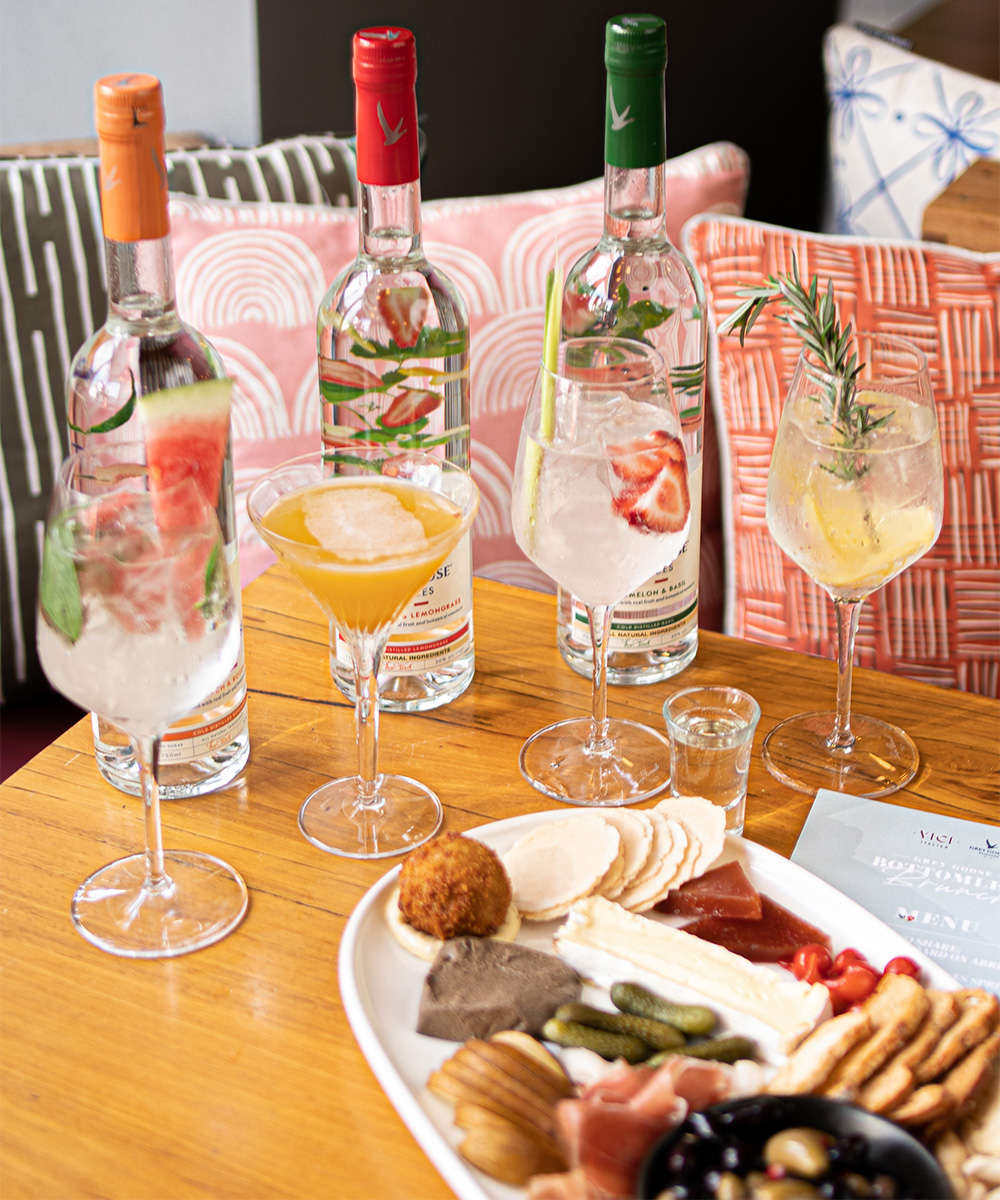 Take your Sunday session a little earlier at Vici, where the weekly bottomless brunch offering looks like an Italian antipasto board paired with a three-hour spritz package. Three different flavours of Grey Goose's Essences Spritzes are on the bev menu, as well as passionfruit martinis, and you could always stick around afterwards for a wood-fired pizza or tiramisu.
When: Sundays, 11am-2pm
Cost: $70 per person
Find out more here.
Ling Lings
Fortitude Valley
Ok, it's more like a late lunch than brunch, but this underground pan-Asian bar and eatery's dim sum brunches are still very much deserving of a spot on our list. Every Sunday, you can chow down on a nine-course banquet paired with two hours of Tiger Beer, prosecco, rose, Aperol spritzes and mimosas. Best of all, the whole package will only set you back $49pp and there's even a vegan version.
Stanley
Howard Smith Wharves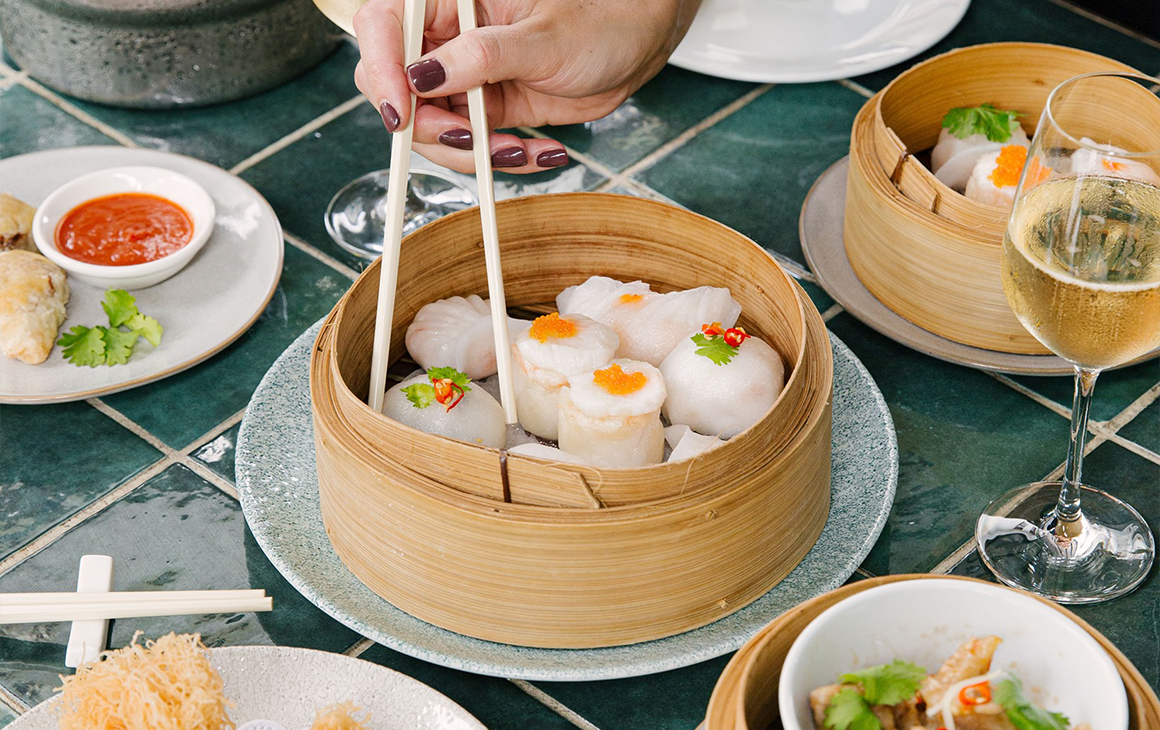 If it's a boujee brunch you're after, it doesn't get much more sophisticated than Stanley's Sunday yum cha. Pair their decadent decor, incredible riverside views and delicious banquet menu with two hours of Louis Roederer champagne and you've got a recipe for the best Sunday lunch of your life. With eats like XO seafood dumplings, BBQ pork buns with chilli jam and salt and pepper squid on the menu, it's not just the champagne that will have your attention either.
When: Every Sunday, 11am–4pm
Cost: $150 per person
Find out more here.
Cloudland
Fortitude Valley
If you're looking to spice up your Sundays and stray from the usual vanilla outings, Cloudland's Brunch with Bite is your ultimate weekend destination. For just $85, get two hours of wine, beers and spritzes and a menu featuring delicious Italian eats, such as arancini, bruschetta, gnocchi and pizza, as well as entertainment and games from your riotous and risqué drag queen hosts BeBe Gunn and LuLu Lemans.
Mecca Bah
Newstead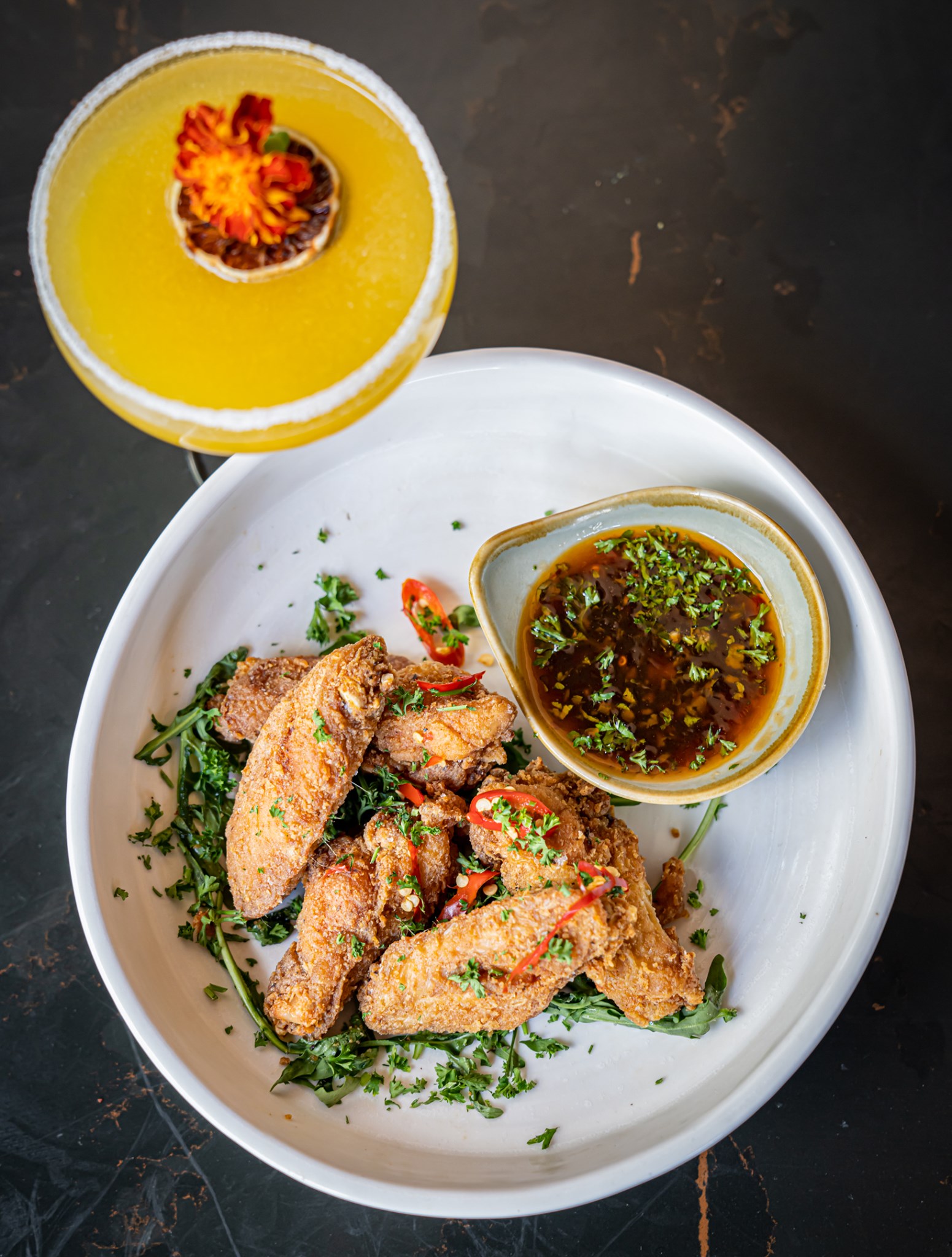 Turkish delight martinis for lunch? Yes please. You can havee them at Mecca Bah, which dishes up a banquet-style bottomless brunch every Friday to Sunday between 11.30am and 3pm. You need at least six people to take part, but if you can get a crew together you'll enjoy a spread of mezze like sweet and spiced wings and glazed falafel, along with two hours of wine and cocktails.
Darling & Co
Paddington
Get ready to 'gram because Darling & Co's boozy brunch is back and it's going to have your group chat buzzing with DM notifications. Every weekend, you can head along to the vibrant, garden-inspired bar to indulge in three courses of antipasto, your choice of pizza and a side salad, complete with two hours of spritz and prosecco.
When: Every Saturday and Sunday, 12pm
Cost: $69 per person
For more information, click here.
Ivy Blue
Petrie Terrace
Up on their rooftop above Caxton Strett, Ivy Blue serves up a Sunday brunch worthy of getting a group together. For $49pp, you and your crew can score two hours of food and drink to enjoy in the sunshine. You'll need a minimum of four people for this one, so fire up the group chat.
Neesh Bar
Woolloongabba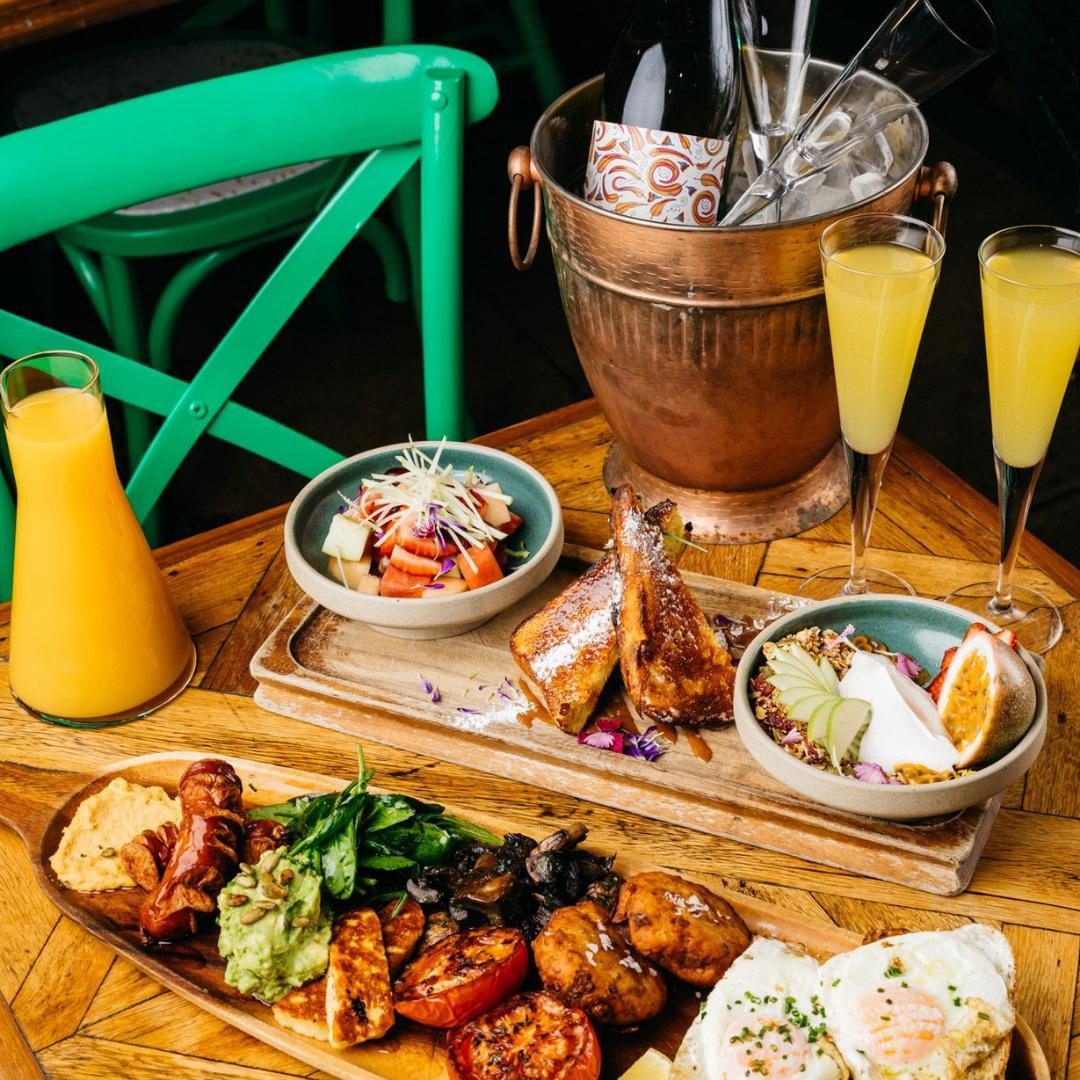 From 10am on the daily you can book your crew in at Neesh Bar for a bottomless brunch. Complete with a Neesh Grazer board—which features sourdough, fried eggs, avo, halloumi, potato rosti, granola and yoghurt and a whole lot more—and two hours of bubbles for $50pp. Oh, and the outdoor courtyard is dog-friendly, so your pooch can totally join in the fun too.
Chu The Phat
South Brisbane
Chu The Phat is well and truly a member of the brunch feasting club, with their Super Sundays bottomless banquet available every week. Enjoy a two-hour banquet and drinks package, which includes Aperol spritzes, beer and wine for $60 per person. The banquet itself will satisfy all your Asian-fusion cravings, with delectable dumplings and yum cha classics such as veggie spring rolls and mung bean pancakes aplenty.
Warehouse 25
Milton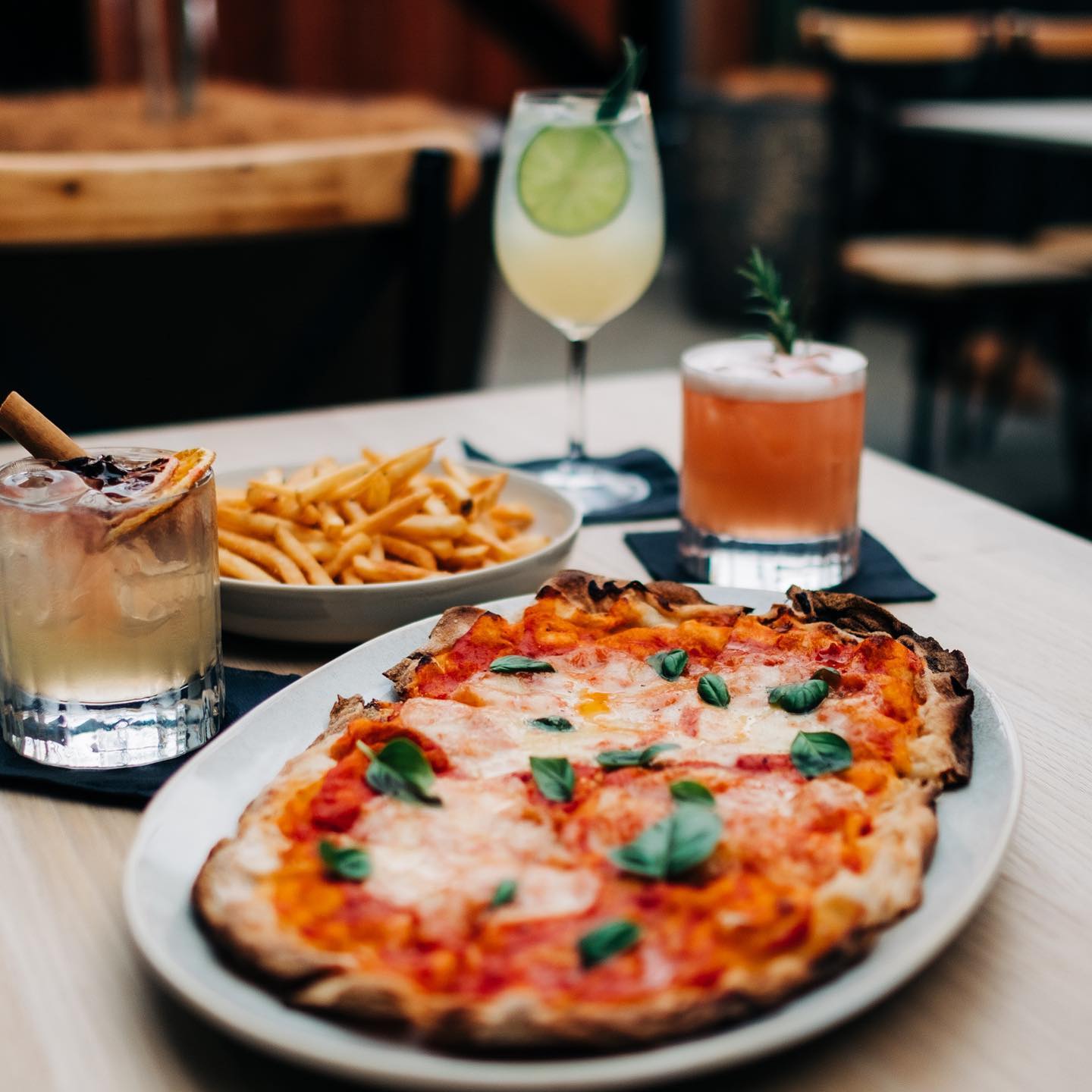 If bottomless pizza and gin cocktails sounds like your idea of a good time, then head for Warehouse 25 for their version of bottomless brunch, and prepare to have your fill of wood-fired pizzas while you sip delicious cocktails. Available from 12pm–4pm every second Saturday, the feast will set you back $79 for two hours of all the pizza you can eat and cocktails to wash it down with.
Covent Garden
West End
If there's anyone who knows how to do brunch right, it's Covent Garden. This leafy gin palace goes troppo every Sunday with two hours of cocktail jugs and a grazing board for two. With their leafy garden-inspired venue, it's the ideal spot for gin-lovers to enjoy a cruisy afternoon.
For Brisbane's best breakfasts sans the booze, head here.
Image credit: Hayley Williamson, Stanley, Warehouse 25, Neesh Bar, Mecca Bah