Breakfast in Brisbane is almost a cultural movement. On almost every street corner is somewhere you can get coffee and a decent feed—we've almost too many cafes to choose from. To settle for a substandard start to your day is bordering on the criminal, so instead of settling for burnt toast or microwaved porridge, launch yourself headlong into post-dawn endeavours that won't leave you disappointed.
From north to south, east to west, we've lined up our absolute favourite spots for breakfast in Brisbane right now—after much deliberation and arguing in the office over who does it best. By no means is this list exhaustive—if you want more options you can check out our list of the 50 best cafes in Brisbane.
Petrichor & Co
Hamilton
If you've never sampled a Colombian or Latin American-style brunch, then you need to head to Petrichor & Co. These guys dish up epic feasts inspired by the flavours of South America—think arepas stuffed with pulled pork, poached eggs, guacamole and salsa, and rich huevos rancheros. Of course, you can still get more familiar feeds, including spiced pumpkin pancakes, corn and zucchini fritters and avocado on sourdough.
Morning After
West End
They'll take care of you in the morning and well into the afternoon. A typical brunch date at Morning After usually includes their iconic breakfast carbonara (pasta for brunch is always a good time, trust us) and a fancy-ass MaMuffin from the all-day menu, and maybe some late-morning calamari to get you into the lunch mood. A must-do for any bruncher worth their pink Himalayan mountain salt.
Miss Jones
New Farm
With a whole new menu every season, Miss Jones just keeps us coming back again and again and again (and again). Take a seat in their cute, pastel interiors and feast your eyes on their epic hotcakes, loaded smashed avo and stacked brekky burgers—and keep an eye out for their weekly specials too.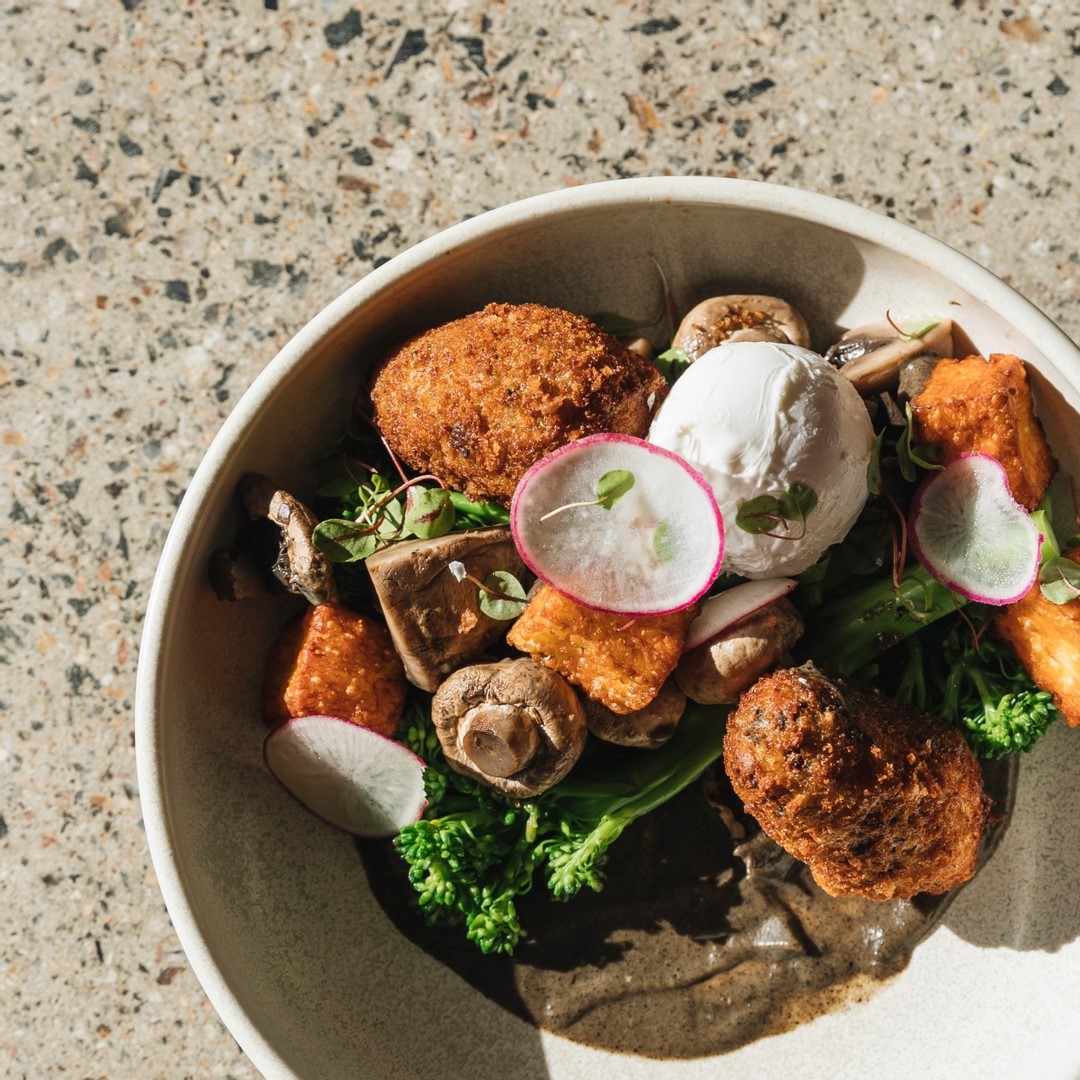 Pawpaw Cafe
Woolloongabba
Woollongabba fave, Pawpaw knows a thing or two about putting on a killer breakfast in a stylish space. Our go-to dishes include the croissant eggs benedict, piling bacon and hollandaise sauce on a flaky croissant, or whatever insane sweet brekky they've cooked up for the season—this winter it's a peanut butter and jelly croffle w ith peanut butter ice cream, strawberry compote, chocolate ganache, white chocolate shard, strawberry and peanut butter snow.
Blockhouse Eat + Drink
Nundah
Nundah favourite, Blockhouse has a moreish and creative breakfast menu that's all over the shop in the best possible way. Fried chicken and corn waffles. Okonomiyaki waffles with maple bacon steak. Avocado on toast with popcorn chicken. We could go on. Best of all, the Blockhouse brunch menu runs allll day.
Banter Coffee
Manly
No need to trudge halfway to the city for breakfast, there's plenty of tastiness on offer out in the 'burbs, especially in the bay. Banter's weekly specials honestly have us travelling the other way—we'd go out of our way for their inventive feeds any day of the week. But even their regular menu is delish—apple crumble French toast? Green pea, zucchini and mint fritters? Yes to all of the above.

Farmhouse
Kedron
Managing to give off serious country barn vibes despite being located in a quiet suburban street in Kedron, Farmhouse usually has a line snaking down the street on Sunday mornings—but if you can hang in there, it's worth the wait. Maintain your position and be rewarded with breakfast gnocchi in chilli sauce with thick-cut bacon, parmesan and free-range poached egg or their iconic one pan ricotta hotcake.
Smoked Paprika
Paddington
One quick scroll through Smoked Paprika's Instagram feed and you'll be drooling excessively, already planning your visit for their next weekly special. Last week it was a mac 'n' cheese scotch egg, next week, who knows? Their regular menu is pretty damn tasty too, and with their portion sizes you'll be full until dinner.
Billykart
West End and Annerley
We're big fans of unique, quirky brekkies, and no one does quirky quite like Billykart. They take the humble poached eggs and load them up with crispy potatoes, cheese sauce and bacon jam, and turn cheese souffle into a brunch number with the addition of bacon or cured ocean trout, poached eggs and herb hollandaise.
Peach Cafe
Auchenflower
A newbie to the list, Peach Cafe first caught our attention with their pastel pink facade—and kept it with their epic breakfasts like vegan hotcakes, halloumi hash burgers and loaded benny croissants. One mouthful of the spiced apple, oat crumble, salted dulce de leche and ice cream topped hotcakes and you too will be hooked.
Pablo
New Farm
Now before you go trying to tell us that Pablo shut their doors years ago, stop, because the rumours are true—Pablo is back, and they've brought their smashed peas with them. Pablo 2.0 isn't even far from the original, and you'll find a line up of brunch eats worth falling in love with all over again on their new menu. But let's be real—you know you're going to get the peas.
Chapter IV
Paddington
Take every one of your favourite breakfast dishes and give it an epically tasty twist—that's pretty much the menu at Chapter IV. Housed in an old Queenslander complete with a verandah that offers up some pretty epic views of the city, Chapter IV dishes up hearty versions of French toast, fritters, waffles, hash cakes and eggs benny, with a healthy green buddha bowl thrown in for good measure.
My Mistress
Albion
A familiar favourite, My Mistress has been going strong in Albion for over six years now, dishing up their tongue in cheek breakfasts to the masses on a weekly basis. Personally, we're big fans of the 'Oh My Geisha,' a Japanese-style okonomiyaki pancake topped with a fried egg, but you might prefer the 'Rendezvous,' a classic smashed avo on sourdough with labneh, dukkah, beetroot hummus and grilled halloumi.
Halo Ground
Fortitude Valley
They may be tucked away in a random cross street in the Valley, but Halo Ground is worth hunting down a parking spot for. This unassuming cafe dishes up seriously epic feeds, from their pork belly benedict which features thick slabs of pork belly alongside eggs benny waffles to their orange blossom hotcakes with pineapple custard. If the weekend crowds are anything to go by, they're doing something very right.
Florence Cafe
Camp Hill
This relaxed cafe in an old Queenslander cottage does breakfasts with a difference—they make all their preserves, pickles, ferments and condiments in house, and use them to full advantage in every dish. Drop in for bunch and you can tuck into the likes of their savoury mince, with calamari and sobrasada bolognaise, heirloom tomatoes, buffalo curd and seaweed vinaigrette atop sourdough flatbread, or mushrooms served up with potato pancakes, poached eggs, pepper sauce and ricotta.
Finished your Brisbane breakfast and ready for lunch? Check out the best spots for a long lunch here.
Image credit: Nelson Zambrano (Petrichor & Co), Pawpaw Cafe, Farmhouse, NIRA Creative (Peach Cafe), My Mistress