When it comes to breakfast, we are so bloody thankful for Brisbane's western suburbs. It's the region that covers Graceville, Ashgrove and the breakfasting paradise that is Paddington so naturally you know you're in for a wild time.
Saddle up the pony, this weekend we're heading west for more of Brisbane's best breakfasts.
Chapter IV
Paddington
Just across from the Antique Centre, Chapter IV is a favourite haunt for Paddington's committed breakfast-goers. Serving up a delicious menu for breakfast and lunch, Chapter IV also bake all manner of sweet treats in house, making it a great local spot for mid-morning coffee or afternoon tea. Dig into their peach melba French toast and enjoy the views from the balcony.
Wild Canary
Brookfield
Situated within a Brookfield nursery, Wild Canary is a botanical paradise and the perfect breakfast spot for any aspiring plant ladies. Ergo, it's the gardener's breakfast everyone comes here for. Complete with bacon steak, slow roasted tomatoes, cheese kranskies, house baked beans, mushrooms, grilled halloumi, avocado, garden greens and a couple of eggs on toast, it's everything you need to replenish your stores after a good going with the weed wacker.
Goodness Gracious
Graceville
The first thing you need to know about GG is that they don't do anything by halves. They're big fans of the whole hog and offer an all day menu that pops off with decadent dishes like the scrambled egg with lobster, vegan gnocchi and even a cheeky cheeseburger benedict. Goodness Gracious also busts out with a patriotic Iced Vovo or Tim Tam smoothie which we HIGHLY recommend.
Smoked Paprika
Bardon
If you haven't yet been to Smoked Paprika we can guarantee you will almost definitely have driven past it countless times. They're stationed on Bardon's busy Macgregor Terrace and have garnered a pretty loyal following of diehard breakfast fans with their signature breakfast of Hungarian goulash with poached eggs, hollandaise and halloumi. Naturally, we're chasing the titular ingredient, so the crepes filled with chicken paprikash get a very special mention from us.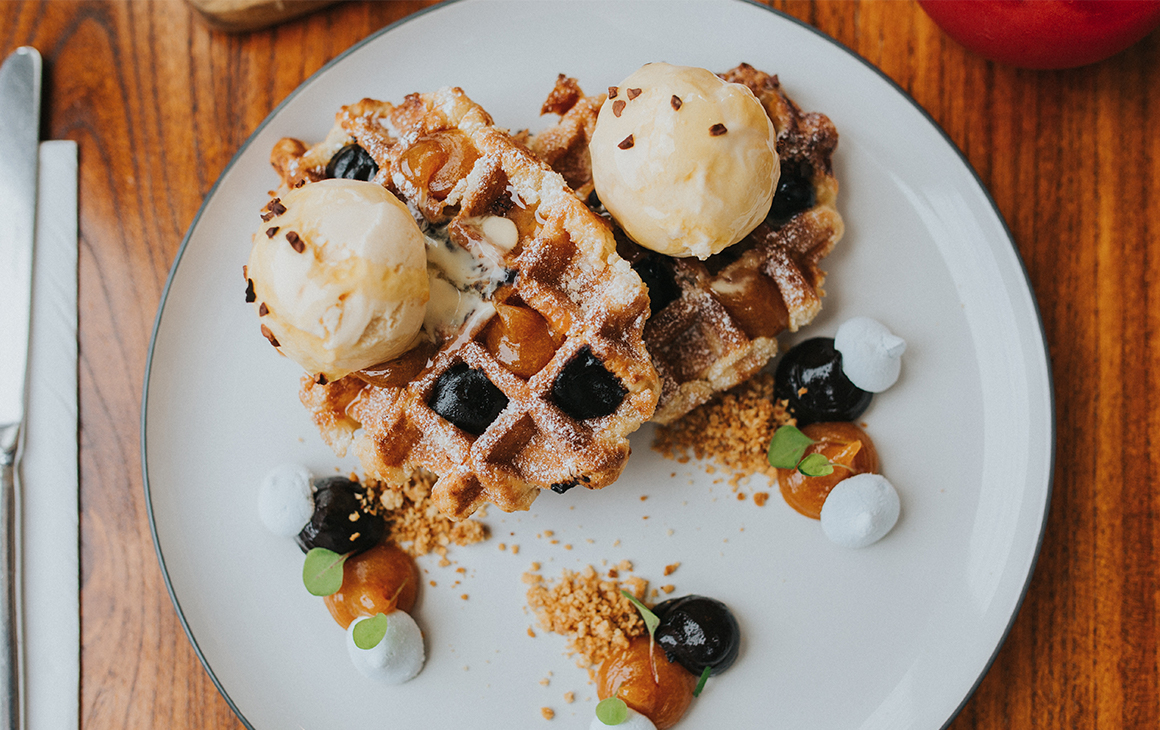 Naim
Paddington
Single handedly bringing Middle Eastern cuisine into the breakfastsphere, Naim's approach to the morning meal is a downright delight. Every item on their brunch menu, from the falafel benedict to the traditional shakshuka to the baklava Belgian waffles, is packed with flavour and utterly unique. Ideal for when you want to shake things up.
Kettle & Tin
Paddington
Breakfast at Kettle & Tin is genuinely just a fun time and our first thought when it comes to a lazy weekend feed. The sheer range of their fun and inventive dishes they have flying off the pass is truly delightful. Case in point, the fried chicken and cornbread waffles, breakfast nasi goreng and the brisket benny. Really kick things up with a few jugs of their breakfast cocktails and the Sunday scaries don't stand a chance.
The Corner Store Cafe
Toowong
The Corner Store Cafe is pretty much the cradle of brunch for the entire west side, paving the way for breakfast trends the city over. Their latest summer menu has some amazing inclusions (hello strawberry and cream waffles) but we're fanging for the dish that might just change the game forever: breakfast quesadillas. Corner Store's chipotle chicken, gooey provolone, manchego and avocado all wrapped up in a convenient lil package and blasted in a grill.
Hunter & Scout
Graceville
Lush and green, Hunter and Scout is the place to go to make the most of Brisbane's perpetual summer. Their all day breakfast menu covers the entire spectrum from stalwarts like the big breakfast and a classic avo smash, to coconut and lemongrass porridge or a three cheese rosti benedict.
Pitch & Fork
Toowong
The best thing about Pitch and Fork is that their menu always changes to reflect the season, so you know you're always getting the freshest ingredients. Some absolutely cracking features on their latest menu include a soft shell crab omelette, house smoked salmon with caperberries and house made labneh, and some particularly extravagant red velvet pancakes. Throw in some cold drip coffee and you've got the next three months of hot summer mornings sorted.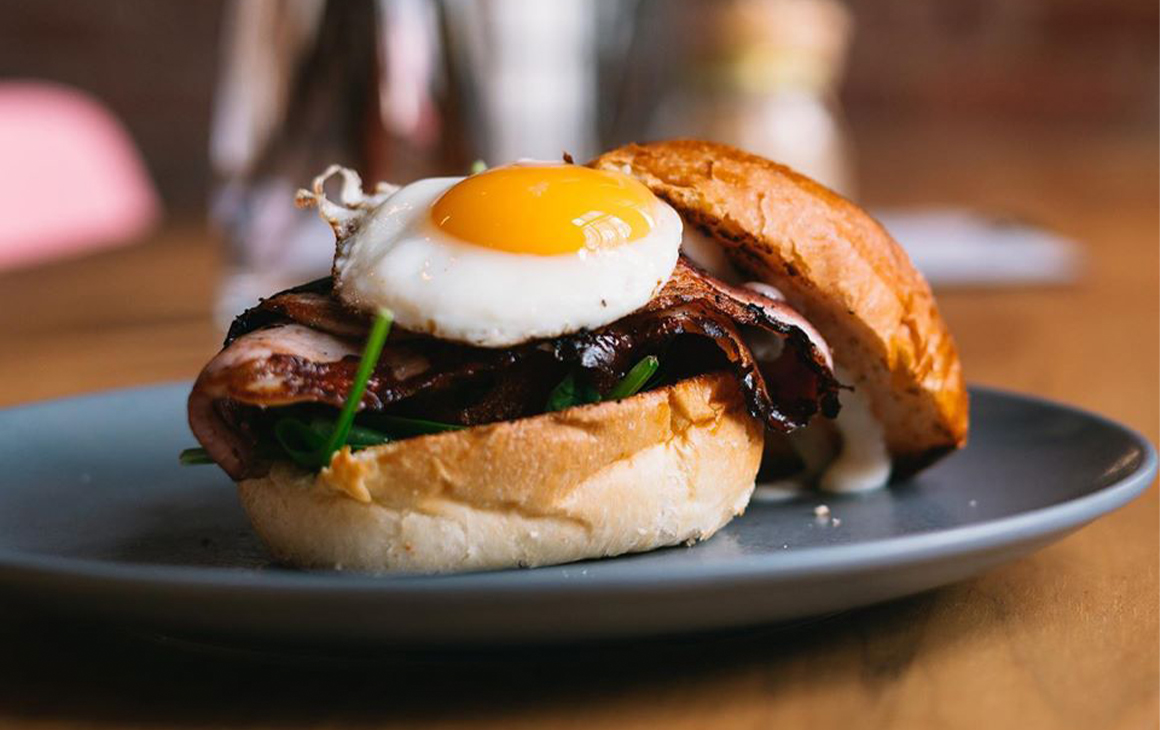 Macho Macho
Ashgrove
Too often we find ourselves at 8.45am on a Sunday desperately searching for somewhere that will serve us a beetroot cured salmon gravlax. Macho Macho saves me every single time. Theirs is a study in hot pink neon, with the undeniably cool attitude of a hip younger sister. This is best represented in their stellar daytime menu, featuring mocha hotcakes, a vegan bowl and even some fish tacos at lunchtime.
Famished On Frasers
Ashgrove
A local favourite, Famished on Frasers has been dealing satisfaction since 2011 and offers a smashing breakfast of a weekend that includes a breakfast wrap, an eggs benny and even a Bloody Mary in solid form, complete with a sriracha tomato shot. Famished also goes hard on the dessert-for-breakfast loophole with their chocolate waffle jaffle, stuffed with cinnamon ricotta and served alongside rhubarb jam and fresh mascarpone.
Gramps Cafe
Red Hill
With mismatched furnishings and a cosy feel, there's no better place to get a home cooked meal than at Gramps Cafe. They'll fix you up with some early morning staples like French toast, savoury mince or their signature omelette, made with love and best served alongside a fresh brew. And if you like the cut of Gramps' jib, then you should check out their sister cafe Goodfolk, which just opened in Rainworth.
Anouk
Paddington
An all day menu is tough to pull off because it needs to provide zesty lunchtime options that are also feasible for breakfast. Safe to say that Anouk nails it every time. Their seasonal menu has some hectic features like a Swiss flatfield bruschetta, a Thai-style breakfast stir fry and some mind-expanding pumpkin pie donuts. If you're after a cure-all, Anouk is your number one.
Sassafras
Paddington
Sassafras has been stirring it up in Paddington since yuppies first started courting the idea of weekend brunch. Their campfire mushrooms are a hearty comfort and an absolute must order after a night on the turps. Or if you fancy something a bit left of centre you can dip into their brunch menu and get a plate of the vegan nachos. If that doesn't cure your hangover and water your crops nothing will.
Want to know where else to get a good breakfast in Brisbane? Find our all time favourites here.
Image credit: Chapter IV, Hayley Williamson, Macho Macho