When it comes to breakfast, we are so bloody thankful for Brisbane's western suburbs. It's the region that covers Graceville, Ashgrove and the breakfasting paradise that is Paddington so naturally you know you're in for a wild time.
Saddle up the pony, this weekend we're heading west for more of Brisbane's best breakfasts.
Given Kitchen And Bar
Paddington
Fusing Asian flavours with familiar breakfast dishes, Given is changing the brunch game on Brisbane's west side. We're talking feeds like bubble tea panna cotta, hangover fried rice and our personal fave, ube mochi waffles with coconut ice cream. Even the eggs benny has been given a funky makeover, with karaage chicken, sriracha hollandaise and poached eggs atop a croissant waffle.
Chapter IV
Paddington
Just across from the Antique Centre, Chapter IV is a favourite haunt for Paddington's committed breakfast-goers. Serving up a delicious menu for breakfast and lunch, Chapter IV also bake all manner of sweet treats in house, making it a great local spot for mid-morning coffee or afternoon tea. Dig into their crispy chicken waffle stack and enjoy the views from the balcony.
Wild Canary
Brookfield
Situated within a Brookfield nursery, Wild Canary is a botanical paradise and the perfect breakfast spot for any aspiring plant ladies. Ergo, it's the gardener's breakfast everyone comes here for. Complete with bacon steak, slow roasted tomatoes, cheese kranskies, house baked beans, mushrooms, grilled halloumi, avocado, garden greens and a couple of eggs on toast, it's everything you need to replenish your stores after a good going with the weed wacker.
Smoked Paprika
Bardon
If you haven't yet been to Smoked Paprika we can guarantee you will almost definitely have driven past it countless times. They're stationed on Bardon's busy Macgregor Terrace and have garnered a pretty loyal following of diehard breakfast fans with their signature breakfast of Hungarian goulash with poached eggs, hollandaise and halloumi. Naturally, we're chasing the titular ingredient, so the crepes filled with chicken paprikash get a very special mention from us.
Goodness Gracious
GRACEVILLE
The first thing you need to know about GG is that they don't do anything by halves. They're big fans of the whole hog and offer an all day menu that pops off with decadent dishes like the scrambled egg with lobster, a Ferrero, Oreo and Nutella pancake stack and even a cheeky mac 'n' cheese benedict. Goodness Gracious also busts out with a red velvet latte which we HIGHLY recommend.
Kettle & Tin
Paddington
Breakfast at Kettle & Tin is genuinely just a fun time and our first thought when it comes to a lazy weekend feed. The sheer range of their fun and inventive dishes they have flying off the pass is truly delightful. Case in point, the fried chicken and herbed waffles, custard-baked brioche French toast and Jamaican gingerbread with ricotta cream. Really kick things up with a few jugs of their breakfast cocktails and the Sunday scaries don't stand a chance.
The Corner Store Cafe
Toowong
The Corner Store Cafe is pretty much the cradle of brunch for the entire west side, paving the way for breakfast trends the city over. Their latest menu has some amazing inclusions (hello waffles with citrus curd) but we're fanging for one dish in particular: chorizo, potato and corn hash topped with poached eggs, salsa rojo and manchego.
Plentiful
GRACEVILLE
Leafy Graceville is turning into quite the dining hub these days, and Plentiful is one of the newsest venue's to join its growing list of foodie spots. We're currently big fans of their popcorn chicken croissant waffle benny (love a good roll-everything-into-one dish, don't you?), but we hear their buttermilk pancakes are pretty good too.
Hunter & Scout
Graceville
Lush and green, Hunter and Scout is the place to go to make the most of Brisbane's perpetual summer. Their all day breakfast menu covers the entire spectrum from stalwarts like the big breakfast and a classic avo smash, to coconut and lemongrass porridge or a three cheese rosti benedict.
Pitch & Fork
Toowong
The best thing about Pitch and Fork is that their menu always changes to reflect the season, so you know you're always getting the freshest ingredients. Some absolutely cracking features on their latest menu include a jalepeno crab omelette, vanilla bean and yoghurt panna cotta, and a particularly extravagant truffled gnocch. Throw in a sticky chai latte and you've got the next three months of mornings sorted.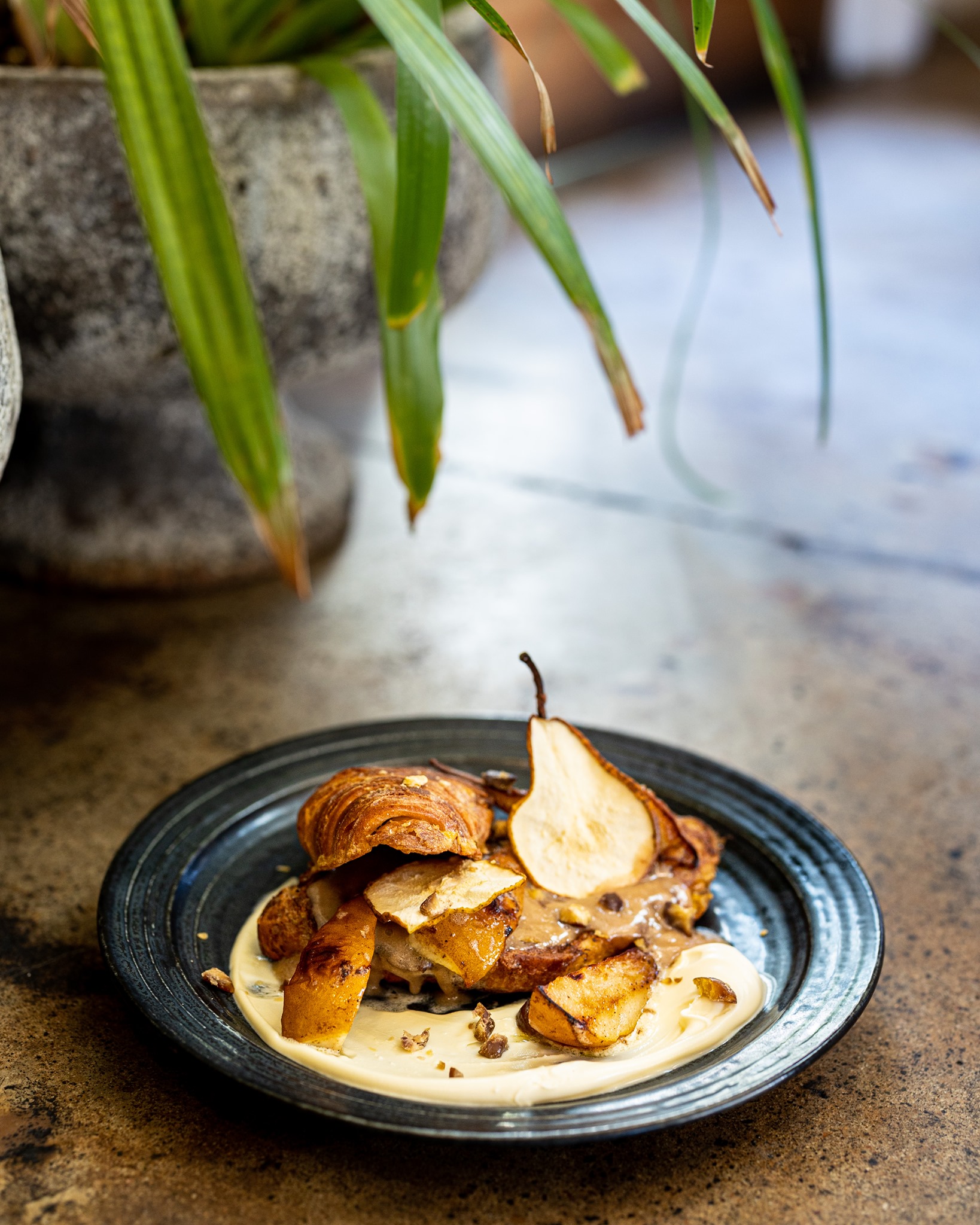 Anouk
PADDINGTON
An all day menu is tough to pull off because it needs to provide zesty lunchtime options that are also feasible for breakfast. Safe to say that Anouk nails it every time. Their seasonal menu has some hectic features like a cinnamon apple fritters with chai maple raisin syrup and whipped ricotta, and a breakfast bibimbap. If you're after a cure-all, Anouk is your number one.
Famished On Frasers
Ashgrove
A local favourite, Famished on Frasers has been dealing satisfaction since 2011 and offers a smashing breakfast of a weekend that includes a breakfast wrap, an eggs benny and even a breakfast bruschetta. Famished also goes hard on the smoothies, with flavours from the protein-packed banana and peanut butter to a lean Green Goddess.
Gramps Cafe
Red Hill
With mismatched furnishings and a cosy feel, there's no better place to get a home cooked meal than at Gramps Cafe. They'll fix you up with some early morning staples like French toast, savoury mince or their signature omelette, made with love and best served alongside a fresh brew.
Paddington Social
Paddington
This cute cafe in an old cottage on Given Terrace is more than just a brunch spot—it's also a must-visit for decadent pastries of a morning, and pop-up Thai feeds by night. But you're here for breakfast, so let's talk morning eats. Paddington Social certainly won't disappoint, with dishes like their citrus and poppyseed hotcake with honey mascarpone, Moscato peaches and chantilly cream, or a hearty bowl of rich shakshuka served up with flat bread for dipping.
Naim
PADDINGTON
Single handedly bringing Middle Eastern cuisine into the breakfastsphere, Naim's approach to the morning meal is a downright delight. Every item on their brunch menu, from the corn schwarma ratatouille to the white chocolate Belgian waffles with tahini ganache, is packed with flavour and utterly unique. Ideal for when you want to shake things up.
Piggy Back Cafe
Jindalee
If it's a colourful breakfast you want, you'll want to head for Piggy Back Cafe, where the only thing more vibrant than the flower adorned French toast are the rainbow lattes. You may leave in a sugar coma, but it will have been worth it.
Little Red Providore
Red Hill
Bao for breakfast? Yes please. This little known spot in Red Hill is hiding some big flavours in a cosy, cottage-style space on Windsor Road. If breakfast baos aren't your thing, there's also plenty of classics on the Little Red Providore menu, like chilli scrambled eggs, avocado on toast and a hearty big breakfast.
Want to know where else to get a good breakfast in Brisbane? Find our all time favourites here.
Image credit: Given, Goodness Gracious, Plentiful, Anouk, Paddington Social