Move over inner city, Brisbane's south side is having a moment and has something to say when it comes to the perfect breakfast destination. Think fluffy pancakes, eggs whichever way you like them and enough twists on the classic avo on toast to keep even the most diehard millennial sated. And that's before we even get past Greenslopes. Let's just say south siders definitely don't have to look too far for the ideal candidate for a lazy brunch.
Convinced to venture south of the river? Here are the absolute best breakfasts on Brisbane's south side.
The Laneway Green
Springwood
The Laneway Green was already a fab brunch spot, but now that they have a breakfast menu curated by none other than Jaqui Toumbas (ex-owner of Miss Bliss Cafe turned consultant), they are even more worth a road trip south. Nab yourself a table inside the chic, white and green cafe, and order up epic dishes like the tiramisu pancake stack, pulled pork rosti and black forest acai bowl.
The Gift Shop
MOUNT GRAVATT
A cosy, relaxed venue in Mount Gravatt, The Gift Shop started out as a hole-in-the-wall spot for coffee and snacks, but has blossomed into a full-blown cafe where you can brunch on creative breakfasts that look as good as they taste. With both indoor and outdoor seating, there's room for you and your pooch, and a coffee hatch if you just want to grab and go.
Deedot Coffee House
Holland Park West
If you're one of those people who thinks the more creative the breakfast the better, Deedot Coffee House might just be your match made in heaven. With a focus on natural, healthy ingredients, this suburban café's all-day breakfast menu includes everything from mushroom ragout on polenta cakes to fried chicken on potato waffles.
Mi Casa
Underwood
Whether you just want a classic eggs benny done well or an extravagent pile of Nutella French toast complete with fairy toast for brunch, this southside cafe has you covered. Mi Casa has won our hearts (and appetites with their habit of serving up golden potato gems for breakfast—you'll find them on their Southern fried chicken eggs benny and their epic shared breakfast board. Honestly, why isn't this a thing everywhere?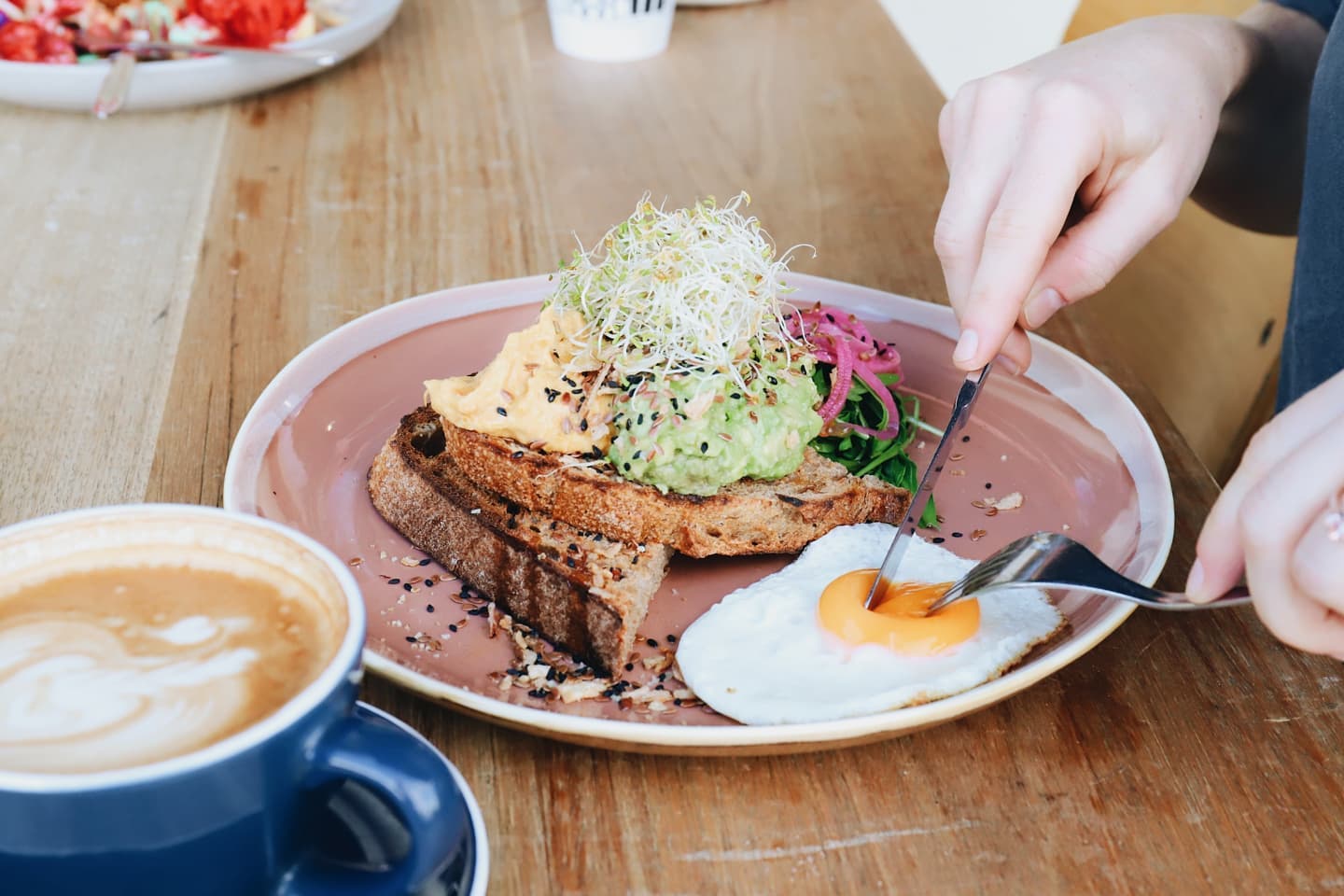 St Coco Cafe
DAISY HILL
St. Coco Cafe is pumping out the breakfast and lunch dishes of your dreams. We're talking coconut ice waffles, bratwurst benedict, polenta fritters, you name it. If all that wasn't enough, St. Coco cafe's decor is a Pinterest lovers wet dream—all rustic, Cali-style fit-out, featuring a plethora of cacti and succulents, kilim rugs and cushions and mis-matched seating, resulting in a very chic spot you'd never expect to find in Daisy Hill.
The Jam Pantry
Greenslopes
The Jam Pantry is all about hyper-seasonality, resulting in a menu that changes constantly and highlights only the best of Brisbane's local produce. The Jam Pantry loves to put a twist on breakfast classics and each menu they design has a cohesive cuisine theme. Best of all, you'll never have the same dish twice.
Todd & Pup
Moorooka
Todd & Pup is what happens when you combine a killer café with a pet-friendly atmosphere and we are so okay with that. Located in Moorooka, it can be hard to go past Todd & Pup's selection of freshly handmade muffins and slices (choc-chip and pistachio muffins, anyone?) but we promise making it to the breakfast menu will be well worth your time. Said menu features such dishes as a Nutella puffed pancake, a breaky burger with crispy hash cakes and of course, a seasonal version of the classic avo on toast.
Penny Coffee Co.
Dutton Park
Bent on bringing the masters of food and coffee under one roof, Penny Coffee Co. is so far making good on their promise. Their all-day menu is concise and well-executed, with all the breakfast staples represented with flair, from ricotta hotcakes and avo on toast to the more adventurous kimchi pancakes. As for that banging coffee we mentioned, Penny Coffee has your caffeination on lock with rotating blends from local roasters.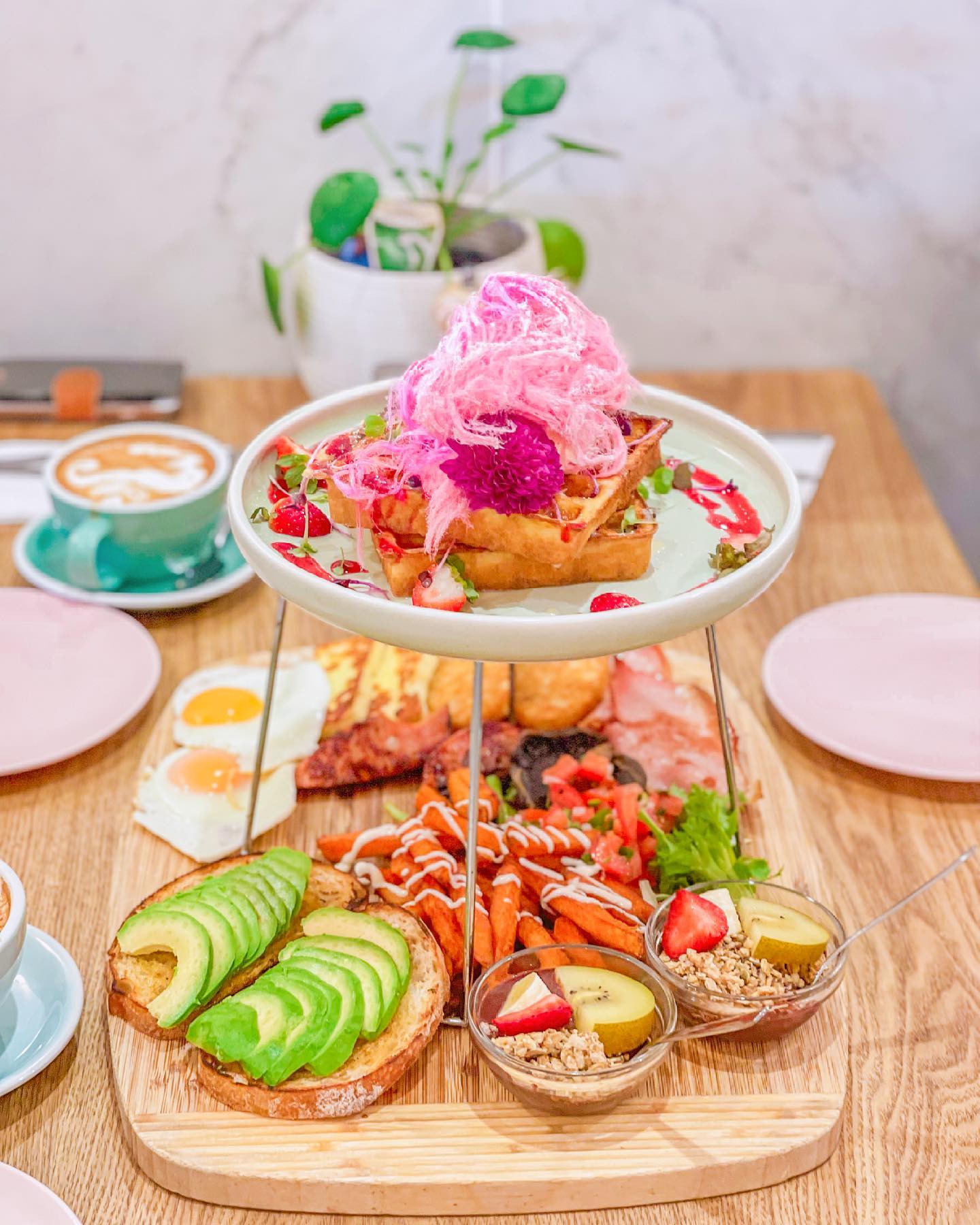 Little Dreamer Café
CALAMVALE
Breakfast dreams are made (and eaten) at Little Dreamer Café. All their breakfast eats are a stunner to look at, but none as much as the Dreamer's breakfast tower. Comprised of two levels (yes, TWO), it features a board piled with eggs, bacon, hash browns, avocado toast and other breakfast goodies, crowned with a plate of waffles.
Café O Mai
ANNERLEY
We have two words for you: breakfast pho. That's right, you could be sipping on perfectly tender noodles and aromatic, spicy broth for the first meal of the day, all thanks to the legends over at Café O Mai. If pho's not really your thing, you could bless your tastebuds with the Vietnamese omelette, filled with prawns and pork mince, or the sweet corn and zucchini fritters, served with pineapple jam.
Lady Marmalade
Stones Corner
If Lady Marmalade's chilli corn bread waffle ever came off the menu we'd probably start a petition, because this savoury number is definitely our hangover cure of choice. Toppings change from time to time, but this season's rendition is comes with confit duck Maryland with pecan butter, fried egg, candied pecans and maple and chilli sauce.
Little Black Pug
Mt Gravatt
So dog-friendly they've even named their menu items using puppy puns, Little Black Pug looks cosy from the front, but they're hiding an air adjoining dining space out back, with plenty of room to tuck into sticky date pancakes with rum poached pear or a mushroom savoury rice porridge. But the real draw card? The menu for your doggo, complete with a warm puppycino or doggy biscuit.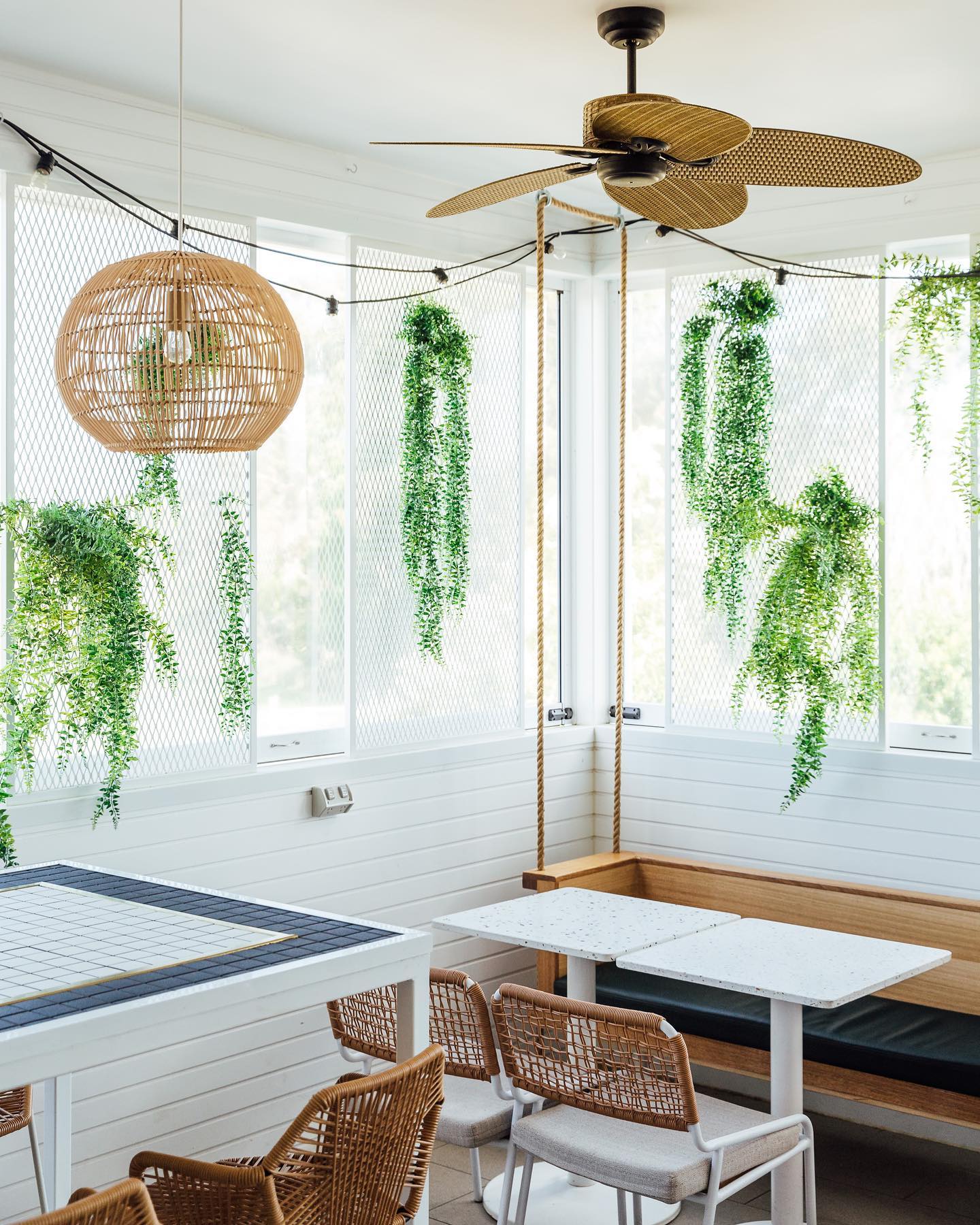 Cache Cache
ROCHEDALE
Who says the cafes on Brisbane's outskirts aren't delicious? Rochedale's Cache Cache doesn't just look good, it's also got a seriously drool-worthy breakfast, with eats like their cornflake crusted chicken stack with eggs and avo, and their bacon and egg breakfast pizza.
Billykart Kitchen
Annerley
The original Billykart, this south side cafe has been slinging creative breakfast feeds for as long as we've been writing breakfast lists, and you just know they've gotten even better with age. They take the humble pancake and amp it up to 100 with caramelised bananas and coconut caramel, and give eggs a makeover with the addition of crispy potatoes, beer cheese sauce and bacon jam.
Southside Bistro
Sunnybank
Tucked away in Sunnybank is this cosy spot that dishes up the breakfast you never knew you needed: The breakfast puffle. With pork floss, a tea egg, homemade pickles, rice, kimchi and kewpie mayo wrapped up in a hot puffle, it's a sight for sore eyes—and stomachs. Too much for you? Southside Bistro also dish up plenty of classics, including a chilli omelette, acai bowls and avo on toast.
Kith 'n' Chow
Mt Gravatt
This place is weekend breakfast goals. You've probably seen them popping in your feed with their epic breakfast boards. Order the Kith 'n' Chow platter for two—sourdough, bacon, pan seared tomatoes, grilled halloumi, avocado, smoked salmon, fried eggs, Greek yogurt, granola—and get ready to enter a food coma, because breakfast doesn't get any better than this.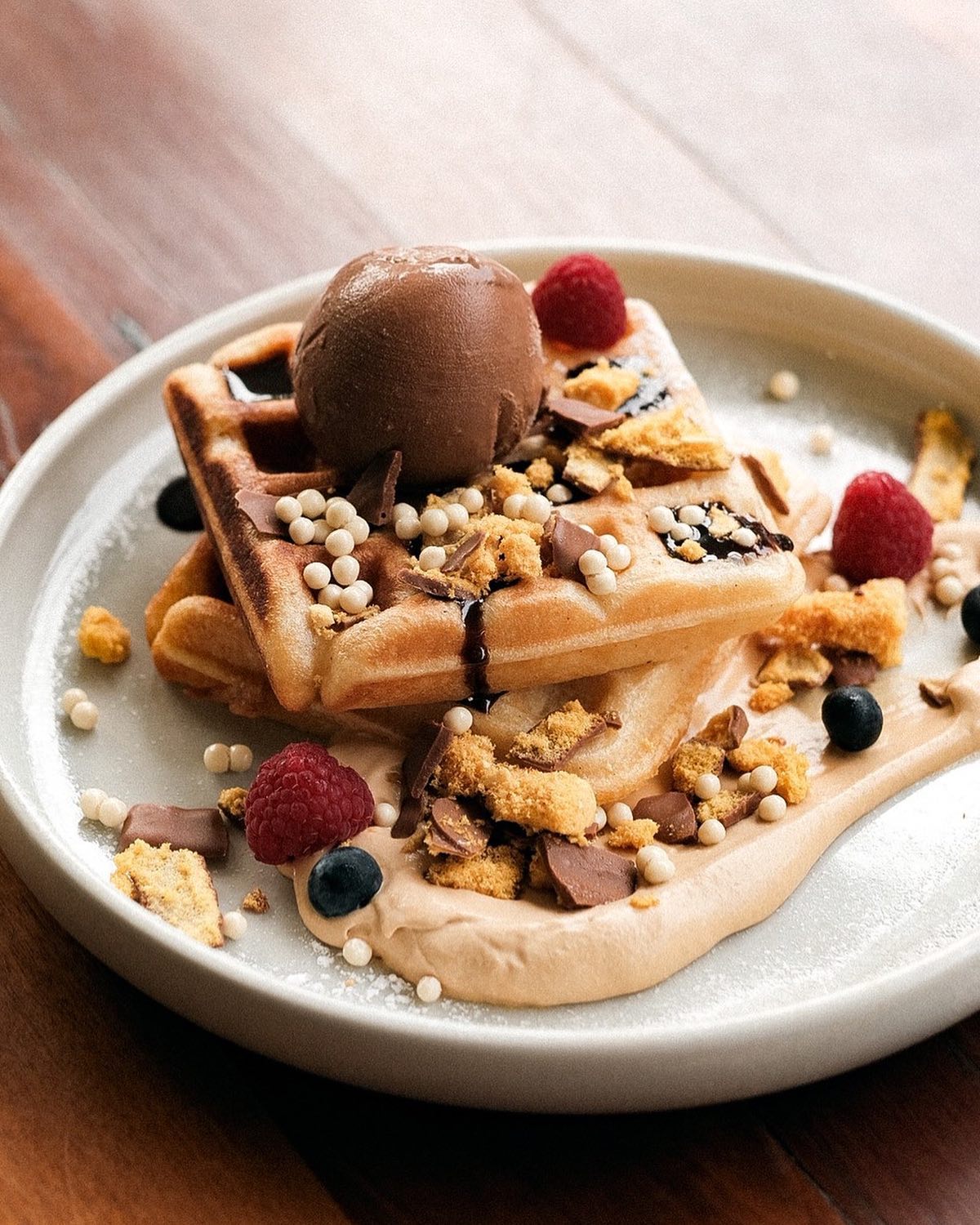 Cups & Wells
SALISBURY
If the hipsterness level of your coffee hit is just as important to you as your breakfast, Cups & Wells should be your go-to. Here you can get a tasting flight of different bean brews, piccolo style, to complement your meal. On the all-day breakfast menu meanwhile, you'll find the likes of truffle mushrooms on toast and vanilla waffles.
Andonis
YEERONGPILLY
There are so many reasons we love Andonis—chief among them the sheer number of choices on their all-day breakfast menu. Seriously, you will need half an hour just to settle on what to order—we speak from experience. Will it be the bacon, chorizo, poached eggs and halloumi loaded croissant? The crispy chicken and waffles? Or maybe you're in need of the Hangover Cure, a brekky burger stacked with a beef patty, halloumi, hash brown, bacon and aioli.
The Foxy Coffee
Loganholme
Tucked away in an unassuming shopping precinct in Loganholme, The Foxy Coffee is a greenery-adorned paradise of baked goods and hearty breakfasts. Whether you stop by for a full feed or just a doughnut and a coffee, you'll leave with your appetite sated. Dig into brisket benny with slow-cooked beef brisket or French toast with bacon, caramelized banana and vanilla ice-cream, you won't be sated.
Sundays Coffee House
Rocklea
Bright, cheerful and perfectly positioned for a brekky stop before or after hitting the Brisbane Markets, Sundays serves up some indulgent baked goods along with a short but sweet breakfast menu. You won't be able to feel anything but upbeat seated under one of their bright yellow umbrellas, especially with a plate of their coconut waffles topped with berries, whipped cream, ice cream and maple syrup in front of you.
Want to know where the best breakfasts across town are, not just the south side? Head here.
Image credit: The Laneway Green, St Coco Cafe, Little Dreamer, Cups & Wells