Looking for breakfast in the Brisbane CBD can be quite the challenge. Mediocre coffee options they have by the bucket load, but great spots for breakfast (and good coffee)? That's another story.
Until recently, the CBD has been a largely neglected realm of the Brisbane breakfast scene, so we know you folks schelping it into the big smoke will appreciate a list of the best breakfast cafes in Brisbane's CBD.
The Maillard Project
Charlotte Street
Though this relatively new spot is very much about being a hub for coffee lovers to hang out and share their love of the bean, The Maillard Project's breakfast menu is no afterthought. On the morning roundup you'll find the likes of vanilla French toast with poached pear, raspberry gel, ricotta, pistachio meringue and toffee ice cream, and an okonomiyaki waflle eggs benedict with poached eggs, okonomi hollandaise, seaweed crumb and a choice of halloumi or pork belly, with more options on their all day breakfast menu.
Motorwagen
Adelaide Street
Laneway cafes with milk crate seating are great and all, but not when you're all dolled up in your office best. Enter: Motorwagen, the kind of sophisticated spot you can head to for both corporate meetings and Fri-yay breakfasts with your work wife/husband. You'll find all the classics on the menu here, from whipped avo and ricotta on rye to eggs bunny "Benzy". Thinking something sweet? The brioche French toast is for you, with a Blackstar coffee for that much-needed caffeine hit of course.
The Garden Room
Roma Street Parklands
Nestled amongst the greenery that is the Roma Street Parklands, The Garden Room truly is an urban oasis. The aptly-named eatery has plants covering seemingly every surface, combining the beauty of a garden with the comfort of a cafe. The curated breakfast menu is sure to delight, with goodies including Turkish eggs, a classic big breakfast, and the star of the show: banana bread French toast with crispy bacon.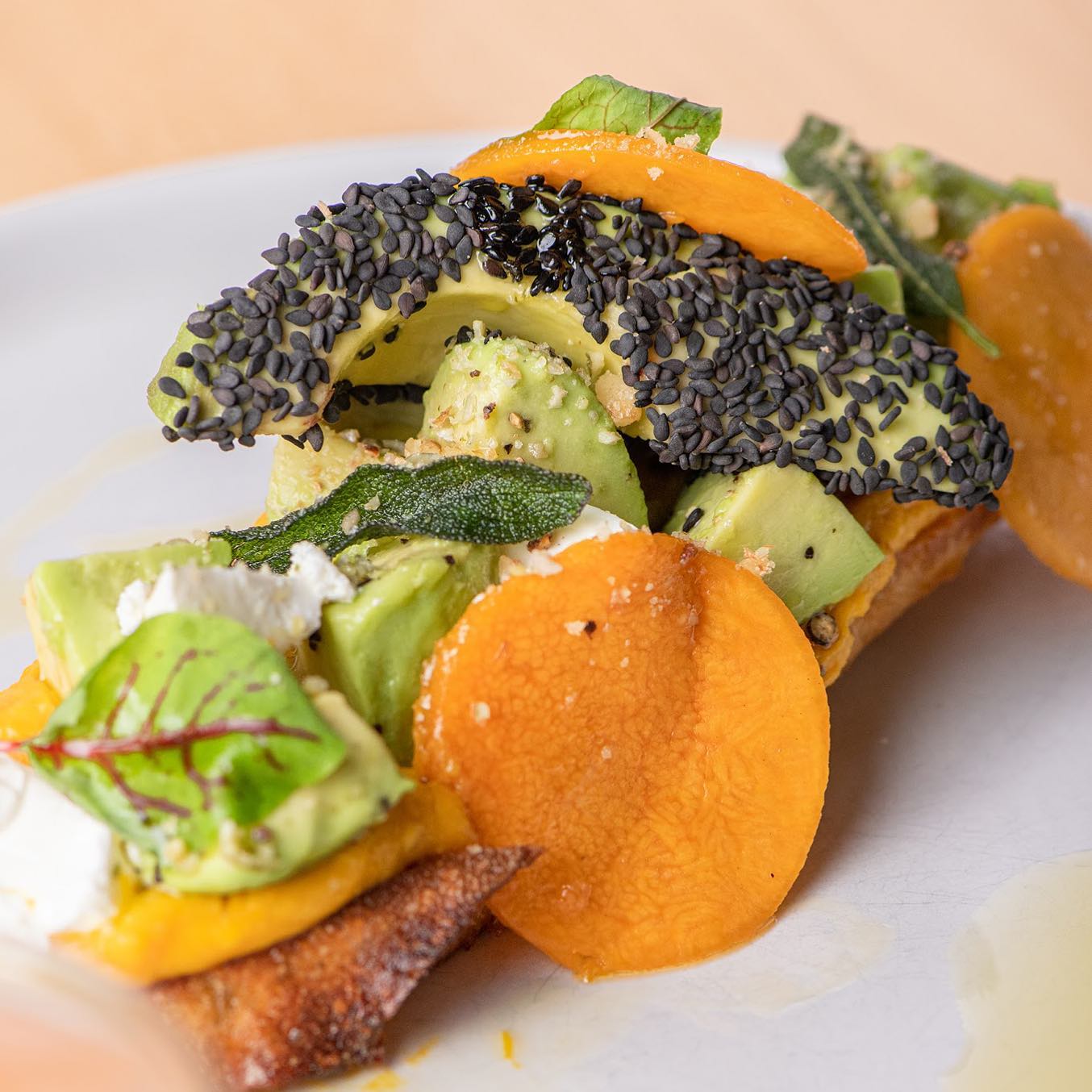 Botero House
Creek Street
Take a trip to Botero on Creek Street for exceptional coffee and fantastic breaky options. We have literally never had a bad experience with their coffee and that is an all but impossible strike rate so you can take our word for it. As for brekky, try the smoked mushrooms with haloumi and truffle pesto on sourdough, or their soul-warming curried scrambled eggs. Even their idea of avo toast is suitably extra with roast pumpkin puree, fermented butternut, pepitas, goats cheese and gun powder spice.
Felix For Goodness
Burnett Lane
Looking for organic, locally sourced breakfast that's lovingly made from scratch in the Brisbane CBD? Look no further than Felix. This Burnett Lane café is a hidden gem that offers up the perfect all-day breakfast menu, including housemade crumpets, classic avo smash, and daily specials alongside fresh smoothies and specialty coffee. They even make their own jam.
Coffee Iconic
George Street
Notable for their grungy laneway seating, Coffee Iconic more than lives up to their name with a rotation of the latest and greatest blends in specialty coffee. Their all day breakfast features hazelnut and Oreo French toast and umami mushrooms on sourdough as well as some comforting classics like granola or avo toast for those days when you're in a mad rush.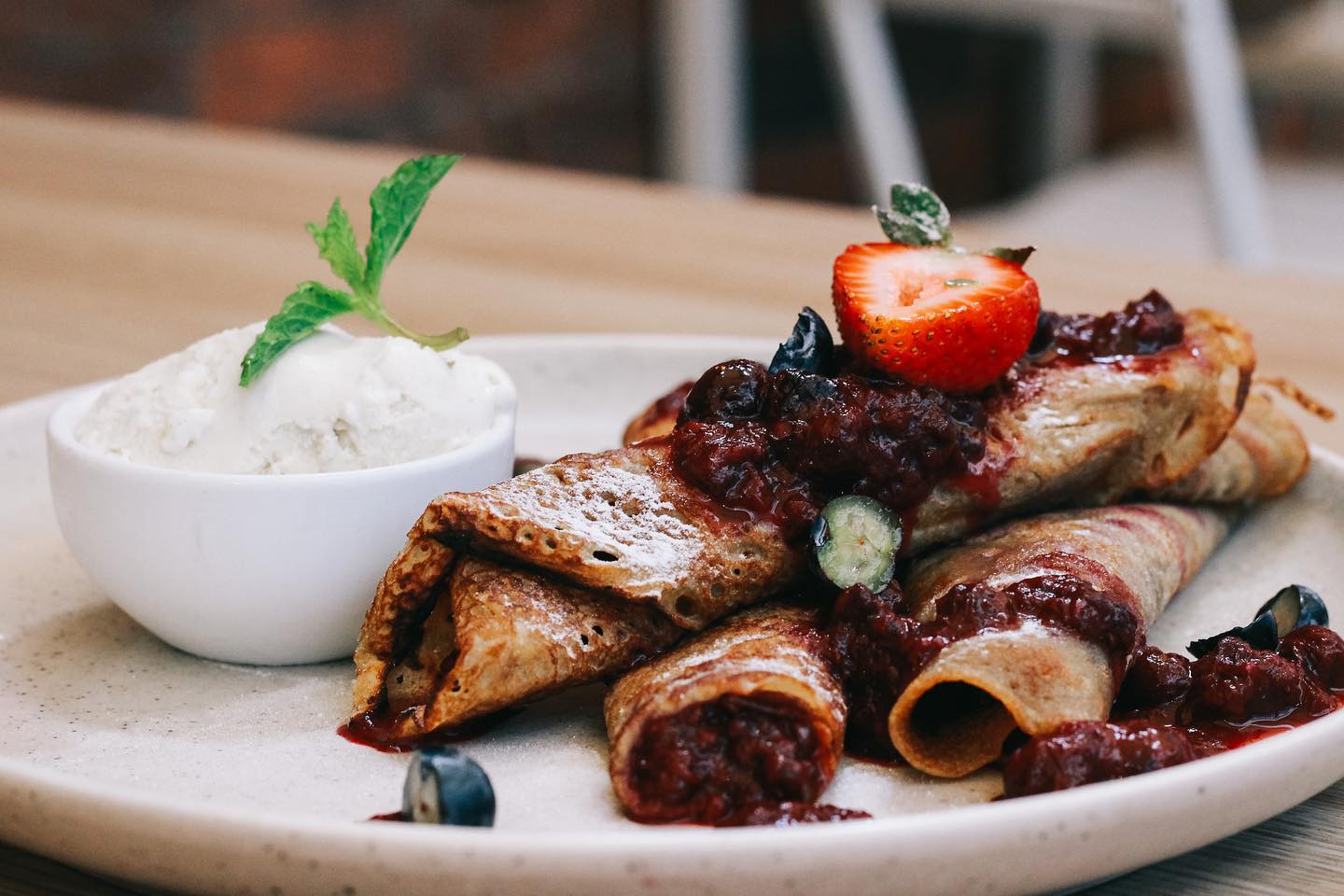 Frankie & George
GEORGE STREET
We bloody love Frankie & George, and not just because they pour some of the best brews on the block, but because they are one of the few places in the city centre that serve an absolutely cracking breakfast all day long. Rhubarb and mixed berry buckwheat crepes, eggs benny and cheesy omelettes are just a couple of standouts from their menu, and go down great with a cup of whatever blend is in the grinder. Frankie & George also boasts a cabinet full of fresh baked muffins, cakes, and cookies, making them perfect for snacking on the go.
Strauss
Elizabeth Street
This specialty coffee café serves one of the city's best breakfast menus from Monday to Friday. Sure it's simple, but simple, honest chow is what you need before your daily grind gets going. Think avocado and sourdough toast with dukkah, house made honey granola and classic eggs on toast. Strauss also have green smoothies and a good range of teas to get your day started right, or exceptional coffee to get your day started even better.
The Gresham
Queen Street
Love toast? Us too. But finding the perfect slice in the Brisbane City is not easy. You might know The Gresham as a great spot for an after-work drink or three, but this Brisbane CBD bar also do breakfast and a cracking cup of joe. Their breakfast menu celebrates all that is good about toasties, including a Reuben, classic ham and cheese, and a beef brisket toastie with jahlsberg, caramelised onion, roasted peppers and Walter's steak sauce. They also serve delish' croissants, faithful avo smash, and 'the Colonel's blend' of Silipo coffee.
Ed Cafe
Edward Street
Whether you're craving crushed avo on toast or chocolate pancakes, Ed Cafe's got you covered with breakfast and brunch served well into the afternoon. If you're feeling healthy, opt for a summer bowl, packed full of greens and goodies that are sure to leave you energised. But if you're celebrating a payrise, go the pina colada waffles with oconut crumb, pineapple and lime salsa, citrus sherbert and vanilla bean gelato for the ultimate sugar hit.
Looking for dinner? Check out the best restaurants in the CBD
here
.
Image credit: The Maillard Project, Botero House, Frankie & George