When it comes to getting rowdy, Brisbane's varied bar scenes have us covered for most occasions and impulses. Everyone goes to West End for casual drinks and tomfoolery, while the Valley is brilliant for a pumped up night of cutting shapes, but the CBD is a dense jungle of rollicking goodtimes any night of the week. Not to mention, it's literally on the doorstop when the entire business district knocks off.
Here are our picks of the best bars in the Brisbane CBD.
The Gresham
Gresham Lane
As the only bar in Queensland trading within a heritage-listed building, we think The Gresham is pretty special. This sentiment has been echoed time and again with the Gresham taking home the gong for National Bar of the Year several times. Rather than set their sights on any one liquor in particular, the Gresham prefers to play with all the crayons in the box and provide the best in wine, whisky, gin, rum and anything else your tippling palate desires. Basically, there's no such thing as a bad sip here.
Brooklyn Standard
Eagle Lane
Lager flows and live music blasts every night at Brooklyn Standard. This subterranean chunk of New York's coolest borough is the ultimate go-to for a good night, featuring Brooklyn Lager on tap and live beats in your ears of the funk, soul, and rhythm and blues persuasion. For snacking, Brooklyn Standard offers a tidy menu of American classics like jalapeño poppers, mozzarella sticks, and wings, but really, you come for the live tunes and the drinks, the food is just a late night bonus.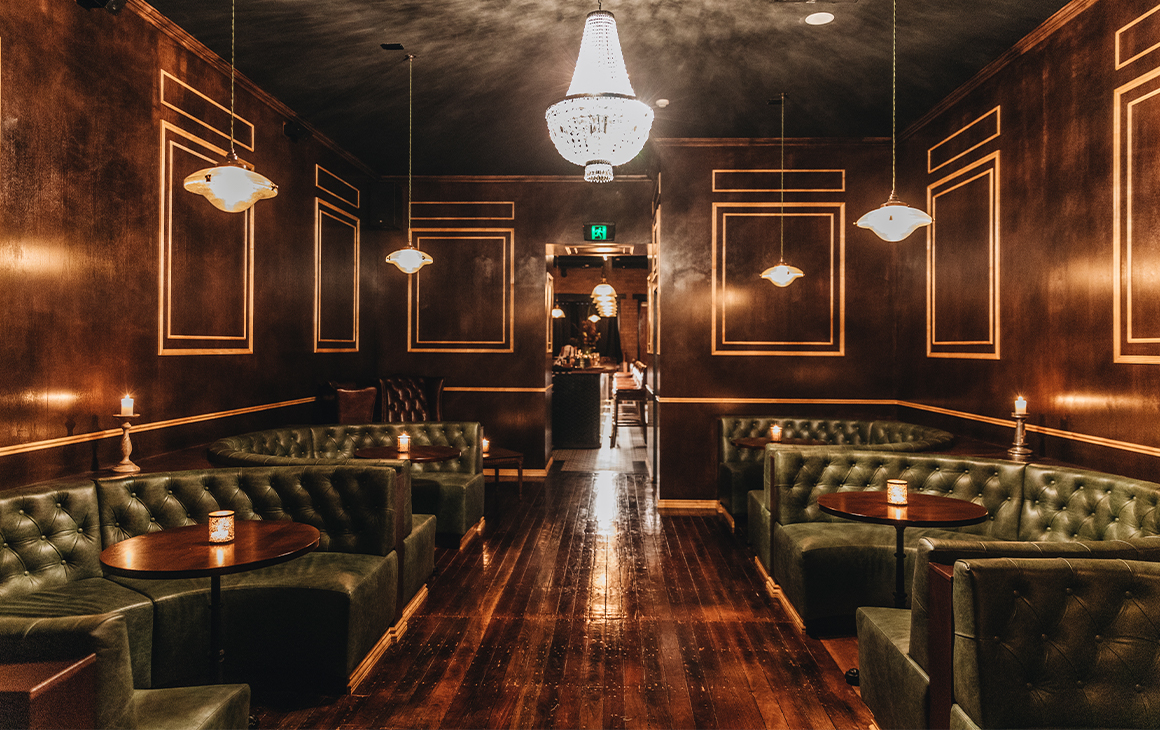 Death & Taxes
BURNETT LANE
If you're a fan of more sophisticated gin joints, prepare to meet the reaper and head on down to Death & Taxes. No, seriously—on your way in, you'll be greeted by a giant mural of Death himself, but don't let that put you off. This old-world cocktail lounge comes from the minds behind Cobbler, Savile Row and Finney Isles, and just like its sisters, the bar comes fully stocked. Whether you're into whiskey or wine, you'll be spoilt for choice, but don't stop there—the team at Death & Taxes have been dubbed the masters of mixology, so you may want to try a cocktail (or five).
John Mills Himself
Elizabeth Street
Trading as a café through the day, by night John Mills Himself turns into a whisky slinging speakeasy. This broom cupboard bar has a cosy, intimate feel perfect for a wind down after a hard day—perfect for knock offs with the team. Where drinks are concerned, John Mills like to keep it local. All their beers and wines are sourced from within a 250km radius of Brisbane, while their spirits list is comprised almost exclusively of bottles from Australian distilleries. John Mills is also a great venue to keep in mind if you're looking for something a bit different for your next function.
Super Whatnot
Burnett Lane
Tucked away down Burnett Lane sits Super Whatnot, a small bar with a big personality. After a recent refresh, he bar is an ode to all things Latin America, so expect good food, strong cocktails, and some seriously dance-worthy tunes. While you'll no doubt want to try everything on the menu, you can't go wrong with a bowl of homemade tortilla chips loaded with guac, salmon roe, pickled onion, and pico de gallo salsa (if you think it sounds good, wait 'till you taste it). Order a Horchata Colada for a creamy take on an old classic, or a Cuban Jungle for more of a fruity finish.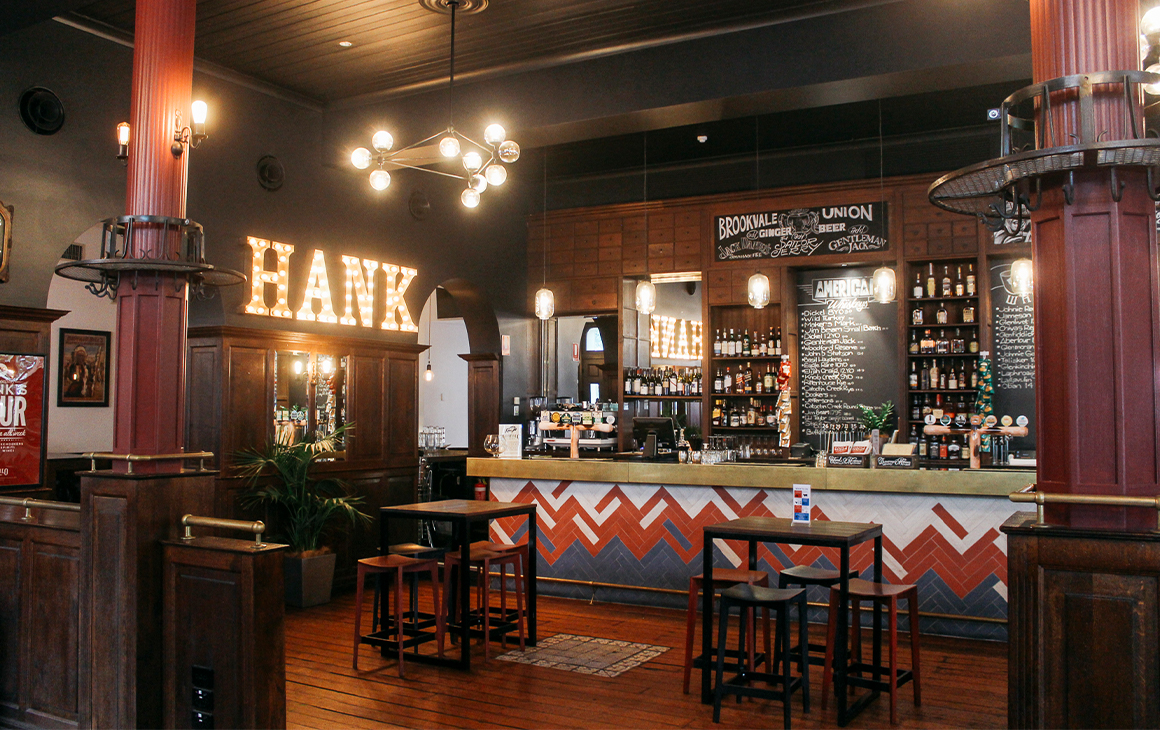 Buffalo Bar
Mary Street
Everyone knows the best part of an American vacay is the food, but with a little help from Buffalo Bar, you can save yourself the exxy flight. Located in the heart of the CBD, you can't miss the red-white-and-blue tiled bar, serving up all your fave American classics like burgers, wings, and whiskey. But let's be real: the highlight of Buffalo Bar has to be their boozy milkshakes (bet that caught your attention, huh?) which come in four incredible flavours. Our top pick is an ode to Americana, the Mustang—a mix of Kahlua, Baileys, ice cream and cookie crumbs, topped with whipped cream and an oreo, for good measure (cue drooling).
Riverbar & Kitchen
EAGLE ST PIER
Riverbar & Kitchen has certainly earned its place as a Brisbane dining institution, but it's their drinks menu that has us tickled pink (or maybe we've just had one too many?). Their extensive range of beer, wine and spirits caters to every taste bud, and their cocktail jugs are always a crowd pleaser. Add to that the backdrop of the Brisbane River and Storey Bridge, and the Riverbar becomes the perfect place to kick off a cheeky Friday afternoon sesh.
Fat Angel Sports Bar and Grill
Eagle Lane
Known for being Brisbane's most authentic American sports bar, a night at Fat Angel will transport your taste buds Stateside. The crew behind the bar have curated the perfect menu to nibble on during the big game. Think chicken wings, French fries—all ideal for pre and post-game snacking. Of course, where there's food there's booze, and Fat Angel has a tonne of American beers to choose from, both on and off-tap. But if you prefer an Aussie brew, don't fret—there's plenty of those on the menu, too.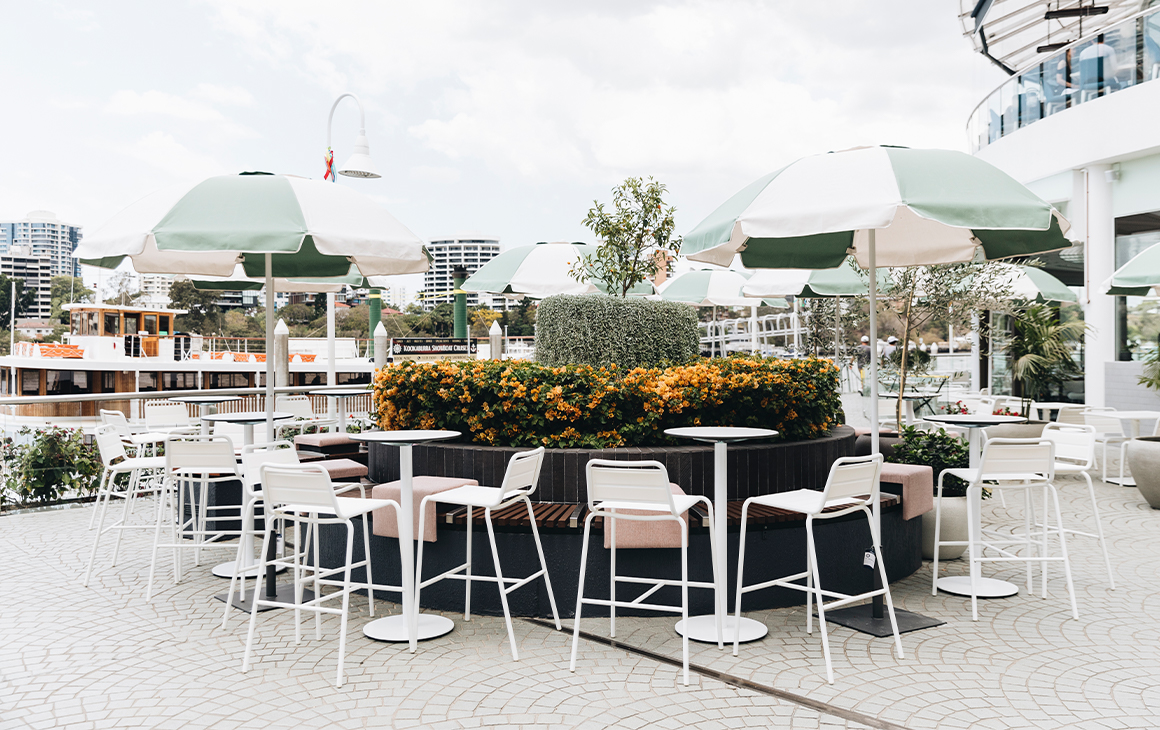 Rico Bar & Dining
EAGLE STREET PIER
Relish a taste of the Mediterranean with a trip to Rico Bar & Dining. Not just a good-looking place for a meal, you can also rally the crew for the chance to down jugs of sangria under the fairy lights hanging from the green-and-white striped umbrellas dotting Rico's glorious garden. The bar menu is packed with goodies that will set your mouth watering, like fresh calamari, braised beef cheek empanadas and paella. But the real star of the show is their drinks menu, filled with creative cocktails, wines and champagnes that will give you the buzz you need to dance the night away. BRB, just booking a table…
Riverland
Eagle Street
A night at Riverland is more than just a meal—it's a multicultural dining experience. Hidden within its two 40ft shipping containers is an all-star rotating lineup of Brisbane's best street food vendors, featuring incredible cuisine from all over the world. But of course, it's not a meal without a drink in hand, which you can grab from the 80ft long bar, so you spend less time lining up and more time letting loose. With 16 beers and ciders on tap, not to mention an extensive bottled range, you'll want to take the time to explore everything on offer, including the incredible views.
Winghaus
Edward Street
With interiors reminiscent of an American diner, you'll find Winghaus stacked with high tables, leather booths and bar seating, while the walls are covered with vintage sports memorabilia and nostalgic signage, as well as 20 odd big screen televisions to tune into all the sports you can handle. There's even foosball tables for challenging your mates until the beer starts to affect your hand-eye coordination. While the wings are a major drawcard (no surpises there), there's also nothing lacking in the booze department, with forty beer taps pouring Bavarian beers and Australian craft brews. Bronus, margaritas, sangria, negronis, Aperol spritzes and espresso martinis are all also on tap—consider us there.
More of a morning person than a Brisbane city bar hopper? Check out the best places to find breakfast in the CBD.
Image credit: The Gresham, Grace Elizabeth Smith, Tash Sorrenson