If you're chasing a post-work date night, post-shopping spree splurge, or special occasion meals, Brisbane CBD's dining scene offers a mouthwatering experience for any hungry patron.
With everything from fine dining to casual eateries, these are 15 of the best restaurants in the Brisbane CBD.
Donna Chang
George Street
Trading out of a heritage-listed, neo-classical building on George Street, the harmony between modernity and antiquity defines Donna Chang. The menu sees ancient Cantonese cuisine and Sichuan flavours executed with modern techniques, and the resultant feast makes for an ultra-modern fine dining experience.
Rothwell's Bar & Grill
Edward Street
Step into a world of luxurious surroundings and decadent food in this imposing former tailor's shop. Rothwell's offers a timelessly designed space of cosy green leather booths, sparkling chandeliers and a massive U-shaped marble bar in the main dining area. Choose to snack on items like steak tartare with potato crisps and oysters in the bar, or go for a main of Moreton Bay bugs with Cafe de Paris butter and roast lamb, or just drop in for a drink—their house martini is allegedly the best in town.
Longtime Dining
Brisbane City
Nestled in the heart of the CBD, Longtime offers a sophisticated take on classic yum cha and time-honoured recipes. Sit on the balcony above the mall or pull up a seat with a group of pals at a large indoor table to fill with your selection of snacks. With over 50 dim sum items on the menu, you'll need all the help you can get when it comes to trying everything.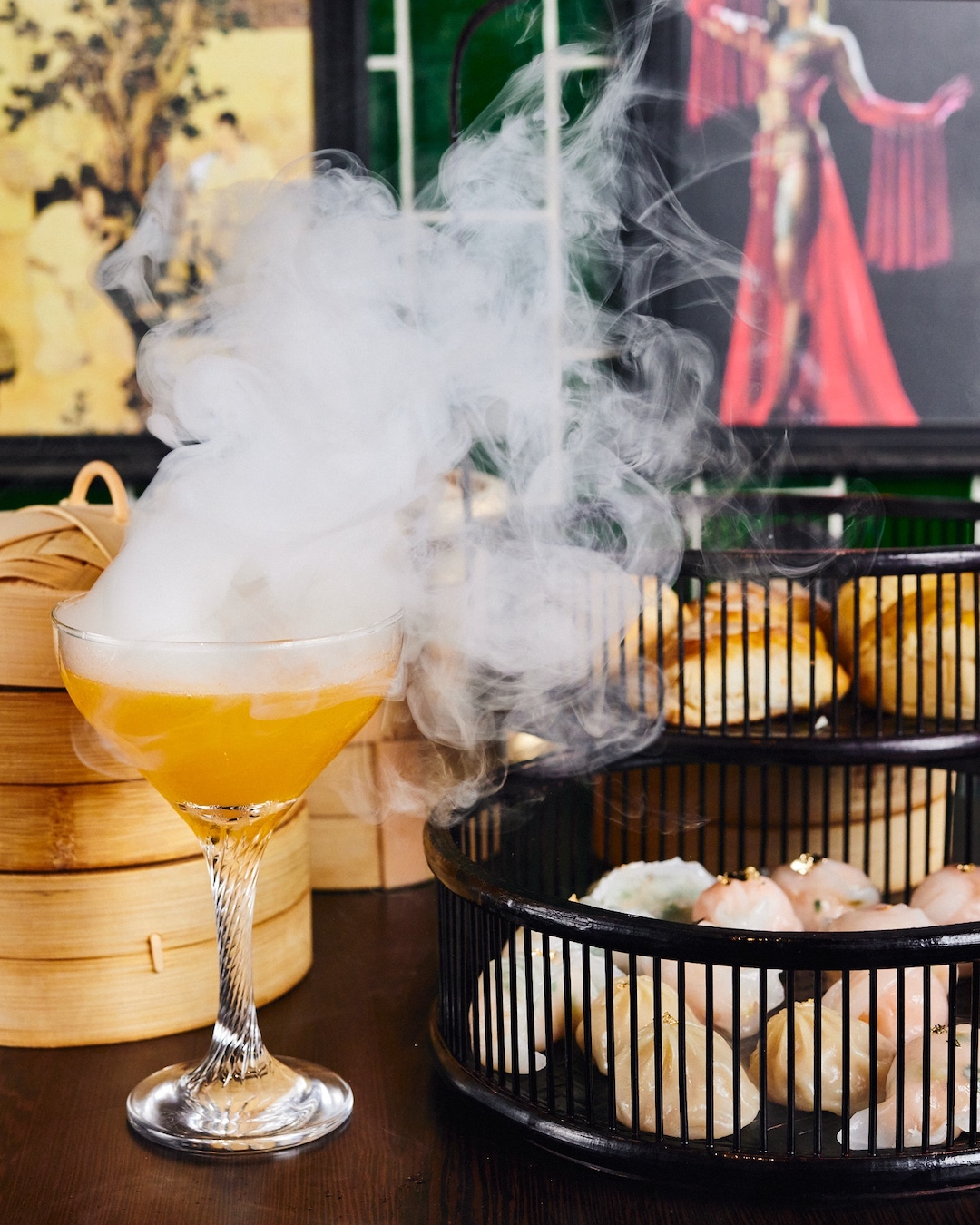 Walter's Steakhouse
Alice Street
Walter's Steakhouse combines sophisticated service with a New York steakhouse-style menu. Decked out with a classy and timeless fit-out that has restored Old Mineral House to its former glory, it's the closest thing to NYC steak this side of the Atlantic. The cuts are aged in house, the sides are almost as good as the steaks and the entrees include a slab of thick-cut bacon (yep, just bacon)—what more could you want in a meat temple?
Phoenix
Brisbane Quarter
A go-to for flavour-packed Chinese dining in an opulent setting, Phoenix is a gem for lunch, dinner, or weekend yum cha brunch. Start with juicy dumplings before indulging in roast duck, lobster tail or Szechuan chicken. Don't sleep on the mango pancake for dessert!
Alba Bar & Deli
Burnett Lane
While it's pitched as a low-key bar, rest assured you can dine to full satisfaction at Alba. With a Spanish focus and Brooklyn influence, start your meal with the daily croquette and a selection of imported tinned fish and accoutrements before moving on to bigger plates like meatballs, half-chicken and roasted prawns. You'd be remiss to ignore the cocktail list, too.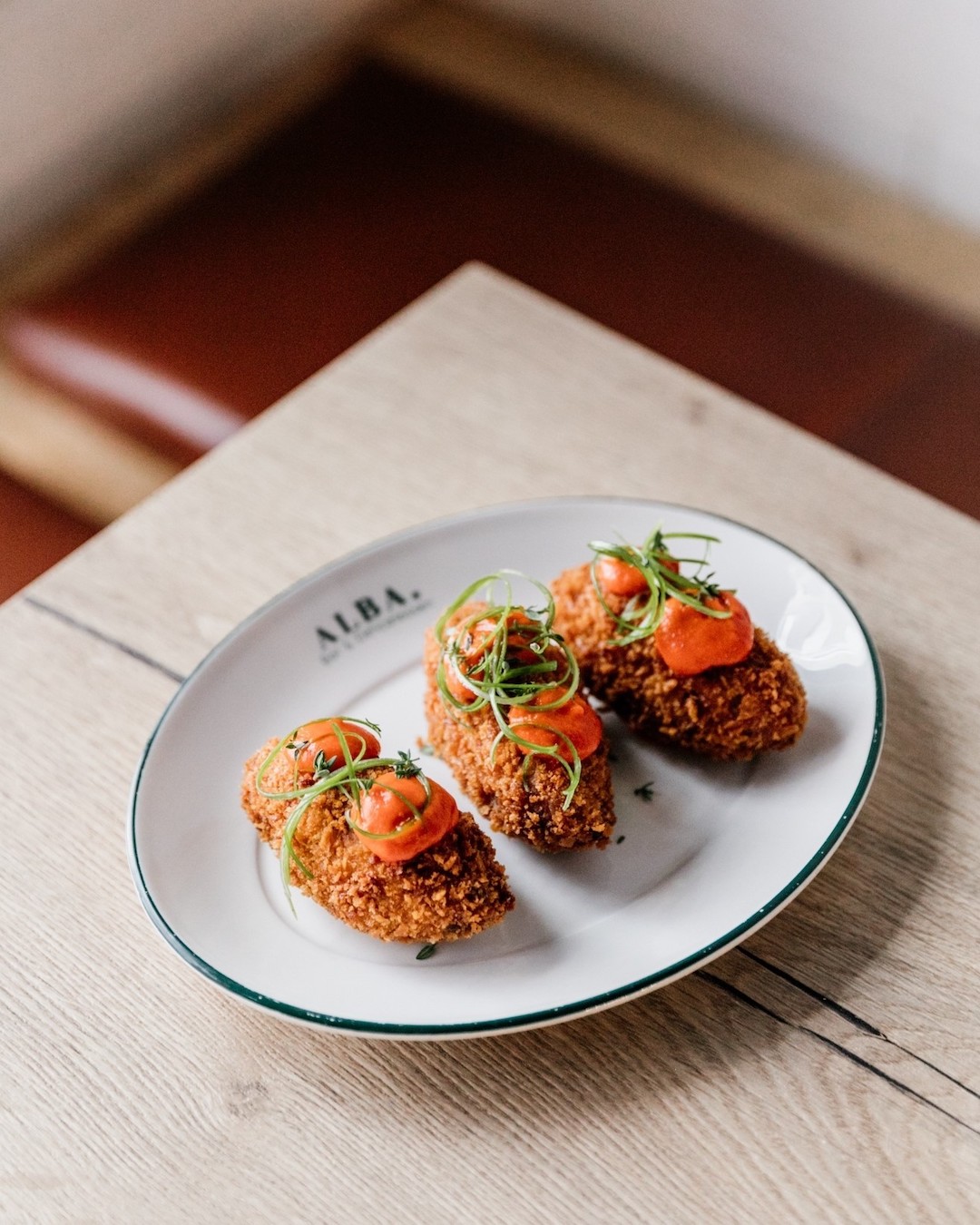 Greenglass
George Street
Greenglass is the definition of a hidden gem. Perched behind a hole-in-the-wall doorway, next to a topless bar, we'll forgive you for walking past a million times without realising it even existed. Don't be discouraged by the entrance either, the anonymous stairs lead to a seriously breath-taking, light-filled space, and an even better menu. Inspired by the tastes of France, the lunch and dinner here is affordable yet indulgent.
Madame Wu
Riparian Plaza
Asian-fusion restaurant Madame Wu boasts stunning river views and a menu that celebrates the best of Queensland produce and the best of Asian cuisine. An epic cellar, cracking cocktail list, private dining rooms, and one heck of a view of the Story Bridge make Madame Wu a no-brainer for post-work drinks and an indulgent feed.
Leonards Bar & Bistro
Mary Street
With a new head chef and brand new menu, Leonards is inviting you to rediscover the charming haunt. The restaurant is a bougie locale designed to be frequented any time of the day or night, with menus inspired by modern bistros native to New York and Paris, featuring the best sustainable and local produce. Just feel like a drink? The bar space and snacks menu more than fits the bill come knockoff time.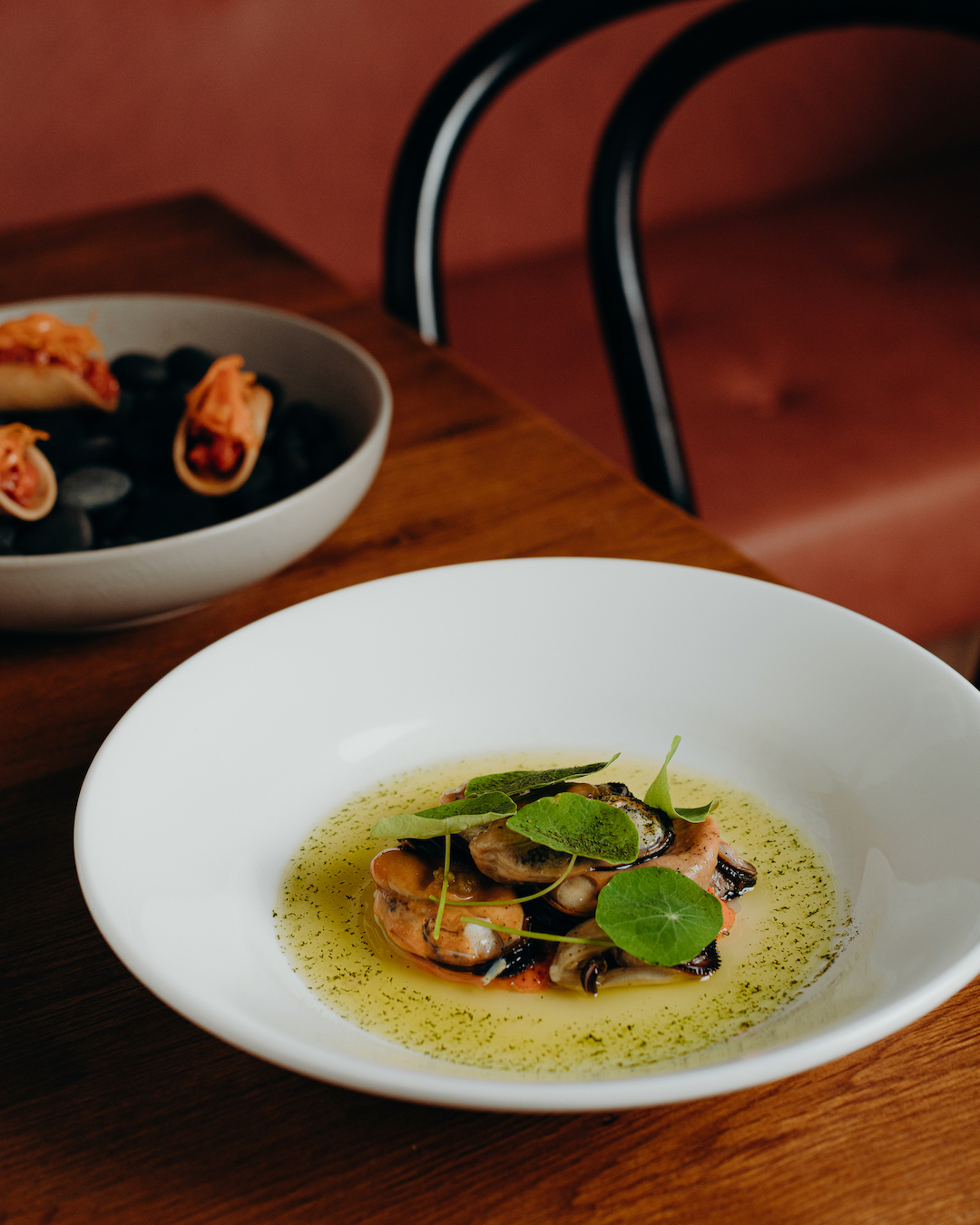 Persone
Brisbane Quarter
For exquisite Mediterranean cuisine with a modern Australian twist, set your sights on the second floor of the CBD's Brisbane Quarter. There you'll find Persone, an Italian restaurant with panoramic views of the riverfront over to South Bank. Dine on oysters, scallop crudo and painted crayfish if you're into seafood, with the crumbed veal cutlet and one-kilogram T-bone being the other standout dishes on the menu. Don't skip dessert!
Black Hide By Gambaro
Treasury Brisbane
For a solid steak with a side of glam, Black Hide by Gambaro is your go-to. Tucked in a gorgeous heritage corner of Treasury Brisbane, the menu offers classics like oysters Kilpatrick, steak tartare and Italian meatballs and, while the main event is the steaks served with Wagyu fat roasted potatoes, there's fish, pasta and seafood options as well. Plant-based pals need not worry; there's a completely vegan menu.
Alchemy
Eagle Street
If your Insta feed is in dire need of some luxe dining vibes, book yourself in for a meal at Alchemy. Overlooking the Brisbane River and the Story Bridge, you're in for some stunning shots of the city, all while indulging in an incredible meal inspired by the flavours of Italy. With a focus on wholesome, fresh and seasonal produce, you can expect meals like braised goat penne, beetroot risotto, and petto di pollo to grace your plate.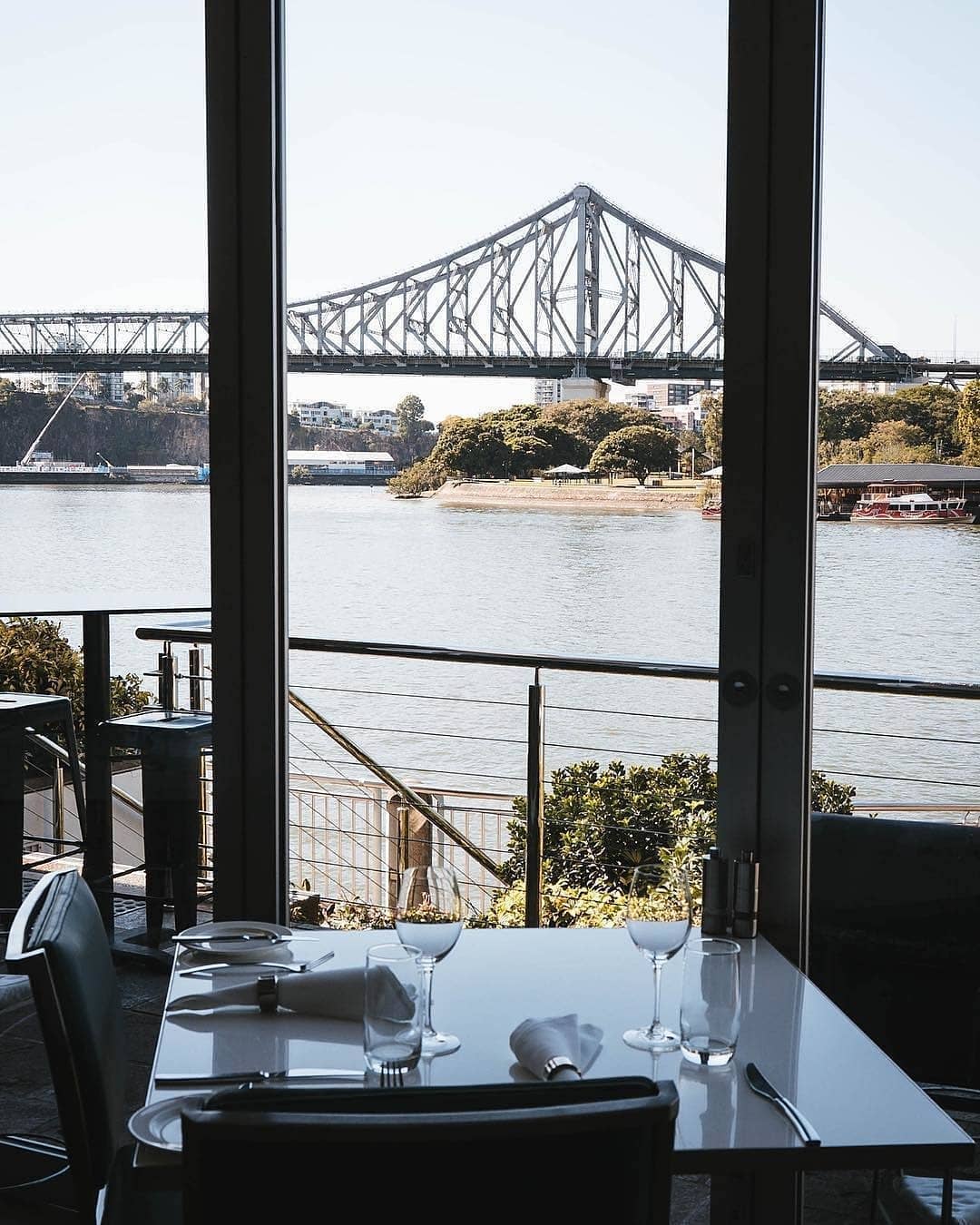 Boom Boom Izakaya
Elizabeth Street
Right underneath Donna Chang, Boom Boom Izakaya is a dark, sumptuous venue housed in the heritage building's original bank vault. You can expect to find a lengthy list of Japanese-inspired bites designed to be ordered in bulk and shared with the group on offer. Think miso-glazed toothfish yakitori with bonito mayo, barramundi katsu bao burgers, wild scampi with scampi caviar gunkan, fried silken tofu and wood-roasted cauliflower. Make sure you order something from the stellar cocktail list too.
Jumbo Thai
Elizabeth Street
Take a long lunch and sidle on down to Jumbo Thai for some of the fanciest Thai food in the city. It's hard enough to choose from the list of starters, but you'll want to save room for dishes like banana prawns and roasted cashews, or crispy pork belly and vegetables. If you'd prefer curry, the massaman lamb shank is a winner, and then comes the best part: dessert. Caramelised Thai egg custard pudding, chocolate-coated banana fritters, lemongrass panna cotta—the list goes on.
Prefer a liquid dinner? Head for one of the Brisbane CBD's best bars.
Image credit: Donna Chang, Longtime Dining, Alba Bar & Deli, Leonards, Alchemy