Whether hot or cold, clean or dirty, hearty or sweet, Japanese is unique in its ability to fit every occasion with the all-encompassing power to keep things fresh, vibrant, and interesting while respecting tradition.
We thought it was time to brush up on Brisbane's best Japanese restaurants. If you're after a hefty bowl of ramen, you'll find the city's best
here
, but for all-out Japanese feasts, here's where to go.
Komeyui
Spring Hill
Well known as one of Melbourne's best venues for authentic sushi and sashimi, Komeyui has expanded north, bringing its delicate Japanese eats to Spring Hill. Here you can opt to sit at the sushi bar for delicate seafood pleasingly plated up, or just nab a table to work your way through the rest of the a la carte menu, which features the likes of pork gyoza, wagyu tataki, braised black pork belly and tempura prawn and vegetables.
Sushi Room
Fortitude Valley
A member of the STK Group's collective (which includes Hellenika, SK Steak & Oyster and Sunshine), Sushi Room is a stunning temple to Japanese dining and Pacific seafood. Serving sushi, sashimi, fried and grilled dishes a la carte, on set menus and omakase experiences, Sushi Room's mid-century inspired interiors and location in The Calile Hotel make it an impressive option for date night.
Takashiya
South Bank
Taste all the unique flavours of Japanese cuisine at this intimate dining experience with sushi master Takashi Nami. Takashiya offers the palate an array of Japanese delicacies including bluefin tuna negitoro maki or Glacier 51 toothfish katsu sando with yuzu mayo and lotus chips, perfect for pairing with a sake-based cocktail in the bar. We also recommend trying the 16-course omakase experience if you're a serious foodie.
Boom Boom Izakaya
Brisbane City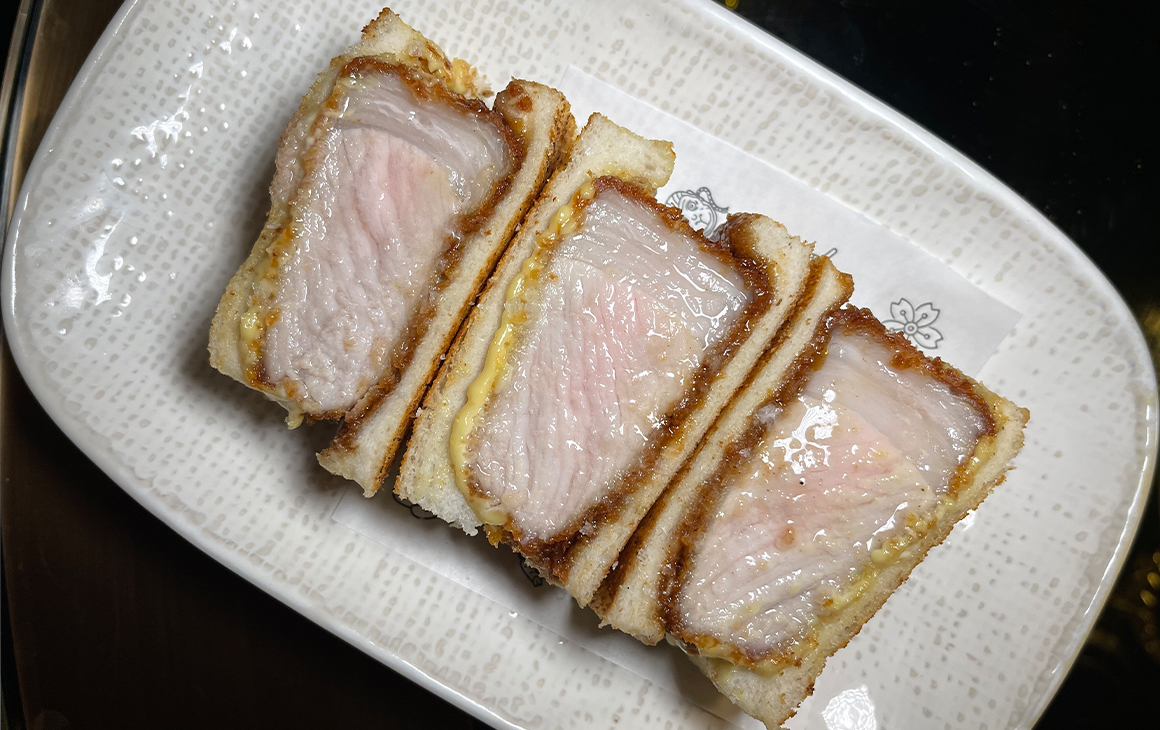 Taking over from The Boom Boom Room, this underground hotspot is a must for all lovers of Japanese cuisine. Boom Boom Izakaya not only boasts a luxe, sultry interior but also a menu that you'll be daydreaming about for days on end. Twice-cooked pork belly with miso apple, pressed and crumbed duck leg in katsu curry sauce, and slow-roasted eggplant with fried tofu and enoki mushrooms are among the list of delectable dishes they have to offer. The menu is designed to be ordered in bulk and shared with a group, so grab your friends and dine like royalty in this dreamy space.
Shunsai
Woolloongabba
If there's one highlight of a traditional Japanese eatery it's being able to watch the chef prepare and plate the dish of your dreams right in front of you. Thankfully, Shunsai in Woolloongabba allows you to watch the masters at work as they prepare a lunch set menu or omakase-style dinner, with super seasonal items and even traditional desserts.
Sono
Portside
Sono
is renowned for its teppanyaki, but sushi platters are also a fantastic option for large groups. A traditional Japanese restaurant complete with tatami-clad private dining rooms, Sono diners can enjoy a stunning selection of sushi and sashimi, with plenty of banquet and omakase options for when you want to leave it to the masters.
hôntô
Fortitude Valley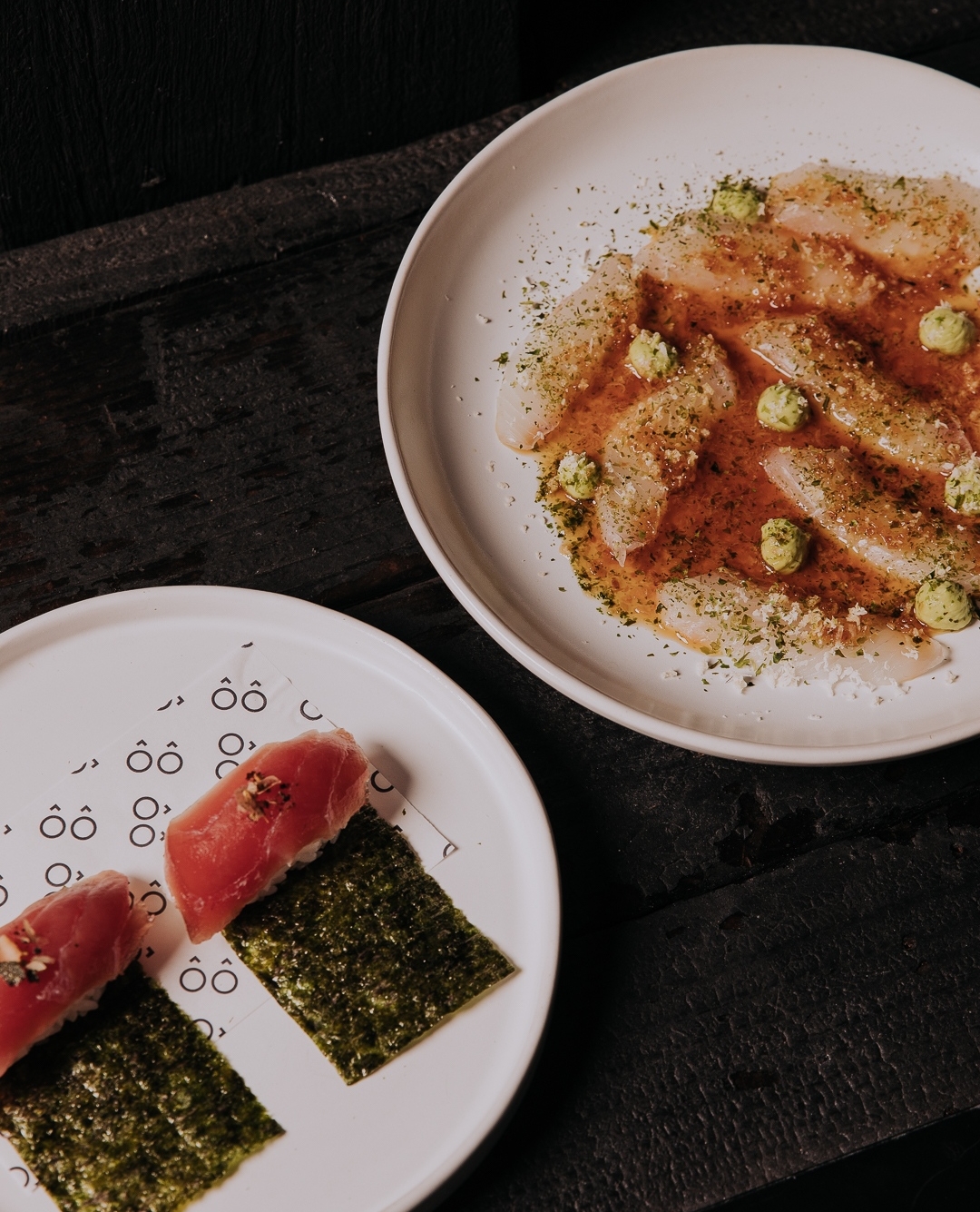 That ancient dilemma of how to give the finesse and subtlety of Japanese cuisine an edgy, sexed-up vibe has been forever solved by the crew at hôntô. With moody, minimalist interiors, long communal tables and a sleek whiskey bar to drink at while you wait for a seat, this dimly lit Valley spot is the place to tuck into elegant fare that's heavily influenced by Japanese dining (with a few twists).
OYAMA
Fortitude Valley
If you've never had the pleasure of kicking off a Japanese feast with one of OYAMA's signature hand rolls, then it's about time. Grab a seat at the sashimi bar, where you can watch owner and head chef Da Shan slice, dice and assemble them before handing them directly to you. There's plenty more on the menu of course, from sashimi platters and hot entrees to delicous mains like tonkatsu pork and eye fillet teriyaki, and you shouldn't skimp on the cocktails either.
Hosokawa
Hamilton
We're calling it:
Hosokawa
is one of the most underrated Japanese restaurants in Brisbane. Fresh fish is the star of the show here, and the sushi rolls and nigiri coming out of the kitchen are some of the best we've had the pleasure of tasting.
Oshin
Brisbane City
Tucked up above the CBD craziness of Adelaide Street, Oshin is truly a little slice of Japan in the heart of Brisbane that's been around since the 80s. Head upstairs to browse their massive menu, with options including banquets, bento boxes and a la carte dining, plus sushi, skewers and rice bowls on special for lunch. You're not a fan of Japanese food in Brisbane if you haven't tried this iconic spot.
Yoko Dining
Howard Smith Wharves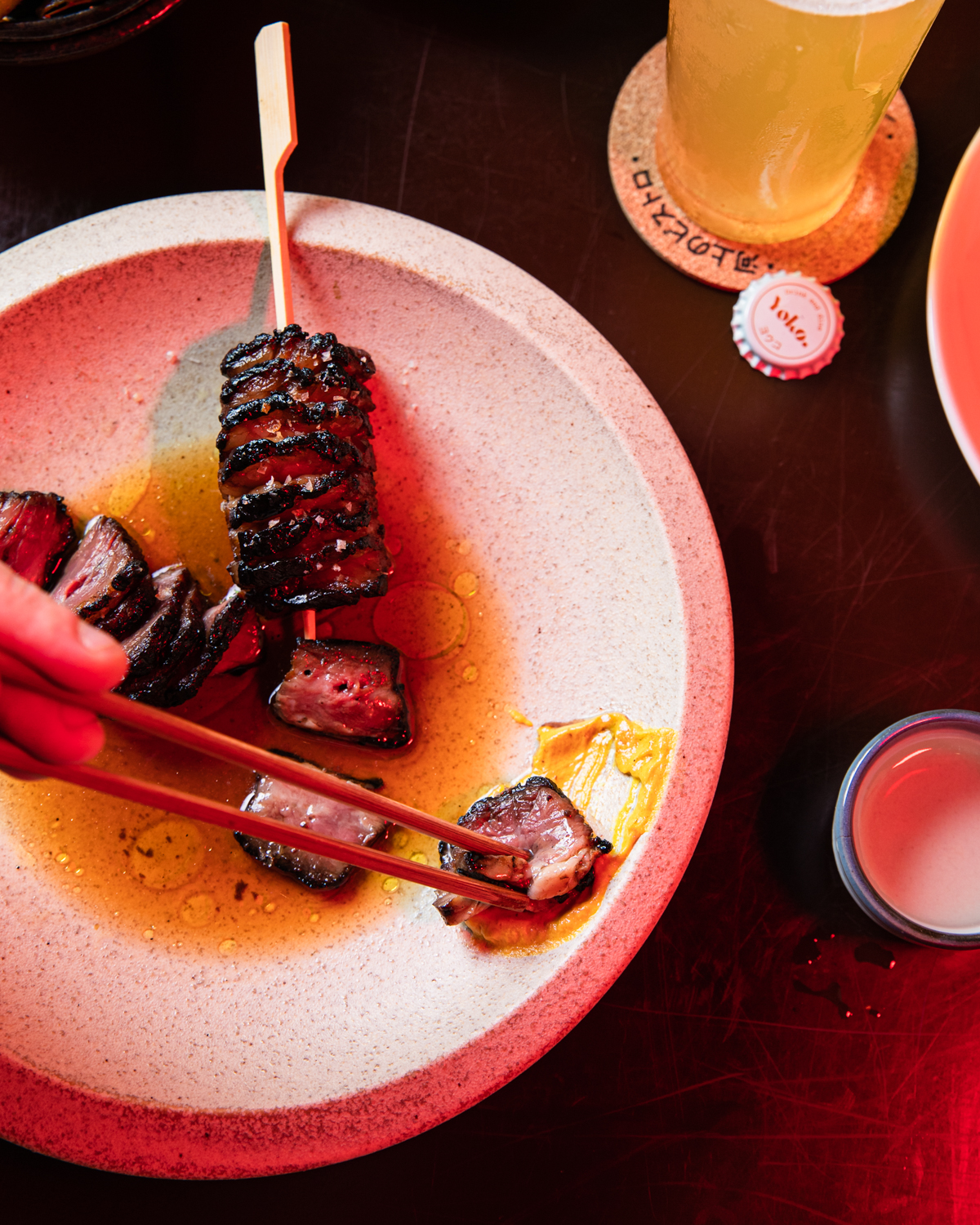 Make your way down to Howard Smith Wharves and pay Yoko Dining a visit for a taste of incredible refined and flavour-filled Japanese food. Feast on as much spicy pork udon, pork gyozas, miso-glazed eggplant, chicken karaage, and sashimi platters as your heart desires. You'll also be obsessing over their dessert menu which features an ultra-refreshing seasonal shaved ice.
Bird's Nest
West End, Fortitude Valley And Toowong
At first glance, yakitori seems pretty straightforward, but few places that purport to offer yakitori actually lock it down. Purists require proper yakitori to be grilled on a charcoal fire (take a walk, George Foreman) and this is where Bird's Nest winkles out its point of difference in a minefield of posers. They proffer authentic yakitori, slamming fries (bonus) and all the sake that you can handle responsibly.
Izakaya Publico
Brisbane CBD
Hidden inside Hotel Indigo in the CBD is this street art covered Japanese izakaya with a menu full of uber shareable dishes. If you've got a big crew, Izakaya Publico is ideal thanks to their huge booth tables, but don't worry if there's only two of you—just make sure you wear stretchy pants. The deep-fried panko crumbed camembert is a must-order, as are the mushroom udon noodles.
Mizu
Teneriffe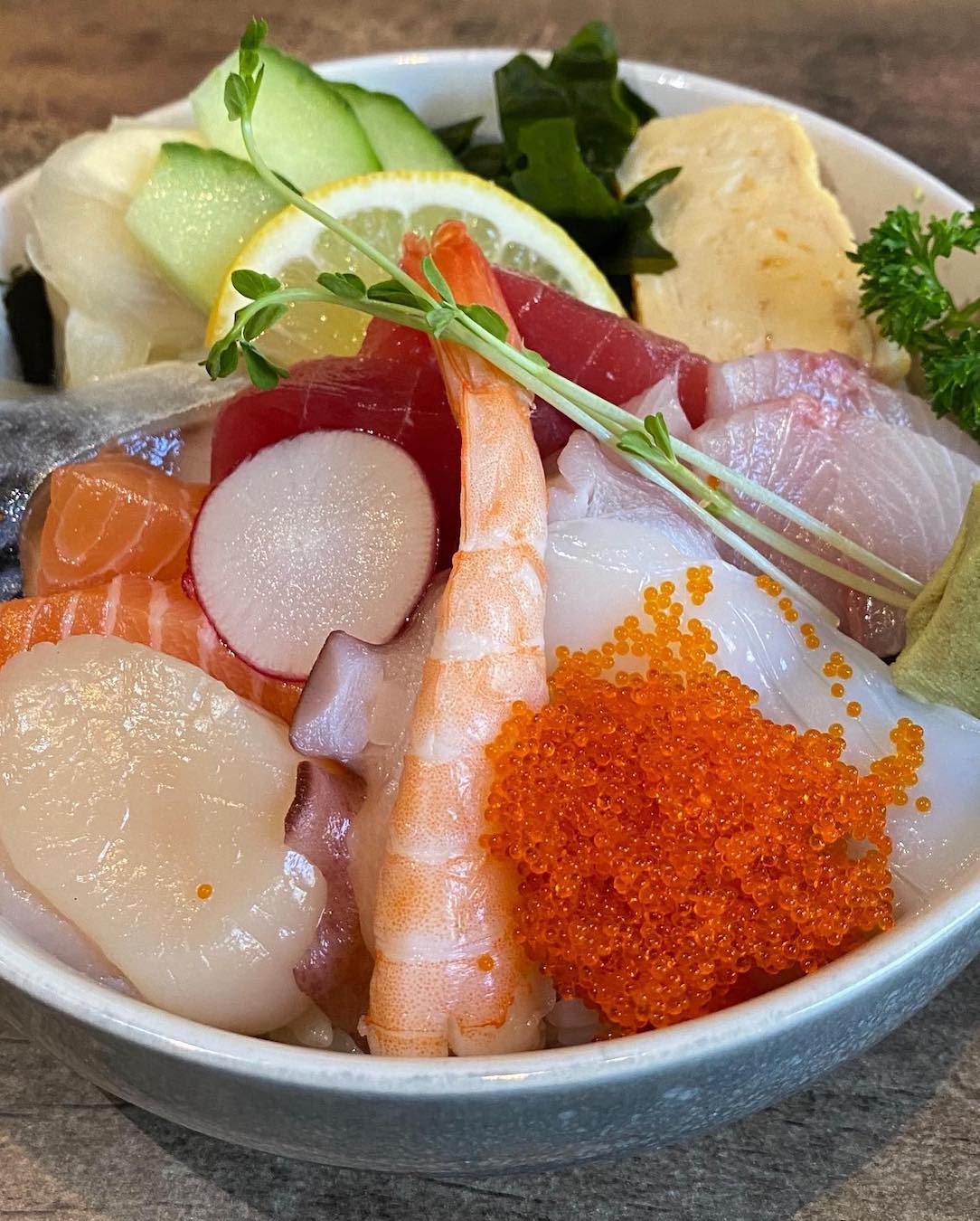 The uninitiated would likely baulk at the prospect of a big old bowl of tofu for dinner. If this sounds like you, check your priorities because the first step in self-discovery is Mizu's signature agedashi tofu. Pad out the rest of your feasting with some cheeky sushi and a couple of bottles of plum wine and paradise comes early.
Ku-O
Woolloongabba
If you're looking for a hidden Japanese gem, Ku-O is an oriental umbrella adorned venue that serves up traditional dishes in Trafalga Lane. You'll find everything from single servings of sashimi to flavourful hotpots. The locals keep this one a pretty tight secret, but the word's slowly getting out there.
Uncle Don
Paddington
As you might guess from the name, Uncle Don specializes in donburi, with pork, seafood, chicken, beef and vegetable options of the Japanese rice bowl dish on the menu. You can start with other eats, like parmesan karaage chicken and pork katsu sandos, but don is definitely the star of the menu—we recommend the spicy pork don or wagyu steak don with teriyaki butter.
KatsuCo
Sherwood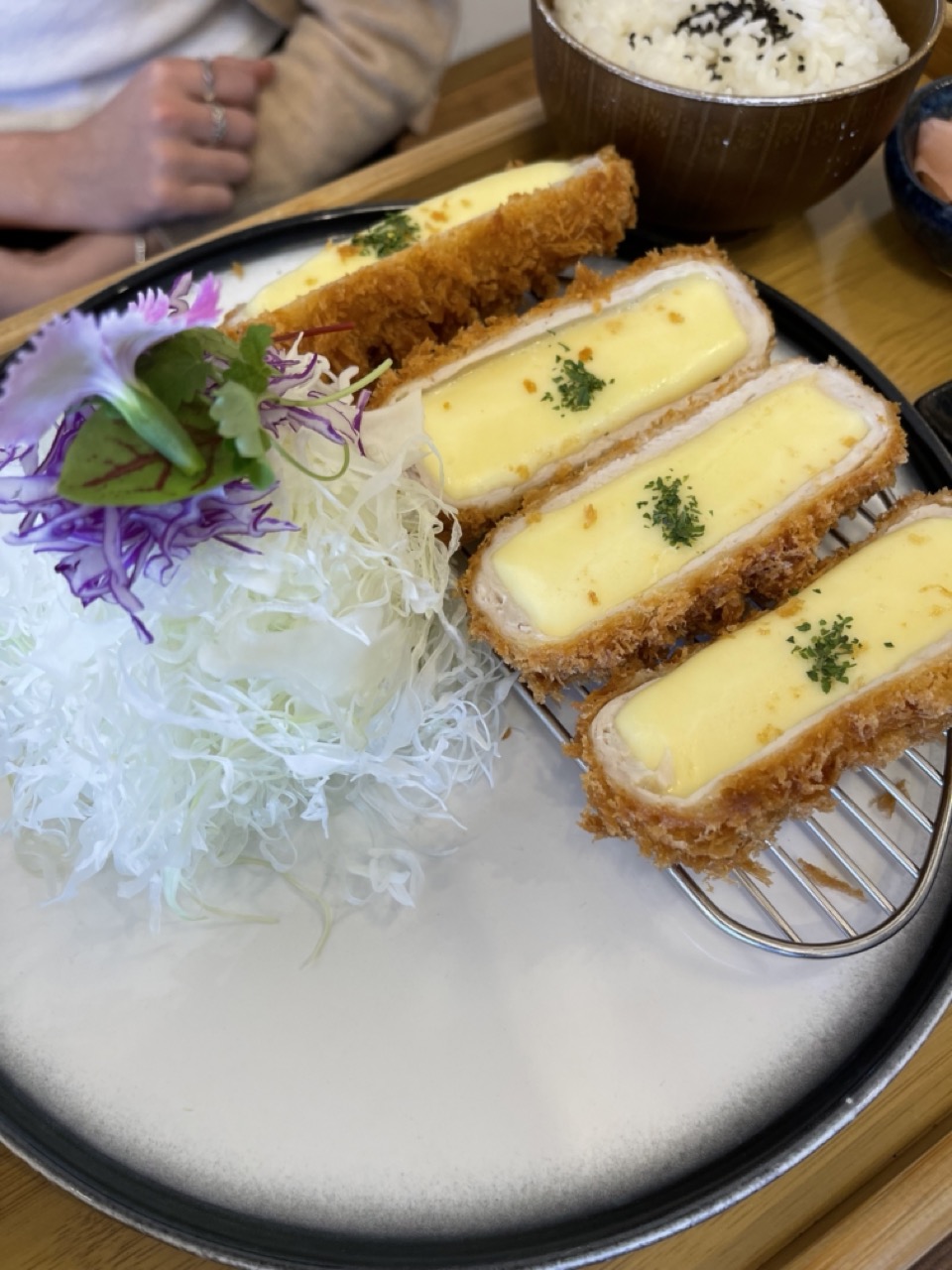 If the name hasn't already given it away, this westside spot specialises in all things katsu, a breaded and deep-fried cut of meat or seafood served in a signature set with katsu sauce, rice, salad and miso soup. The star of the show is their cheese katsu—mozzarella cheese wrapped with pork loin and coated in lightly fried panko crumb—but they're also known for their Japanese take on carbonara, which swaps out spaghetti for udon noodles. Frankly, KatsuCo is one our favourite spots for Japanese eats, and it should be one of yours too.
Okuman Karaage And Ramen Bar
South Brisbane
When the hankerings hit, sometimes it takes more than a sushi train to quell the impending anarchy. Enter Okuman and their epic offering of sashimi, sushi, fried snacks, loaded bowls of ramen, and hearty rice bowls. This is one you'll want to tackle with a big appetite.
Bishamon
Spring Hill
From teppanyaki, teriyaki and tempura to katsu, hot pot and sukiyaki,
Bishamon Japanese
is so suited to your fancies it's like the Allen key of Brisbane Japanese. The eggplant slathered in sweet miso is an elegant declaration of how best to eat your vegetables, and the gluten-free menu means you can bring your GF posse without fear of any sneaky contaminated soy ruining the damn mood.
Izakaya Goku
West End
With a warm, wooden exterior, Izakaya Goku affords you all the comfort and privacy you need to make the most of a long-ass boozy lunch. Start out with some okonomiyaki (savoury pancakes), quickly foray into the chicken katsu and then step it up with some teriyaki Wagyu beef guaranteed to blow your trumpet. Don't forget their expansive range of sakes and, of course, Sapporo on tap.
Hikari
Teneriffe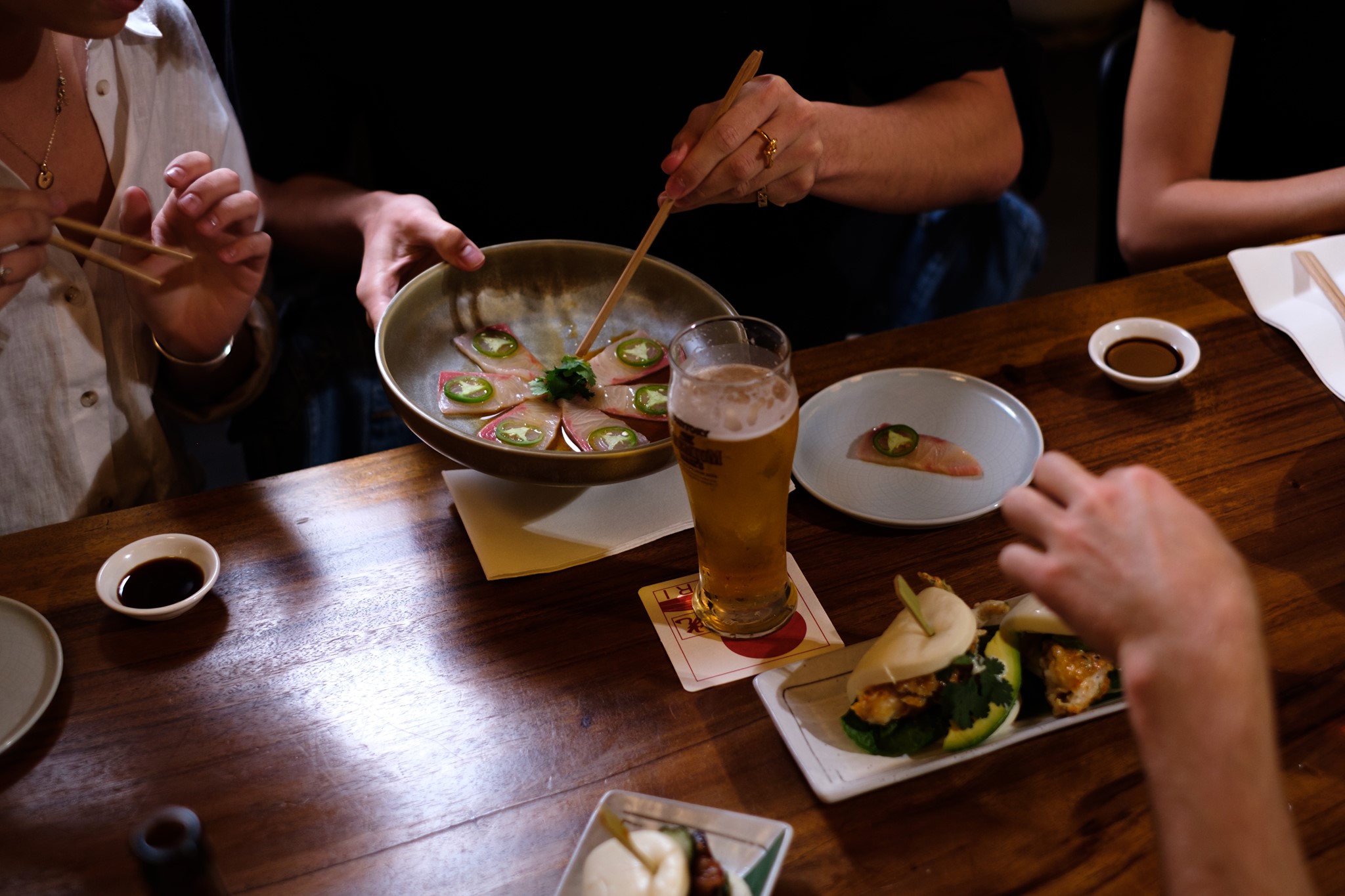 Tucked away in the leafy streets of Teneriffe, Hikari is winning over tastebuds everywhere with lunchtime dishes like donburi bowls and okonomiyakisoba—savoury pancakes filled with soba noodles and your choice of meat. It's their izakaya-style dinner menu you'll really want to head in for though, with a range of share plates perfect for knocking back with a Japanese beer.
Yuzu & Co
New Farm & Milton
Yuzu & Co is a local go-to for fresh, contemporary Japanese dining. Though replete with classic dishes like sushi rolls, gyoza and ramen, Yuzu & Co also cranks up the creativity with stellar options like wagyu with truffle salsa and a neat selection of traditional poke bowls for those looking for a healthier, yet still delicious option.
Kenjin
Fortitude Valley
Kenjin is unlike any other Japanese restaurant in Brisbane in that it's not just a dining spot—it's also a nightclub, with a strobe-lit dance floor just through a door at the back of the venue. Don't worry if you're the type who likes to go home to bed with your food baby though, because the restaurant is a delicious destination in its own right, with large plush booths to slide into for a feast of creative fusion dishes, including the likes of potato okonomiyaki, octopus takoyaki, crispy pork belly served with 63-degree egg and Wagyu rump from the hibachi grill. But, being a thumping night spot, they've also nailed the drinks list, meaning you can pair your feed with cocktails like the Kenjin Yuzu Spritz, a concoction of yuzu, martini bianco and prosecco.
Eat your way through a different international cuisine and check out Brisbane's best Italian restaurants here.
Image credit: Urban List, honto, Yoko Dining, Mizu, Hikari