Reliable and sage, Brisbane's best Italian restaurants come steeped in tradition and aren't about to go switching up their menu with a drastic revamp anytime soon. As the defining element of Italian food is the nourishing heft of it, hence we recommend checking out these places the next time you can't decide between the warm and fuzzy feeling of a home-cooked meal and the swish delights of eating out.
Here's where we reckon you'll find Brisbane's best Italian restaurants.
Persone
Brisbane CBD
Gambaro's latest venture offers classic Italian a la carte dining right in the city centre. Located in the North Quay precinct, Persone's specialty is serving up refined dishes with a side of sweeping river views. Hot tip: order the venison carpaccio and the stuffed zucchini flowers to start.
Mosconi
Newstead
Offering a fresh and piping hot take on Italian is James Streets's tangental newbie Mosconi. Theirs is a perfect marriage of tradition and modernity with dishes like the beef carpaccio with smoked sesame and red sorrel, or the Parisian gnocchi with prawns, porcini and shellfish butter. With such goodness on their a la carte they've done us a massive solid by offering four different function menus to cater to whatever milestone you're celebrating, even if it's just making it to Wednesday.
Bucci
Fortitude Valley
Finally, we have Bucci. This James Street mainstay is a mediterranean delight that has been consistently hitting the mark ever since we first met back over six years ago. Head chef Shaun Malone leads his team to excellence in an open kitchen, elevating the dining experience by bringing diners closer to the cooking process as spectators. As for the dishes themselves, expect an array of Italian classics from calamari fritti to spanner crab linguini to the unctuous house carbonara.
1889 enoteca
Woolloongabba
Part restaurant, part wine cellar, 1889 enoteca is the first name in intimate dinners, lavish wine lunches, family spreads on Sunday, and of course, Roman cuisine. With an interior reminiscent of the Belle Époque, 1889 enoteca is your best lighting and your best bet at an authentic and refined Italian feast. We recommend the zucchini flowers and the truffle gnocchi.
Beccofino
Teneriffe
Along with their little brother Julius in South Brisbane, Beccofino has long wooed Brisbane's hungry Italophiles. Front and centre on the ordering agenda is the perfectly tender calamari fritti, followed up with a main-sized serving of the duck ragu pappardelle. Get the full experience with a few glasses of Aperol spritz or a bottle of their finest red.
Bar Alto
New Farm
One of the Brisbane restaurant greats, Bar Alto is a triple threat of style, substance and location. Perched alongside the Brisbane River inside the iconic Brisbane Powerhouse, this Italian restaurant is the spot to settle in to when you're craving authentic, hearty dishes from the motherland. From their famous kilo of mussels, to wood-fired pizzas, to their light-as-air fried zucchini crisps, Bar Alto sets the bar for unrivalled river views—pasta in face, Aperol in hand.
Tocco Italiano
Graceville and Teneriffe
Run by a stalwart of Italian hospitality, Tocco Italiano is the two-pronged dynamo shaking up Brisbane's Italian scene. Where the Graceville restaurant is all about rich, authentic Italian feasts, the Teneriffe kitchen operates with a fine dining agenda. Choose from Tocco's expansive menu of rustic pizzas, luscious pastas and perhaps the most comprehensive list of Italian desserts in town.
Popolo
South Bank
Known for their Italian feast and signature slow-roasted Gippsland porhcetta, Popolo is a classic and hearty Italian stop. Their riverside locale inspired Popolo to offer a bunch of picnics for groups of two, four and above which include antipasti, fresh pizzas and soft drinks as well as a bunch of other menu heroes.
OTTO Ristorante
Brisbane CBD
Four floors up and swimming in natural light, OTTO's ultra-modern dining space transcends onto their food, which subs out the generous tangles of unctuous, rustic Italian in place of delicate and refined dishes that wouldn't be out of place in any other hatted restaurant. Check out their BYO Saturday lunch for a taste of their menu standouts.
Il Verde
Bowen Hills
Their dining menu is a collection of classics like risotto and gnocchi, but Il Verde is perhaps best known as the home of parmesan wheel pasta. It's well worth a visit on Tuesdays and Thursdays when they roll out an entire wheel of cheese and swirl fresh spaghetti around inside it for an even coating.
Tartufo
Fortitude Valley
Right next to the Ovolo in the Emporium Precinct, Tartufo is one of Brisbane's most reliable Italian haunts. Offering fresh baked bread, hand made pasta, and Neopolitan-grade pizza as well as a full dining menu, this Italian institution is a must for any ardent Italophile worth their basil garnish.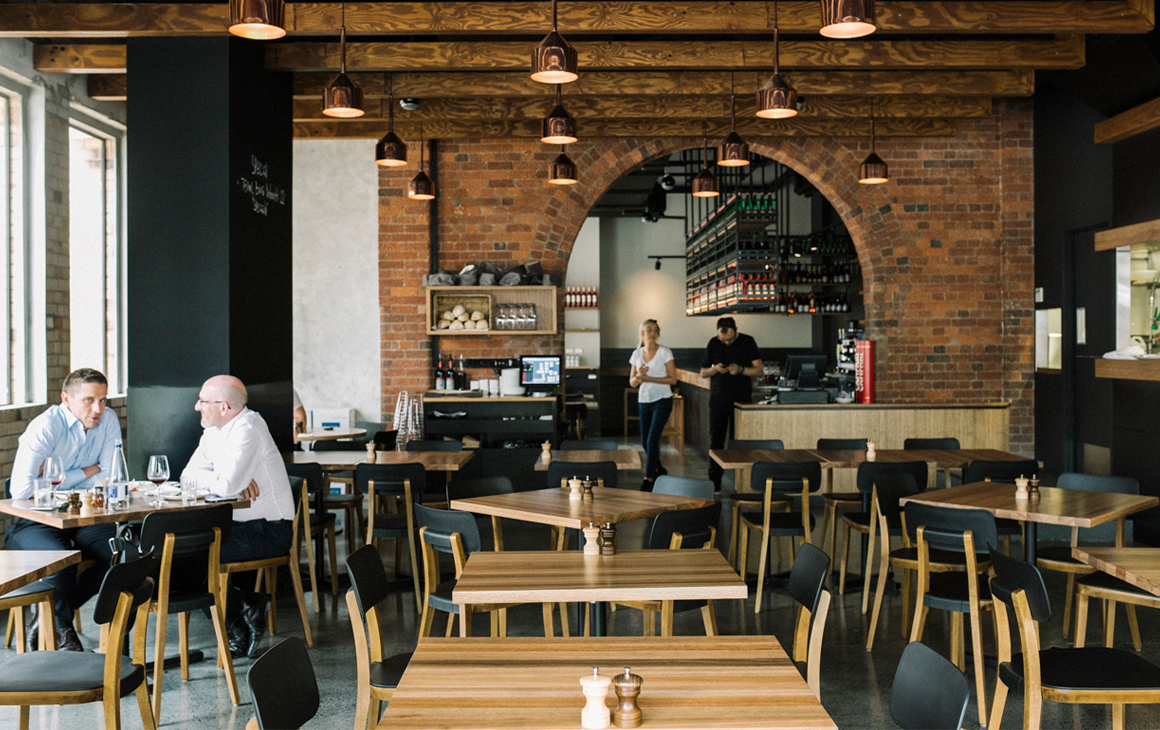 Julius Pizzeria
South Brisbane
Sitting right at the Grey Street entrance to Fish Lane, Julius is the perfect jumping off point for good night. Headed by the minds behind Teneriffe favourite, Beccofino, Julius's pizzas and pastas are an authentic continuation of a fine legacy. The duck ragu pappardelle is a must-order.
Vine
New Farm
Italian cuisine is often billed as comfort food, but under the guidance of Michelin-starred head chef Enzo Ninivaggi, Vine is here to make sure that it doesn't get overlooked as a fine dining venture. What could be finer than burratina with prosciutto and smoked eggplant or a confit duck risotto with a bottle of natural wine? Despite these fancy repasts Vine retains its soul as a family run business and provides a warm, versatile dining sanctum for patrons.
Massimo
CBD
Right down next to the water, Massimo have staked their claim as The Place to go for an aperitivo. Every afternoon from 3 to 5 they offer glasses of their house wines, beers and spirits for just $6 a pop. Add a couple of oysters or a plate of cold meats from the bar menu and you might as well be somewhere on the Italian coast. As for main meals, Massimo prides itself on offering the freshest seafood (think stuffed squid, Alaskan King crab and Moreton Bay bugs) prepared under the Italian banner.
Ristorante La Famiglia
Woollongabba
Taking Italian dining back to its provincial roots, Ristorante La Famiglia aims to evoke the warmth and succour of Nonna's table with large plates of saucy, carby goodness. They're not trying to reinvent the wheel here, which is why Ristorante la Famiglia is always our first stop when we're looking for a hearty feed. The lasagne is a must-order.
Coppa Spuntino
Brisane CBD
The perfect bistro offers a selection of food and drinks that is at once plentiful but not overwhelming. The key to striking this balance is thoughtful curation, and it's safe to say Coppa Spuntino's got it in spades. Their food menu covers everything from pizzas and snacks to some well-executed mains, and the whole thing can fit on just one page. As for the drinks, Coppa is billed as a predominantly wine bar but they also trade in premium afternoon tipples to capture the aperitivo vibe.
Like something a bit more hands-on? Check out Brisbane's best pizzas.
Image credit: Hayley Williamson, Daniel Maddock, Tash Sorenson, Grace Elizabeth Images