If you don't like pizza, you're not human. For something made of so few ingredients, you'd think it would be easy to nail, right? Bad pizza has no place in this world or in our mouths, and we'll be damned if we waste another calorie on a sub-par crust or shoddy tom to cheese ratio.
So here it is, our definitive list of the best pizza Brisbane has to offer. Buon appetito!
Spread
Camp Hill
Springing from the crew who run Say Cheese, you know the dairy and carbs combo here is going to be good. Tiny but mighty, Spread's pizza lineup includes all of the classics, plus some bangers like the Inferno with mozzarella, extra hot salami, olives, nduja and basil, and a mean Nutella pizza for dessert.
Gluten-free bases available for $4.
Beccofino
Teneriffe
A TUL office stalwart, you'll find us here most Fridays, Aperol spritz in hand (no, we're not kidding). Having mastered the thin/thick, soft/crunchy base ratio, Beccofino's traditional pizzas are a beacon of hope for traditionalists. Do yourself a favour and order the Number 1.
Prova Pizzeria
Stafford
Go for the delicious pizza, stay for the deep-fried dough balls smothered in Nutella for dessert. Even if you're not a dessert person, Prova Pizzeria is worth hitting for their classic slices—personally, we'd go for the zucca pizza with pumpkin cream, mozzarella, pancetta, parmesan and basil, but there's plenty of more options, including margherita, capricciosa and gamberi.
Gluten-free bases available for $5 extra.
Etna
Fortitude Valley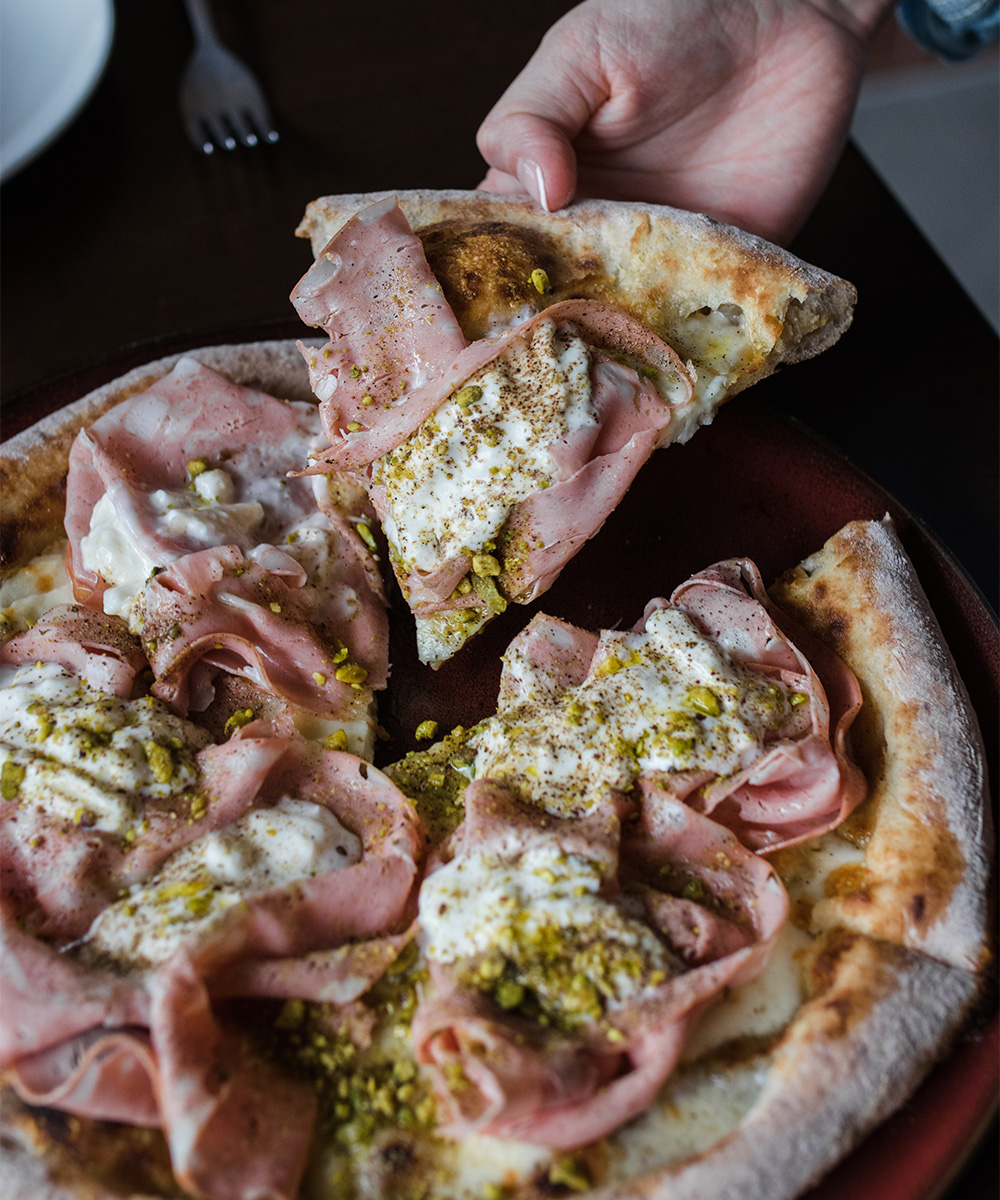 If you like your pizza with a side of wine, look no further than Etna. Their whole schtick is "pizza e vino," so it would almost be rude to not get a glass or two with your capricciosa. The sourdough bases are made with a six-year-old starter, and are fermented for 48 hours, just to give you a crust you'll think about for days to come.
Tinderbox Kitchen
James Street
When PJ McMillan, of Harveys fame, opened an Italian restaurant in Brisbane, we knew Brisbane's pizza game was about to be lifted a rung or two. Tinderbox Kitchen is a communal Italian-style restaurant where they're not afraid to go gonzo with the cheeses, and we could happily spend every night of the week kicking back and enjoying their menu. Favourite topping has got to be the Savoyarde, a heady mix of potato, rosemary, leek, raclette, chilli, onions and scarmoza.
Tartufo
New Farm
The make of a great pizzeria is surely how good a spot's classic margherita is. If this is anything to go by at Tartufo, then welcome to the pearly pizza gates. All thin and soft with the perfect topping ratio, is there anything more satisfying than finding a perfectly simple pizza?
Jacopo's Pizza
Newstead
Located inside Range Brewing, Jacopo's Pizza is the place to be when you just need a cold brewski and a slice of pizza pie. Allegedly, Jacopo, Range's first pizza chef and the man the joint is named after, learned to make pizza from an ex-mafia mobster on house arrest in Rome. Now, we're not sure about you, but that story alone is enough to make us want to try these pizzas.
Gluten-free bases available for $5 extra.
La Lupa
West End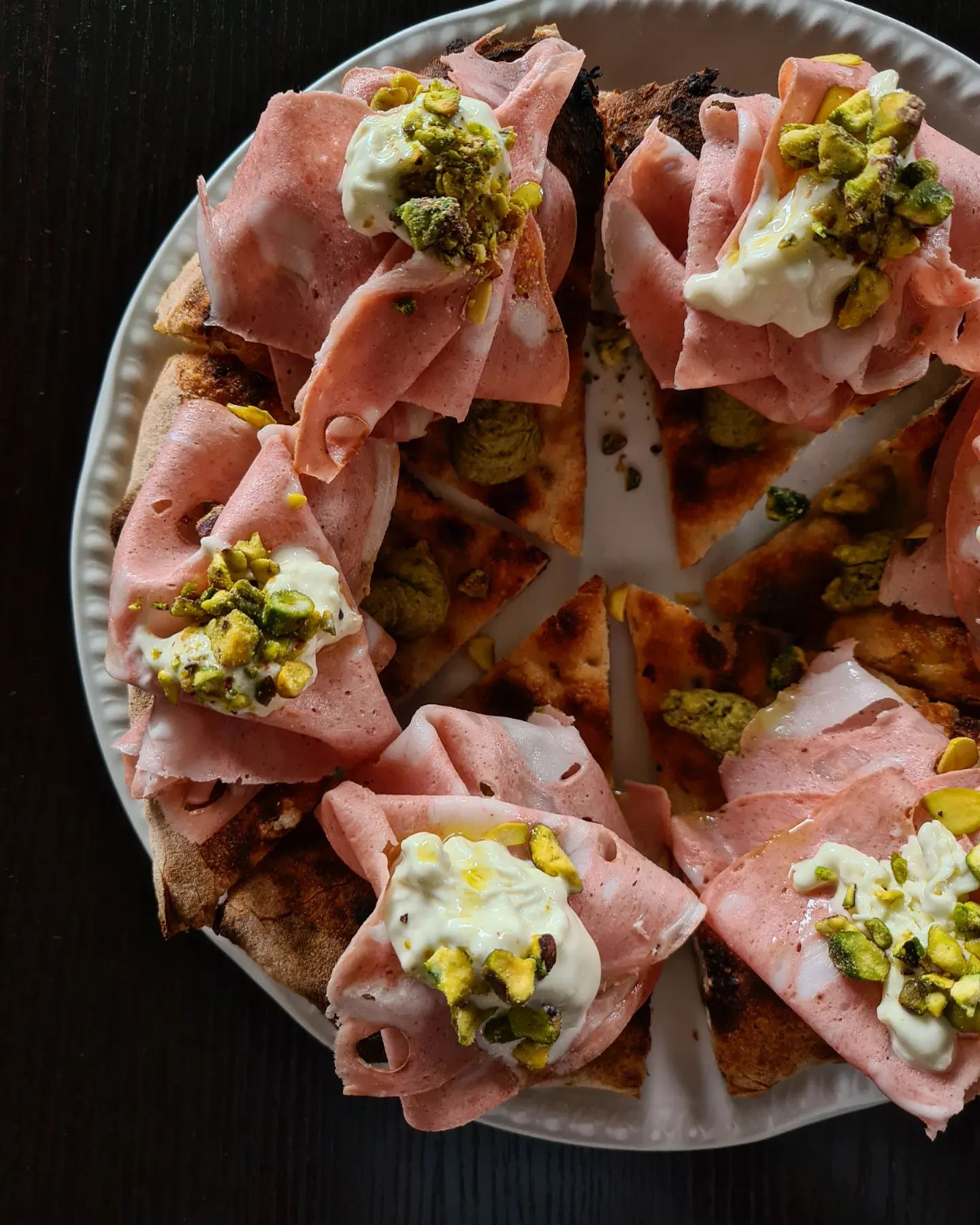 Serving up authentic Italian pizzas and sides in West End, La Lupa is one to add to your must-try list. The menu features 13 pizzas all up, plus three of their signature lupachiotti (long-fermented, topped pizzas). You'll also find fresh burrata, prosciutto and incredible house-made pasta if what you're craving is not pizza (who ARE you?).
The Burrow
West End
Firing up the tastebuds with some, dare we say, creative pizza flavours, The Burrow's pizzas are famous among locals for being, well, delicious! For non-traditionalist pizzas, tuck in to the Big Voodoo Daddy, with pulled pork, chorizo, BBQ bourbon glaze and fresh slaw, or our personal fave, the Bad Mutherfungi.
Gluten-free bases available for $5 extra.
Little G
Woolloongabba
When standard toppings just won't do, head for Little G, where a rotating menu board of specials features creative slices like othing you've ever tasted before. We're talking Wagyu cheeseburger, a Reuben number, spanakopita and spaghetti and meatballs. Yes, on a pizza. Keep an eye on their Facebook for specials, and pop in whenever one takes your fancy.
Superfly Pizza
Woolloongabba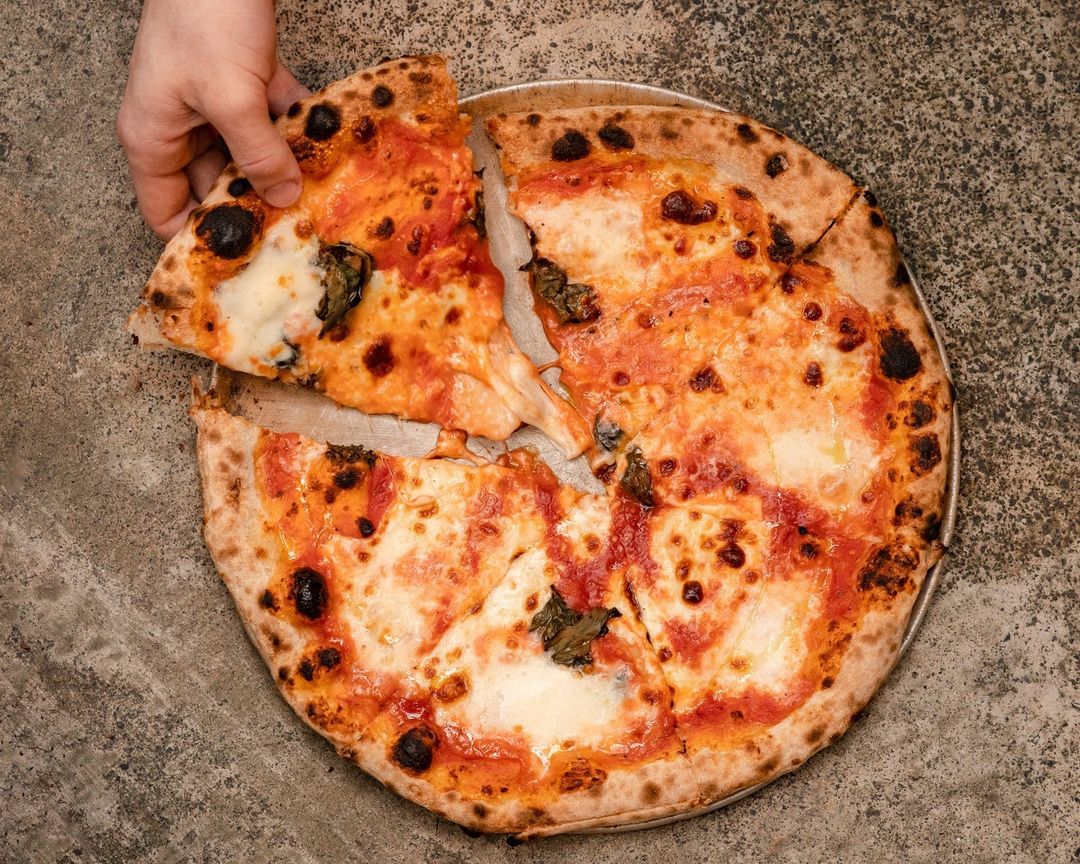 Superfly's menu might be small, but they sure know how to use it. Choose your balls (arancini, of course), the take your pick from one of the seven pizzas—our current fave is the pumpkin with honey, rocket, fiora di latte, blue cheese and mozzarella.
Gemelli
Fortitude Valley
Gemelli might be fairly new on the Brisbane scene, but they've been serving up slices to the Gold Coast for years—and doing it well. Now they've finally brought that expertise our way, and you can expect to find the same menu of doughy options in their James Street restaurant. Our faves include the Roma, with fior di latte, prosciutto di parma, burrata cheese and cracked pepper, or the Principessa, with fior di latte, gorgonzola, provolone, dried figs and prosciutto di Parma.
Gluten-free bases available for $3 extra.
Sugo IT
Bulimba
No list is complete without a mention of the dough-slinging prowess at Sugo IT. Their perfectly puffy and soft crust is due to the workmanship of their talented pizzaiolas, who've been slinging dough at this Bulimba spot for years. The Arrostita with slow roasted pork, caramelised onion, mozzarella, balsamic and rocket is a good time, as is the Anatra, with confit duck, mozzarella, caramelised pear, parmesan and rocket.
Gluten-free bases $4.90 extra.
Elementi
Paddington
A little gem in the city fringe, Elementi is an homage to traditional Italian cuisine—and with an ex-Julius sous chef and an ex-Beccofino pizza chef in the kitchen, you know their pizzas are going to be winners. A real focus on simplicity and culinary traditions (no Hawaiian toppings in sight!), the pizza here brings diners back for more.
Antica
Wilston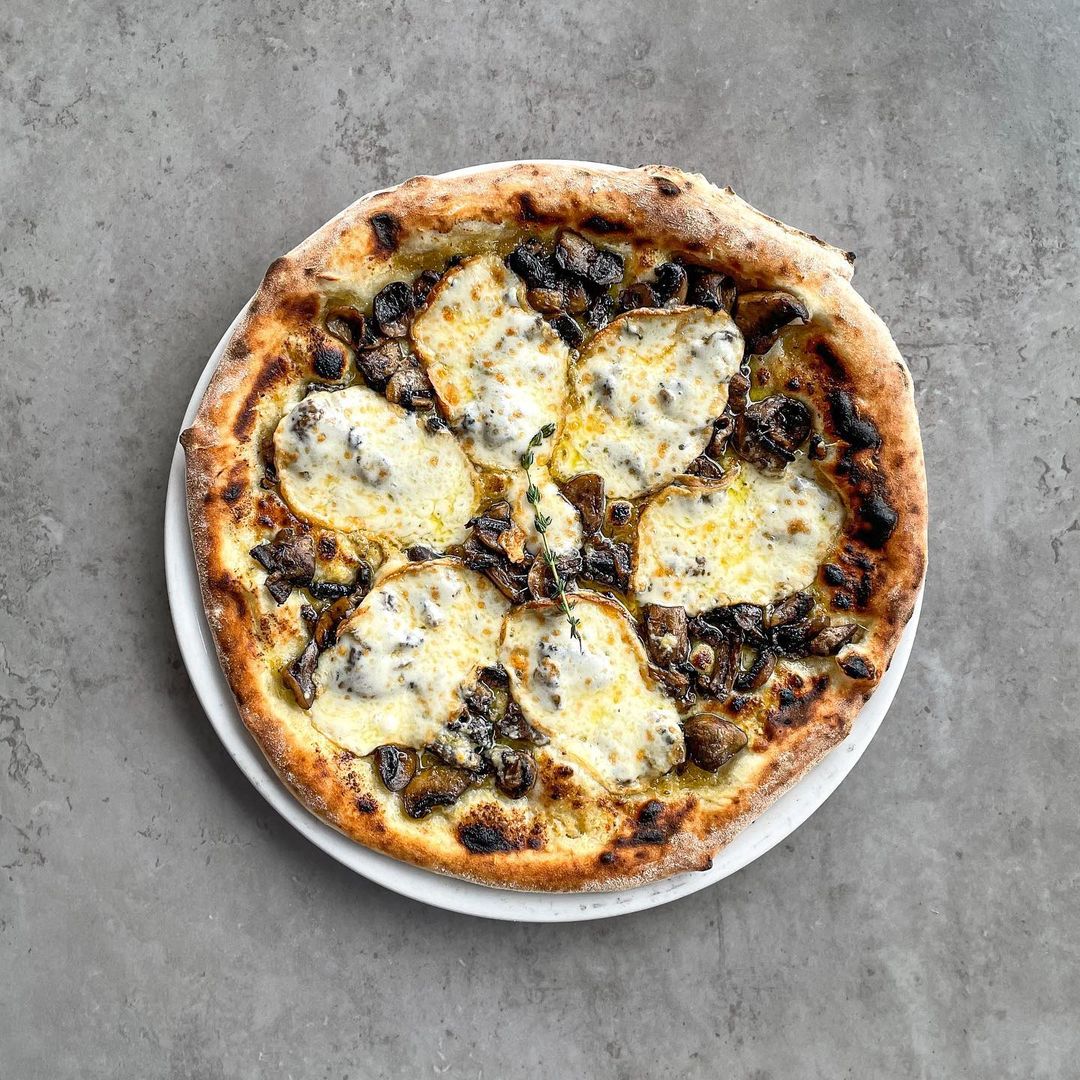 The first flagship from crowd favourite food truck Pizzantica, Antica is serving up serious slices to the Wilston crowd. Don't skip their signature: a long pizza split in half with tomato, burrata and balsamic pearls on one side and fig, honey and goats cheese on the other.
Gluten-free bases available for $5 extra.
Mina Italian
Bulimba
Inspired by Italian powerhouse singer Mina Mazzini, Mina Italian adds a sprinkle of dramatic flair to all their dishes. Order a prawn and basil pesto wood-fired pizza and sit under the summery spring lights and striped yellow umbrellas for a feel of the Euro summer you deserve. Feeling less adventurous when it comes to your pizza? Don't worry, they have all of the classics here too.
Gluten-free bases available for $5 extra.
Julius Pizzeria
South Brisbane
When the guys behind Beccofino opened a sibling venue in South Brisbane, the whole southern precinct of Brisbane was introduced to their phenomenal pizza game for the first time, and you can bet hearts were won. Home to some of Brisbane's best pizzas, Julius Pizzeria is a must for any Brisbane Italian food fan.
Munja Pizza
Wynnum
With a recipe for artisan pizza dough passed down through generations, Munja Pizza is authentic Italian at its finest. Their eight pizza-strong menu consists of classics like the Peppe (pepperoni) and more adventurous options like the Fun Guy (wild mushroom mix, truffle oil, and pesto). Finish things off with their choc hazelnut banana log and you've got yourself a feast.
Gluten-free bases available for $4 extra.
Mr Badgers
Woolloongabba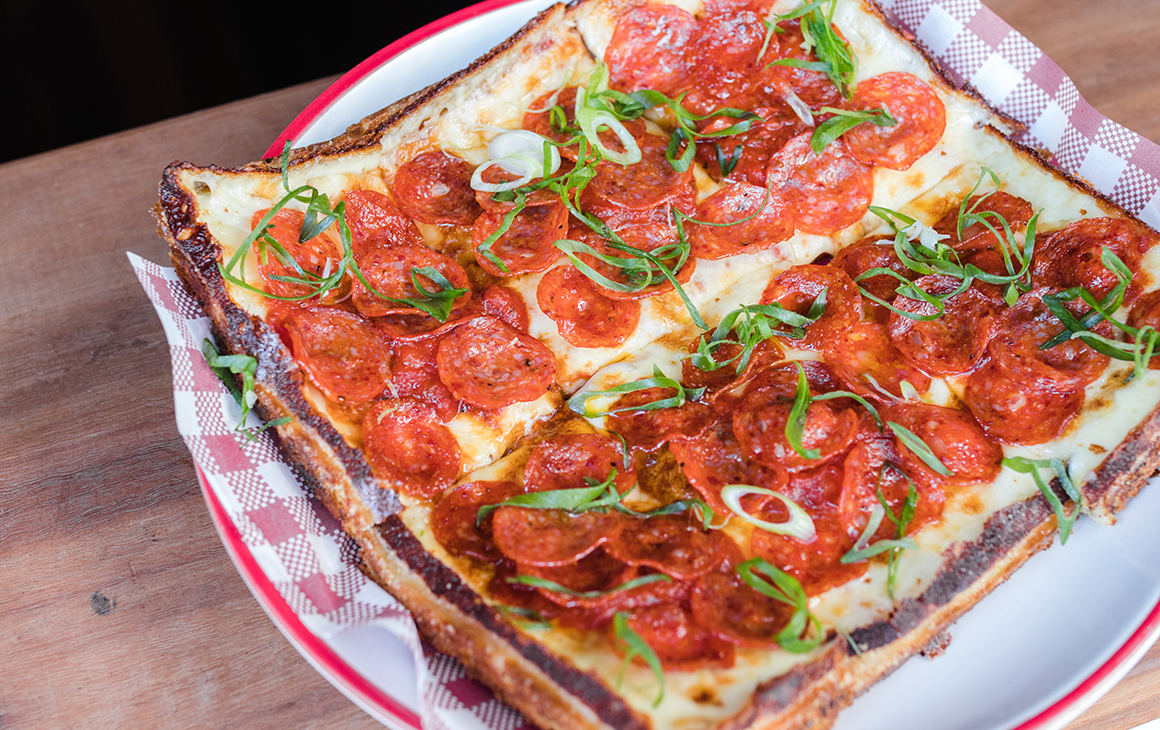 This one goes out to anyone who usually fills up on focaccia or garlic bread before they get to the pizza. Mr Badgers may be a deli and sandwich bar, but their pizzas are a carb-lovers dream. An uber thick, bread-like square base is topped with lashings of cheese, and baked in a deep pan to ensure a crispy cheese crust on every edge. You can keep your traditional Italian base, we'll keep eating these.
Sette Pizza
Petrie Terrace
Brisbane Italian royalty is behind this hole-in-the-wall pizza spot, with the Gambaro Group taking their considerable hospitality expertise and channeling it towards something a little less fine dining than their other venues. Sette Pizza's menu is short but sweet, and you can trust that every slice is nothing short of perfection. There's also calzone if you like your pizza pre-folded.
Gluten-free bases available for $5 extra.
Nonna's Nightmare
West End
This one goes out to all the vegan pizza lovers—because Nonna's Nightmare is all about plant-based Italian fare, the kind that would give any actual Italian an anxiety attack. Every single topping on their pizzas is plant-based, from the mozzarella to the 'pork and fennel sausage,' so you can order your 4 Formaggi pizza safe in the knowledge that there is no dairy or animal products in your mozzarella, gorgonzola, parmesan OR feta. And then finish it off with a vegan tiramisu.
Osteria Epoca
Yeronga
Don't let the unassuming interior fool you, Osteria Epoca is a legit pizzeria. The seemingly innocuous decor leaves you free to focus on the main event: the pizza pies. We dig the lengthy menu of both bianche and rosse pizzas, especially the potato and porchetta pizza with fior di latte mozzarella.
Look we couldn't possibly list them all, so honourable mentions must go to Salt Meats Cheese, Il Verde, Il Gancio, Popolo, Tocco Italiano, Olive & Angelo, Corbett & Claude and La Stazione.
When you're ready to move on from the best pizza Brisbane has to offer, here's Brisbane's best Italian restaurants.
Image credit: Spread, Tinderbox Kitchen, Ranyhyn Laine, La Lupa, Superfly Pizza, Antica, Mr Badgers