Small, XXL, super-sized, stuffed, in brioche, with bacon, extra brie (?), in Brisbane we like burgers any which way. So if you think you've seen it all, tackled the metaphorical whales of the Brisbane burger world so to speak, you'd better have tried the absolute best burgers in Brisbane.
All hail the humble burger: it's not going anywhere fast.
Brooklyn Depot
South Bank, Fortitude Valley, Hamilton and Stones Corner
Brooklyn Depot is your one-stop shop for all foods 'Americana'. I'm talking Philly-style hot dogs, Hershey's chocolate shakes, signature slaw and caramel pecan brownies… You're probably already drooling and we haven't even started talking about the burgers. Do yourself a favour and try the Nashville (the Southern-fried chicken will blow your mind), or take a chance on whatever's going for Burger of the Month.
Ze Pickle
Fortitude Valley and Camp Hill
The famed Ze Pickle made their name in levelling up burger chow and now they've gone full turbo and cranked their entire operation up to full tilt. The magnificence of this titanic burger haunt is evident in the Ze Pickle's pecan wood smoked brisket burger. That's smoked brisket, topped with house made mac n' cheese, maple smoked bacon and corn chips between their famous brioche bun. Not for the faint hearted. If you need a more detailed description of a Ze Pickle experience, click here.
Benz On Miller
Murarrie And Roaming
You know it's a good burger when you can't help but make an absolute mess of yourself eating it, and that's just what you'll do at Benz On Miller. Whether it's a crispy chicken, beef patty or vegetarian burger, it will definitely end up on your shirt, so best not wear white. Our pick has to be the Sweet Baby Jeebus, with Wild Turkey maple-glazed fried chicken, bacon, cheese, lettuce and mayo.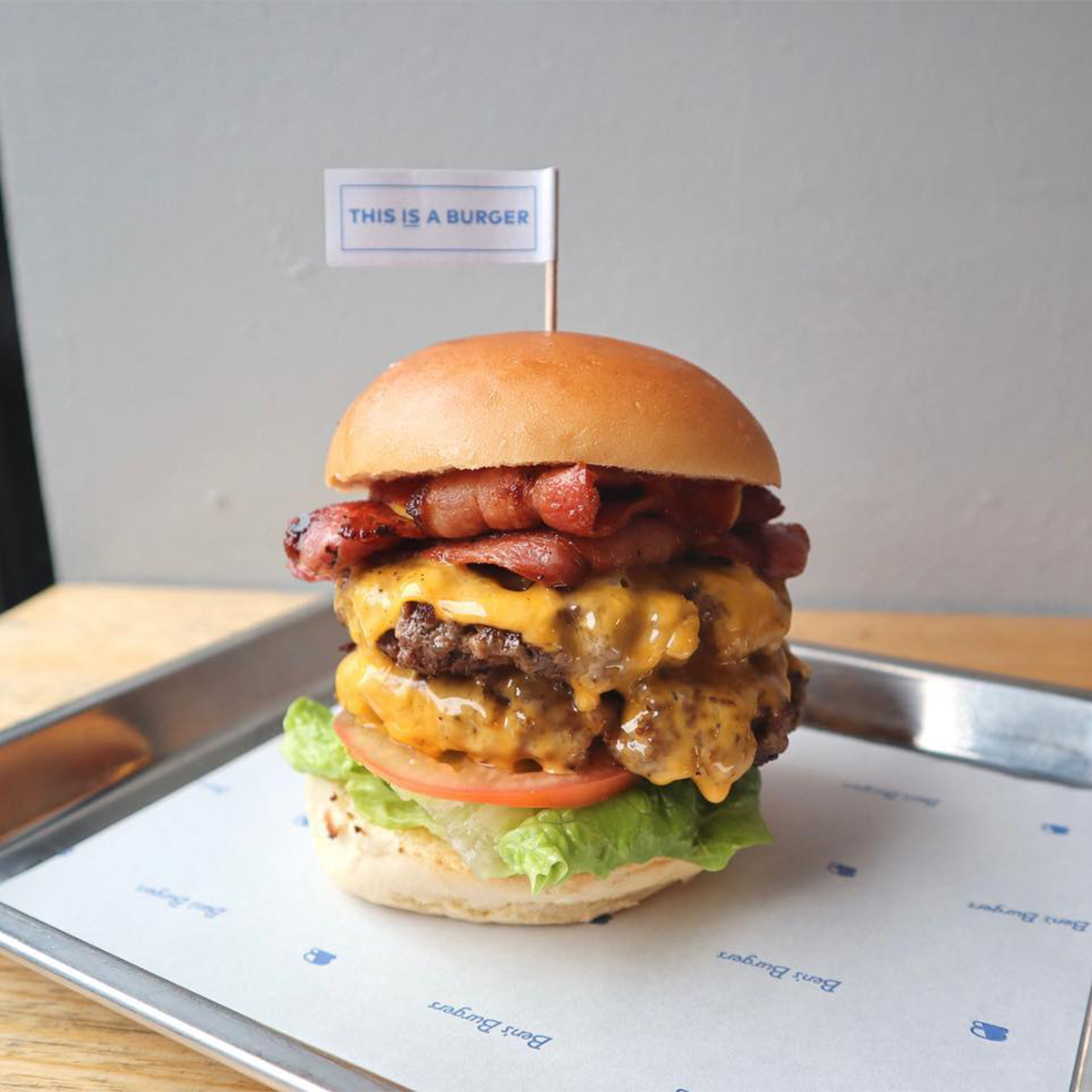 Ben's Burgers
Fortitude Valley
Shaved meat grilled in flatbread is not a burger. Raw fish on rice is not a burger. Fermented grape juice in a box is not a burger. If you can't tell where I'm going with this, check out Ben's Burgers. They teach one lesson and the lesson is this: a burger is a beef patty with sauce, cheese and potentially crunchy accoutrements between a fluffy sesame seed bun. Don't get it confused. Our pick? The Cheezy: a beef pattie, American cheese, pickles, onion and their special sauce.
Getta Burger
Various
Where the fries are more than a side, Getta Burger's feasts are proper beasts. Their entire menu holds its own pretty well against the stiffest of Brisbane's burger competitors, but the standout has got to be the Getta Boss, which is not only a revenue-raising, micro-managing, synergy-promoting juggernaut but is such a daunting prospect that to finish one of these suckers is the burger equivalent of a touchdown.
Miss Kay's
Mitchelton, Springwood and Birkdale
Food trends may come and go but burgers are forever. Miss Kay's knows this and now has lodgings in Mitchelton, Springwood and Birkdale to satisfy our burger urges. All of their burgers are pretty fantastic, but our heart belongs to the MK Special. Take a patty, toss in some maple bacon, onion rings, cheese, lettuce, pickles, mayo and BBQ sauce and you've really got yourself a burgasm…
Mac From Way Back
Woolloongabba
Where else in Brisbane can you add mac 'n' cheese to a burger? Don't knock it 'til you try it folks, because Mac From Way Back's mac 'n' cheese is all the dairy-laden carbs you could wish for, and it takes any burger to the next level. Add it to their Single Smashie, with a smashed beef patty, cheese, onions, pickles and sauce on a potato roll.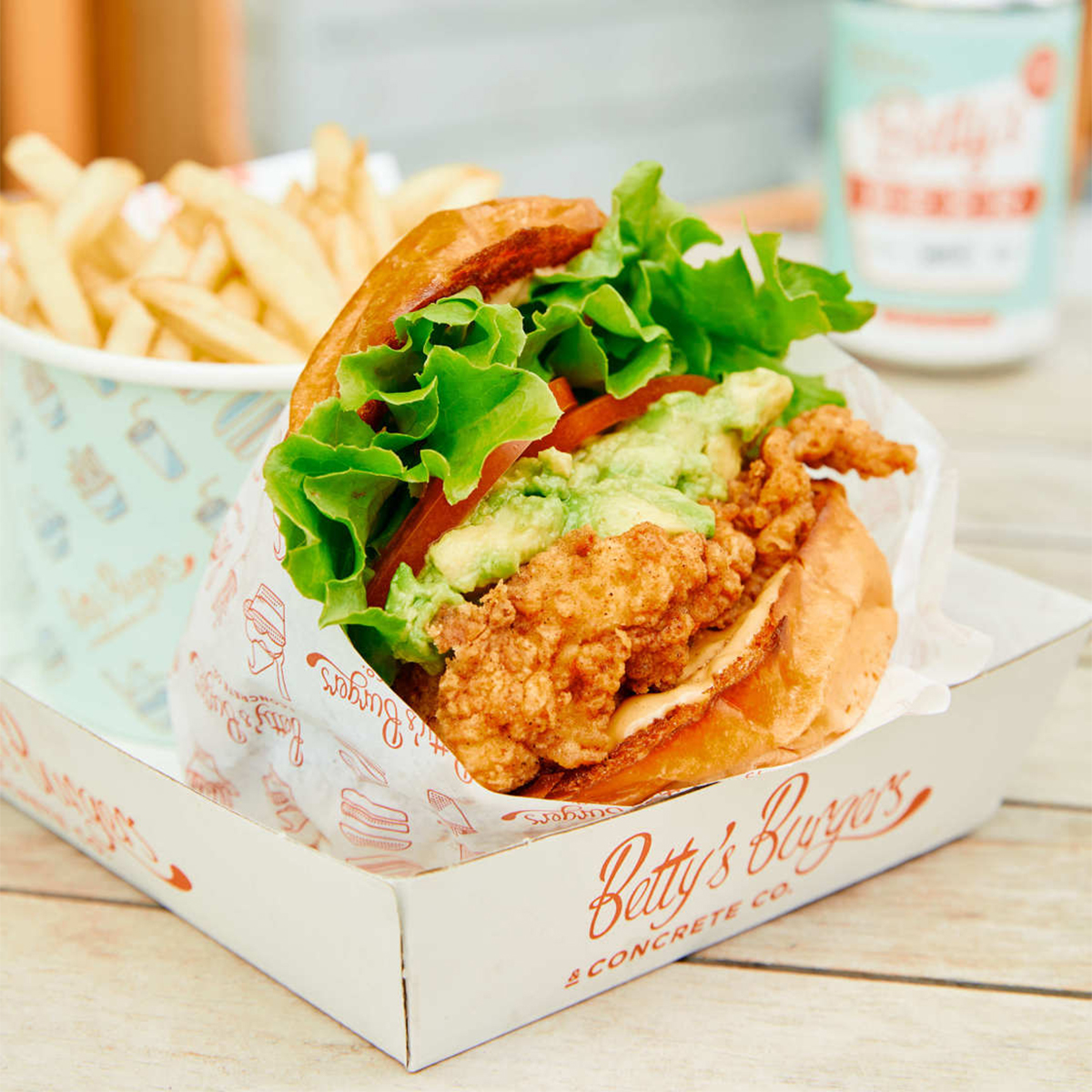 Betty's Burgers
Various
A beloved Noosa institution, Betty's Burgers finally made their way south to Brisbane and goddamn if we aren't bloody grateful. Their burger menu is uncomplicated perfection, with plenty of sides and extras to customise your meal. But the prowess is not limited to the grill, Betty's also prides themselves on some incredible thick shakes and concrete sundaes.
Broken Hearts Burger Club
Various
This no-frill burger spot is all about the perfect burger (with crispy fries on the side of course), developed over months of trials and taste-testing. Sure, there's some other bites on the menu, but the star of the show is the classic, hand-smashed burger. A patty (you can double or triple it if you like) made up of a blend of chuck steak, high-end steak cuts and bacon, American cheese melted over top, pickles and a dollop of house-made sauce is all sandwiched in a soft toasted bun, with the option to add lettuce, tomato and onion if that's how you like it.
Wing Fix
Morningside And Coorparoo
Thought these guys just did wings? You though wrong. As well as saucy, crispy chicken, Wing Fix are the master of a stacked burger, with both beef and chicken buns on the menu. Go for the truffle cheeseburger, with an Angus beef patty, truffle mayo, cheese, lettuce, tomato, onion and pickles on a toasty bun.
Plan B Works
Petrie Terrace
We're not sure why you'd ever make this burger spot plan B for dinner—it really should be plan A. A cult Sydney venue that's made its way to Brisbane, Plan B Works has plenty of options for you, with beef, chicken and vegetarian burgers on the menu. Don't feel the need to just pick one and go with it though—Plan B's menu is totally customizable and they reckon they'll do anything your imagination can dream up.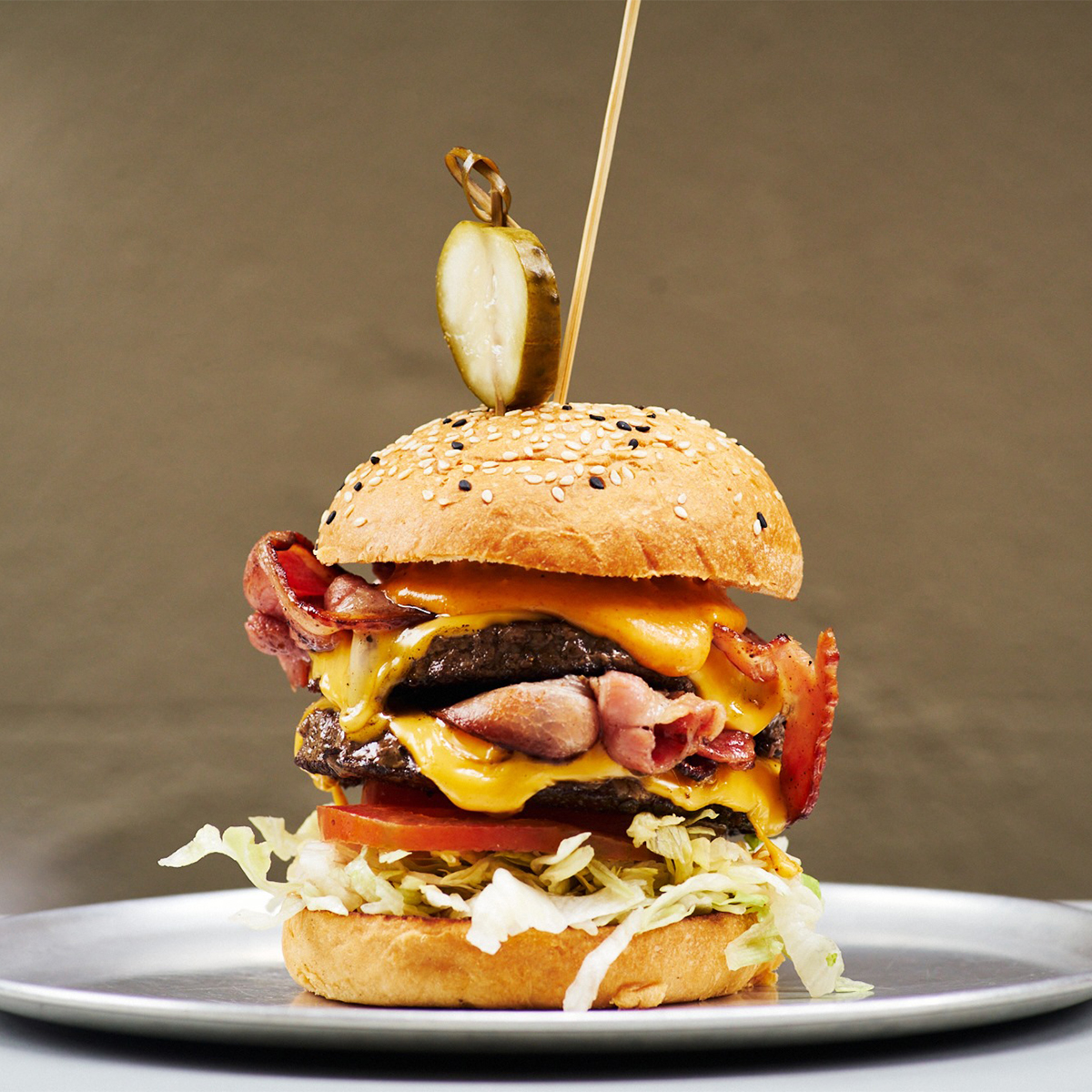 Red Hook
Brisbane City
There's nothing I like more than New York street food. Pride of the menu, Red Hook's Grandmaster Flash burger is a tasty explosion of all the usual suspects: beef, pickles, lettuce, tomato, ketchup, and smoky mayo. All dressed up with a wee pickle skewered through the top like a Philip Treacy. A bite off one of these babies is like getting punched in the mouth by a unicorn.
Keen to visit Red Hook soon? Purchase a restaurant gift voucher here.
Just Poppy's
Jindalee
A Jindalee favourite, Poppy's doesn't mess around when it comes to a patty and a bun. Their compendium of burger offerings is a mind blowing testament to the tenacity of our burger-loving city totalling a whopping 69 different burgers (don't be so childish) championing everything from standard beef patties and steak to meat free wonders and twisty concoctions. Is there one with pineapple? Of course there is.
Hashtag Burger And Waffles
Fortitude Valley and West End
You could get a fairly standard burger at Hashtag Burger And Waffles and be perfectly, if not exceedingly satisfied. But then you'd be missing out on an opportunity to try one of their crazier stacks—stacks like the P-BJ, with double beef patties, cheese and bacon, and a good dollop of peanut butter and jam. You've also always got the option to swap out the regular buns for cheese toasties or better yet, waffles, on any of their burgers. Yes please.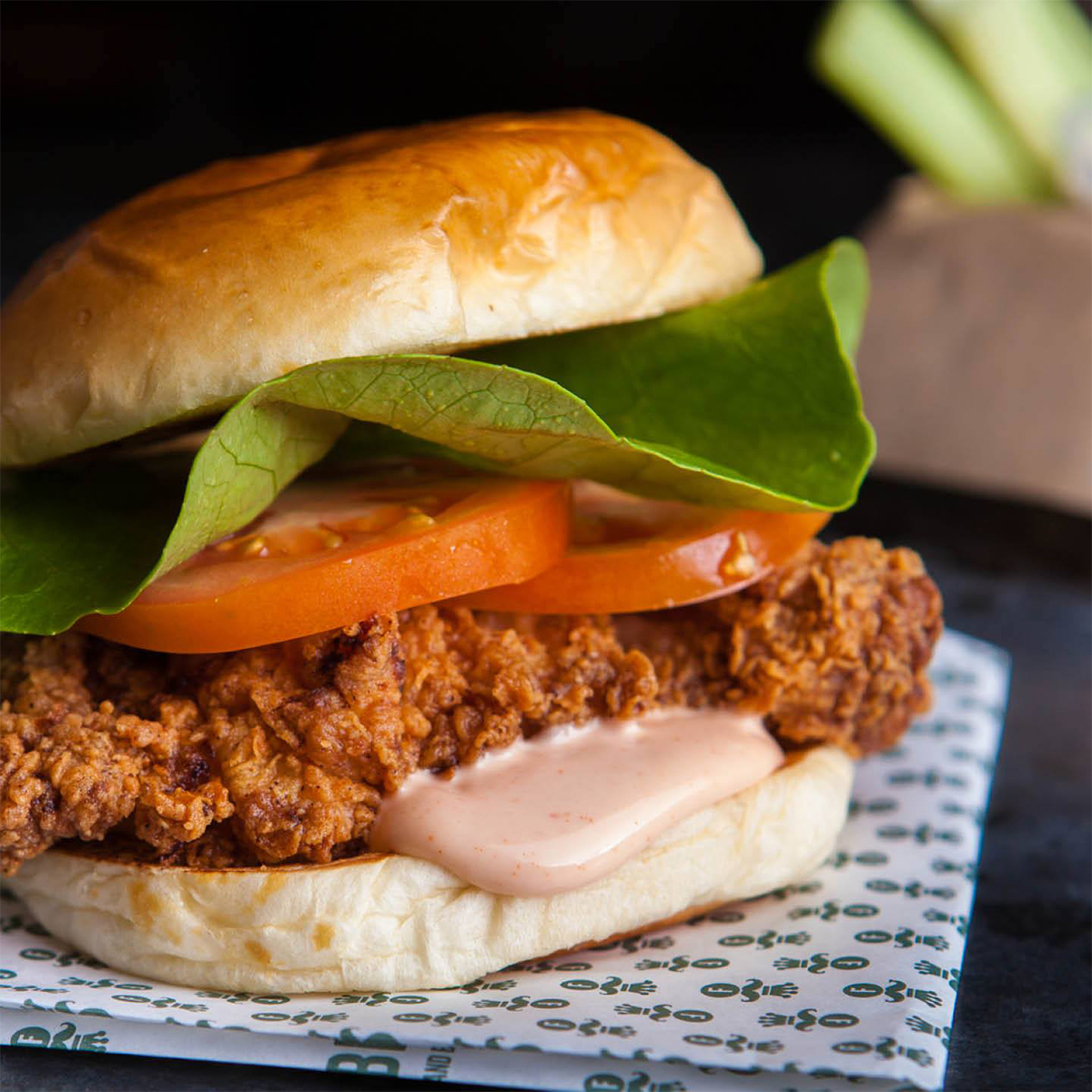 Fritzenberger
Petrie Terrace
Fritzenberger's pillowy soft, sweet buns are the key here. Their burgers are jam-packed with flavour and yet you never walk away with that, 'gee I really over did it again' feeling. We dig on their classic cheeseburger; grass-fed beef pattie, lovingly draped in aged cheddar, with house-made organic ketchup, mustard, Spanish onion and house-pickled pickles. Drool.
Milky Lane
Newstead
You might want to plan your post-feed nap ahead of enjoying a burger at Milky Lane. Part 50s diner, part dude-food heaven, Milky Lane piles just about everything one can hope for into their loaded burgers—think mac 'n' cheese patties, cheese gravy, smoked maple bacon and chargrilled pineapple. Of course, you can just get a standard crispy chicken or cheese burger too, but why would you?
GrassfedVegan
South Brisbane
Vegans and vegetarians, prepare yourselves, because Grassfed is the burger joint of your dreams: plant-based burgers AND ice cream. Swapping meat patties for vEEF, Chick'en, felafel and even shredded 'pork,' you can pair them with buffalo cauliflower and a soy milk feast for the ultimate vego feast.
Charboys
Bulimba
Beloved Brisbane burger joint Charboys are known city-wide for their fluffy buns and perfect patty, and after closing their CBD location they opened new digs in Bulimba so we can still wrap our hands around their cheesy goodness. Sticking to the classic recipe, Charbiy's cheeseburger is straight up wagyu beef patty, special sauce, melted American cheese, tomato and lettuce. Why mess with perfection?
​Remy's
Paddington
When Paddo locals get the burger itch, there's only one place they trust to hit the spot, and that's Remy's. Their deck area is the perfect spot to down a Bloody Mary and a cheeseburger in the company of someone else's dog, and if you come by on a Sunday arvo you can get your burgs 2 for 1 with a side of free beats.
Prefer your carb-loading Italian style? Check out Brisbane's best gnocchi here.
Image credit: Ranyhyn Laine, Ben's Burgers, Betty's Burgers, Red Hook, Fritzenberger