Calling all carnivores—if ribs, brisket and pulled pork get you drooling, then we've got great news. We've rounded up the finest American BBQ joints Brisbane has to offer, serving up everything from blue cheese buffalo wings to hand-pressed burger patties. So lasso the gang together and practice your Southern drawl, these are the best smokehouses in Brisbane.
Billy's Backyard BBQ
Mt Cotton
Dishing up the best low and slow barbecue in the Redlands, Billy's Backyard BBQ has a far more sophisticated set up than its name would suggest. This is no backyard firepit, instead you'll find a sizeable restaurant complete with a sunny outdoor dining area where you can feast on slow cooked barbecue fare like beef brisket, pulled pork and southern fried chicken. The way to go is definitely one of their boxes, which match meats with sides. We'd opt for the Backyard Box, which comes piled with enough brisket, pork ribs, jalapeno and cheddar sausage, corn, sweet cornbread, coleslaw, dinner rolls and chips to feed two hungry souls.
Low N Slow Meat Co
Morningside
Part butcher for the home BBQ enthusiasts, part BBQ lunch slinger, Low 'N' Slow Meat Co is basically a meat lover's heaven. While the butcher section stocks everything you could need to cook up a feast at home, including gourmet meats (cuts for slow cooking are a specialty), rubs, sauces and BBQ equipment, you can also stop by for lunch from Thursday to Sunday and grab a signature box loaded with beef brisket, pulled pork, burnt ends, hot links, potato and bacon salad, slaw pickles and sauce. Looking for dinner? They've got that covered with their pre-smoked BBQ feasts which you can heat and eat at home.
Phat Boyz Smokehouse & Kitchen
Walloon
It might be a bit of a drive (43 minutes from the city, to be specific), but Phat Boyz Smokehouse & Kitchen is worth the trip. The warehouse eatery might be massive, but you'll still want to book a table in advance, because word is out about this spot and it is popular, to say the least. Why? Because their barbecued meats are some of the best you'll find on this side of the Pacific. Lock in a weekend road trip for their Ultimate Platter, featuring smoked wagyu brisket, pulled pork, jalapeno and cheese links, wings, pork ribs, slaw, fries, mac 'n' cheese and chargrilled corn.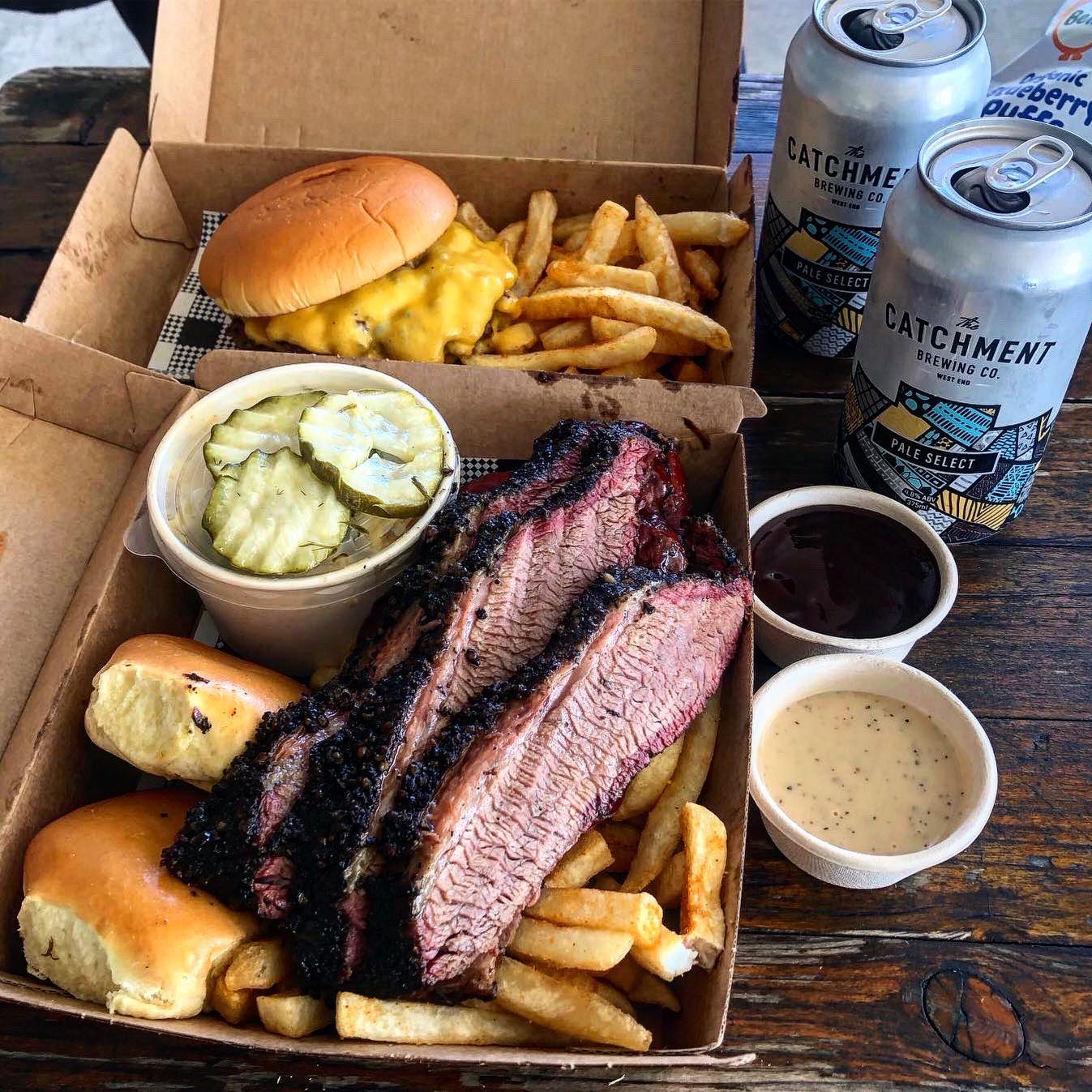 Barbecue Mafia Smoked Meat Co.
Coorparoo
Like your meat cooked low and slow? Barbecue Mafia is the place for you. Located on Brisbane's east side, this casual eatery's meat is authentically wood smoked for over 12 hours to bring you the best barbecue money can buy. A word of warning: you'll definitely have the meat sweats after feasting on their Texas BBQ box with smoked brisket, pulled pork, smoked cheese kransky, corn salsa, fries, pickles and a bread roll, especially since you absolutely have to add on two of their signature beef birria tacos as well. Don't question us, just do it.
Bluegrass BBQ
New Farm, Albion And Brendale
Having taken over a few of Brisbane's favourite locales for American BBQ, Bluegrass has decades of experience under its belt, with four generations of BBQ lovers behind them. While the menu differs slightly at each location, whichever you hit up, you can expect to find everything from saucy beef baby back ribs and crisp Southern fried chicken to wings, burgers and their famous four cheese mac 'n' cheese.
Sugar Creek Smokehouse
Eagleby
Just outside the Distillery Road Market dining and shopping precinct in Eagleby, Sugar Creek Smokehouse is a shipping container eatery that's all about meat cooked low and slow, until it melts in your mouth, just like it should. While the kitchen is housed in two repurposed shipping containers, the eatery's seating is all outdoors, though you can grab everything to take away if you prefer. Wherever you decide to eat, you'll be tucking into epic feeds like pulled pork, brisket and baby back ribs, with sides of slaw, baked beans, mac 'n' cheese and fries.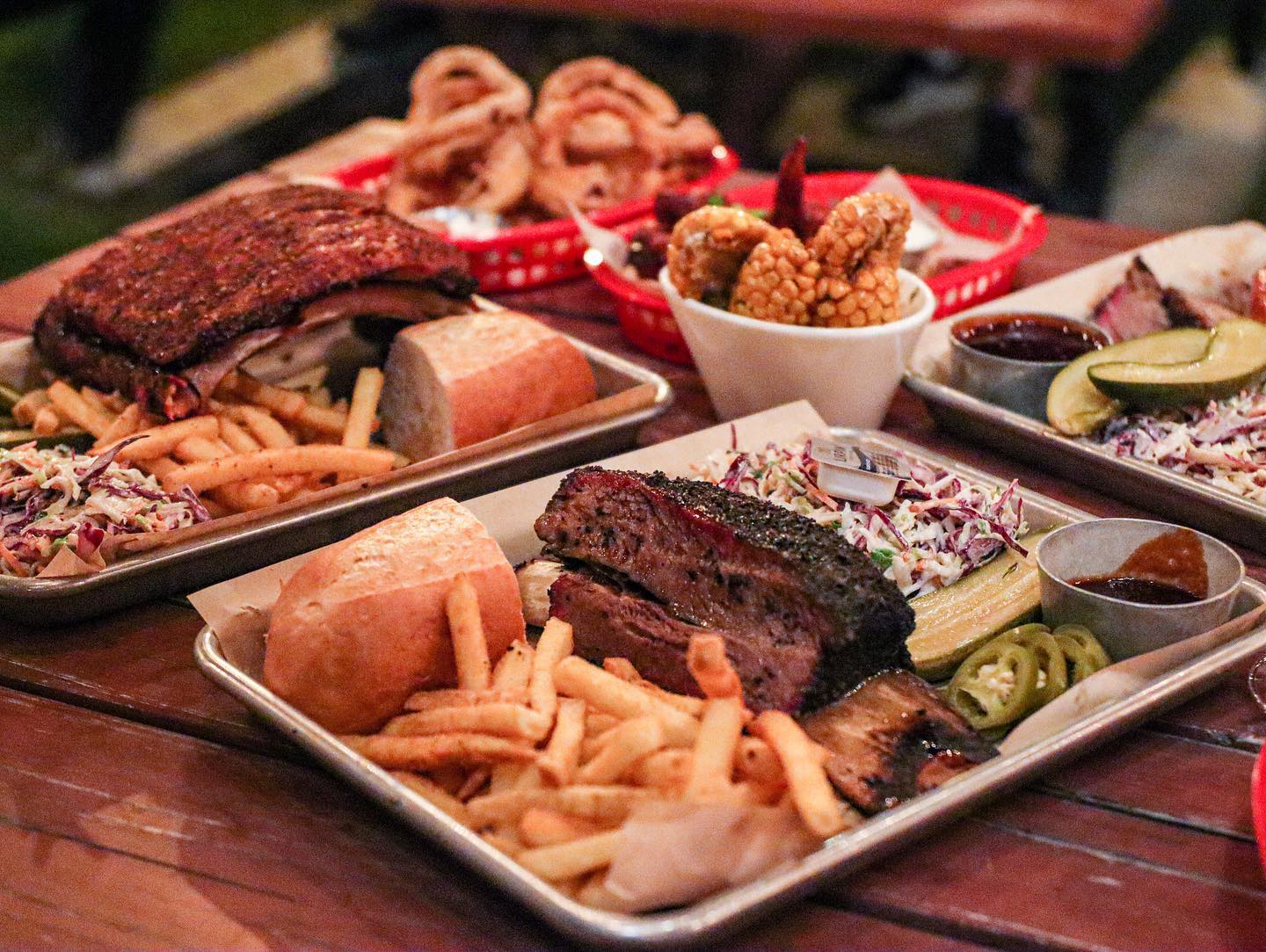 Frankie's Smokehouse
Woolloongabba
Take a seat in Frankie's Smokehouse's festoon-lighting lit outdoor area by the smoker and inhale the smell of slow cooked meats while you eat a week's worth of protein in one sitting. Here you'll find platters piled with beef short ribs, pulled pork ribs or 12-hour smoked brisket, all paired with sides of pickles, coleslaw, pickled jalapenos, BBQ sauce, bread rolls and fries. Not sure you can handle that much meat? There's also a selection of shared plates like wings and loaded fries as well as pulled pork and brisket rolls.
Old Skool BBQ
Deception Bay
Kick your newfangled pressure cooker to the curb and go back to the traditional way of doing things at Old Skool BBQ up in Deception Bay. Their enormous iron wood smokers out the back churn out low and slow cooked brisket and pulled pork after 5pm (perfection takes all day to achieve), though you can stop by earlier for burgers, loaded fries and wings. They also do regular specials which they announce on their Facebook page, so keep an eye out for a winning deal.
Bare Knuckles BBQ
Salisbury
At Bare Knuckles BBQ, the big bellied smoker that slow cooks meats to perfection is practically a member of the family—they've even named it. Bertha (as she's called) is up and running Wednesday to Saturday, churning out tender, juicy brisket, ribs and pulled pork that can be ordered in platters, on soft brioche rolls or even atop cheesy nachos. Bonus, the Salisbury spot is BYO, and their outdoor eating area strung with festoon lighting is the perfect place to spend a balmy evening.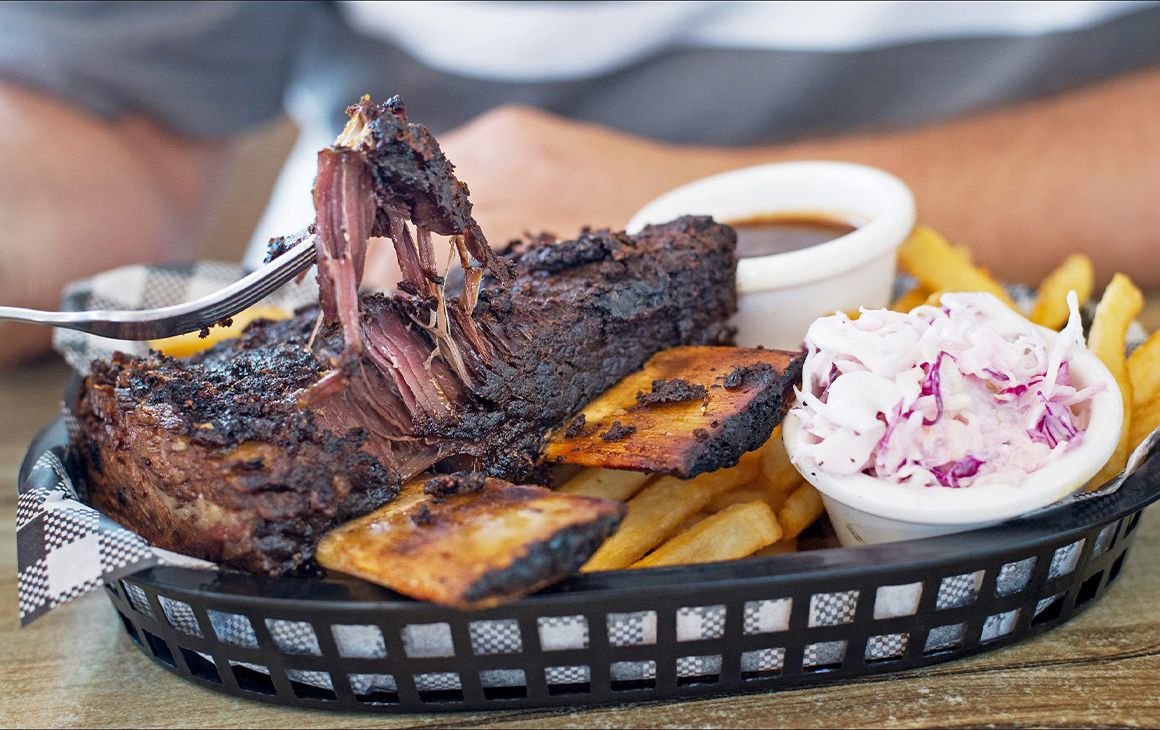 Twelve Boar
North Lakes
For meat so tender it falls apart in your hands, set your sights (and your stomachs) on Twelve Boar. This southern BBQ joint is known for serving up huge portions at wallet-friendly prices, meaning you're practically guaranteed a food coma by the end of the night. Head to Twelve Boar for meat so delicious even the Americans can't fault it.
Smokey Moo
Newstead
With a new restaurant gracing Gasworks Plaza, Smokey Moo promises just one thing: crazy good beef. And boy, does it deliver. But this isn't just any old ribs joint. The team behind Smokey Moo have done away with the sides you'd typically expect to find on their menu. They've even abandoned barbecue sauce in favour of housemade jus. But don't let that put you off—the restaurant has amassed quite a following since it first opened in East Brisbane a few years ago.
Big Roddy's Rippin Rib Shack
Fortitude Valley And South Brisbane
A rib shack so popular they had to open a second location, you know you're in for an epic feed at Big Roddy's Rippin Rib Shack. Big Roddy's saucy ribs are the stuff of legend, so it's no surprise they keep the recipe under wraps. Pair them with the shack's champion lager for a night you won't forget (or won't remember). Make sure you get a side of the jalapeno poppers, along with one of everything else on the menu.
Meat Me BBQ
Brendale
As the sleek, all-black interiors of Meat Me BBQ would indicate, this northside joint is dishing up an elevated version of barbecue fare, with a menu that features sides like potato galette, smoked pork pate and salmon gravlax to pair with your meats. If it's dirty Texas-style BBQ you're after, they've still got that in the form of house smoked Wagyu beef brisket, wings and smoked beef tacos, but you can also tuck into feeds like smoked lamb shoulder, pork cutlet and Carolina crumbed salmon. Leave room for a slice of the pie of the end of the day for a real deep South experience.
Looking for more meaty feeds? Check out Brisbane's best wings here.
Image credit: Barbecue Mafia, Twelve Boar, Big Roddy's