Korean BBQ in Brisbane is hands down one of the best damn meals you'll ever eat. A combination of all the best food groups—kimchi, BBQ grilled meats, spicy rice—it's an ingredients smorgasboard. Brisbane has quickly come around to the fact that KBBQ is, frankly, awesome.
This is the ancestral home of the humble BBQ, after all (we cook everything on the barbie in Oz), so whether you're on a low carb diet, paleo, bulking up, or just breaking up with salad for a night, then Korean BBQ is your go-to.
We've looked high and low to bring you the best Korean BBQ Brisbane has to offer.
Daega Korean BBQ Cuisine
Underwood
Newly arrived in Underwood, Daega Korean BBQ Cuisine is already getting rave reviews for its authentic Korean BBQ eats and friendly service with staff who'll help you out if you have no idea what you're doing. The selection of meats and veg to toss onto your table's individual BBQ range from boujee wagyu short rib to the more basic teriyaki chicken thigh or pork collar butt, with a few non-traditional options like cheese kranksy thrown in for good measure. You can pair your feed with other Korean eats like fried kimchi pancakes and bibimbap, or just stick to barbecueing your little heart out.
Hanwoori
Brisbane CBD
Hanwoori is a game-changer when it comes to Korean BBQ. They offer bottomless food with their buffet service, providing an eye-watering amount of sauces and side dishes to dress your meat up. Don't be surprised by the electric grill, it works just as well to give you that sizzle satisfaction.
Maru Korean BBQ
Brisbane CBD and Cannon Hill
Everyone know's you go to Maru for Korean BBQ when trying to impress. Spread over two levels with over 60 staff to look after you, Maru's Brisbane CBD venue showcases not only KBBQ but a vast spread of Korean eats. Meanwhile, Maru's Cannon Hill location specialises in charcoal barbecue to bring out all the pure flavours of your meat and vegetables. Across both venues, there's a few different options when it comes to the meat combos you'll be firing up, but it's all about the Wagyu for us.
Tok Tok
Sunnybank Hills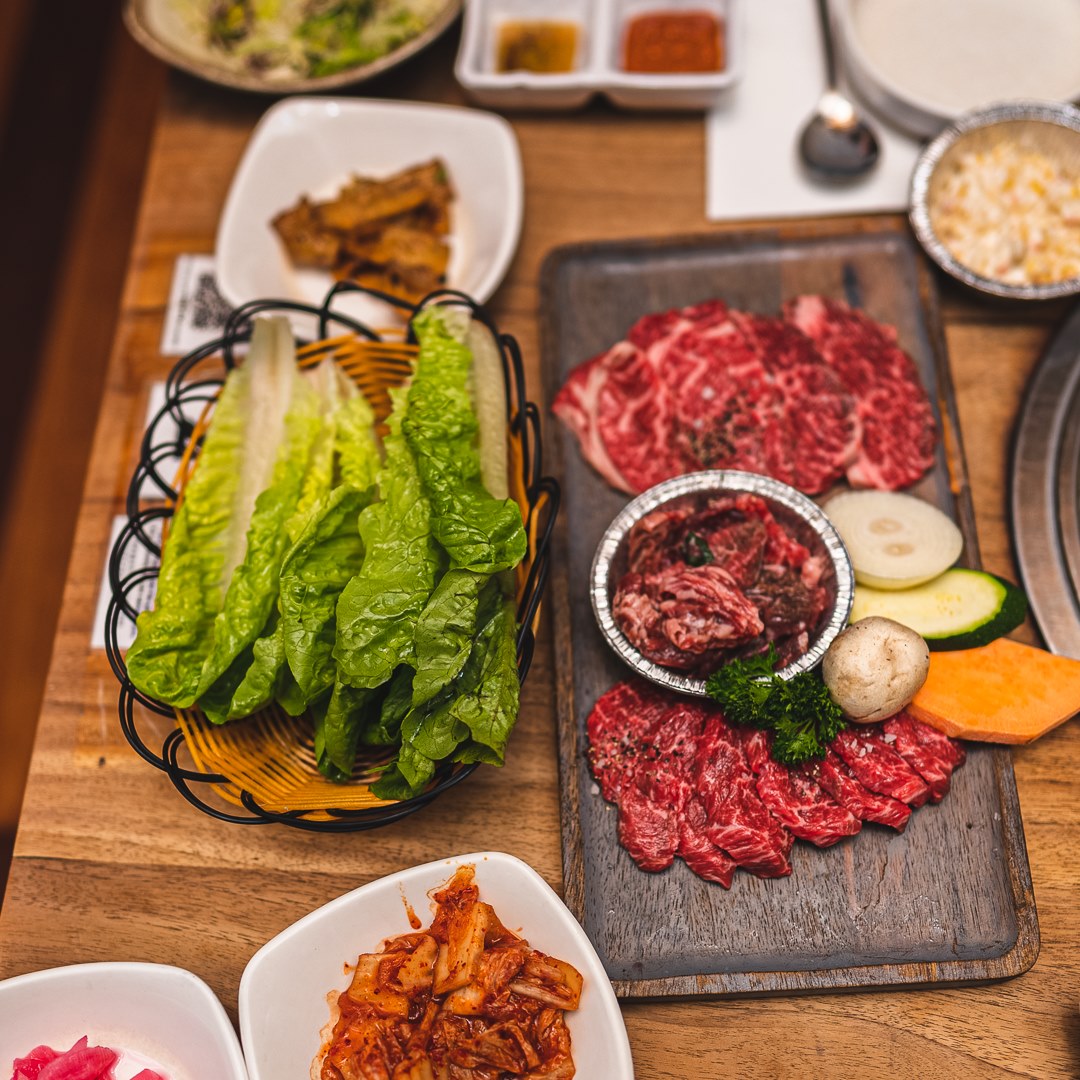 Be the master of your own dish-tiny with individual BBQs lining Tok Tok's tables. You can sizzle, flip and mix all your favourite ingredients right in front of your eyes. Whether you're a hot pot lover, soupy slurper or just can't go past a good noodle dish, these guys have you covered there as well. Just don't go too hard on all the entrees and extras or you won't have enough room for all those juicy meats—and you know you want all of the pork belly and wagyu.
Funny Funny
Brisbane CBD
Nestled down Burnett Lane you'll find Funny Funny. A staple Korean Restaurant for almost a decade in the CBD, this is one of the best places for Korean BBQ in Brisbane. Their specialty may be the BBQ but it would be remiss of you not to dive head first into their bibimbap, the pancakes, or their spicy noodle soup.
Midam Korean Charcoal BBQ
Sunnybank Hills
Fried chicken and Korean BBQ buffet. What?! Midam ups the KBBQ ante by offering crunchy Korean fried chicken to rival even the finest Brisbane chicken establishments, on top of their all-you-can-eat Korean BBQ. We wish we could eat with a shovel here.
Korilla BBQ
Brisbane CBD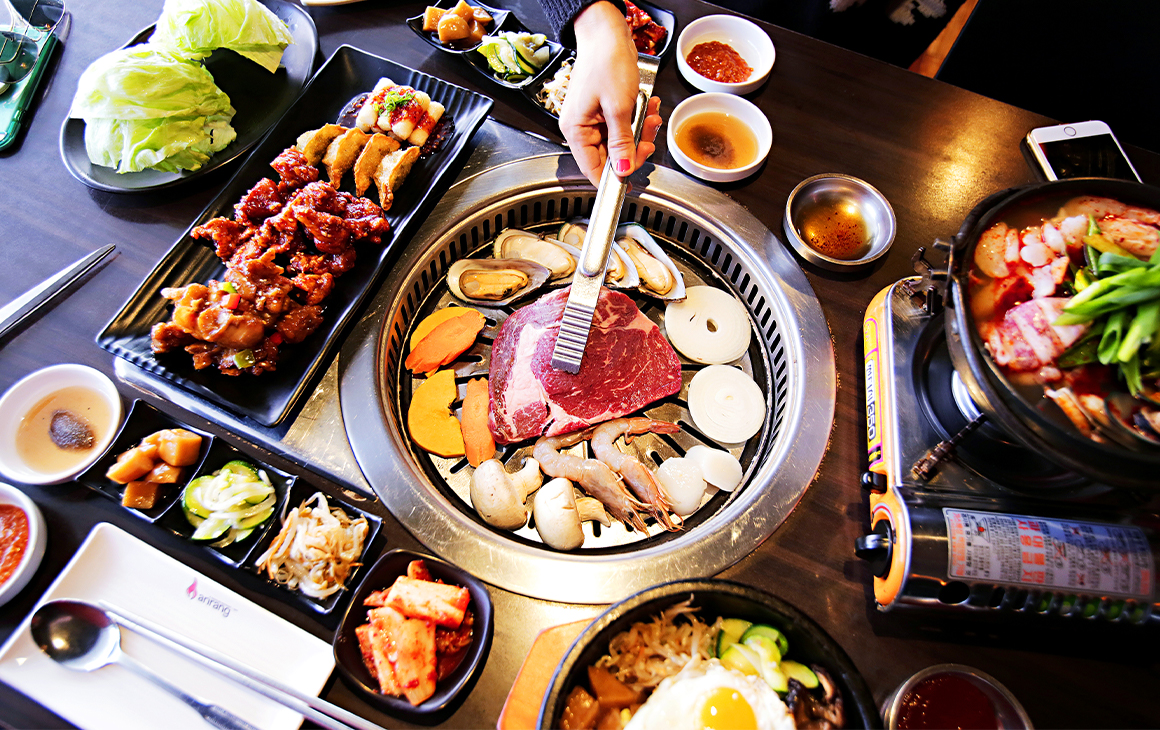 ​​A couple of sizzle steaks from Coles just won't cut it when you're in the mood for some seriously mouth-watering moments. Of all our top picks for Korean BBQ in Brisbane, Korilla BBQ truly does go the extra mile with their meat selections. Thick cuts, thinly sliced rib fillets and even the option of six different flavours of pork belly, there's no shortage of variety at the city's top BBQ hideaway. With a BBQ centrepiece on every table, come with an empty belly because it'll be near impossible to resist trying a little bit of everything.
Seoul Ssamm
Fortitude Valley
Barbeque at Seoul Ssamm will tick all of your boxes. They're in walking distance of all the Valley bars if you're looking for somewhere to eat before your next night out, high-quality meat product, a great price point as well as a wide range of drinks. They've got some adventurous meats if you're keen to try something new, but you can just stick to Wagyu rib if not.
Mr Bap
Sunnybank Hills
There's loads to love at Mr Bap, especially their Korean BBQ. If you're new to the K-BBQ scene this is the perfect, entry-level place to check out as the menu is full of quality meats that you already know and love (read: no weird bits). We love the pork belly and marinated beef bulgogi. Be sure to order the kimche pancake while you're there, it's to die for.
If this list of Brisbane's best Korean BBQ kick-starts your craving for everything meat, scope out our list American BBQ spots here.
Image credit: Sellwell, Tok Tok, Elle Borgward