While just about every Brisbane restaurant and bar worth its salt has steak of some description on the menu, some treat it as a true art form.
If meat is on your menu, here's where to tuck into the best steaks in Brisbane.
Walter's Steakhouse
Brisbane CBD
Walter's Steakhouse is unlike other steak restaurants in Brisbane, with chef Gert Pretorius cutting and dry-aging all of their steaks in-house. The menu features a niche selection of cuts, but the one to opt for is their signature dry-aged porterhouse—full as you are after polishing it off, you'll want to go back for seconds. The sides to pair it with are just as drool-worthy—think creamed spinach that's definitely more butter than spinach, dutch potato and warm pecan pie to finish.
SK Steak & Oyster
Fortitude Valley
One from the team behind Hellenika, you'll know you're going to get a good steak at SK Steak & Oyster as soon as you catch sight of the massive glass-walled dry-aging cabinet neighbouring the kitchen. Behind the glass you'll spot the gloriously marbled sirloin, prime rib and eye fillet steaks just begging to be ordered. Whichever you choose, you'll also want to make a few selections from one other section of the menu: the potato menu. Listing jacket potatoes, olive oil roasted kipfler, potato and gravy and Romanoff potatoes, it's a carb-lovers dream.
Black Hide Steakhouse
Paddington and CBD
As far as awards go, being named Australia's Best Steak Restaurant is pretty much one of the best ones you can get. So it's not surprising then that Black Hide serve up amazing steaks. They work exclusively with Stanbroke Beef to get the very best quality beef on Brisbane plates, which includes delectable wagyu cuts like eye fillet, rib eye and sirloin. For a big hunger, try the Tomahawk, a 1.2kg Angus cut.
Breakfast Creek Hotel
Breakfast Creek
Another legendary establishment that simply cannot be ignored when talking about the steak restaurants Brisbane has to offer is the Brekky Creek Hotel. The Hotel is mostly famous for two things; its impressive Victorian architecture and its steaks, which have been coming off the grill since 1967. The beef is mostly sourced from South East Queensland, and you get to go up and select your own cut, which is char-grilled and served with an Idaho potato or chips, coleslaw or veg, and your choice of sauce.
Fat Cow Steak & Lobster
Brisbane CBD
Taking over the space left behind by Cha Cha Char, Fat Cow Steak & Lobster had big shoes to fill—and fill them they have. An old-school riverside restaurant featuring all of the favourites like prawn cocktail, tartare, and an epic cheeseburger, Fatcow is worth a visit for its wood-fire grilled steaks, with cuts including a rib on the bone, juicy eye fillet, and 270-day grain-fed rib fillet topped with gold leaves (just for something really memorable).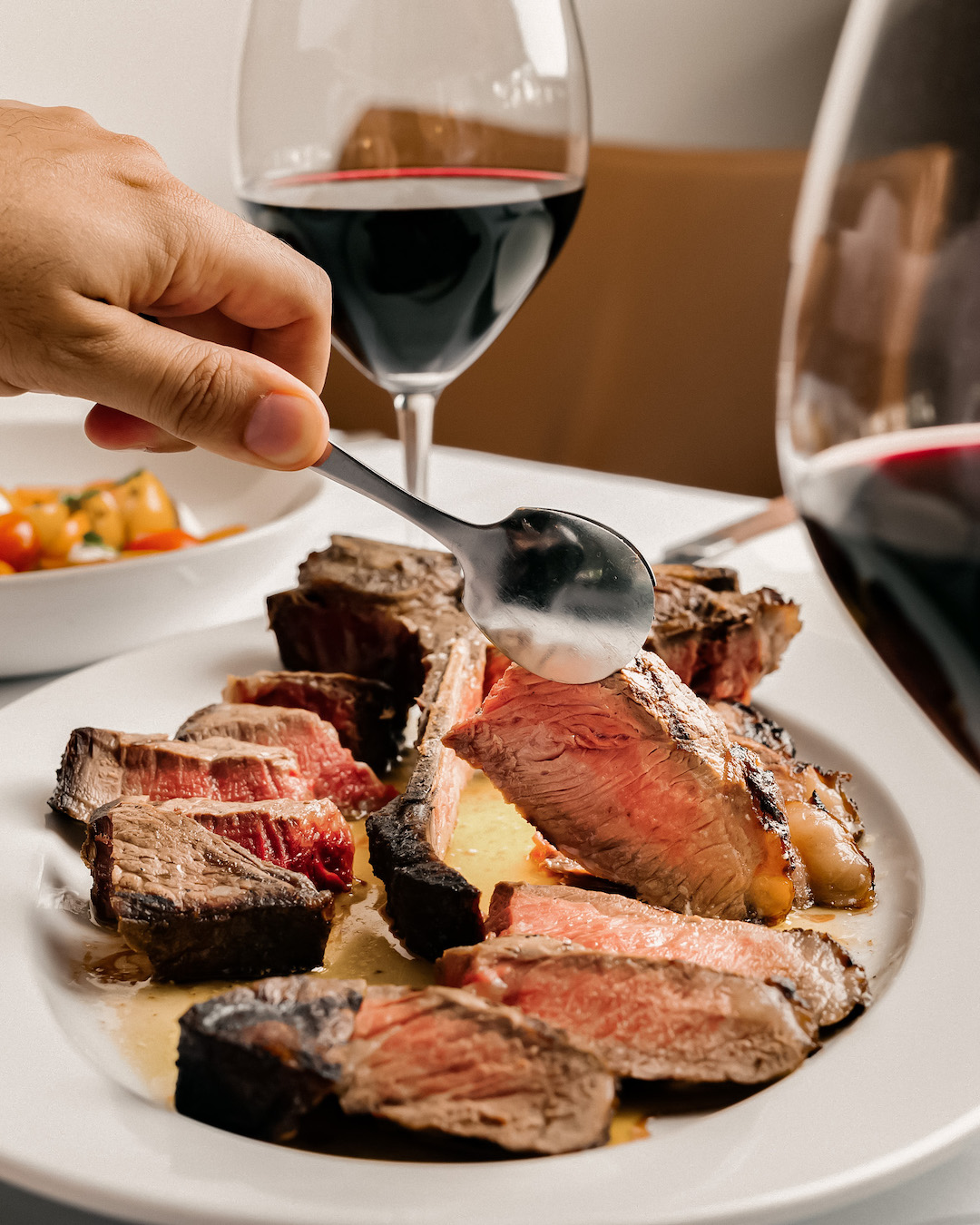 Blackbird Bar & Grill
Brisbane CBD
When you think Blackbird, you might think cocktails and good times on their balcony looking over the Storey Bridge, but they also happen to do a mean steak in their restaurant. More than one actually—you'll find everything from a Black Angus tenderloin to Wagyu rump, scotch and hanger steaks on their list of cuts. Be sure to get a side of Dutch cream potato baked in clay with parmesan butter.
The Boatshed
Toowong
Contrary to what the name might suggest, The Boatshed at The Regatta actually specialises in a damn good steak. Grain-fed eye fillet, rib fillet and sirloin are all on the menu, but if you want to go all out, settle into your seat and unleash your inner cave-man on their opt for the OP rib on the bone. Best of all you can add on a steak topper like blue cheese wedges, grilled local prawns or beer-battered onion rings.
The Norman Hotel
Woolloongabba
Long regarded as the benchmark when it comes to steak restaurants in Brisbane, The Norman maintains its extremely high standards to this day, producing a wide range of sumptuous cuts of meat cooked to perfection. All the options on the menu are Australian beef. They keep things interesting with by offering various premium varieties throughout the year, though, which can be viewed in the raw when you head up to the counter to make your selection.
Moo Moo
Brisbane CBD
With 51 awards under their belt, it's safe to say Moo Moo's is pretty knowledgeable in the beef department. Cooked over coal and wood, there's no shortage of interesting and indulgent steak dishes at here. As well as T-Bones and tomahawks, these steak experts dish out Wagyu striploins and rump caps too. Be sure to check out their specialty steaks like in-house dry-aged Black Angus and marbled selections well worth raising your fork to.
Prefer your meat slow-cooked? Check out Brisbane's best American BBQ spots.
Image credit: Grace Elizabeth Smith, Fatcow Steak & Lobster