If your idea of seafood is eating takeaway fish and chips (covered in chicken salt, of course) on the beach while looking out over the ocean, it may be time to look at expanding your palate. Don't get us wrong—Brisbane has its fair share of flawless, flaky fish and chips on the go. It's just, some of the sea's finest delicacies are best served in a restaurant, y'know?
With everything from American-style crab doused in flavourful sauces, to luxe seafood platters guaranteed to make your tummy grumble, Brisbane's seafood scene is second-to-none. Check out our top picks for the best seafood restaurants in Brisbane.
SK Steak & Oyster
Fortitude Valley
Knock back oysters with a side of steak at the Calile's exclusive bar and restaurant. SK Steak & Oyster comes to us from the crew behind Hellenika, our go-to for Greek food straight from Yiayia's kitchen. Specialising in perfectly-cooked steaks, fresh seafood and smooth martinis, the restaurant is another James Street gem guaranteed to light up your life (and your tastebuds). Once you've dined on lobster, bug, and caviar to the sweet dulcet tones of a baby grand piano, you know you're living the high life.
Gambaro Seafood Restaurant
Petrie Terrace
A Caxton Street icon since way back when, Gambaro Seafood Restaurant promises crustaceans cooked to perfection. The multi-award-winning restaurant specialises in all things oceanic, serving up stunning seafood platters packed with Mooloolaba prawns, Moreton Bay bug and delicious diamond clams. Treat yo' self to a grilled rock crayfish smothered in garlic butter, straight from the shores of WA, or pick up a plate of drool-worthy linguine marinara. Top it all off with a banana sticky date pudding and make a mental note to thank us later.
St James Crabhouse
Hamilton
If fine dining isn't your thing, don't worry—we totally speak your language. And so does the team at St. James Crabhouse. It's messy (we're talking DIY prawn-peeling), it's laid-back and the food is so delicious it makes up for needing the plastic bibs. Drawing on the classic flavours of a good ol' fashioned American crabhouse, St. James' signature dish has to be their Alaskan king crab. Worth. Every. Penny. Be sure to book ahead as this hole-in-the-wall joint gets booked out fast—and for very good reason.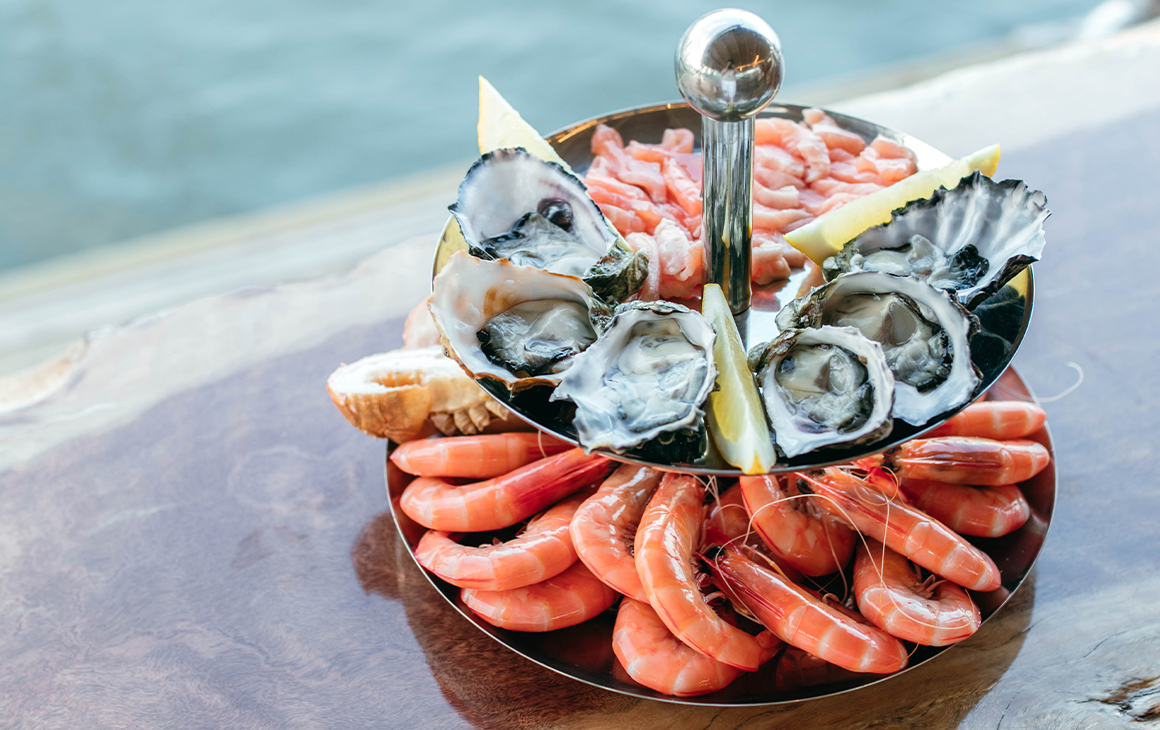 The Prawnster
Kangaroo Point
For a dining experience like no other, set your sights on Kangaroo Point's newest eatery: a 50-foot vintage prawn trawler-turned-restaurant that has just dropped anchor on the shores of our humble city. The Prawnster promises its diners the best seafood on the high seas—think paddock-to-plate dining with a spritz of salty ocean air. Indulge in a mixed seafood platter packed with all your faves: we're talking Coffin Bay oysters, Moreton Bay bugs, and even Tasmanian salmon sashimi. Everything is served alongside nothing but tangy lemon wedges—when the seafood is this fresh, it needs nothing else.
One Fish Two Fish
Kangaroo Point
Batter up, One Fish's take on your classic fish and chip shop will have you coming back for seconds (and thirds). Housed in an old Queenslander, the fresh white decor will transport you to a sunny beachside bar as you sip rose and chow down on a quarter flounder burger (with a side of potato scallops, of course). One Fish also offers group dining options at three different price points, so snag a table for your next Sunday lunch.
River Quay Fish
South Bank
Live the luxe life with premium seafood under the sparkling night sky courtesy of River Quay Fish. Its prime location on the banks of the Brisbane River is the perfect backdrop for your Insta shots, not to mention the ideal venue for knocking back a cocktail or two. The menu offers a fresh take on your usual ocean fare—we're talking Moreton Bay bug bao buns, wok-tossed mussels and yellowfin tuna tataki. Take your Sunday sesh to the next level and book yourself a table.
King Crab Co.
Bulimba
If you're looking for food that bites back (we're joking—crabs don't bite, they pinch) scooch on over to Bulimba's newest seafood sensation. With eight different crabs on the menu, an oyster bar, plates of prawns, ribs, wings, tacos and sliders, at King Crab Co. you'll be spoilt for choice. Feeling indecisive? Round up the gang and split the cost of a $129 tasting platter—plus a bottle or two to wash it all down with.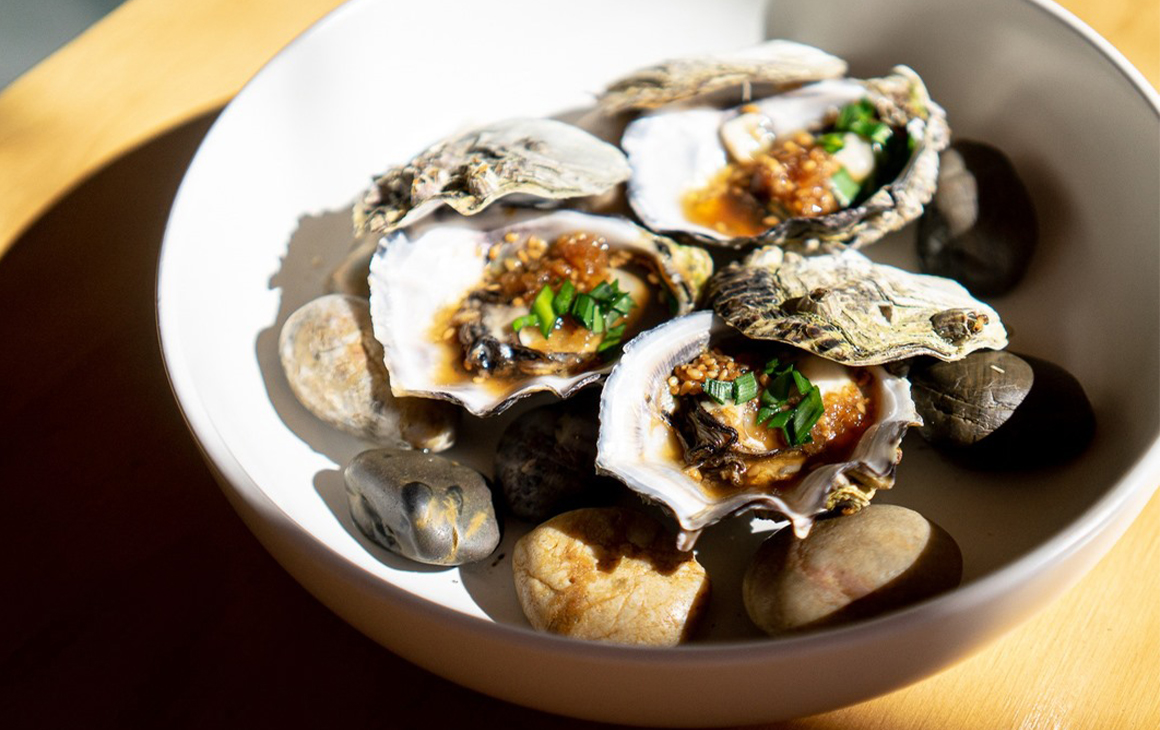 Shucks Bar
Manly
If you're a Bayside local (and a fan of top-notch seafood), chances are you're no stranger to Shucks Bar. Overlooking the shimmering blue waters of Moreton Bay, Shucks offers freshly shucked oysters from all around Australia, not to mention swordfish steak and harissa prawns. There's also plenty of veggie dishes sourced straight from the local markets, so be sure to swing by for some seriously fresh fare.
Louisiana Redclaw
Fortitude Valley
Enjoy a taste of the Deep South down under with a trip to Louisiana Redclaw. The inner-city eatery has earned quite a name for itself by cooking fresh seafood sourced from Australia's most pristine waterways with the exotic spices found in Southern cuisine. With delicacies like Jonah crab claws and Maine lobster on the menu, it's worth shelling out a little extra cash. Be sure to order the house made clam chowder and the baked crab mac and cheese for some authentic American vibes.
Reef Seafood & Sushi
Newstead
For the freshest sashimi, epic seafood platters and fish anyway you want it, whether grilled, battered or on a burger, Reef Seafood and Sushi is the perfect quick lunch spot. It's not all about dining in though—Reef also does amazing fresh seafood for you to whip up at home, and will help you put together the perfect takeaway seafood platter.
Manly Boathouse
Manly
The Manly Boathouse definitely takes out the prize for the best looking seafood restaurant in Brisbane—this stunning venue perched on the water's edge features an airy, all-white dining room, a sunny outdoor patio space filled with picnic tables under blue and white striped umbrellas and the icing on the cake, miniature boat houses that you can hire out for groups. And we haven't even gotten to the food yet. Opt for fish and chips out on the patio or a proper, seafood-filled feast inside.
Prefer a good steak over one of Brisbane's top seafood restaurants? Check out Brisbane's best steak restaurants here.
Image credit: Sophie Spencer, Ranyhyn Laine, Shucks Bar