Fish and chips is a classic in Aussie cuisine—classic, unadulterated comfort food. Whether you are heading out for a night on the town, ordering in for a night on the couch with Netflix, or looking for a lazy bite after a beach day, fish and chips will always be a go-to.
To ensure you're not wasting your energies on sub-par seafood, we asked our readers for their picks of the best fish and chips in Brisbane. Save us a potato scallop!
The Fish Factory
Morningside
A favourite with the locals, The Fish Factory in Morningside has quite literally weathered fire and flood. You know their stuff is good because they're a fresh seafood market, so everything you get to eat is incredibly fresh and the very best produce available. The menu includes fishy favourites like Whiting, Barramundi and King Snapper, but they also have extra treats like grilled salmon, Moreton Bay bugs and amazing fish burgers.
Sea Fuel
West End
Out for a night in West End and looking for a cheeky fish and chips to see you through? Sea Fuel is there for you, with 30 years of experience and all the fish and chips you could dream of. The restaurant also has a full bar to accompany your meal and kickstart the pregame. Choose from their wide range of crumbed, grilled, or battered fish (as well as fancier options, salads and sides) for dine-in or takeaway from this next-level fish and chippery.
Three Girls Fishing
Graceville
By the team behind the super popular cafe Three Girls Skipping, Three Girls Fishing offers all your faves, as well as some funkier twists. Pick up old-school fish and chips prepared how you like, or opt for a stacked fish burger, soba noodle salad or classic prawn cocktail. Don't skip a house-made soft serve for dessert, and Urban List readers recommend you try the lemon poppyseed slaw on the side.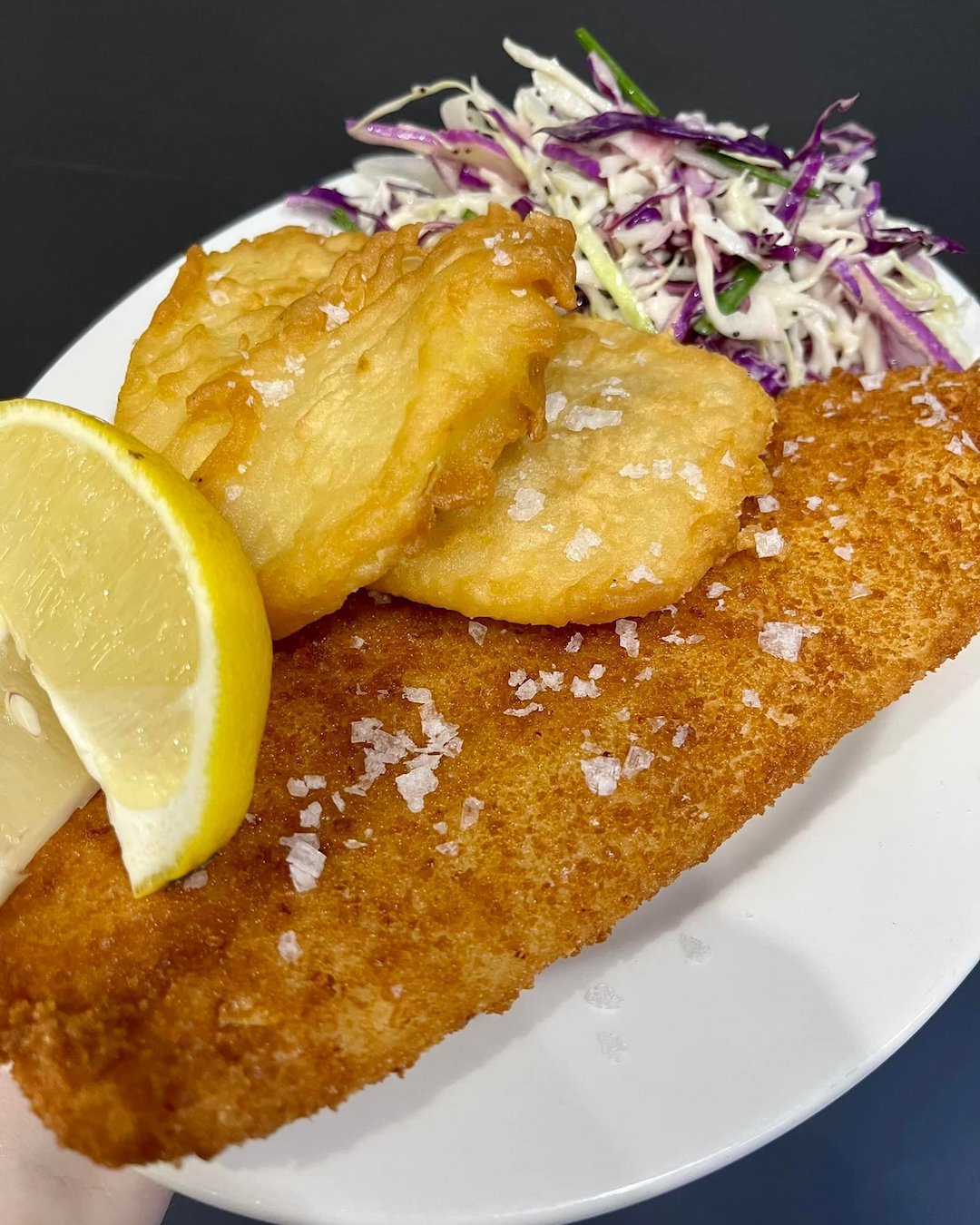 The Fishmonger's Wife
Hawthorne
The Fishmonger's Wife is cooking up a storm in Hawthorne, and we are all-in for their awesome fish and chips. Their wide range is cooked one of three ways, with Japanese bread crumbs, French beer batter, or traditionally grilled. The entire restaurant has an Asian influence, in everything from the décor to the option to swap your chips out for jasmine rice for a healthy choice (but let's be real, we're all getting the chips).
Clayfield Seafood Markets
Clayfield
If you live on the north side and are hankering for some crumbed, flaky goodness, Clayfield Seafood Markets are your best bet. Everything is delivered fresh, and prepared and cooked in store. On top of serving some of Brisbane's best seafood, they also make sure there are plenty of gluten-free options for all you coeliacs out there.
Manly Boat House
Manly
Does it get better than munching on fish and chips with a view of the sea? Manly Boat House absolutely serves in both regards, with a dedicated fish and chippery serving fresh prawns, oysters and platters plus classic fish and chips, potato scallops and crumbed snacks. Pull up under a striped umbrella for the ultimate sea breeze experience. Our readers love their big portions and mega-crispy batter.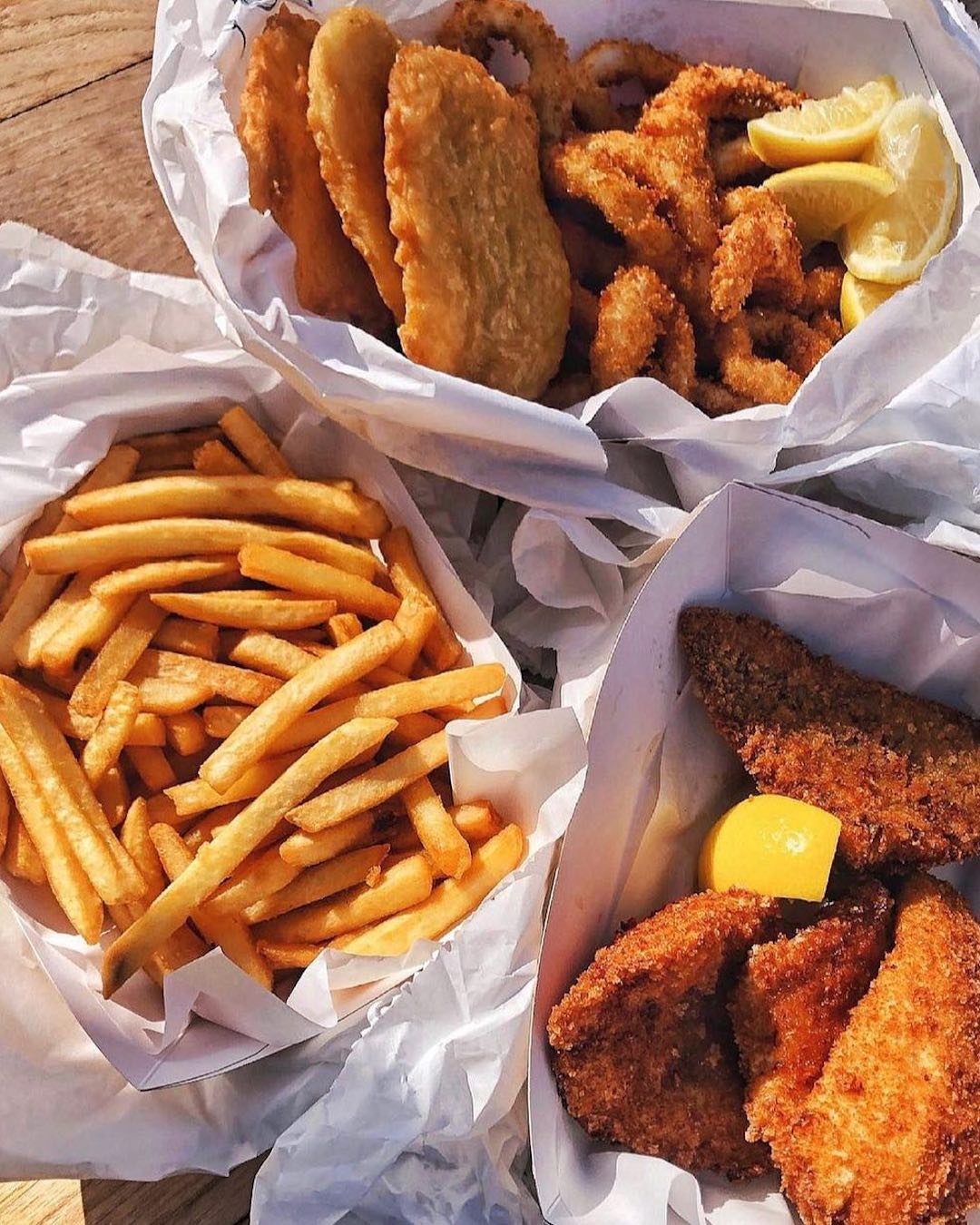 The Fishery
Milton
The Fishery is serving up all things fish in their Milton shop. With the owner having over 20 years of experience working with Australian and New Zealand seafood, you can be rest assured he knows exactly how to get the freshest fish and how best to cook it. Ask for daily specials, have your pick cooked to perfection, and you won't be disappointed!
Doug's Seafood Cafe
Sandgate
Another spot to munch on your fish and chips with a Moreton Bay breeze, Doug's Seafood Cafe is a favourite among the coastal locals, and for good reason. Select from all the usual suspects, as well as specials like halloumi and grilled prawn, grilled garlic bugs and salad to enjoy in the venue or take away (like, across the road) for a seaside picnic. Our readers raved about their big portions and fresh chips.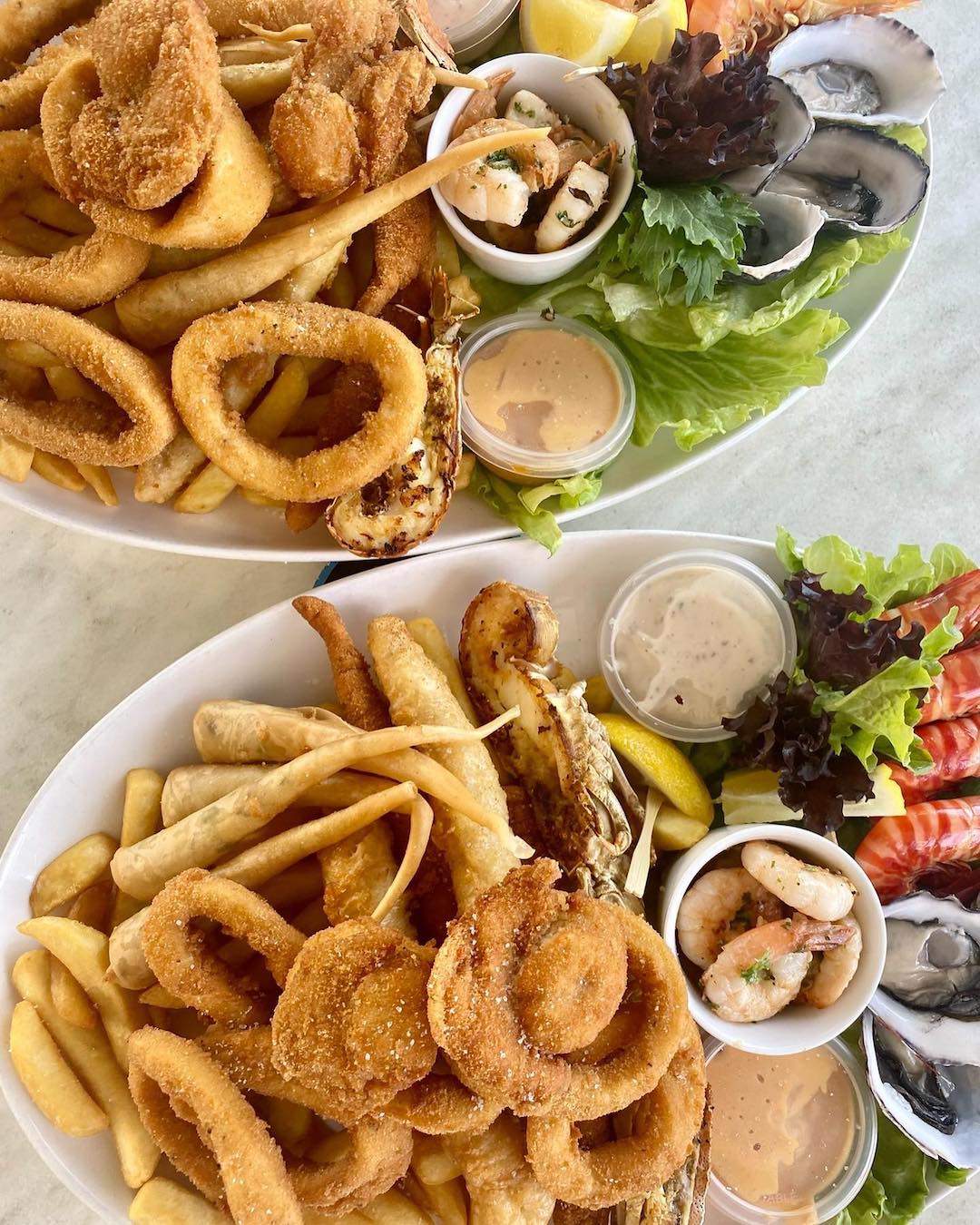 Fish Kitchen
Dutton Park
Fish Kitchen is a seafood sanctuary with an array of specialities, serving everything from classic fish and chips to unique gourmet specialties such as dukkah-crusted barramundi and swordfish souvlaki. Take a stroll through the little fish market downstairs where you can choose your own seafood from their burstingly fresh selection, and then head upstairs to dine on dishes that are beautifully presented.
One Fish Two Fish
Kangaroo Point
One Fish Two Fish is another slightly posh fish 'n chippy wooing Kangaroo Point locals. Their menu is an eclectic mix of seafood dishes, drawing on all corners of the globe for inspiration to bring us soft-shell crab bao, Provencal fish stew and Moreton Bay bug tagliatelle, as well as an entire menu section for potato preparations. Housed in a converted Queenslander, One Fish is perfect for a casual dinner, a cheeky takeaway, or a leisurely sunday sesh.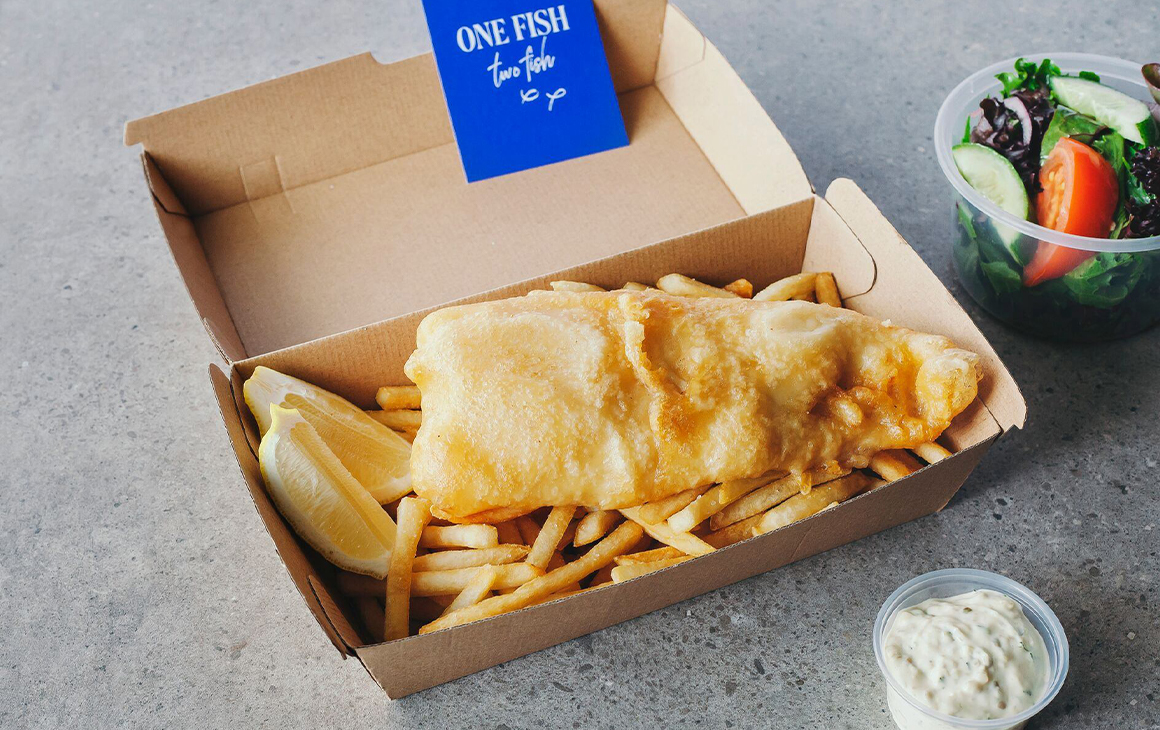 Fish Lovers
Rosalie
Based in Rosalie, Fish Lovers is a family owned shop that focuses on supplying the very best fresh, Queensland produce available. The fish here is beautifully battered, crumbed or grilled and is melt-in-your-mouth delicious. For a whole lot of fishy delishy, try the snapper with one of Fish Lovers' freshly-made salads and a big ol' serve of chips.
The Barra Boys
East Brisbane
Perched on the corner of Stanley Street East and Edgar Street, The Barra Boys is not your average fish and chip shop. Their seafood is sourced daily and cooked to perfection—grilled, battered or crumbed. However you like your fish, tuck into it while lounging under the sun in their al fresco seating. Give their barramundi burger a try if you're craving something different.
Reef Seafood & Sushi
Newstead
I think we can all agree that Brisbanites love a slice of silky sashimi, and Reef Seafood and Sushi definitely had the goods. But why not have your sushi with a side of classic fish and chips? We think the mix just makes sense, and we know Reef has our backs no matter how we like our aquatic feast. Urban List readers shouted them out for their great service and crunchy chips.
When you've had enough of deep-fried goodness at Brisbane's best fish and chip joints, here's where you'll find Brisbane's best poke bowls.
Image credit: The Fish Factory, Three Girls Fishing, Doug's Seafood Cafe, One Fish Two Fish