Ours is a well-documented appreciation for Brisbane's Thai restaurants, and in the past we've made no secret of our dedication to their piquant delights. We love the spicy kicks, the generous servings and the fact that Thai restaurants are cosmically gifted pun factories.
Amid the dense throng of Thai pleasures, a few spectacular venues rise above the others. We asked you where we could find the best of the best, and turns out these places are the delectable MVPs of Brisbane's Thai scene with the power to ruin you for future feeds.
Doodee Boran
Brisbane CBD
They may have only been around for a year, but Doodee Boran is already a top contender for Brisbane's best Thai restaurants, partly for their signature noodles and partly for their quirky interiors, chill vibes and live music on Friday nights. Hidden down an alleyway on Charlotte Street, you'll need to work to find it, but do and you'll be rewarded with a bowl of soul warming tom yum soup that you can customise with your choice of noodles, topping and sides. We hear the duck curry is also a winner, but really, it's all good here—good luck narrowing down your choices.
Same Same
Fortitude Valley
Combining atmosphere by the bucket load with your favourite modern Thai dishes, Same Same captures the flavours we know and love, but with serious attitude. The best seats in the house are undoubtedly the bar stools encircling the open kitchen, where you can watch the chefs toss, grill and plate up endless plates of mouthwatering feeds. The Same Same chicken burger is a must order, as is the red curry of angus beef cheek—we wouldn't go past the pad see ew either.
Jumbo Thai
Brisbane CBD
With its polished mix of traditional and modern design, Jumbo Thai is a step above your traditional Thai restaurant, but still with the same homely vibe—and a handy location for mid-week lunch 'meetings'. On the menu, you'll find all your favourite Thai feeds elevated to new heights, along with some potential new faves. Of course there's crunchy spring rolls, creamy yellow curry and spicy tom yum soup, but they're given a twist—those spring rolls are filled with five spiced pulled duck, the yellow curry is loaded with chunky local sand crab and the massaman curry comes with your choice of lamb shank or beef cheeks.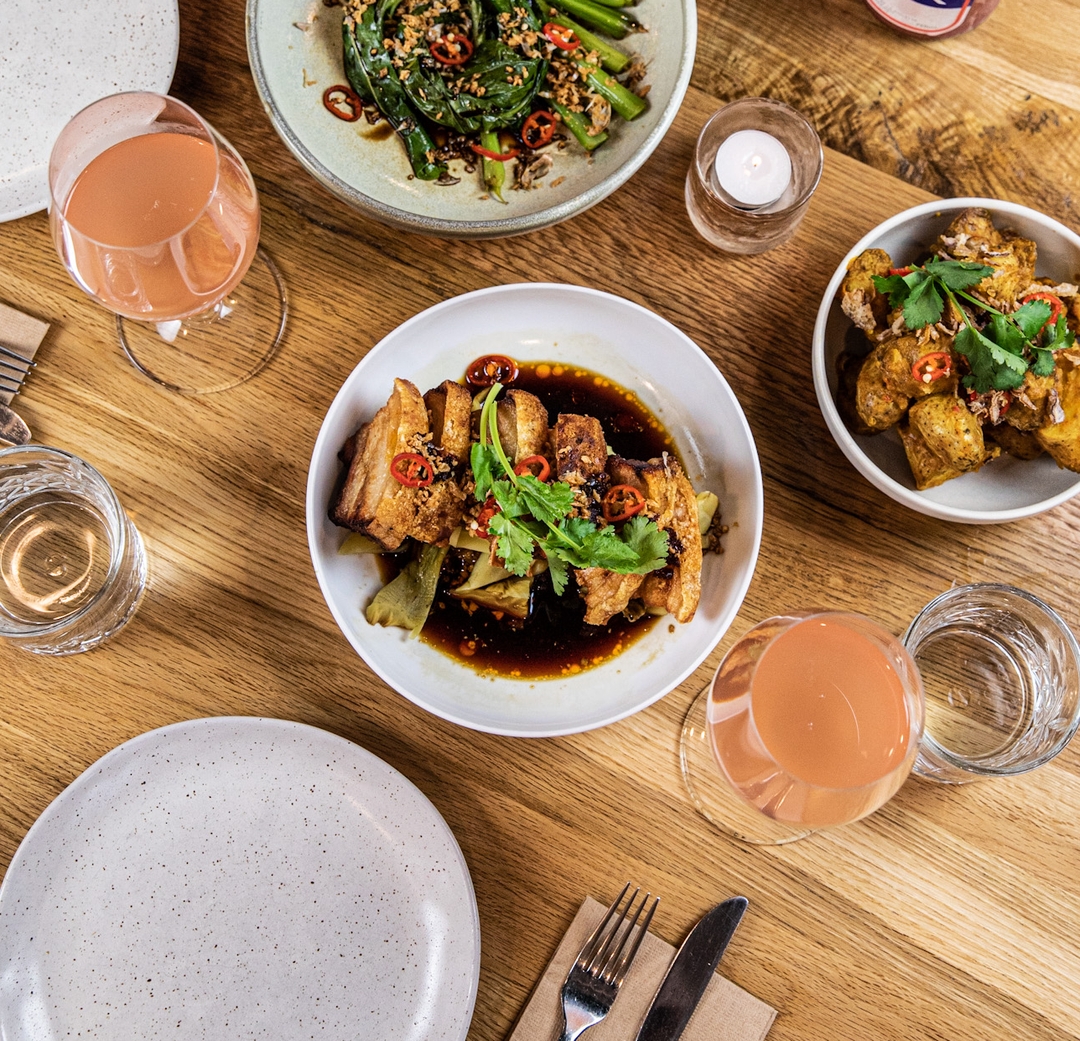 Pawpaw
Woolloongabba
You've no doubt been there for brunch, but have you made it to Pawpaw for dinner? Hit these guys up for some creative Thai dishes that you'll want to treat your tastebuds to stat. Pawpaw plates up nothing that won't leave you wanting more, and we mean this because we literally find ourselves there about once a month. Snatch up some of their crispy pork belly and do not, we repeat, do not miss out on their massaman beef cheek curry. Their sister venue Pawpaw Asian Kitchen in Balmoral is equally as good if you're a little further east.
Mons Ban Sabai
Camp Hill
An oldie but a serious goodie we just love the traditional and delicious Thai food at Mons Ban Sabai. Housed in a stylish corner spot looking out to the leafy street, this eatery has been serving up moreish pad Thai for years. You know what they say, if it ain't broke! They also cater to gluten-free foodies, with most of their dishes gluten-free, and vegans, offering up delights like red curry with roast pumpkin and veggies or pad Thai with tofu.
Tuk Tuk Thai
Milton
For seriously fresh Thai food packed with flavour, look no further than Tuk Tuk Thai right in the heart of Park Road—it's unmissable thanks to the Tuk Tuk parked out front. Handpicked ingredients are cooked according to ancient techniques and recipes, resulting in plates of food that are literally brimming with flavour. The salmon cakes are great for starters, then go for some curry or noodles for mains. They also have a great little list of desserts, which is an extra thumbs up from us.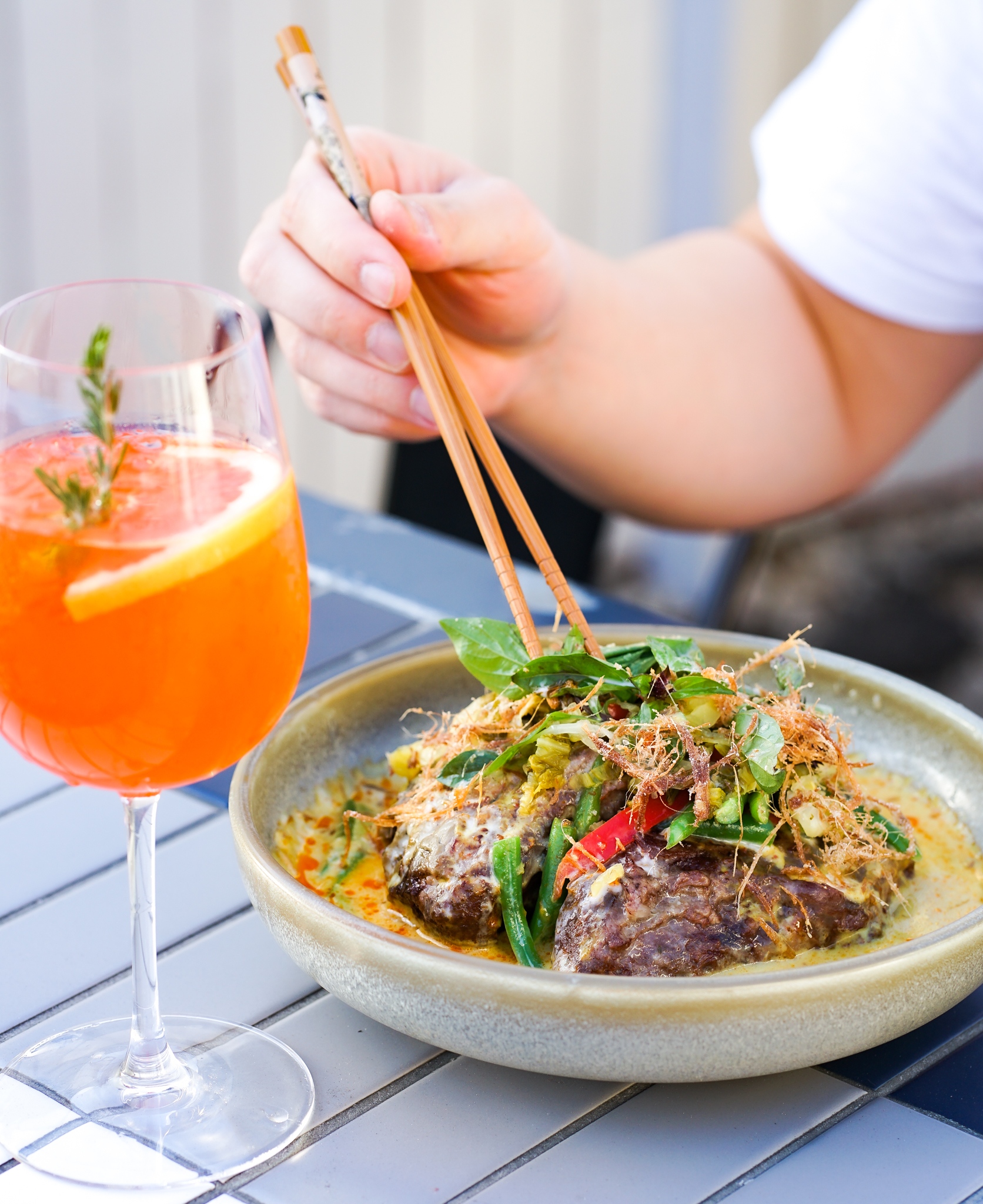 Lek's Thai
Paddington
By day, this old Queenslander on Given Terrace is Paddington Social, but after 5pm from Tuesday to Saturday it turns into Lek's Thai, a pop-up restaurant dishing up Thai feeds for dine in and takeaway. Now you can get your basic green, red and yellow curries here, but if you know what's good you'll be ordering the sticky pork ribs and sea salt and pepper wok fried pork belly with a side of crab meat fried rice instead.
Boo's Kitchen
Woolloongabba
Sandwiched between the Best Western Hotel and Annerley Road in Woolloongabba, Boo's Kitchen is one of the top contenders for the best Thai restaurant in Brisbane in our opinion so we're glad to see it come out on top in your eyes too. The menu at Boo's is loaded with food based on owner Boo's family kitchen in Isan, the Thai region she hails from, with minimalist interiors where you can feel right at home.
Mekhong Thai
Wynnum
Mekhong Thai was so beloved by New Farm locals that though it has moved to Wynnum, many regulars make the trek bayside just for their massaman curry. Mekhong doesn't compromise when it comes to authentic Thai flavours, and the fact that they're BYO doesn't hurt either. References to the secret family recipes pepper the menu, from Joe's mother's secret panang curry to Grandma's caramelised spiced pork belly, and adventurous sorts can try their signature silkworm betel leaves.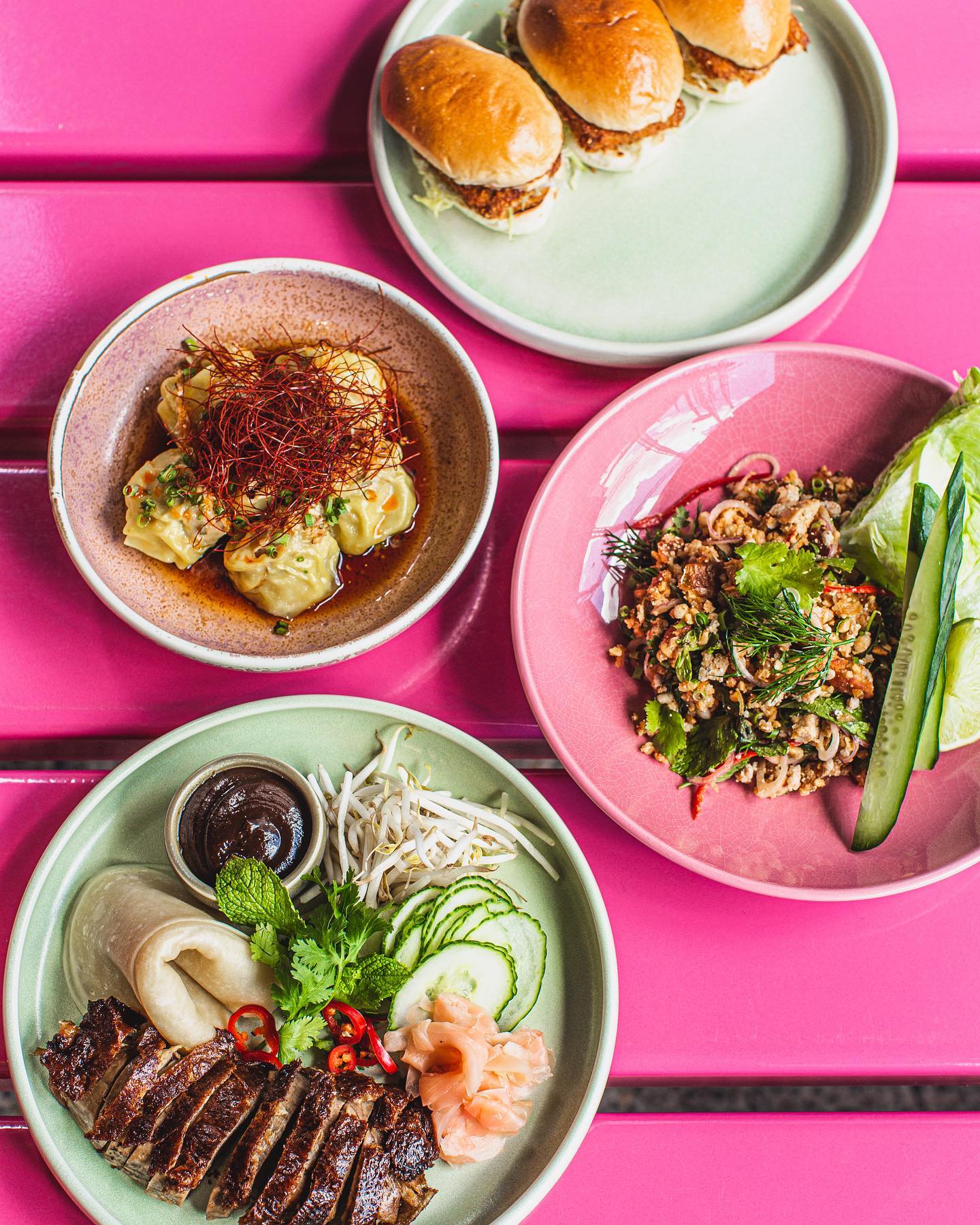 Ping Pong
Newstead
With hot pink interiors so bright they may just hurt your eyes, Ping Pong is definitely the most Instagrammable Thai restaurant in Brisbane and luckily, the cuisine matches up to the heights set by their interior designer. Kick things off with Sriracha and honey chicken bao, move onto sticky beef short ribs and tempura bugs, and make sure you order the banana and lychee fritters with condensed milk and sesame ice cream for dessert.
Thai Ways
Albion
Thai Ways dishes up amazing traditional Thai food, including plenty of dishes you've probably not had the opportunity to try before. They've got everything from soups and stir-fries to curries and salads, cooked with love and a handful of chillies, too. Chef specials include the pad kanar ped (stir fried roasted duck with Chinese broccoli and oyster sauce) and deep fried whole barramundi.
Siri Thai
Alderley
On South Pine Road in Alderley you'll come this suburban gem that's been feeding locals for over 15 years. On the Siri Thai menu are plenty of starters from coconut prawns to salt and pepper soft shell crab, and if you love the freshness of Thai cooking, you'll love the long list of Thai salads, with lemongrass and lots of fresh herbs. There's also a healthful ginger stir-fry with 25 vegetables, perfect for boosting that immune system.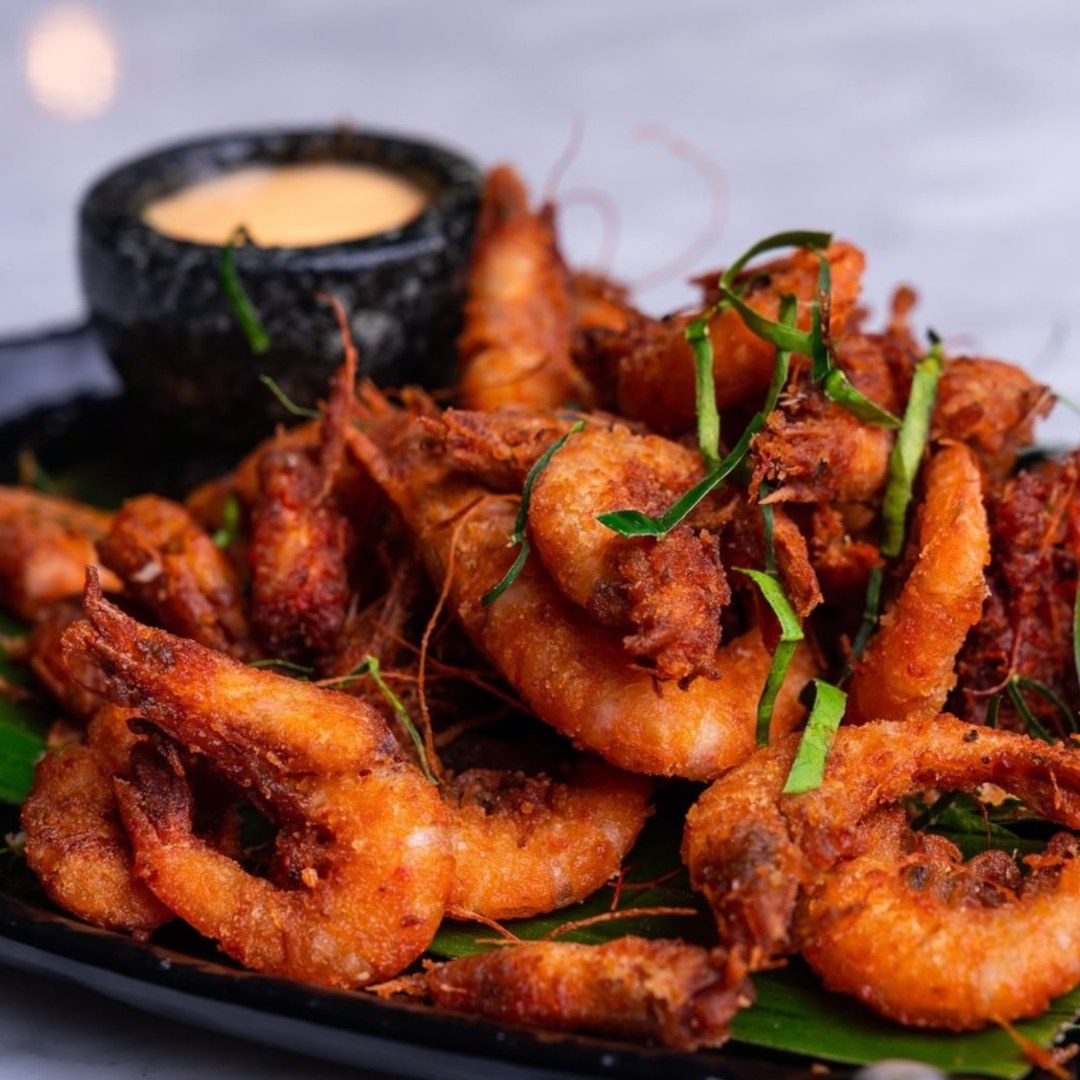 Phat Boy
Brisbane City
Although relatively new to the Brisbane Thai scene, Phat Boy is making people take notice. Its cheeky attitude combined with its on-plate delights and quirky cocktails, is ticking all the boxes for not just dinner, but a night out. If you're willing to get messy, their signature dish is the kung tung—a spicy seafood fry up that's poured directly onto the table for you to dig into. As for the drinks, well, between the beer towers and cocktails like the Khao San Road, with butterfly pea infused vodka, dry martini, yuzu sake, lychee and orange bitters, you're set. We should also mention that their sister restaurant, Phat Elephant (also in the CBD), is worth a visit too.
Kinn Thai
Mt Gravatt
A shopping centre restaurant it may be, but don't let that fool you—Kinn Thai is a firm favourite amongst the Thai lovers of Brisbane. In fact, it's so popular that you'll need a booking most nights of the week, particularly since it's BYO (wine only, for $3pp). From duck pancakes and satay chicken to massaman lamb shank and pad prik khing, they do all the favourite, but their signature dish is a whole deep fried barramundi with sweet fish sauce that you'll want to split with your crew (or not).
Chilli Coco
Stones Corner
Pairing Stones Corner's vintage vibes (think mismatched chairs and antique doors) with Thai food worth travelling for, Chilli Coco has an extensive menu, with coconut prawns, fragrant salads, spicy soups, stir frys, curries, noodles and rice. Oh, and we can't forget their salt and pepper soft shell crab, which is worth splurging on if you've got a hankering to branch out from your usual order of red duck curry (we know it's hard to resist those lychees).
Special Mentions
There were too many nominations for Brisbane's best Thai restaurants to count, so if you really want to do a deep dive into the city's best massaman curry, here's where else our readers think is worthy of visiting:
My Thai Restaurant, Auchenflower
Sings Asian Kitchen, Rosalie and Coorparoo
Little Thai, Everton Park
Thai Terrace, Rosalie
The Phat Pantry, Sunnybank Hills
Jao Jorm, Moorooka
Thai Flavour, Holland Park

iThai, Sunnybank

Little Bangkok, Cannon Hill

Bangkok Milton, Toowong
Red Galanga, Norman Park
Naramit, Hendra
Taragindi Thai, Taragindi
Siam Sunset, Graceville
Thai Rose, Woolloongabba
Siam Samrarn, West End
To Be Thai, New Farm
Morningside Thai, Morningside
Thai Legend, Bulimba
Thai Pan Kitchen, Highgate Hill
Thai Tamarind, Victoria point
Thai Patcharin, West End
Thai On New Farm, New Farm
Thai On Grove, Ashgrove
Tara Thai, Fortitude Valley
Thai Chada, Grange
Pochana, Brisbane City
Gala Thai, West End
Maybe you also want to scope out Brisbane's best Vietnamese spots?
Image credit: Doodee Boran, Pawpaw, Lek's Thai, Phat Boy