If you know your fattoush from your fatayer and your lokma from your lokum, then this list of Brisbane's best Middle Eastern restaurants is for you.
From the shores of the Mediterranean Sea to the Persian Gulf, Middle Eastern cuisine is instantly recognisable by its heady mix of fragrant spices, delicious grilled meats and range of tempting salads and sides. Grab a group and get ready to share.
Gerard's Bistro
Fortitude Valley
Whether you're dining for lunch or dinner, Gerard's Bistro is the place to go for one of the best meals in Brisbane. Drawing inspiration from the Middle East and northern Africa, as well as Head Chef Adam Wolfer's Jewish and Eastern European heritage, the menu serves up an eclectic array of dishes cabbage skewers with ras el hanout, quail with garlic yoghurt and long grapes, and kangaroo kofta with labne and zhoug. Make sure you sample the drool-worthy Middle Eastern flatbreads, too.
Gerard's Bar
Fortitude Valley
Right next door to Gerard's Bistro and sharing Adam Wolfer's creative genius, Gerard's Bar has recently turned the tables on its charcuterie focused menu and switched over to a Middle Eastern inspired list of mezze, including exotic cheeses, miso hummus and wagyu basturma, all served up with woodfired laffa bread. Extra hungry? Opt for the meat manoushe, a kind of Lebanese kebab slash pizza, and finish off with some Turkish delight.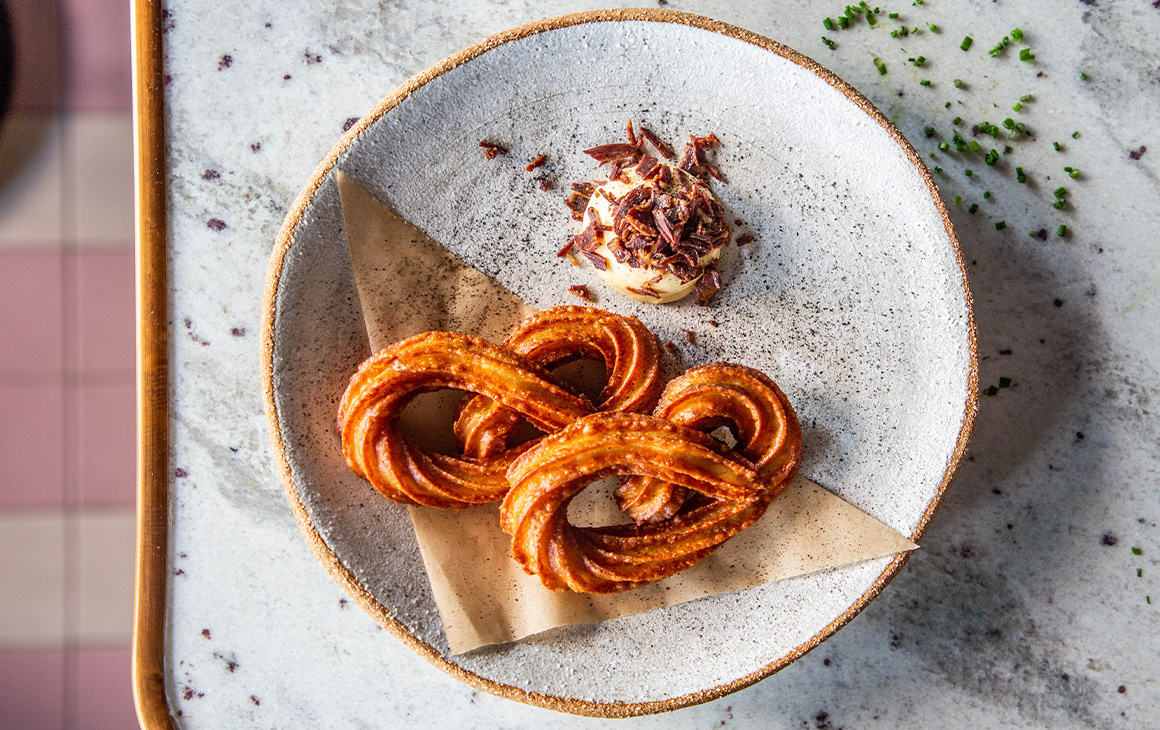 ZA ZA TA
Fortitude Valley
Sliding in under Ovolo The Valley, ZA ZA TA are taking over the Brisbane dining scene with their Middle Eastern-inspired fare. Everything worth eating here starts from scratch, from the eight types of bread that are baked in house to the spiced duck breast that's dry aged in the dedicated drying room installed downstairs. Must haves on your visit include the fried goats cheese pretzel with house lamb bacon and yolk aioli (drool), the wagyu bits challah toastie and whipped hummus with abalone mushroom shawarma.
Byblos
Hamilton
Named after the port of Byblos in Lebanon, this longtime Portside favourite serves up a mean pan-fried haloumi salad with mixed greens, tomato and avocado. If you're not friends with salad, whether there's cheese involved or not, you could check out their speciality kebbi, described on the menu as the national dish of Lebanon—hand rolled ovals of minced fish, lamb or pumpkin mixed with burghul, celery and coriander and filled with nuts and spices. And even though this list is about food, we have to mention the incredibly exotic cocktails on offer, such as the Phoenician Sunset, with strawberry puree, cloudy apple juice, Licor 43, vanilla and strawberry liqueur.
Naïm
Paddington
Previously known as Shouk, Naïm (pronounced 'Nigh-eem') is one of the latest and greatest Middle Eastern restaurants on the block. They're a forever favourite for their breakfast menu, but what you might not know is that they also dish up a seriously good dinner from Thursday to Sunday. Nab a table in the character-filled dining space and feast on plates of shwarma spiced chicken wings, stuffed eggplant with caramelised lamb bacon and spanakopita bastilla, Moroccan style spinach and feta pie. Just be sure to end on a sweet note with Turkish delight s'mores.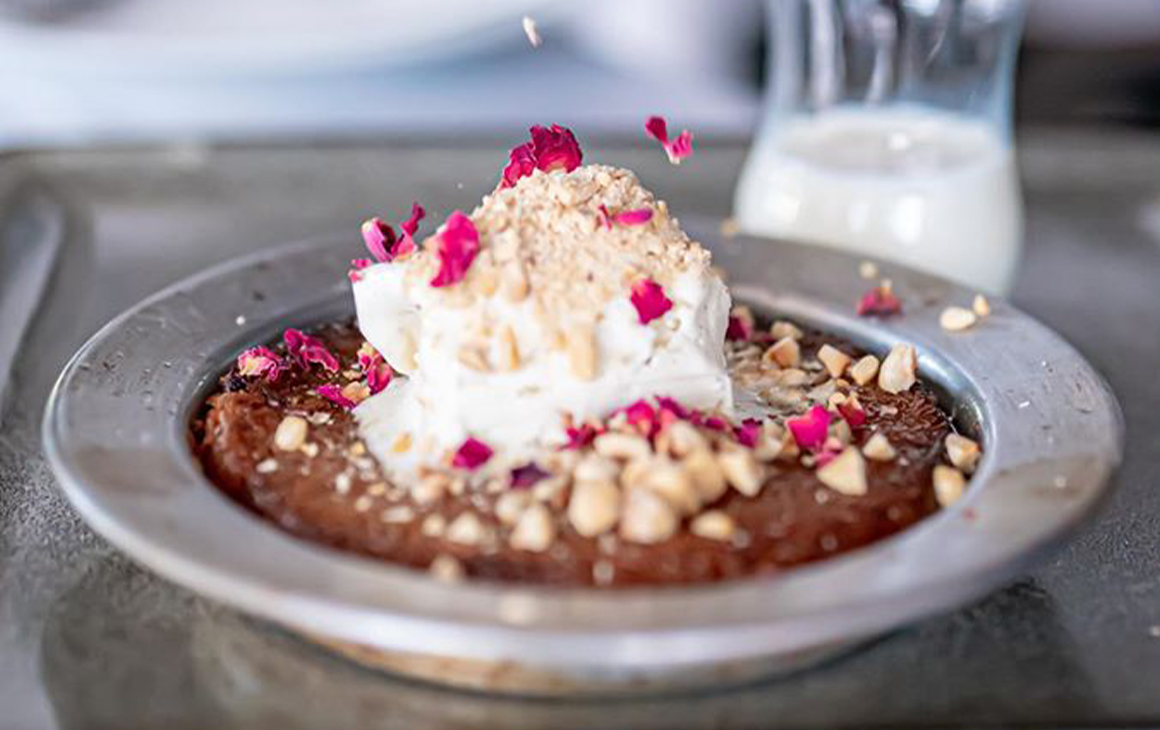 Olive Thyme
Albion
Bringing you the true taste of Anatolia, Olive Thyme has become an institution where the food is just part of the experience. This is a place to go with a big group of friends, sip a few wines and then hit up the famous sharing menu. Start off with dips and bazlama, fill up with kizartma- eggplant, lentil kofte, fasulye, and chargrilled backstrap lamb shoulder and finish off with Turkish sweets and a (full) belly dance.
Ahmet's
South Bank
If you're a dip fan, then Ahmet's is the place for you. How many restaurants do you know that have seven dips available to get stuck into? Frankly, we don't think there is a better way to start off a meal. From baba ghanoush (roasted eggplant) and pancar (beetroot) to zeytin (black olive and parsley), you may never actually make it to a main course. We recommend you do though, so you can try their range of delicious Turkish pide.
Mecca Bah
Newstead
In their brand new (and oh-so-Instagrammable) Newstead location, Mecca Bah offers up plenty of eats to tempt with their rich selection of Middle Eastern and Mediterranean dishes. A trio of dips with toasted Turkish bread is the way to start, followed up with the succulent-marinated lamb bourkes, crispy rustic cauliflower and baked halloumi salad. Wash it all down with their sweet cocktails and enjoy the view of the historic Gasworks.
Baba Ganouj
South Brisbane
While they have an extensive Middle Eastern menu, Baba Ganouj certainly doesn't skimp on quality. We recommend checking out the mixed grill so that you can get a taste of everything on offer, including chargrilled lamb, kofta, chicken and fish skewers as well as tabouli, hummus, baba ganouj and fresh saj bread. If you can't fit anything more in, but can't bear dessert FOMO, take home one of their sweet treats such as baklava, maamoul or halva.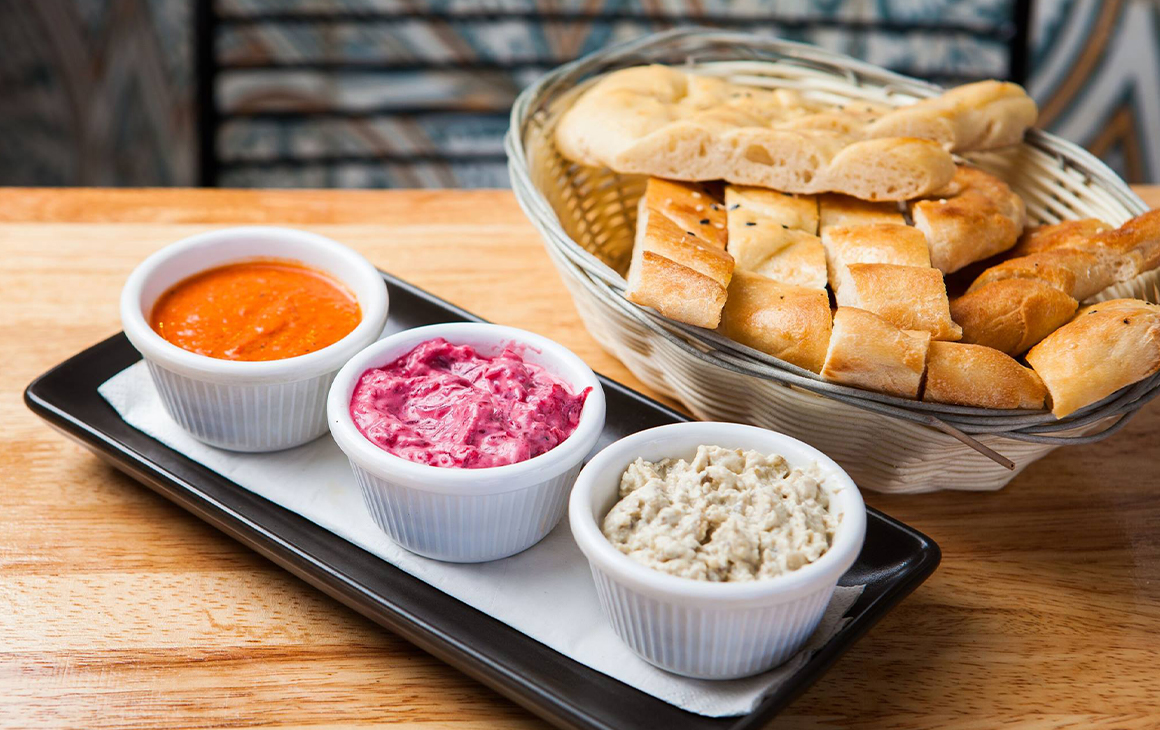 Downtown Istanbul
Hawthorne
At Downtown Istanbul, Turkish food bazaar meets the streets of Hawthorne. Prepare yourself to engage in a sensory delight where you can expect delectable pides and tender chargrilled meats, along with mezze share plates full of dips, falafels and all the carby dough goodness you can think of. We all love to sip on a cheeky beverage with our meal, so thankfully their cocktails are just as delicious as the food. Middle Eastern margarita anyone?
Caravanserai
West End
For a relaxed family feel, check out Caravanserai and dive straight into their spiced Turkish meatballs or prawn and mussel pilaf. If you're feeling extra hungry, the deluxe sultan's banquet is quite literally fit for a king. Feast your way through four courses of Ottoman meze, a selection of mains to share, Turkish lemonade, baklava, fig mousse and Turkish delight. Sign. Us. Up.
Little Beirut
Indooroopilly
If you're in the mood to get a real Middle Eastern social and cultural experience, Little Beirut is the place. Escape from the hustle and bustle of the inner city and share a big ol' dish of Lebanese eats with your foodie friends. Safiha meat (minced lamb), sambousek (deep fried pastry pockets filled with cheese and meat) and batata harra (deep-fried spiced potato) come in as Urban List favourites when it comes to the best Middle Eastern restaurant fare in Brisbane, but there's something on the menu for all tastes.
Prefer Italian? Get your fix here.
Image credit: Gerard's Bistro