Holy guacamole there are some seriously good Mexican restaurants in Brisbane these days. If your idea of a mouth-watering Mexican fiesta involves nothing more than a whole mess of nachos, you're doing it wrong (kind of). Put down the Doritos and step away from the 'medium' intensity salsa, gringo—we're going to do this the right way.
Mexican food is a divisive and delicate subject matter. After all, one person's tor-till-ah may be another's tor-tee-ah. When Mexican food is good, it's really really good. When it's bad… well, it doesn't earn a coveted position on our list of the best Mexican restaurants Brisbane has to offer. From sit-down affairs to flavour-mobiles on the move, here are some of Brisbane's top picks for dining south-of-the-border.
Baja
Fortitude Valley
Without a doubt Brisbane's most sophisticated Mexican restaurant, there's not a hint of a sombrero at Baja—instead, you'll find pastel interiors with wicker lamp shades casting a patterned shade over panelled bench seating, tiled high tables and polished concrete floors. The menu is equally as different from your usual—think roasted pork belly adobada with mole manchamanteles, pear, radish and kohlrabi; lamb shoulder with pea mole, beans and mexcal jus; and achiote roasted cauliflower with chipotle brown butter and dates. Taco aficionados need not despair, however, as there's more than a few of those on the menu too, along with plenty of tequila-filled tipples—the Coco Loco is a must try.
Cartel Del Taco
Hawthorne
Word of warning—you will want literally everything on Cartel Del Taco's menu, so come hungry and preferably with a gang. This fire engine red eatery looks casual but the flavours coming out of the kitchen are anything but, thanks to the dedication of its two Mexican ex-pat owners. Fill your table with starters like slow-cooked pork ribs, chargilled corn and deep-fried quesadillas stuffed with red snapper and guacamole, then move on to tacos topped with lamb barbacoa, jackfruit or beer battered snapper. The birria tacos are a must, as is the layered vanilla flan and chocolate mudcake for dessert.
California Native
Coorparoo
California Native in Coorparoo serves their Mexican with a laidback Cali-style menu that includes jalapeno poppers, taquitos, fajitas, enchiladas and heavenly soft fried tacos. For those up to the challenge, nachos are offered in a grande size with your choice of chipotle steak, braised ancho chicken or spiced vegetables.
Mama Taco
West End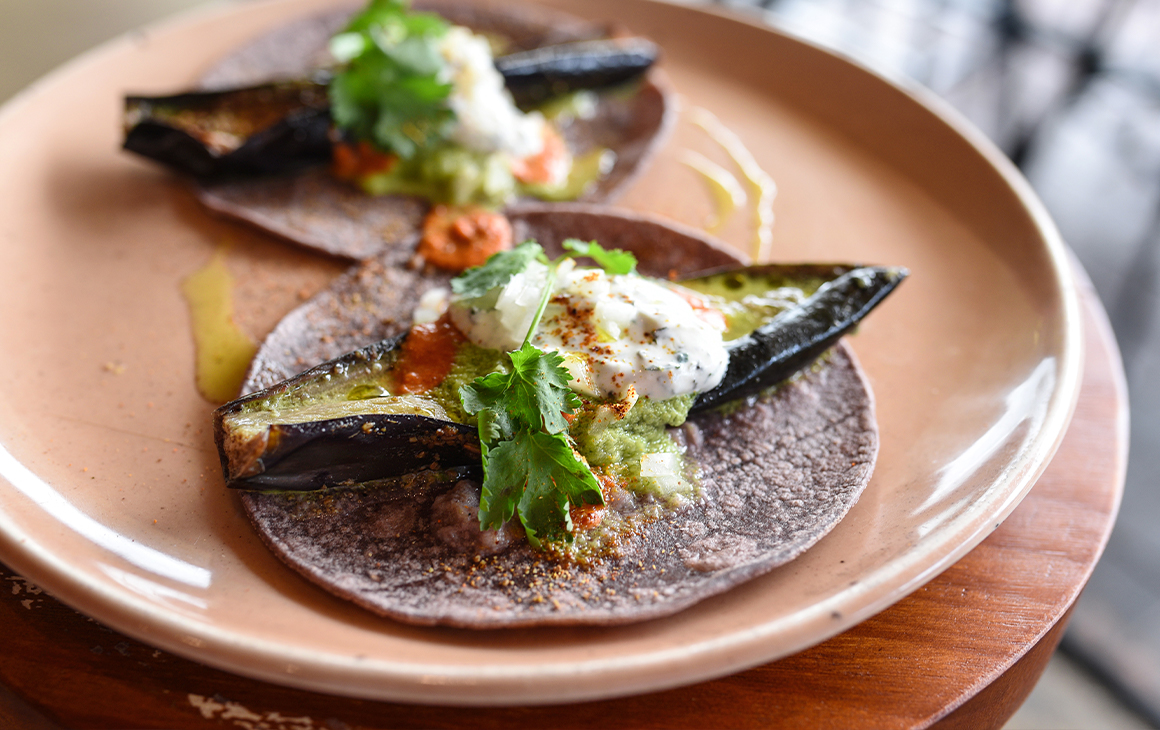 West End's Mama Taco celebrates authentic Mexican cuisine with a modern twist. Everything on the menu is made from scratch using traditional Mexican preparation and cooking techniques, so you know that everything is made with love. Wood fire grilled meats, house made hot sauces, and tortillas made from only the best organic corns—let Mama Taco introduce you to flavour like you've never experienced before. The food, drinks, and picture-perfect pink walls will make you never want to leave.
El Planta
South Brisbane
For all you vegan, vegetarian and plant-based enthusiasts, don't think that good Mexican food excludes you—El Planta haa got your back. Their full plant-based menu dishes up a fine selection of all the classics: tacos with housemade tortillas, grilled corn rolled in chipotle mayo and 'parmesan', and of course, guacamole. Wash these delights down with a margarita that will have you doing the salsa all night.
El Torito
West End
El Torito has been holding court on the benchmark for authentic Mexican food in Brisbane since before the taco trend took hold. From their digs on Boundary Street they've set the standard for Brisbane's most rustic Mexican, and you can be sure there is a helluva lot more going on than just corn chips and guac. Check out the chicken mole if you don't believe us.
La Patrona
Teneriffe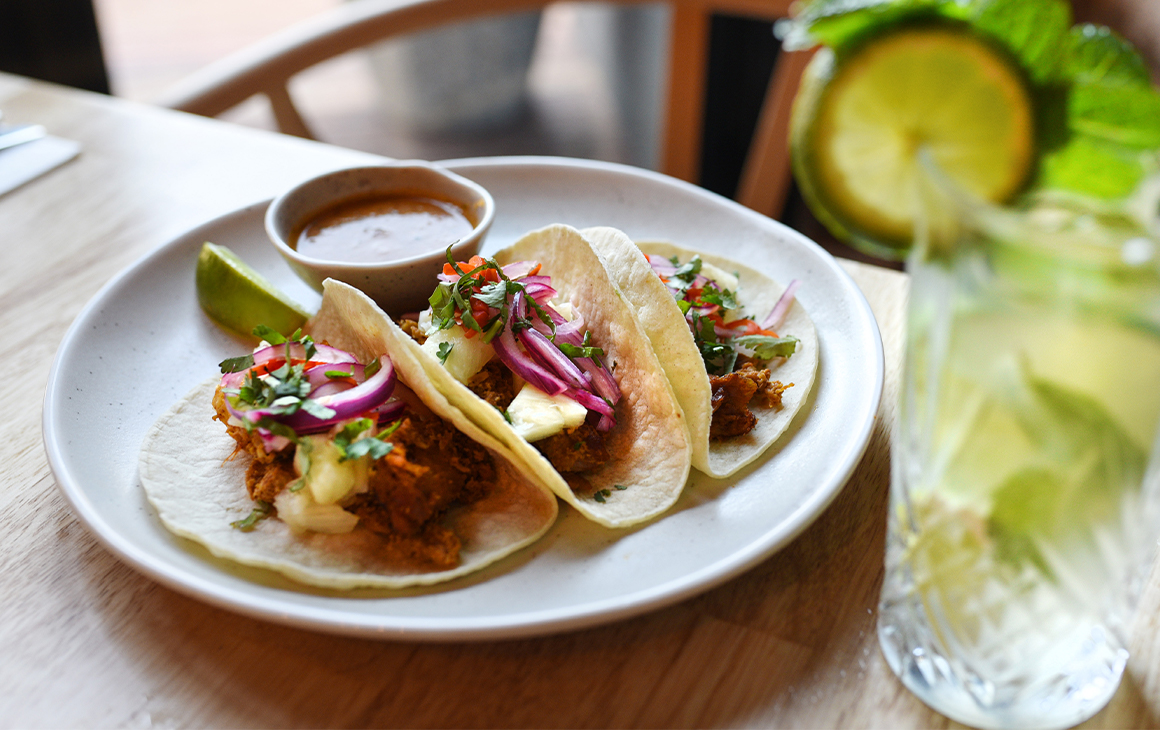 This colourful and relaxed Mexican spot will have you drooling from the beginning to end of your stay. With cosy interiors decked out in wood and an amazing flowering cactus mural, La Patrona will be your new favourite spot for all things Mexican. They've got a delicious array of street food and share dishes, making it the perfect spot to hit up with a group of friends or your date. Think slow cooked shredded beef enchiladas, mushroom stuffed gorditas, rib fillet tacos, and plenty of tequila if you feel like living la vida loca.
La Carmela Mexican
Petrie Terrace
Nestled among the speakeasies and brewpubs of Caxton Street, La Carmela Mexicana makes its presence known with hand-painted mosaic tiles and full-wall murals. Their food stands out too, with a menu offering up the likes of traditional birria tacos with slow cooked marinated beef filling, queso fresco and consommé as well as their tostada prawn ceviche. Enjoy these plates in their high-ceilinged, Mexican paraphernalia-littered interior or take it out to the garden bar where you can relax with a corona. Don't forget the lime.
Mama De Luna
Wilston
Wilston's Mama De Luna serves up Mexican eats in a colourfu setting for breakfast, lunch and dinner. Yes, breakfast—if you've never had huevos divorciadas (two fried eggs and refried beans on a crisp tortilla with salsa verde on one side and salsa roja on the other) you haven't lived. The PM menu is equally worth a visit though, featuring the classics of tacos, tostadas, fajitas, enchiladas, nachos and cheesy quesadillas.
Mucho Mexicano
South Bank And Hawthorne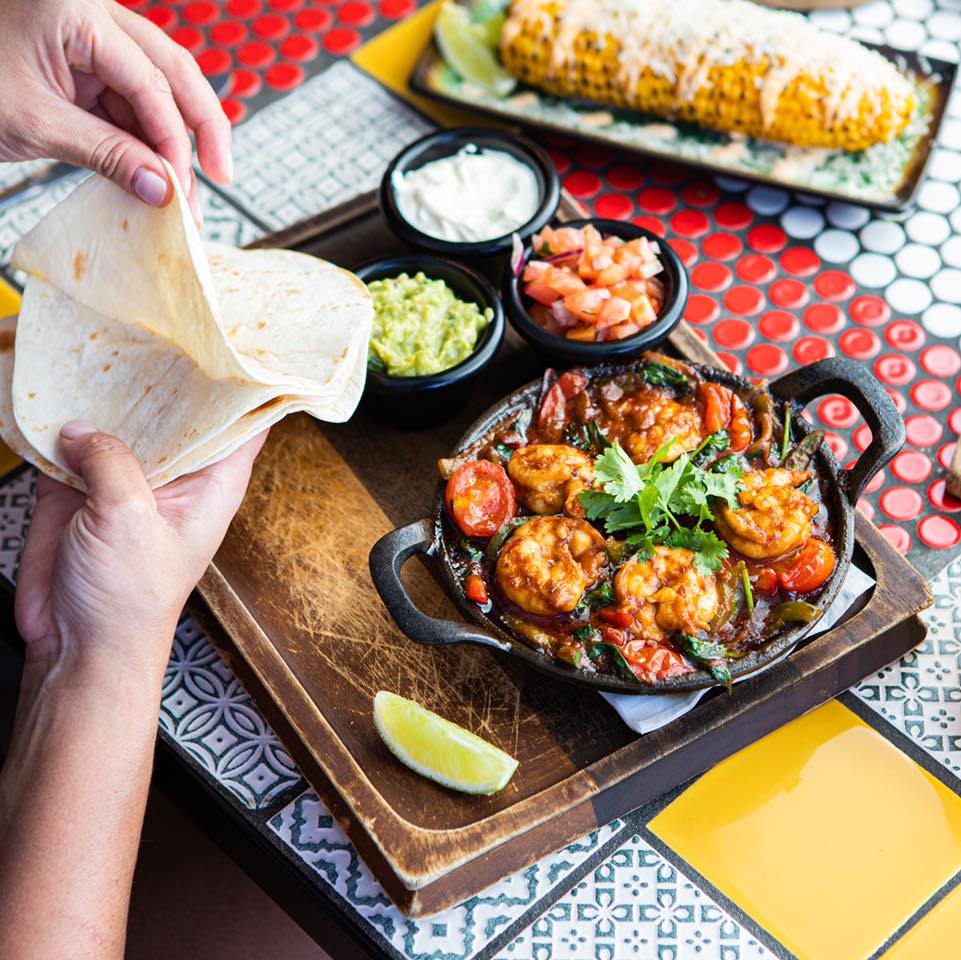 If you're after the best Mexican restaurants Brisbane wide, make sure you say hola to Mucho Mexicano. Their colourful interiors are a homage to Mexico's finest—Frida Kahlo, fiestas and feisty, flavoursome food. With mucho mucho delicious authentic Mexican dishes the menu you will be spoilt for choice. Personally, we're big fans of their DIY chipotle prawn and tortilla boards, but every Tuesday night you can also score half price tacos.
El Camino Cantina
Bowen Hills and Chermside
Serving up strong party vibes with larger than life sombreros, an explosion of neon lights and jukeboxes blasting music, El Camino Cantina is a must-visit for you and your crew. Food-wise think fresh tacos, sizzling fajitas and bulk burritos which pair perfectly with their gigantic margaritas, made shaken or frozen. To make things even better there are also spicy mid-week deals including $2 tacos on Wednesday and half-price fajitas on Thursdays—what more do you need?
La Mexicana
Howard Smith Wharves
A visit to Howard Smith Wharves is already a must on the weekends, but since 2021, the addition of the vibrant La Mexicana has made it all the more enticing. Open Friday to Sunday, the LA-inspired Mexican pop-up is known for their authentic Mexican meals curated and created by celebrated chef Louis Takaram. The kingfish ceviche with cucumber, coconut and coriander aguachile and corn chips is the star of the show, but don't skip out on the supporting acts. Moreton Bay bug tacos and ancho chilli brisket tacos make up the highlight package and, of course, pair perfectly with a margarita. Oh, and don't forget the churros—as good as they come.
Comuna Cantina
Brisbane CBD And Everton Park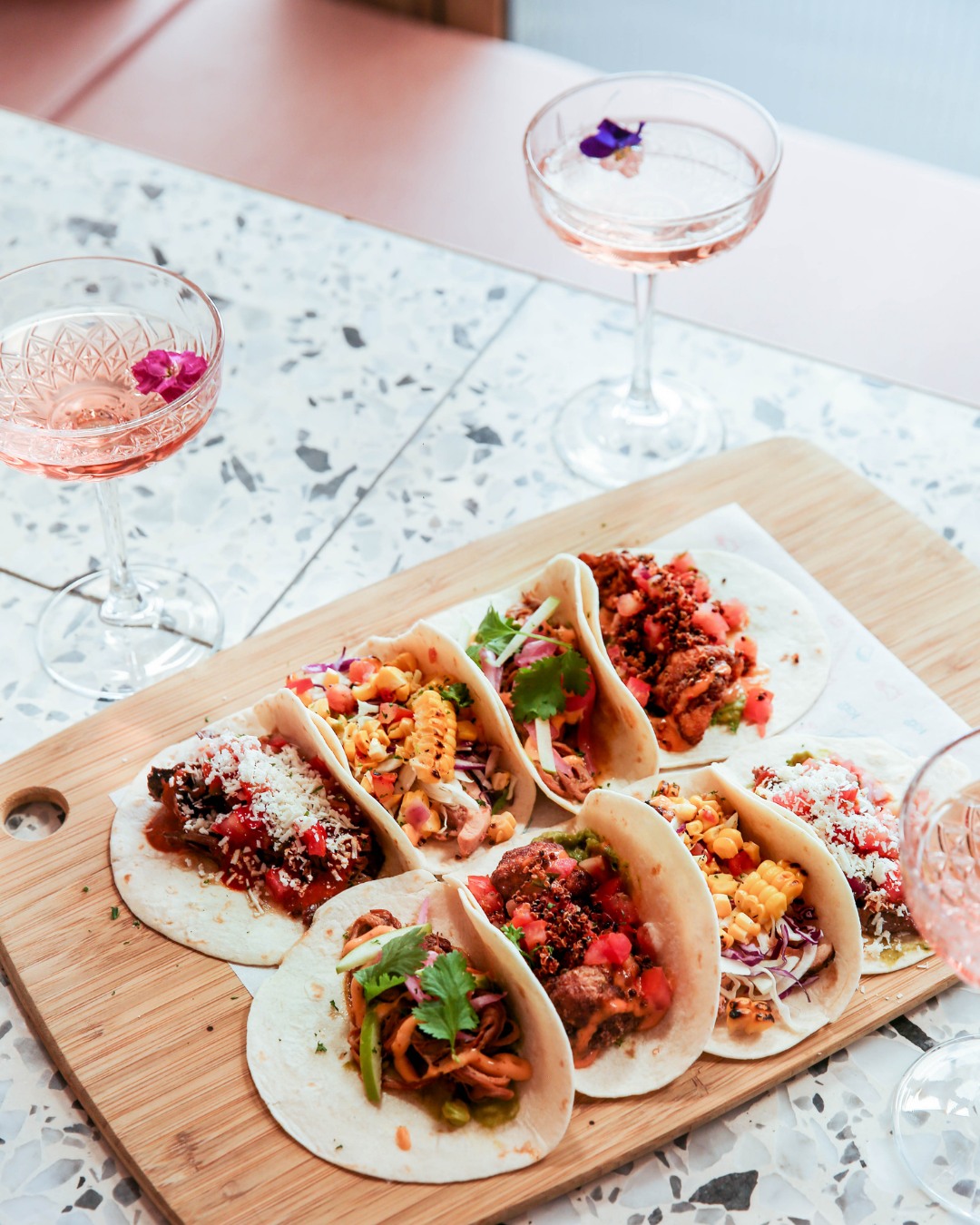 Comuna Cantina's menu covers all things South American, but there are enough tacos, burritos and quesadillas to satisfy any Brisbane Mexican food lover, along with energetic music and a viva la vida attitude. Serving up Latin inspired food with a healthy modern twist, tasty highlights include the grilled corn topped with shaved ricotta and chipotle aioli as well as no less than four different types of nachos. Oh, and did we mention there's a cocktail menu that includes the likes of Mamasita mojitos and watermelon margaritas? Enough said.
Pepe's
Newmarket
Since opening Brisbane's first Mexican restaurant in 1972, Pepe's has remained a staple of the Brisbane Mexican restaurant scene for a reason. With subdued lighting and beautifully vibrant décor, this restaurant is perfect for both an intimate date with your SO and large celebrations with your friends and family. The menu has an extensive list of authentic Mexican dishes from tacos, burritos to enchiladas and chimichanga—Pepe's has it all.
Los Felix
Woolloongabba
You know it's good if it's on this list and it opened just last month. Los Felix can be found in Woolloongabba and owes its influence to Southern California-style Mexican food. An old-school, hole-in-the-wall taqueria, Los Felix serves up a tight menu of tacos elevated with modern twists. Highlights include the carne asada and barbacoa as well as the baja-style fish tacos. Other essentials like guac and chips, tuna aguchile tostadas and loaded fries fill the menu, so you're covered on all fronts. The margaritas here also come in the slushie form, so if you're not feeling the salty rim vibes but still chasing a tequila hit, this is the spot.
MAYA
Fortitude Valley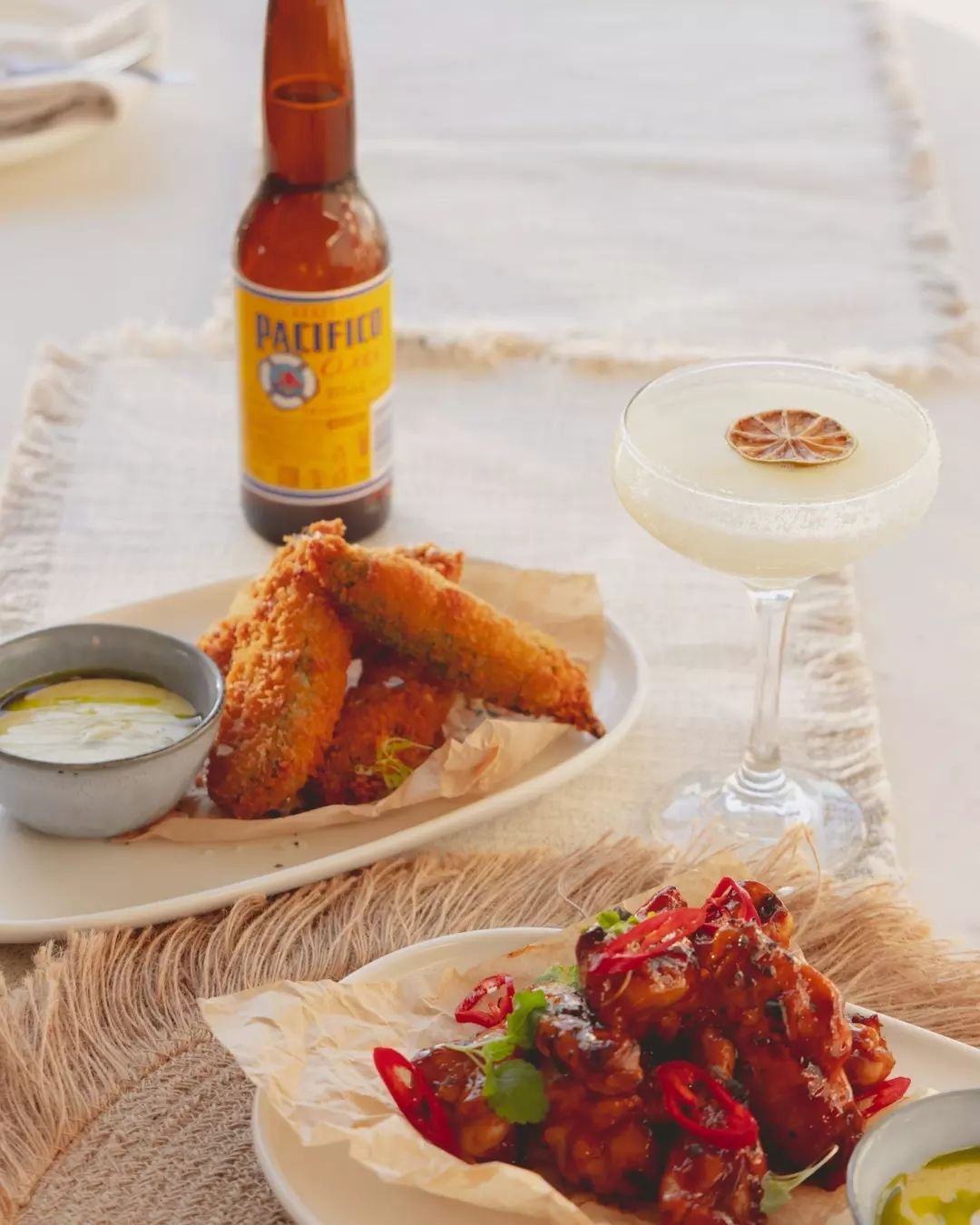 MAYA takes the Mexican dining experience to new heights at their rooftop restaurant and bar. The alabaster-white, stone and timber-adorned space instantly transports you to the balmy coastal regions of Mexico. Pair that with a marg made from an artisanal selection of tequila and you have yourself an excelente evening. We are here to talk about the food though, and MAYA have come through with the goods. Chargrilled stone axe wagyu steak. Western Australian lobster. Jalapeño agave butter. Stop that. They've got all the classics too. A range of exquisitely stuffed tacos, homemade guac and quesadillas should cover all the bases. Get down—or up—to MAYA, ASAP.
Miss Mexicana
Wynnum
Named after Mexican icon Frida Kahlo, Miss Mexicana borrows her bold choices and attention to Mexican culture and has used that to create a restaurant rich with traditional Mexican meals and drinks. Tamale bowls, fajita plates and a selection of delicious tacos grace the menu and like any good Mexican restaurant, a huge selection of tequilas and mezcals fill the bar shelves. Miss Mexicana is open late most nights and so it's the perfect spot to park up, order some guac and chips and margarita the night away.
If our list of the best Mexican restaurants in Brisbane has you drooling, you should also check out the best Italian spots around town.
Image credit: Baja Brisbane, Larissa Drazic, Mucho Mexicano, Comuna Cantina, MAYA