Want to know where to get Brisbane's best ramen noodles? Listen up.
Like many other Brisbanites, I approach ramen with the same reverence and inquisitiveness that others approach art. A good bowl of ramen happens when the broth, noodles, and fixings come together to create a mouth-watering dish, and lucky enough for us, Brisbane is home to some of the best: pork ramen, tonkotsu ramen, cult Japanese ramen chains, vegan ramen. This city can do anything with broth and noodles.
Get ready to slurp the best ramen in Brisbane.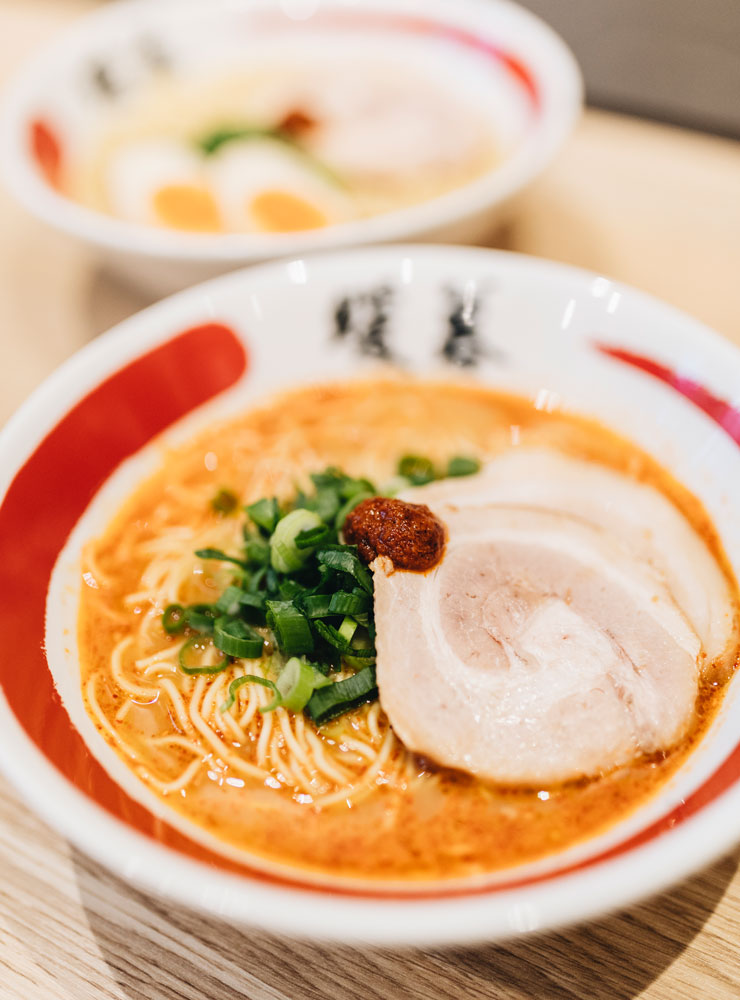 Ramen Danbo
South Brisbane
Cult ramen chain, Ramen Danbo, have come a long way from Chikushino, on one of Japan's southern islands. Now they're officially in South Brisbane, staking their claim to Brisbane's best ramen. It's all about the silky tonkotu pork ramen here: an insane, slow-cooked broth that uses the highest quality pork bones. It's creamy, porky, and you will get meat sweats. Veggos, they haven't forgotten you either. Ramen Danbo makes a pretty convincing miso-based vegan ramen.
Taro's Ramen
CBD and Ascot
Taro's Ramen is often regarded as some of the best ramen in Australia, and you'll understand why when you taste their Tonkotsu ramen. Using only the finest locally sourced produce (such as Bangalow Sweetpork and Wagyu beef from their local butcher), and with noodles perp'd in-house, a bowl of Taro's ramen is like a cosy, warm hug. And just from me to you: this is my personal #1 pick for Brisbane's best ramen.
Genkotsu Ramen
Toowong and Runcorn
Genkotsu Ramen is authentic. Honestly. From the team behind Genkotsu, to the 12-hour brewed broth and overnight-marinated eggs, everything about Genkotsu feels traditional. I can't wait until winter so I can tuck into a warm bowl of shoyu ramen on a dreary day.

Image credit: Cheeky Poke Bar
Cheeky Poke Bar
Newstead
Our wild card entry, Cheeky Poke may be most known for their colourful and nourishing poké bowls, but it's their bone broth ramens that we're secretly frothing over. While this isn't one for the purists, we defy anyone who doesn't fall for their coconut, lemongrass, and chilli bone broth. Have it with the pork gyoza as a topping—lush. Decor isn't too bad either...
Bonsai Botanika
Brisbane CBD
Bonsai Botanika easily cruises into the Brisbane Best Ramen conversation, but you might not realise it at first glance. They serve up a hefty (seriously, this thing is big) bowl of authentic tasting ramen. You might struggle to finish the entire thing, but loosen your belt and you'll be fine.
Hai Hai
Paddington
Hai Hai is hugely popular with the locals, and it's not hard to see why. The ramen servings are generous, the staff are friendly, the charsiu is rich, and if that's not enough, the vegetarian ramen can be made vegan-friendly! Finally, something for everyone.
Wagaya
Fortitude Valley
There's a reason we keep going back to Wagaya—there's so much to choose from. More than just the traditional stuff, they also have Sichuan specialty ramen, Tantan miso ramen, and Sapporo's favourite, scallop miso ramen. For those serious about their ramen, you cannot go past Wagaya. So. Much. Choice.
Hakataya Ramen
Brisbane CBD, Indroopilly, Mt Gravatt and Sunnybank
My first bowl of ramen was at Hakataya in Sunnybank, and I've been hooked ever since. I will travel all the way across town for Hakataya ramen. Their menu is simple, allowing them to focus on perfecting their broth and noodles, which have to be some of the best in Australia (yep, I'm making that call). Hakataya is a Sunnybank icon, so don't sweat the long line—it moves quickly.
Ramen Champion
Sunnybank
Dining at Ramen Champion is as close as you can get to Tokyo without buying a ticket. If you're feeling game, have a crack at the Ramen Champion Challenge—finish the equivalent of 5 serves of ramen (broth and all) for eternal bragging rights, your mega serve of ramen for free, and your photo on the wall for eternity.
Love Japanese food? Here's our round up of Brisbane's best!
Image credit: Annika Kafcoulidis