​​We all know cheese is on the god tier of food, but when you go and add it to a frying pan it reaches some sort of nirvana state—and saganaki is the absolute pinnacle of fried cheese perfection. It makes sense—the Greeks are the experts when it comes to frying cheese, after all. Need we bring up halloumi?
If you've not sampled the crispy on the outside, gooey on the inside sublimity that is saganaki, let us introduce you to the iconic Greek dish. Typically, a type of Greek cheese will be fried up in olive oil in a small pan, sometimes after dipping in flour for an extra crispy exterior, and often finished with a drizzle of honey or lemon. Then comes the epic cheese pull as you dig a fork into the gooey cheese and drag it to your waiting mouth. We're drooling just thinking about it.
Did we have you at fried cheese? Well, whether you're a saganaki novice or Greek food connoisseur, here's where you'll find the best saganaki and Brisbane.
Opa Bar & Mezze
Brisbane City
Opa Bar & Mezze have achieved perfection on two fronts—the stunning interiors of their Mediterranean-inspired venue, with glam white lounge seating under arched windows and large semi-circular booths overlooking the river, and their golden saganaki drizzled with lemon. The only way to make it better? Ask for the fig sauce on top for sweet, melt-in-you-mouth heaven.
Maeve Wine
South Brisbane
Another surprise entrant, Maeve Wine makes the cut for their saganaki cheese with fermented garlic honey and oregano. Is it really that surprising though? One can't have cheese without wine, afterall, and when it comes to wine, Maeve has a list of top notch drops you'll need some serious time to peruse.
Nostimo
South Brisbane
We could wax lyrical about Nostimo's delicious Greek delights for days, from their spanakopita to their Snickers honey puffs, but no matter how many times we return, it's always the saganaki that draws our eye. Is it possible to dine on their breezy, vibing verandah without ordering the gooey cheese? Not in our experience.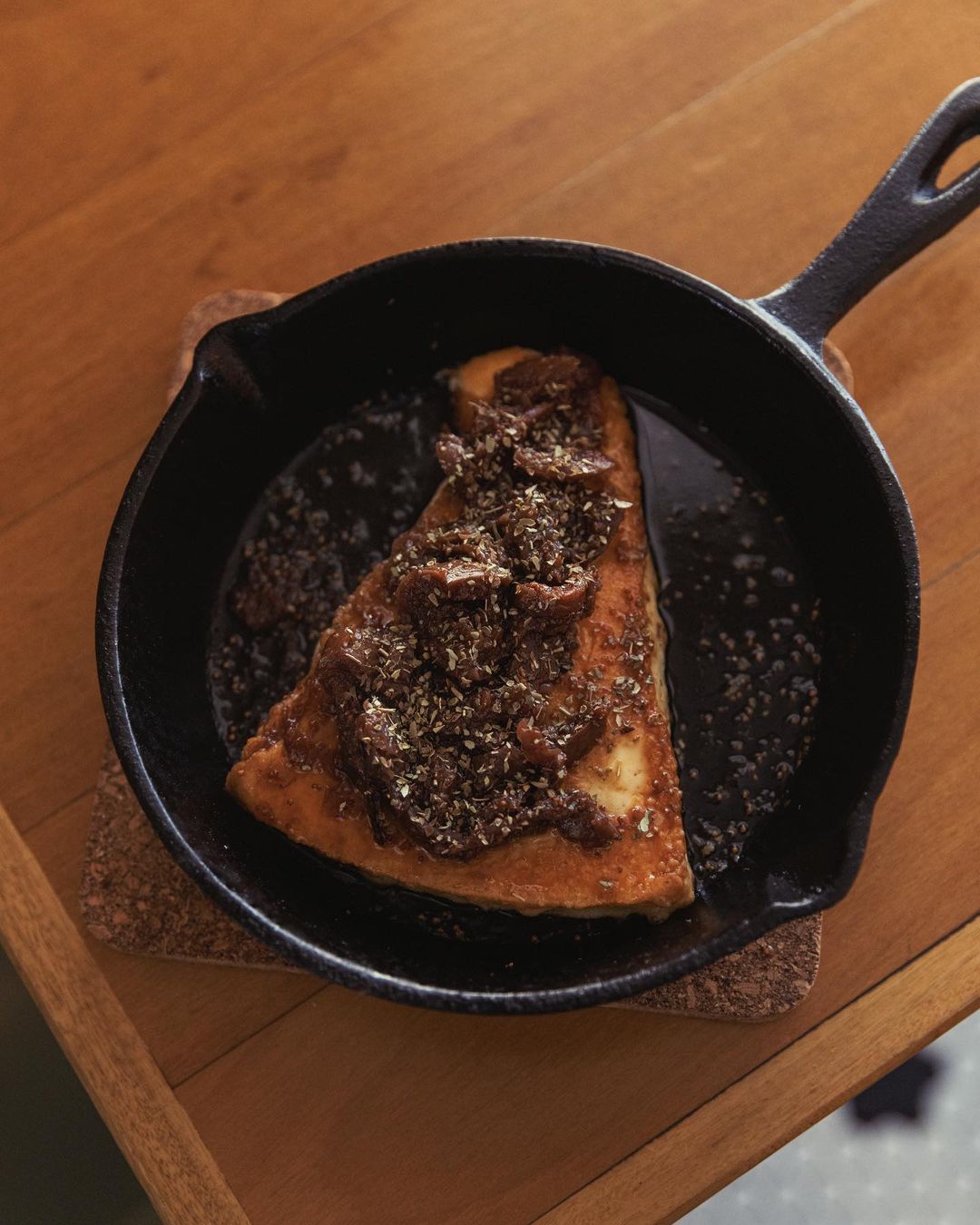 Botellon
Graceville
Hiding away in Graceville, this Spanish wine and tapas bar is a well-kept secret amongst the locals—as is their oozing saganaki. Believe it or not, it's not just the Greek restaurants in town who know how to grill cheese to golden perfection, and Botellon takes it one step further with the addition of dried fig and PX sauce, smashed grapes and honey generously piled one top. Grab some charred sourdough for mopping up leftovers.
Hellenika
Fortitude Valley
All this saganaki probably isn't going to help our lactose intolerance, but that won't stop us from digging into even more at Hellenika, preferably within view of that sparkling Calile Hotel pool for serious island resort vibes. Simplicity is the name of the game here, with a twist of lemon to finish things off, and ideally, a side of their iconic zucchini chips.
Botany
Newstead
Botany's kitchen team have cherry picked their menu items from a variety of European influences, and saganaki has absolutely made the cut (of course). Drizzled with honey lemon dressing and sprinkled with thyme and dukkah, you can also opt to get it served up with a side of pita to wrap up your gooey cheese, or just mop up the leftover goodness.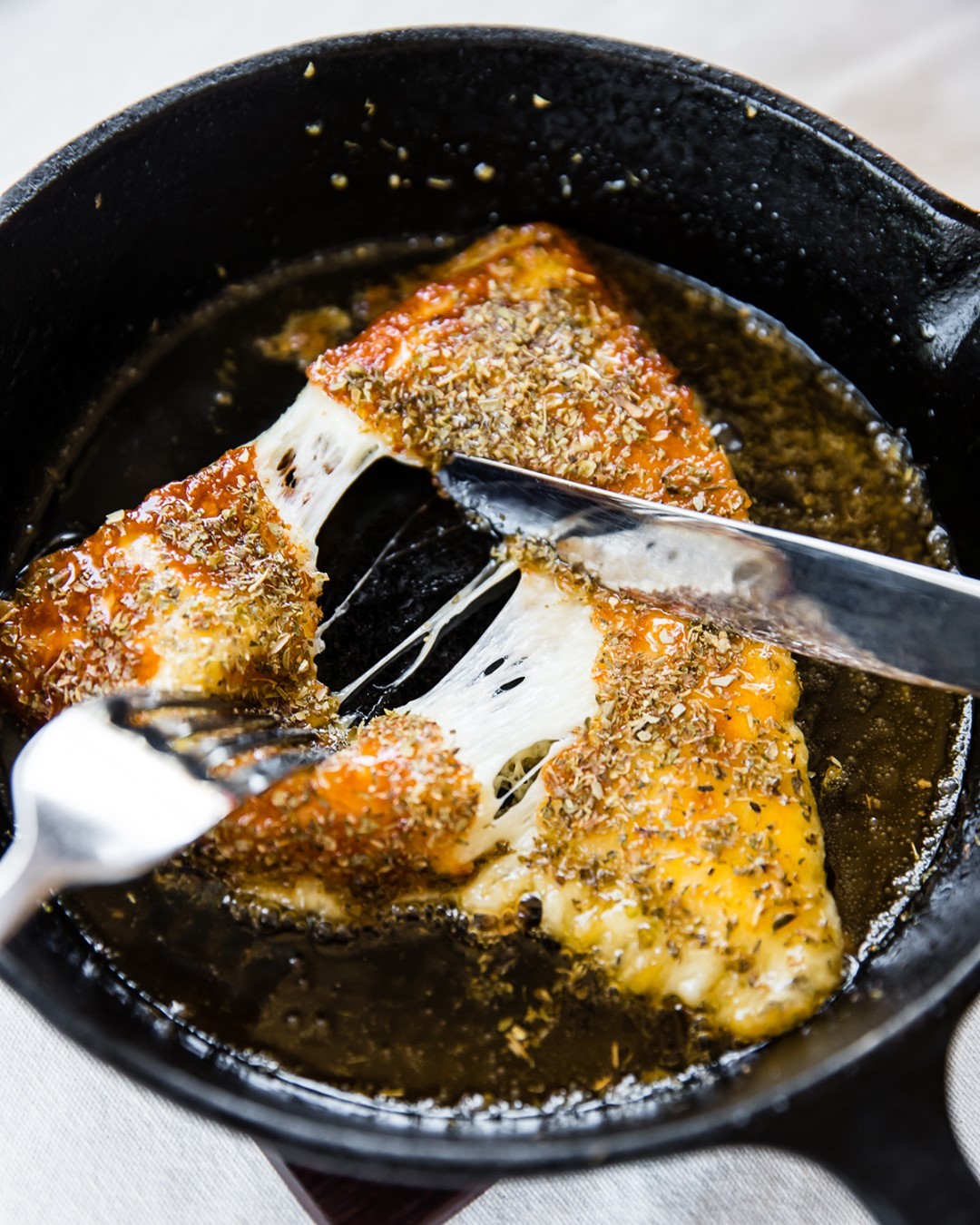 Greca
Brisbane City
Fried cheese, river views, watermelon spritzes—does it get any better? We certainly don't think so. Lashings of honey and a sprinkle of oregano finish off Greca's saganaki, which arrives at your table still half sizzling away in its pan. Skip the other mezedes and just order two.
Little Greek Taverna
West End
Remember how we said saganaki was typically made with a particular type of cheese? Well, you've got options at Little Greek Taverna—you can go with the classic version, or, if you've got a particular attachment to haloumi, there's a haloumi version as well. Or, do as we do and get both PLUS the crispy coated fried feta. Cheese coma incoming.
Ambrosia & Co
Bulimba
Ambrosia & Co draws their cuisine inspiration from all over the Mediterranean, but with a heavy focus on Greek fare, of course they have saganaki on the menu. Especially with a name like Ambrosia & Co—because surely this melted cheese topped with fig preserve is the nectar of the gods?
Want more cheesiness? Check out this spaghetti served up in a wheel of melted brie.
Image credit: Opa Bar & Mezze, Grace Elizabeth Images, Greca