As everybody knows, dumplings were invented by the God of Happiness, who wanted us all to eat lots of dumplings and be really happy. The plan worked and now we're all spoilt with decadent parcels of goodness containing juicy fillings, bursting with flavour.
To help you maximise your dumpling enjoyment time, we've munched and slurped our way around our dumpling-happy metropolis to bring you this list of Brisbane's best dumplings.
Little Red Dumpling
Various Locations
Delicious dumplings + a bar = yes, please. With an offering of both meat and vego dumplings, fried and steamed, Little Red Dumpling is a winner for the whole party. Having grown to include nine locations across Brisbane, all of which are frequented by hordes of dumpling lovers, we're guessing we aren't the only ones who love this place.
Golden Dumpling
Sunnybank
If it's authentic dumpling goodness you want, everyone knows that Sunnybank is the place to find it. And while there are more than a few dumpling spots to choose from, Golden Dumpling gets our vote for the one to seek out. Ask for the chef special—pork, leek and shrimp dumplings—and choose either steamed or fried, because they're delicious either way.
Brisbane Phoenix
Brisbane CBD
Hailing from the southern states, Brisbane Phoenix is part of Australia's dumpling empire. With a hella long menu full of top tier yum cha dishes, the new venue is definitely one for group hangs, and even boasts a private dining room that can seat up to 20 people around the biggest lazy Susan you've ever seen. On the yum cha menu, you'll find dumplings for days with your choice of steamed, baked or fried goodies. One must try the likes of crab xiao long bao, prawn and garlic chive dumplings and steamed BBQ pork buns, while vego can scoff down wild mushroom or kale dumplings.
Fat Dumpling
Bowen Hills
The delightful little parcels of happiness at Fat Dumpling are hand-made daily and bursting with flavour. They offer poached, steamed and fried dumpling options, including pork and Chinese cabbage, prawn and garlic chives and vegetarian dumplings. Their menu makes it hard to choose just a few to try, so be sure to roll in with a big group and a big hunger.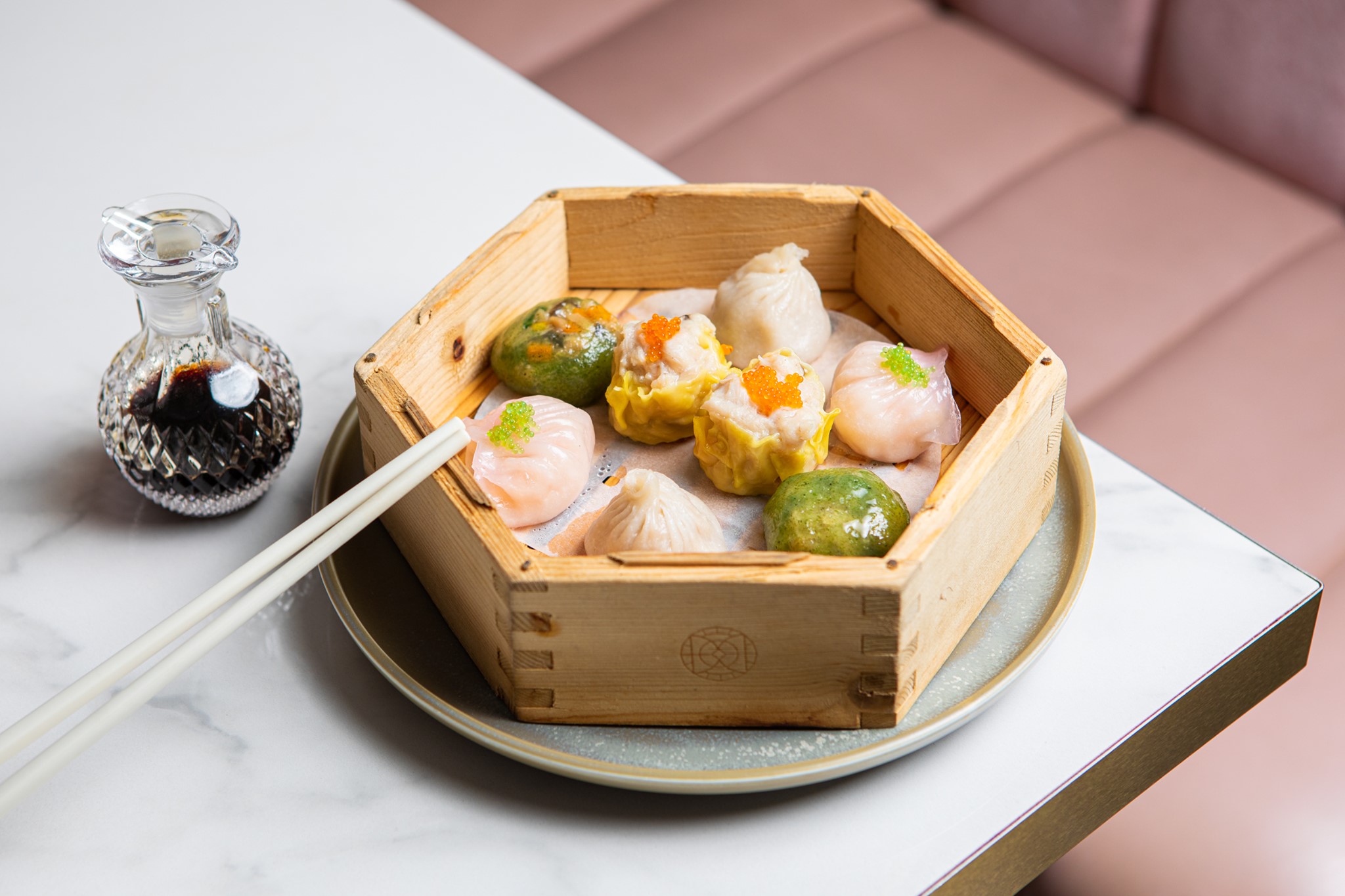 Donna Chang
Brisbane CBD
This modern Chinese restaurant is the place to go if you're up for fine dining dumplings. Donna Chang's specialised dim sum chefs produce a variety of handcrafted dumplings and yum cha daily, using a combination of creative flavours, quality ingredients and local seafood. Our pick from the menu is the spanner crab dumplings or the scallop and prawn crystal har gow. Bonus, there's also plenty to drink thanks to Donna Chang's 100-bottle wine list of boutique local and international drops.
New Shanghai
Brisbane CBD
Styled like a Hong Kong tea house, you can sit and watch New Shanghai's dumpling masters at work as they roll, stuff, and pleat a wide range of dumplings, right before your greedy little eyes. From xiao long bao, to pork with chives, a superbly crisp-bottomed pan-fried pork dumpling, and, our fave, the Shepherd's purse and pork wonton with peanut butter and red chilli oil—it's heaven—New Shanghai has mastered the art of the perfect dumpling. And the menu doesn't stop there, there's a bounty of a moreish Chinese dishes to tempt you should you have any room left.
Snack Man
Fortitude Valley
Underneath the fairy lights of East Street in the Valley, Snack Man is part wine bar, part Chinese eatery, but truthfully, the taste of their delicious dumplings will linger in your memory long after the dregs of the wine are drunk. You'll find traditional creations like their open-top shaomai dumplings with chicken, prawn and mushroom, as well as more creative options like the potato and herb wontons in soy and chilli oil. Also, you must get the Melbourne-inspired battered and deep-fried dim sim, just for fun.
Impressive Dumplings
Sunnybank Hills, West End and Everton Park
While we rarely trust a venue that labels itself impressive or otherwise, at Impressive Dumplings, the name is most definitely accurate. You'll be overwhelmed with choice here, with a menu of dumplings of all kinds that seemingly goes on forever. And ever. And ever. There are classic boiled dumplings, dumplings in authentic Sichuan, spicy and Thai spicy dressing, pan-fried dumplings and dumpling soup. Honestly, just close your eyes and point.
Stanley
Brisbane CBD
Located in Brisbane's hip new foodie hub, at the northern end of Howard Smith Wharves, is the stunning new two-level Cantonese restaurant, Stanley. Hosting a menu with a mixture of traditional and modern Cantonese style dishes that showcase some incredible meat, seafood and produce, you can be sure that you're in the right place for some delicious dumplings. Whether you're after steamed, baked or fried dumplings, you can be sure that your taste buds will be catered for with Stanley's signature dim sum platter.
Lucha Black
Brisbane City
Lucha Black's signature dishes might be their tea-flavoured roast chicken and pork belly, but while you wait for that to arrive, you can nibble on some of their dumplings. Whether that's their Xiao long bao, pork and Chinese cabbage dumplings or pan-fried pork dumplings is up to you, but do make sure you leave room for their tea-flavoured soft serve for dessert, ok?
Chu The Phat
West End
Going to Chu The Phat and not ordering their sweet corn and coriander dumplings would be a mistake. But really, all of this West End spot's dumplings are damn good, and best ordered on a Wednesday night when you can get a plate of them with a martini for just $25. Eating your way through every flavour while sipping lychee martinis? Yes, please.
Keen to visit Chu The Phat soon? Buy a restaurant gift voucher here.
Gung Ho! Dumpling
Fortitude Valley
Gung Ho! is enthusiastic about dumplings—you might even say they're gung ho for a good pork and chive parcel. Their handmade Chinese dumplings come in flavours like chicken and prawn, prawn and bamboo shoot and pork cabbage, with more out-of-the-ordinary flavours like vegan tofu, quinoa and sweet potato and lamb coriander also on the menu.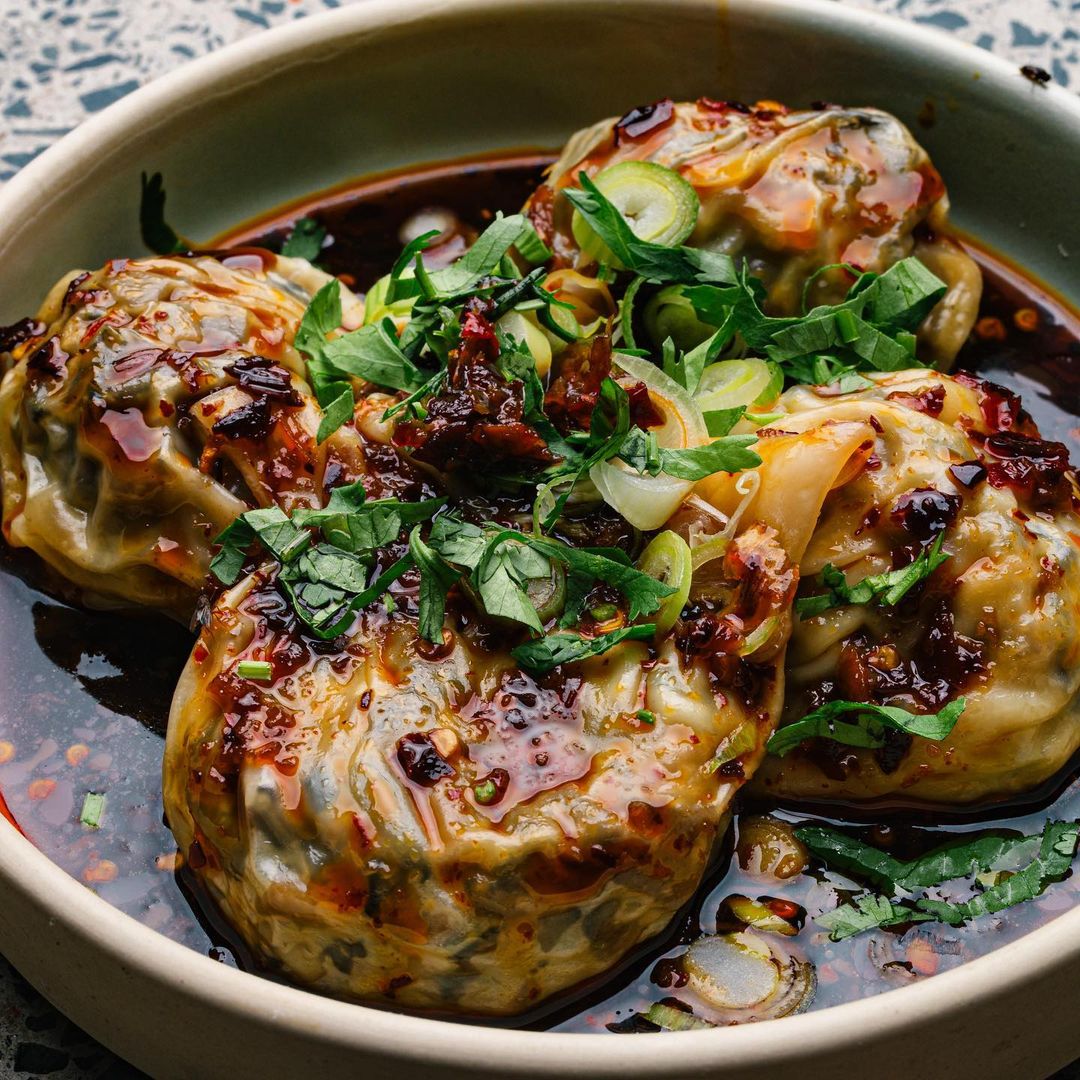 Southside
South Brisbane
Dumplings are just a small portion of everything you'll want to feast on at Southside, but they are most definitely worth a mention on this list. The dim sum menu at this laneway spot features the likes of shiitake mushroom wontons in black vinegar and chilli oil, XO pork xiao long bao and lobster and chive har gow.
King Tea Chinese
Paddington
Famed for their banquet deals ($30pp for a banquet on Mondays and Tuesdays, FYI), King Tea dish up a pretty epic dim sum menu every night of the week, and it won't break the bank even on a regular night. With options from pork xiao long bao to pork potstickers and beef, prawn and pork wontons, you might not even want to move on to the mains, but just keep gobbling up those steamed parcels of goodness with sides of spring onion pancakes and vegetable spring rolls.
Harajuku Gyoza
Brisbane CBD, South Bank And Indooroopilly
One of the first places that comes to mind when you start dreaming of dumplings has to be Harajuku Gyoza. Well, great news, friends! They have three locations serving up little morsels of dumpling deliciousness across Brisbane. Their grilled pork gyoza are second to none, but they also offer up steamed options for the health conscious, including a very yummy vegetarian option. Bonus points if you finish it off with Nutella gyoza. Sake shots are also encouraged.
Bamboo Basket
South Bank And Portside
You'll find Bamboo Basket at South Bank and Portside, making all your dreams come true with their comprehensive dim sum menu. Wrap your chopsticks around their roast duck dumplings, pan-fried pork dumplings, steamed vegetable buns and pork and prawn Siu Mai. You'll find the food fresh, delicious, and bursting with traditional Chinese flavours.
Prefer a good bao bun over a dumpling? Here's where to find Brisbane's best.
Image credit: Little Red Dumpling, Donna Chang, Southside