Lücha Black Bar And Dining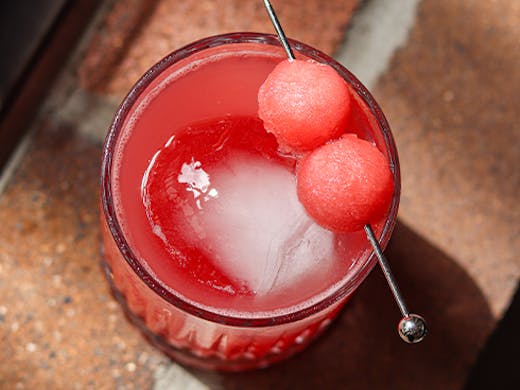 Lücha Black Bar and Dining comes to us from the team behind Lucha Kitchen and Bar, just a hop skip and a jump away in the CBD. A long, curved black bar is the centrepiece of the venue, surrounded by speckled stone-topped tables and plush chairs, all in muted colours of navy and teal. If you're with a big crew you'll definitely want to nab one of the tables with a lazy susan for all the food you'll order—the menu features a lengthy list of Chinese eats, many featuring the restaurant's signature tea-infused flavours.
Just here for cocktails and light bites? Order up plates of bar snacks like pan-fried pork buns, spring rolls, pineapple fried shrimp and xiao long bao. For something more substantial, you'll want to hit up larger plates like their signature tea-flavoured roast chicken or roast pork belly, jasmine tea-smoked duck (which comes served up under a cloche and a cloud of smoke) or combination mushroom and chicken broth with oolong tea. The real MVP though, is the Peking Duk, which comes with pancakes, cucumber slices and all the accompaniments.
Make sure you leave a little room for dessert, as the team have perfected their own jasmine tea soft serve recipe, making it from scratch on the daily and it is a winner. All about the boba? Grab one of their boba sundaes, with boba pearls topped with soft serve in flavours like brown sugar, taro, mango and strawberry. As for the cocktails, you can sip on tea-inspired concoctions like the Fair Lady, with white rum, oolong tea, lychee and rose liqueur, served with a swirl of liquid nitrogen and shot glasses to pour it into; or the BOBA Pina Colada with white rum, Malibu, coconut cream, pineapple juice and black pearls.
Read more about Lücha Black here.
Image credit: Nut Siri
---
You May Also Like
Restaurants
Brisbane City, QLD
Secreted away inside Brisbane city's new Hotel Indigo is Izakaya Publico, a…
Restaurants
Brisbane City , QLD
Taking over the space once occupied by OTTO before its migration across the river to…