It is often said that bread and baked goods are not something that can be purchased for a measly dollar from the supermarket. Tradition, love and butter (a lot of butter!) must be poured into bakery goods in order for them to satisfy our hearts desires and inevitably cause our waistlines to swell. To avoid your disappointment at a soggy sausage roll, a stale loaf or an underwhelming éclair, we've brought you the best thing since sliced bread—a bible of Brisbane's best bakeries.
Sprout Bakery
Fortitude Valley
With weekend line-ups out the door and all the fresh bread, pastries and treats you could ever dream of, this cosy little joint is a one-stop shop for all your sweet-tooth needs. Pop into their James Street digs to see what all the hype is about for yourself and you could be indulging in Sprout Bakery's signature sourdough, delectable range of croissants (our favourite is the twice baked chocolate), or a few flaky tarts, scrolls and danishes.
Lune Croissanterie
South Brisbane And CBD
There's a reason Lune Croissanterie's croissants have been called the best in the world—and it's the same reason they have a queue lined up out the door every Saturday and Sunday, just to nab some quality pastry. Your go-to for twice-baked goods and cruffin heaven, Lune will have you coming back every month for their ever-changing line up of specials.
Superthing
West End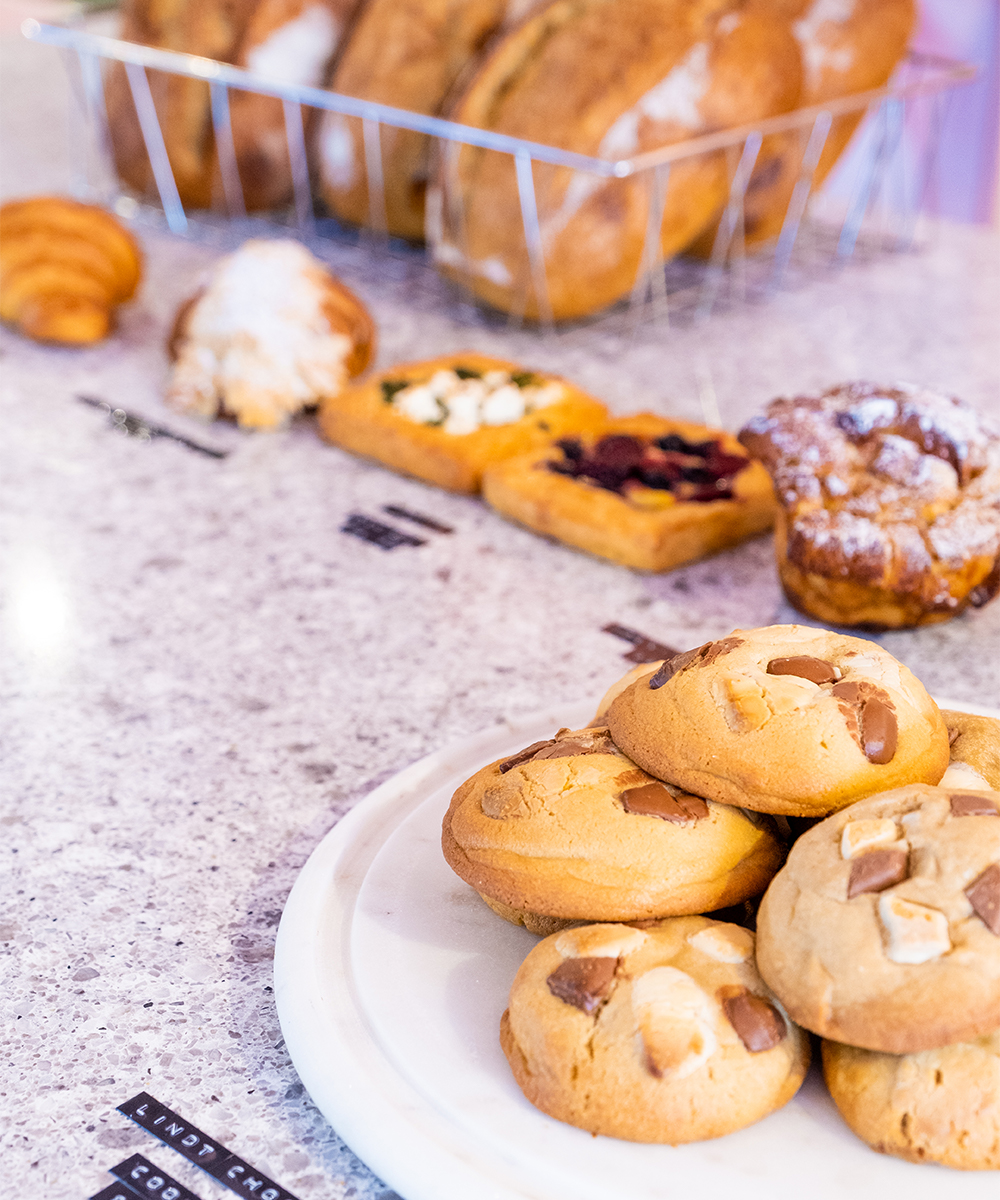 Superthing comes to us from the team behind NYC Bagel Deli, who, having pretty much taken over Brisbane's bagel scene, turned their attention to sweeter things, and snapped up a sizable venue on Montague Street in West End. All baked in store from local, organic ingredients (and available wholesale too), flaky croissants are the specialty here, but you'll also find decadent cookies, pastries and sweets, as well as perfectly golden loaves of fresh sourdough.
King Street Bakery
Bowen Hills
Croissants are important business at King Street Bakery, which is why the team here do all their kneading in a temperature-controlled room that keeps the butter at a perfect chill. As well as the French faves, you'll find artisan brioches, baguettes and sourdough loaves on the rack, not to mention a range of sweet pastries that will have you leaving with far more than you bargained for.
Flour & Chocolate
Morningside And Northgate
With a name like Flour & Chocolate, there's no denying this treasure trove's main ingredients, and at first mention of baked delights this gem instantly springs to mind. You will be spoilt for choice at Flour & Chocolate no matter what your taste buds desire—gonuts, doughnuts, bear claws, cinnamon scrolls, quiches, specialty sourdoughs, sausage rolls, sweet and savoury tarts and croissants in every imaginable flavour.
Agnes Street Bakery
Fortitude Valley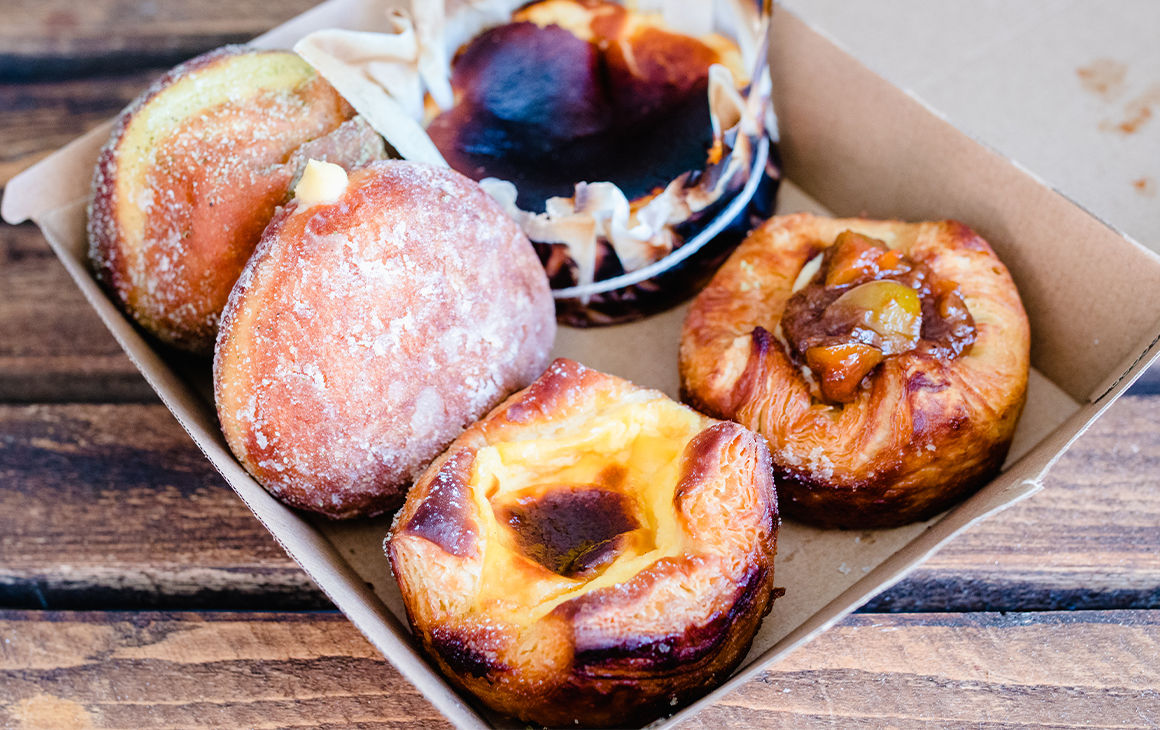 Judging by the queues forming around the block before opening time every morning, Agnes Street's Bakery is doing baked goods right. On the racks behind the counter you'll find dense and flaky kouign amann pastries, sugar dusted doughnuts filled with butterscotch custard, charred Basque cheesecakes and pizzettes laden with a rotating list of toppings like smoked potato, raclette and onion. Drool.
Jocelyn's Provisions
Fortitude Valley, Albion And Camp Hill
If you've ever had the pleasure of experiencing anything from the Brisbane institution that is Jocelyn's Provisions, you won't be surprised to find this jewel on our list of Brisbane's best bakeries. Serving up any sweet treat you can think of, the decision becomes extremely hard to choose between a melting moment or a chewy chocolate and caramel brownie. With such a reputation for its skillful staff, quality ingredients and attention to detail, you simply must see Jocelyn's Provisions for yourself. Whatever you do, don't leave without sampling a melting moment because they're to die for.
Banneton
Ashgrove, Woolloongabba and Camphill
Adored for its tempting array of artisan breads, pastries and macarons, Banneton has north-siders and south-siders alike rejoicing with their delectable goods. Banneton's bakers have well and truly mastered the art of wood fired baking and use natural ingredients and traditional methods to produce their enticing loaves. If it's a sweet treat you're after, look no further than the tarte au citron, which has a very silky lemon curd with just the right amount of tanginess.
Riser Bread
Toowong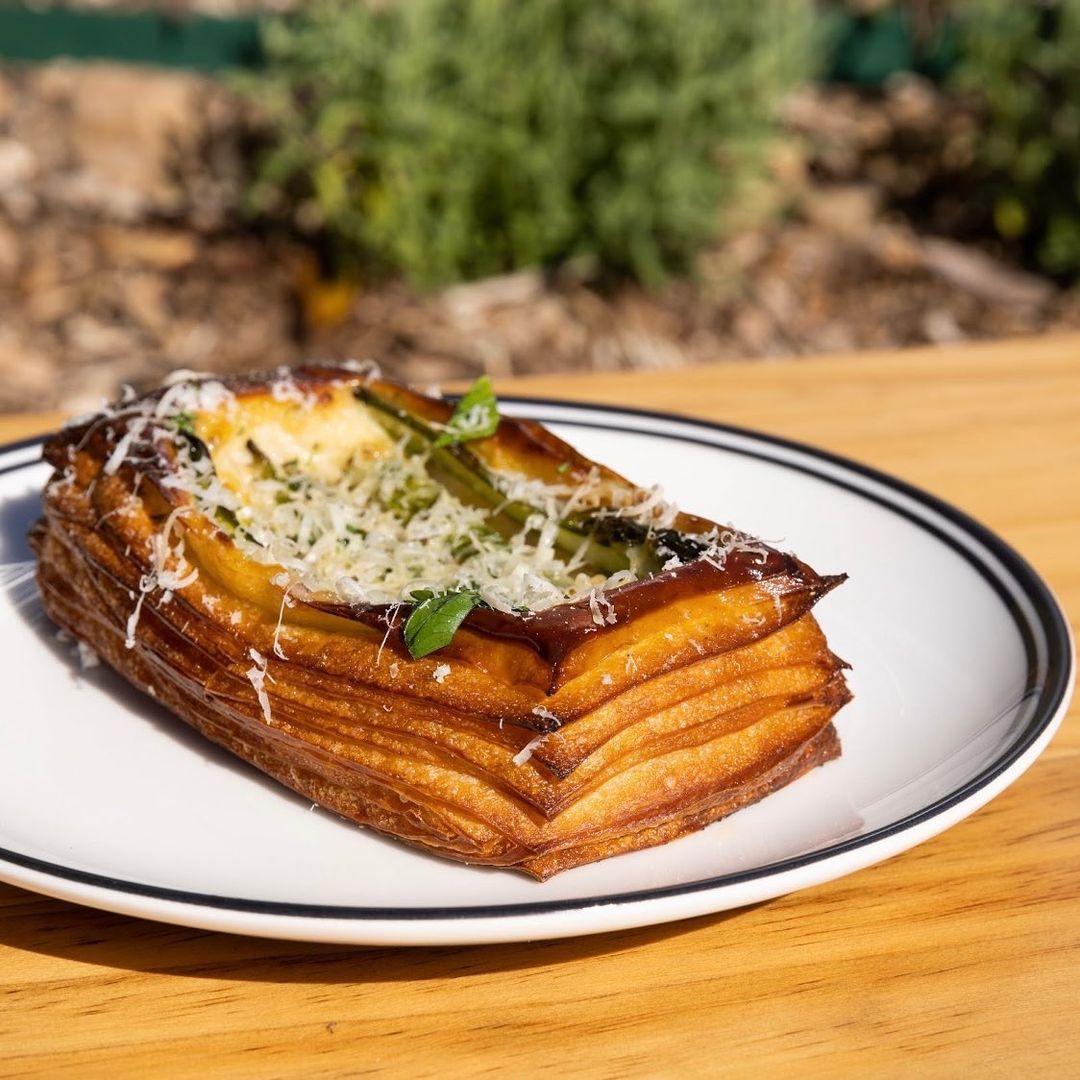 After operating as a bread subscription service for two years, Riser Bread has taken over the old cottage at 85 Miskin Street in Toowong, with their legions of fans now able to drop in for a loaf of sourdough on the daily. With a fit out done almost completely with recycled materieals, the airy bakery features plentiful seating—rare for a baked goods spot—where you can sip on a coffee as you crunch your way through sweet and savoury goodies like asparagus danishes, roasted capsicum and feta bear claws and almond croissants.
Christian Jacques
Kangaroo Point
French-style pastries are the name of the game at Christian Jacques, so prepare to go into a croissant-induced coma. They're slinging plenty of varieties alongside other drool-worthy flakey, buttery goods, but the ham and cheese croissant is so good that you'd be mad not to give one a go.
Doughcraft
Albion
Situated inside Craft'd Grounds, Albion's new foodie precinct, this European-style specialist bakery and deli is the perfect spot to pick up your weekly loaf of sourdough from, but you can also expect a range of artisanal sweet treats, including pavlova doughnuts and cream cheese filled bomboloni. West siders can also source their treats from Paddington's Mis.Spelt, who Doughcraft keeps well supplied in croissants and danishes.
Hugs
Stafford
A good pastry warms the soul as well as a good hug does, so next time you're in need of cheering up, head for this ultra cool bakehouse. Hugs has some of the best baked treats going round, and while the classic almond is a standout, we reckon you should go a little wild and order one of their savoury croissant slices with toppings like creamy garlic potato bake or mushrooms and haloumi—yep, this is real life.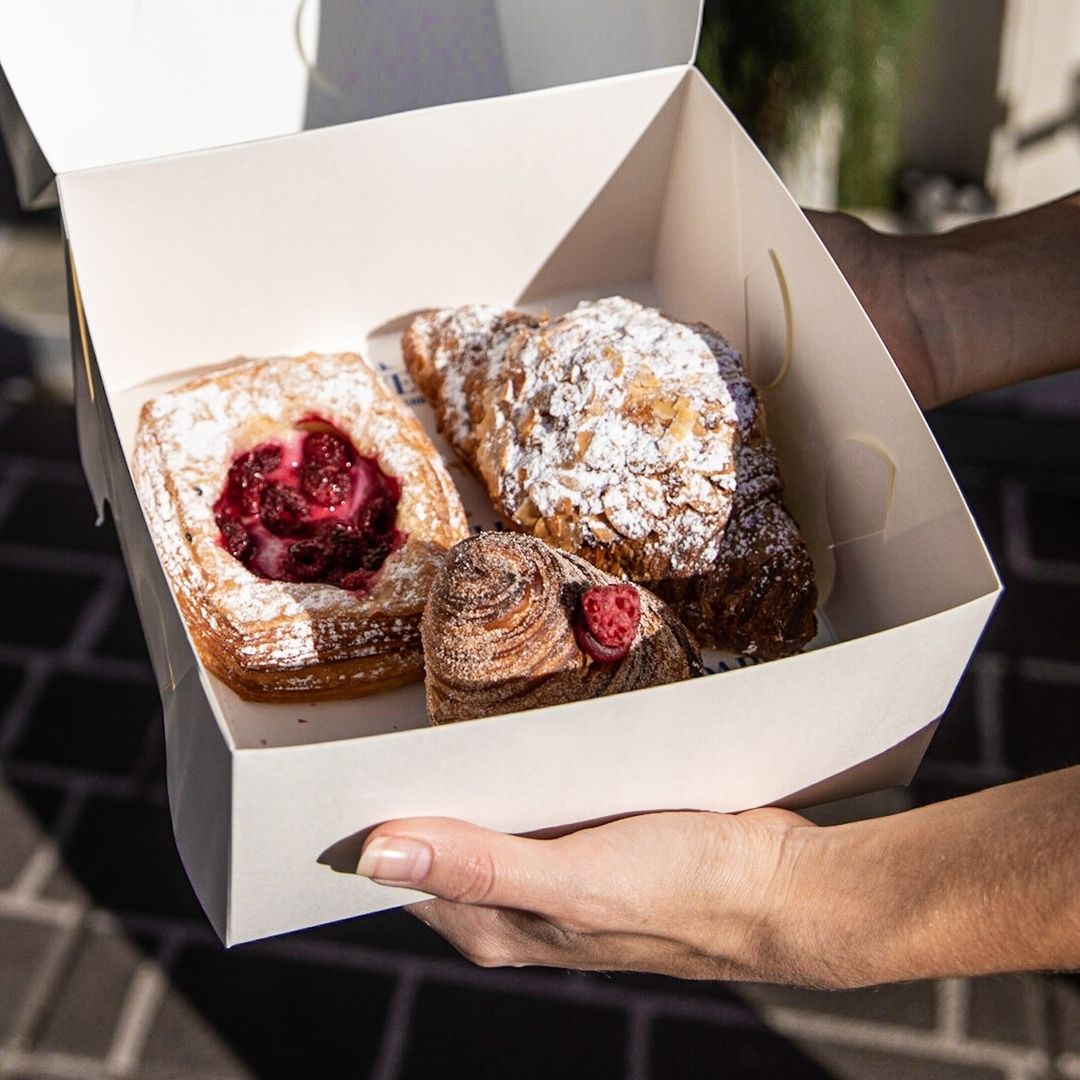 Darvella Patisserie
Bulimba
Right down at the river end of Bulimba's Oxford Street, Darvella popped up in early 2021 and has been wowing locals ever since. There is little wonder why, as the bakery comes to us from Giorgina Venzin, owner of Pawpaw Cafe and one of Brisbane's hospo icons. After the success of Pawpaw's pop-up bakeries during lockdown, Venzin and pastry chef Lindsay Krahenbring decided to open a dedicated bakery—and suffice to say their decision was a good one, as the crowds have been clearing the cabinets of doughnuts, pastries and their specialty mini cakes every since.
Cordelia
South Brisbane
While they also offer up a range of bagels and sweet eats, sourdough is the item of choice here. Boasting six types of the dense, perfectly chewy bread, Cordelia's sourdough takes 72 hours to create from start to finish, and makes use of five different starters, one of which has been going strong for 34 years. Take your pick of the plain, seeded, light rye, caramelised onion and cracked pepper, or (an Urban List favourite) green and kalamata olive loafs for some stellar sandwiches or the perfect addition to a tapas plate.
Cake & Bake
Newstead
From the women who brought the iconic Jocelyn's Provisions, comes another of our favourite Brisbane bakeries, Cake & Bake. Like something from heaven, Cake & Bake is literally a haven of delicious homemade goodies right here in Newstead. Producing signature cakes, tarts and baked slices, Cake & Bake also serves up fresh rolls and salads from seasonal produce and homemade relishes. If you're yet to visit, we suggest you get yourself to Cake & Bake, stat.
Reno Fine Patisserie
Eight Mile Plains
Eight Mile Plains' go-to bakery, Reno Fine Patisserie serves up the classics with aplomb. But perfectly flaky croissants and crusty baguettes are just the start—their cabinet full of decadent desserts is where you'll find yourself really spoilt for choice (although the sheer number of different croissants on offer may leave you overwhelmed). From vanilla mille-feuille and berry tarts to tiramisu and mango guava cheesecake, you'll want to try them all.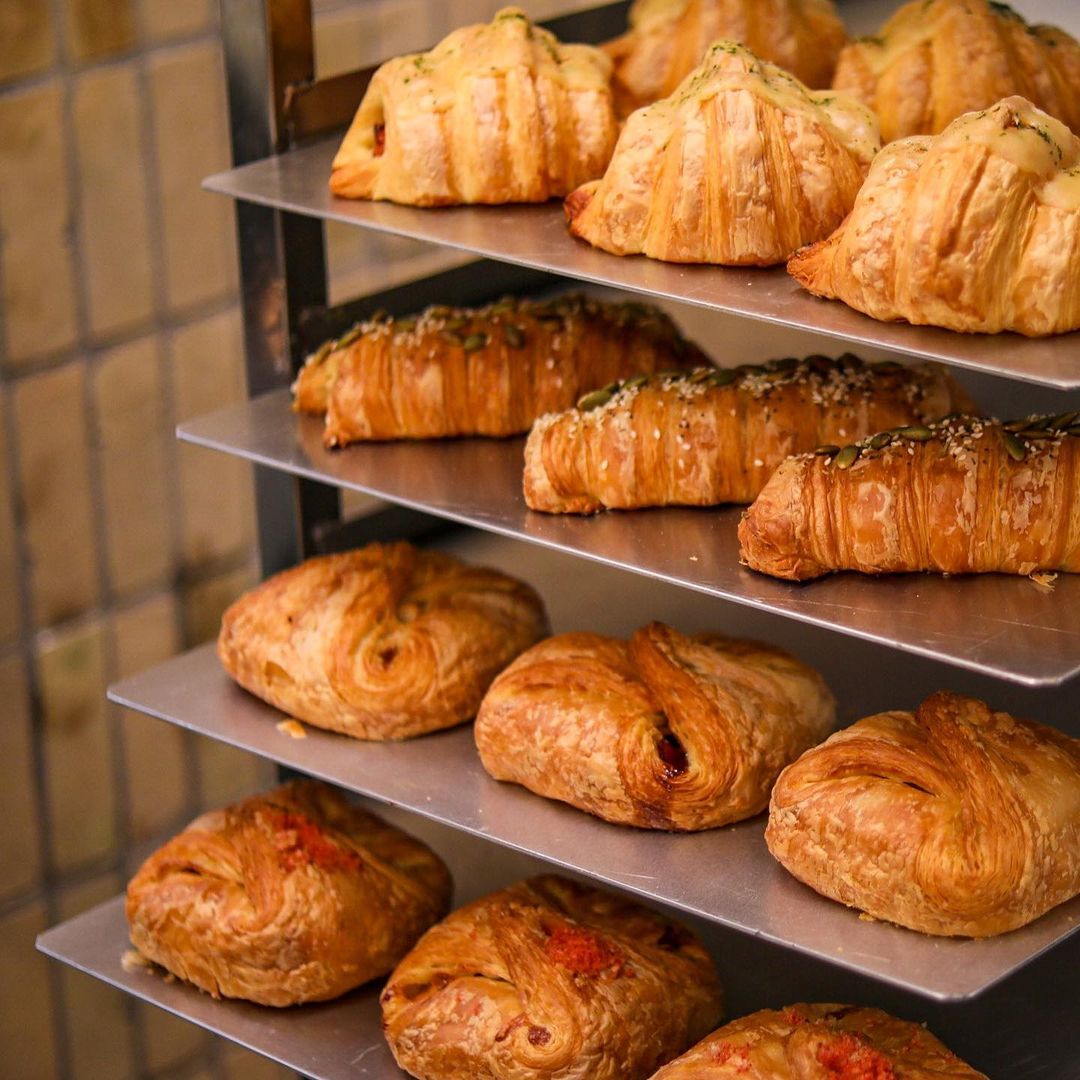 The Whisk Fine Patisserie
Mt Gravatt And CBD
If you want to know just how creative you can get with flaky croissant dough, head to The Whisk, where you'll find hot dog croissants and croissant eggs benny on the menu. While their southside regulars would have preferred to keep Whisk to themselves, a hip new location in the CBD's Inter/Section means the secret is well and truly out.
Chouquette
New Farm And Brisbane CBD
The nearest thing to strolling down a Parisian street is stepping into New Farm's Chouquette. This authentic bakery is our pick of where to go for croissants, baguettes, gougeres and canelles. Tucked away in a side street off Brunswick Street, Chouquette is the perfect Saturday morning coffee and sweet treat spot, and the Edward Street addition is the perfect spot for treating yourself on your work break. Bringing a true taste of France to Brisbane, Chouquette's authentic tarts and mouth-watering éclairs will have you travelling across town to sample.
Brewbakers
Albion
Tucked at the rear of a car park and behind two old garage doors, the delightfully quaint bakery-come-café is not what you'd expect to find. Brewbakers has quietly, but steadily, built a reputation for baked goodness worth driving from all corners of the city for, which is exactly what people do. From melt-in-your-mouth bagels and rustic handmade sausage rolls to sourdough jam donuts and the most amazing chocolate brownies, you'll end up unconsciously buying one of everything.
Danny's Bread
Teneriffe
Danny's Bread is an artisan organic sourdough bakery―music to the ears of every Brisbane bread lover. Though they also serve up a daily range of sweet treats and pastries, their luscious loaves are crunchy carb perfection and a welcome addition to the booming neighbourhood of Teneriffe. If you love a good smashed avo on sourdough, how about getting a loaf from Danny's and turn it into a DIY.
Looking for more delicious sweet treats in Brisbane? Check out the best desserts you can get delivered or takeaway.
Image credit: Sophie Spencer, Ranyhyn Laine, George Levi for Riser Bread, Darvella Patisserie, The Whisk