If you've ever attempted to make a cake for a special occasion that varied even slightly from the traditional round-with-frosting model, you'll know that having a good cake shop on speed dial is a necessity.
Lucky us, Brisbane's best cake shops have a wealth of experience (and creativity to boot!), all of whom are more than happy to save you from last-minute decorating disasters or unexpected office birthdays.
Whether you're catering for a big bash or just want a pretty little table topper for a birthday do, we've rounded up Brisbane's best cake shops to help you out.
Floss Bakes
Online
If you're a fan of the baked goods which always populate Florence Cafe's counter and are always impossible to resist, then you'll love Floss Bakes. With such a delectable selection, the Camp Hill cafe's talented pastry chefs found themselves flooded with requests for custom orders–so they launched a seperate onlin cake store. Here you can order their specialty cakes for pick up—and get the whole thing to yourself instead of having to just settle for a slice.
Cake & Bake
West End
Brisbane baking legend, Jocelyn Hancock is behind Brisbane bakery Cake & Bake. A haven of delicious homemade goodies in West End, all of Hancock's signature cakes and slices, savoury items will be baked fresh daily, while fresh rolls (using homemade relishes and a selection of good, clean salads) will be up for grabs at lunch.
Cakes By Judy C
West End
This Brisbane cake shop has won our hearts with its creative and totally Instagrammable cakes. Naked cakes, iced cakes, cakes covered in hundreds and thousands, Judy C's is the place to go when you've got a special occasion and a packet mix just ain't going to cut it. Take a scroll through their Facebook page and you'll be making up excuses to eat cake, though honestly, just make it to Friday sounds like excuse enough for one of these bad boys to us.
Vanilla Pod Specialty Cake kitchen
Ascot
Ascot Bakery and Café Vanilla Pod have become so well known for their cakes that they've opened a cake-specific offshoot—the Vanilla Pod Specialty Cake Kitchen. Specialty and bespoke cakes are the name of the game at their new Albion store. Wedding cakes, birthday cakes, baby shower cakes; name an occasion and this new Brisbane cake shop will sort you out.
Cakes & Shit
Fortitude Valley
Cakes & Shit's delectables are not your average cakes—while other bakeries may balk at spelling out 'Happy f$#@ing birthday' on top of a cake, insulting desserts are their specialty. As well as special order cakes, you can get cupcakes topped with edible love (or hate) notes such as 'It's hump day. Let's get slutty' or 'Good luck getting lucky'. Cakes & Shit's treats pack some serious atittude but make up for their foul mouth by being utterly delicious.

Wild Canary
Brookfield
Is it a garden or is it a cake? Actually, it's a little of both—Wild Canary's epically floral creations feature edible flowers picked from their own flourishing gardens. The only problem? The damn things look almost too pretty to eat. But, once you've finished feasting your eyes, your tastebuds will be just as delighted, with flavours like red velvet, chocolate caramel, carrot and meringue as well as the classic sponge.
French Patisserie
Toowong
Toowong's favourite French bakery and cake shop, French Patisserie, create cakes for special occasions, and have a range in-store to take away if you're in a rush. Their truffle gateau is something to behold, and their croquembouches are legendary on Brisbane's northside.
Flour & Chocolate
Morningside
A word to the wise, don't go to Flour & Chocolate on an empty stomach or you'll come out with bags upon bags of goodies to feast on. In terms of cakes, Lachlan and the team at F&C aren't messing around. If you can tear yourself away from all the other goodies on offer, get stuck into the Flourless Chocolate & Hazelnut cake, a rich and dense flourless chocolate cake made with hazelnut meal and topped with dark chocolate ganache and, oh my, toffee shards. What a time to be alive.
Pamela's Pantry
Petrie Terrace
Pamela, you legend. Out of this quaint Paddington cottage spills all the cakes and sweet treats your party could ever need. Pamela's cakes are traditional favourites: think chocolate sour cream cake, flourless chocolate and almond, and cherry and ricotta. Available both in round and log form, and with the option to add writing or fresh flowers, this is a Brisbane cake-catering classic. And, not only does Pammy do cakes, but she can also cater your dinner party with an epic dessert—with lemon delicious, stick date pudding, crème caramel, and apple crumble available for take away, among others.
King Of Cakes
Taringa
King of Cakes was created to bring a slice of Europe to the heart of Brisbane, and has been baking up authentic European and German creations for the celebrations of locals for more than 20 years. Over the years they've become famous for their custom cakes, with the promise that if you can dream it, they can create it.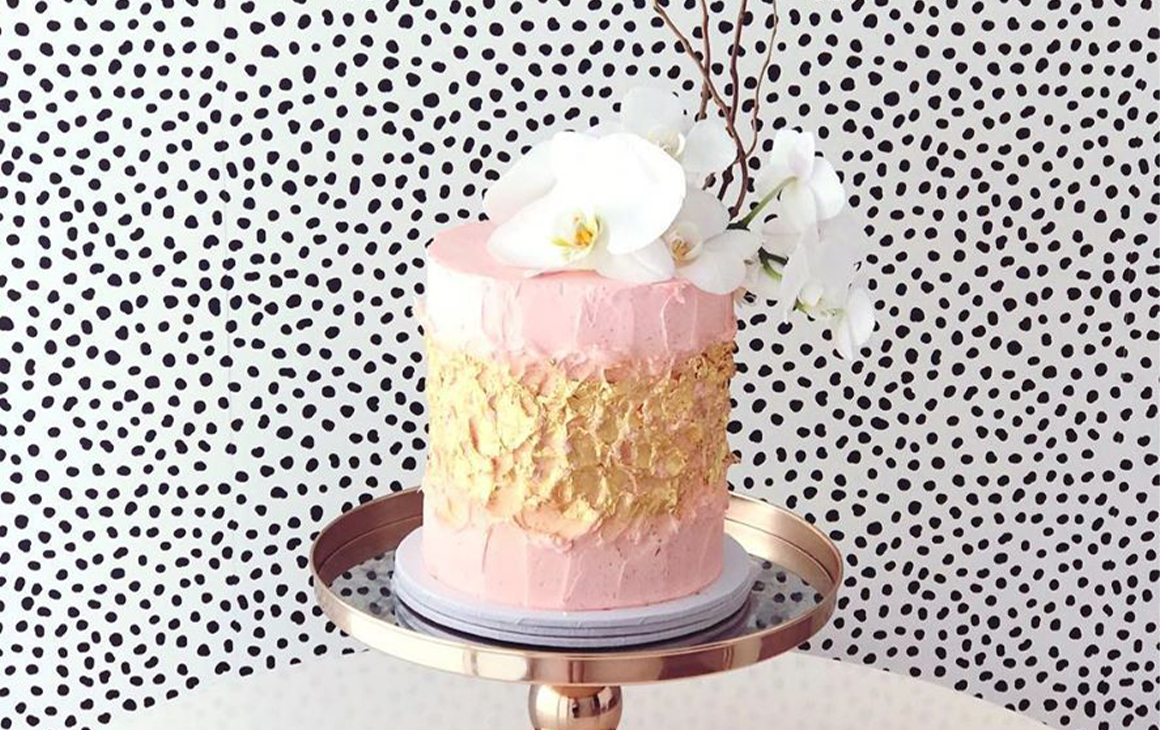 Petal & Peach
Wellington Point
Definitely deserving of the title of creating the prettiest cakes in Brisbane, Petal & Peach hand crafts stunning wedding and celebration cakes from their kitchen in Wellington Point, and you can organise delivery to your venue or pick it up. The best part, though, is that every cake created by Petal & Peach is uniquely decorated to suit your celebration, and with flavours like gin and tonic, chocolate brownie and peanut butter and burnt caramel and espresso to choose from, you know it's going to taste delicious as well as be stunning to look at.
Jocelyn's Provisions
Fortitude Valley, Camp Hill, Brisbane City and Albion
Flourless chocolate cake. Malted chocolate layer cake. Passionfruit butter cake. Poached fruit and ricotta cake. The names alone are enough to incite salivary production. James Street's Jocelyn's are famous for their cake-creating prowess, and for good reason—these baked and frosted bad boys are the stuff of crumby dreams. Hot tip: When popping in to pick up your cake, grab a salted caramel tart to reward yourself for your organisational awesomeness.
Happy Cake Day
Delivered
When one of these epic creations gets delivered to your office, it's a Happy Cake Day indeed. Cakes covered in doughnuts, chocolate shards, meringues, macarons and whatever else you can think of can be delivered all over Brisbane (within 15kms of the CBD), so next time there's a birthday in the office and nobody wants to be responsible for cake transportation, you're saved.
Bella & Tortie
Grange
Drop into this northside bakery and you will absolutely be leaving with more than just cake. You can just run in for a box of cupcakes or one of Bella & Tortie's delicious bar cakes, but they've also got an epic range of creative cakes available from pre-order. We're talking the likes of stout ginger cake with raspberry, Iced Vovo cake and lemon meringue cake, just to name a few.
Want more sweet stuff? Crunch your way through Brisbane's best cannoli here.
Image credit: Floss Bakes