Is there anything a croissant can't fix? The logical response is no. When you're ready to dial it up a notch, an almond one will do the trick—flaky and oh-so buttery pastry filled with a sweet almond filling topped with plenty of flaked nut goodness. There is literally nothing not to love about this breakfast, brunch or snack delight. Pair it with a coffee and you'll be set to conquer the day ahead.
Drooling? Read on to find where to get one—or a dozen.
Lune Croissanterie
South Brisbane And City
An obvious crowd favourite for the best almond croissants in Brisbane is Lune Croissanterie. If you haven't been yet, what have you been doing? Their almond croissants are twice-baked, so they have a gorgeous golden crisp and scrumptious almond filling. Also, Lune has been hailed as home to some of the finest croissants in the world according to The New York Times, so head over, grab yourself an almond croissant and try one of their monthly specials too while you're there.
Christian Jacques
Kangaroo Point
Christian Jacques has gained cult status for their incredible desserts and melt-in-the-mouth pastries. Using traditional French baking techniques that involve slow fermenting the croissants over two days using premium French butter, the almond croissant is the perfect mix of buttery baked goodness, flaky pastry and the sweet filling you expect to make you feel better than a hug from Mum. Croissant in one hand, coffee in the other and a stroll along the river. Bliss.
Hugs Cafe
Stafford
There was never any doubting Hugs Cafe was going to make the cut. This ultra cool bakehouse has some of the best treats going round. While the classic almond is a standout, we reckon you should go a little wild and order one of their savoury croissant slices with toppings like creamy garlic potato bake or mushrooms and haloumi—yep, this is real life.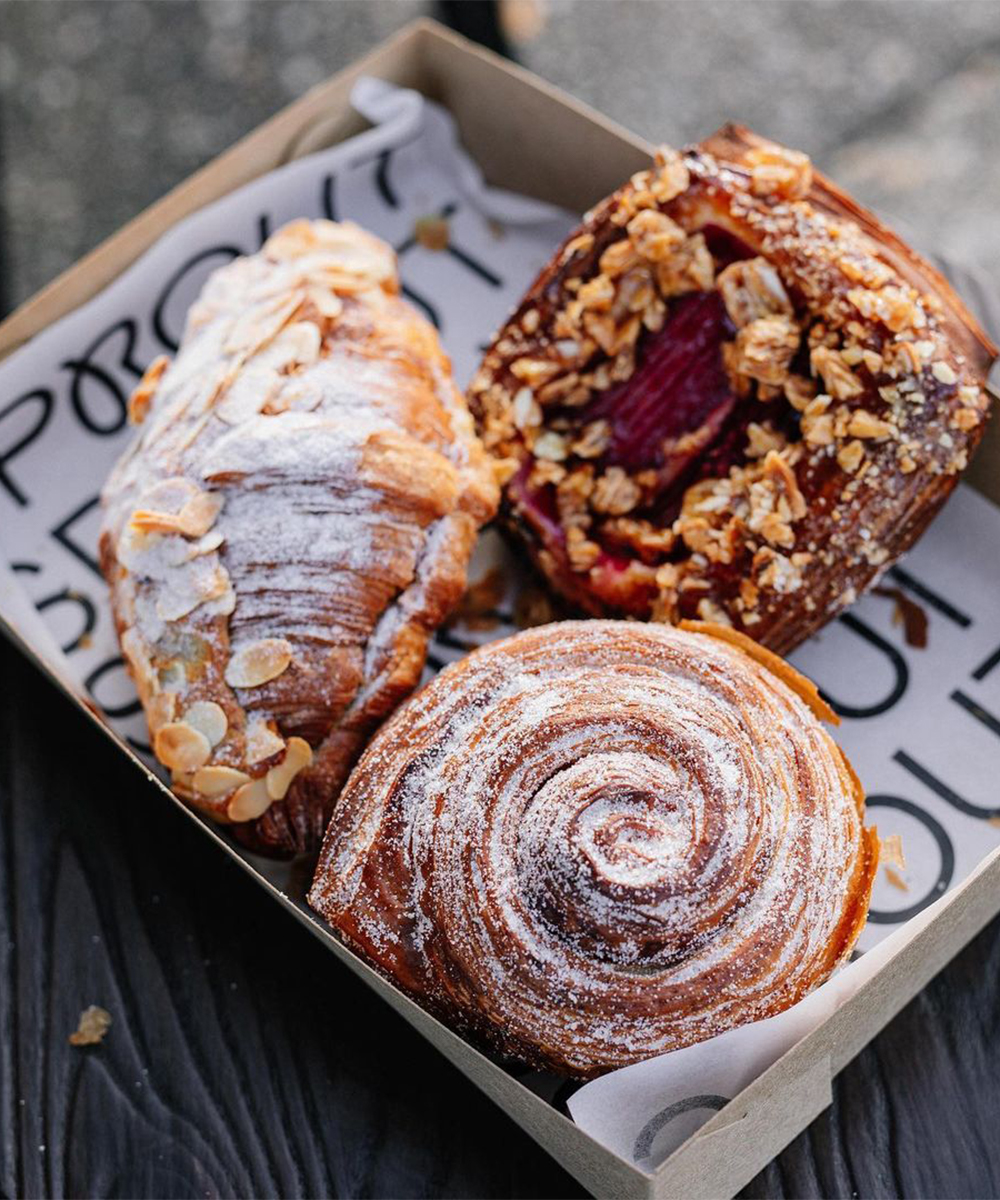 Sprout
New Farm
Any self-respecting pastry aficionado will know why Sprout makes the list. The corner-long queue and smatters of pastry along James Street's footpaths will tell you just how much everyone wants a piece of this pie. The almond croissant is no exception. While you're there you're going to need to grab one of everything else. Make sure you don't forget a coffee—it's a match made in heaven.
Le Bon Choix
Various locations
Holy guacamole, to say Brisbane loves this patisserie is the understatement of 2022. When you're heading to Le Bon Choix, be prepared to part with your hard earned dollars cause you're going to want to order up a storm. The pastry treats here are next level and please for the love of French people everywhere, order yourself the nutty croissant.
Flour & Chocolate
Morningside
It's crystal clear why this decadent bakery made it onto the list. We know everything the good peeps at Flour & Chocolate dish out is well worth the visit and the almond croissants are just about top of the list. Just make sure to throw in a doughnut, a saussie roll and whatever else you can carry out of the shop.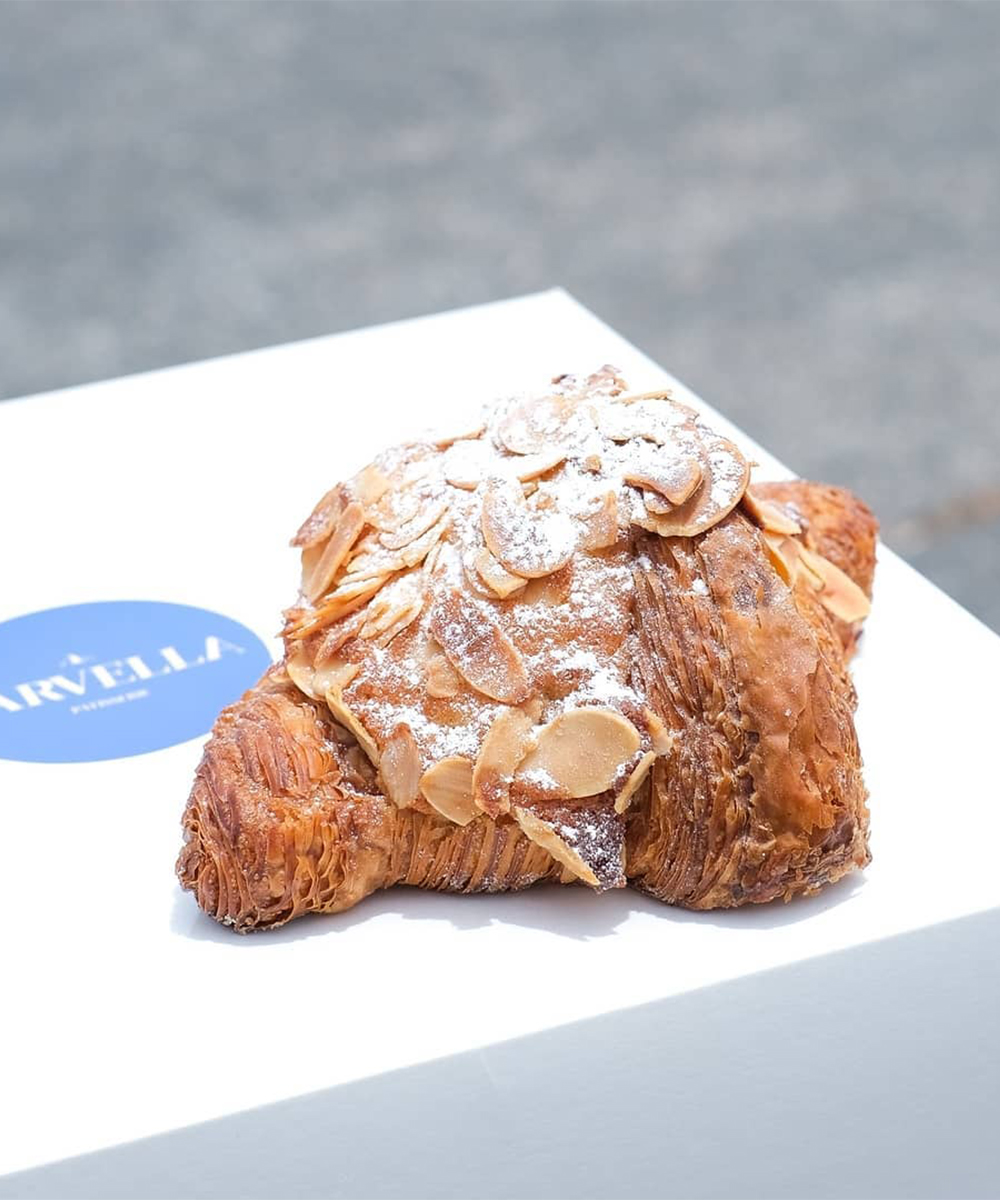 Darvella Patisserie
Bulimba
Damn these guys are cool. One look at their Instagram feed and you'll know what we're talking about. Classic croissants fused with contemporary techniques mean you can try all sorts of things including weekend specials like miso caramel and macadamia, black sesame forest and s'mores double baked croissants. If you haven't tried them, get to Darvella asap.
Chouquette
New Farm
Chouquette serves up some seriously top-tier French desserts. Their freshly baked almond croissants truly are one of the best in Brisbane. Being an authentic French Patisserie, they have perfected the almond-to-croissant ratio, and to be honest, all their croissants are pretty phenomenal so you'll probably end up grabbing a few.
Mica
Newstead
Mica's marble benchtops and hanging plants are pretty 'grammable, but their almond croissants are even better looking than the interiors. However, the croissants don't just look pretty, their rich almond filling and the crispy outer layer will make you want to come back in a hurry. They're hefty in size and weight, and they go brilliantly with a coffee and a leisurely river stroll.
Paddington Social
Paddington
This not so secret neighbourhood gem has some of the best French treats going around. They like to mix things up too, with recent specials having included a Nutella and almond croissant, taro and salted egg croissant and a divine honey and almond croissant we're sad isn't on the menu permanently. Our advice? Follow them on Instagram so you don't miss their next creation.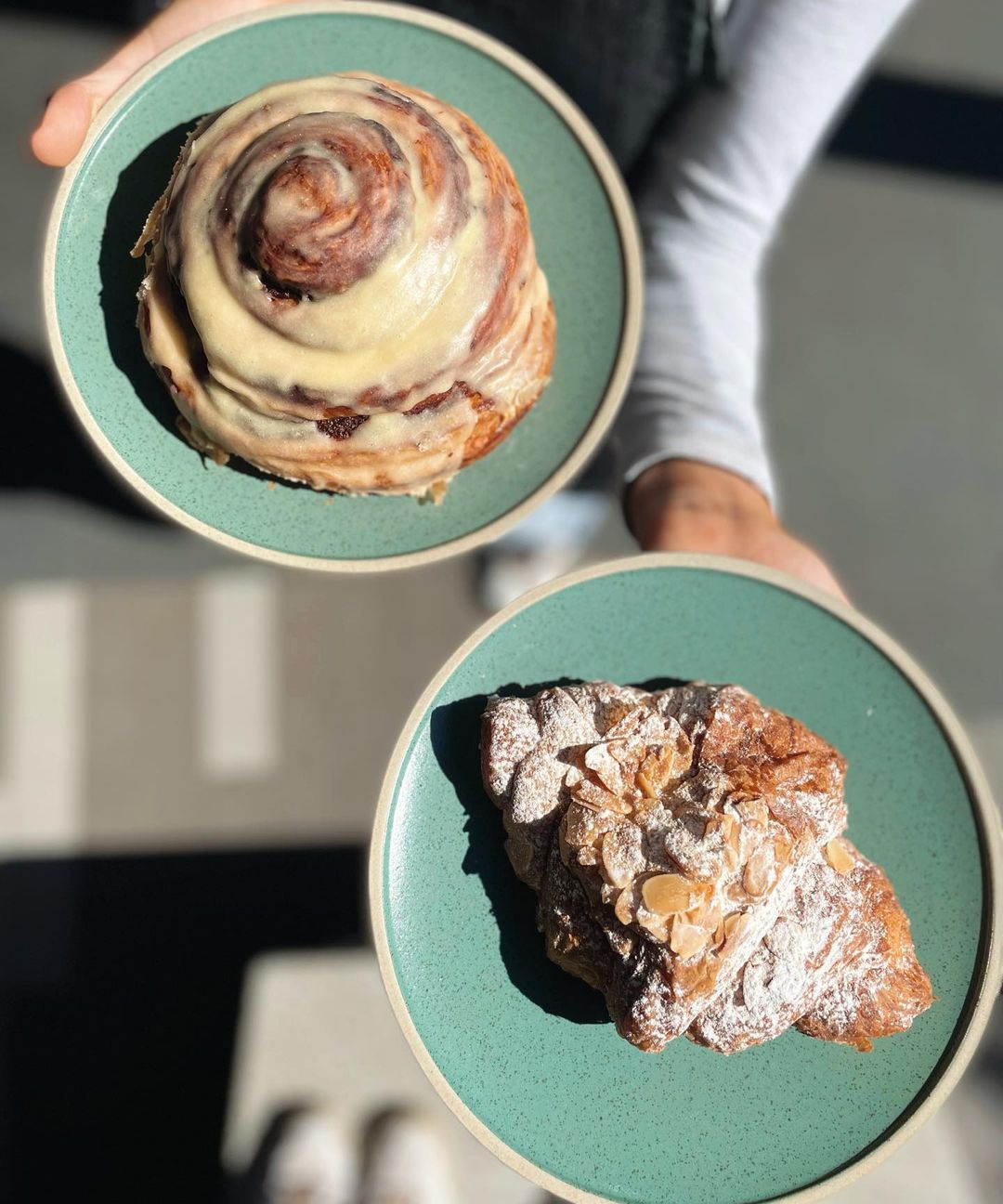 Banneton
Ashgrove And Woolloongabba
Banneton has been baking up pastries in the traditional French way since 2009, and the experience shows in every bite of one of their flaky almond croissants. A staple on their menu, they're just the thing to pair with a smooth latte on a Sunday morning.
The Whisk
Upper Mt Gravatt And CBD
If you want to be a little different, The Whisk does a chocolate almond croissant that's stuffed with a Belgian chocolate baton and dusted with cocoa powder, but their basic almond croissant is damn good too if that's all your craving. Bonus, they just opened in the CBD for all you city workers.
Reno Fine Patisserie
Eight Mile Plains
Southsiders have been trying to keep this spot a secret, but there's no keeping almond croissants this good under wraps. Generous with their flaked almonds and icing sugar sprinkle, Reno Fine Patisserie really knows how to get the sweet, nutty pastry just right.
La Bouche
Cleveland
Personally we can never go past La Bouche's beesting croissant, but we hear their almond croissant is almost, if not just as, good. The creamy almond filling, the crunchy toasted almond flakes and finally, a dusting of icing sugar, equal heaven in your mouth.
If you want our top picks, here's where we think Brisbane's best croissants are.
Image credit: Lune Croissanterie, Sprout, Darvella Patisserie, Banneton