This old butter-laden morsel is being fancified in hotspots all over Brisbane, so it's high time we address the over-the-top flaky croissants hitting shelves all over town.
It's long been a cherished baked good and perhaps one of the greatest treats to come out of France, but these days jazzed up modern-day croissants are taking Brisbane by storm. Yep, we're talking about those completely over-the-top flaky pastries all over your Instagram feed that are encrusted and filled with deliciousness.
We've rolled out a list of the best over-the-top croissants in Brisbane that you need to get your mouths around quick smart.
Here's where to find Brisbane's best loaded croissants—as well as where to get a buttery, flaky classic.
Loaded Croissants
Paddington Social
Paddington
Stop into Paddington Social for breakfast and there is no way that you are leaving without one of their incredible loaded croissants. Part-owner and pastry chef Gibbi whips up fresh flavours in house daily, so you may never see the same one twice, with decadent buttery creations that are meringue topped, Nutella filled or stuffed with cookies and cream. She's even been known to do a savoury special or two, like cheesy hotdog croissants topped with pickles.
Flour & Chocolate
Morningside and Northgate
As well the standard French-approved flavours of chocolate, chocolate hazelnut, ham and cheese, traditional butter and almond, Flour & Chocolate's award-winning croissants come in an ever-changing variety of special flavours. We're talking red velvet, Iced Vovo, blueberry cheesecake, key lime and creme brulee, just to name a few of their most recent epic creations. Oh mon dieu.
La Bouche
Cleveland
La Bouche like to get real creative with their flaky croissants, and as well as delicious filled and topped pastries, you might even find coloured croissants like purple boysenberry and lime curd goodies in their cabinet on the weekends. If it's a croissant that tastes more like dessert your after, other past flavours have included a rose water custard and Turkish delight stuffed croissant topped with dark chocolate and rose petals, and a cocoa croissant filled with espresso dark choc ganache and topped with coffee shards and cocoa meringue. Oh my.
Reno Fine Patisserie
Eight Mile Plains
This south side hidden gem is baking up some of the flakiest, butteriest croissants you ever did see, and they're getting pretty out there with flavour creations too. The hands down favourite amongst those who've found the spot is definitely the matcha, which comes topped with a matcha crumble and filled with matcha cream, but there's a also a chocolate dipped hazelnut gianduja number that's calling your name.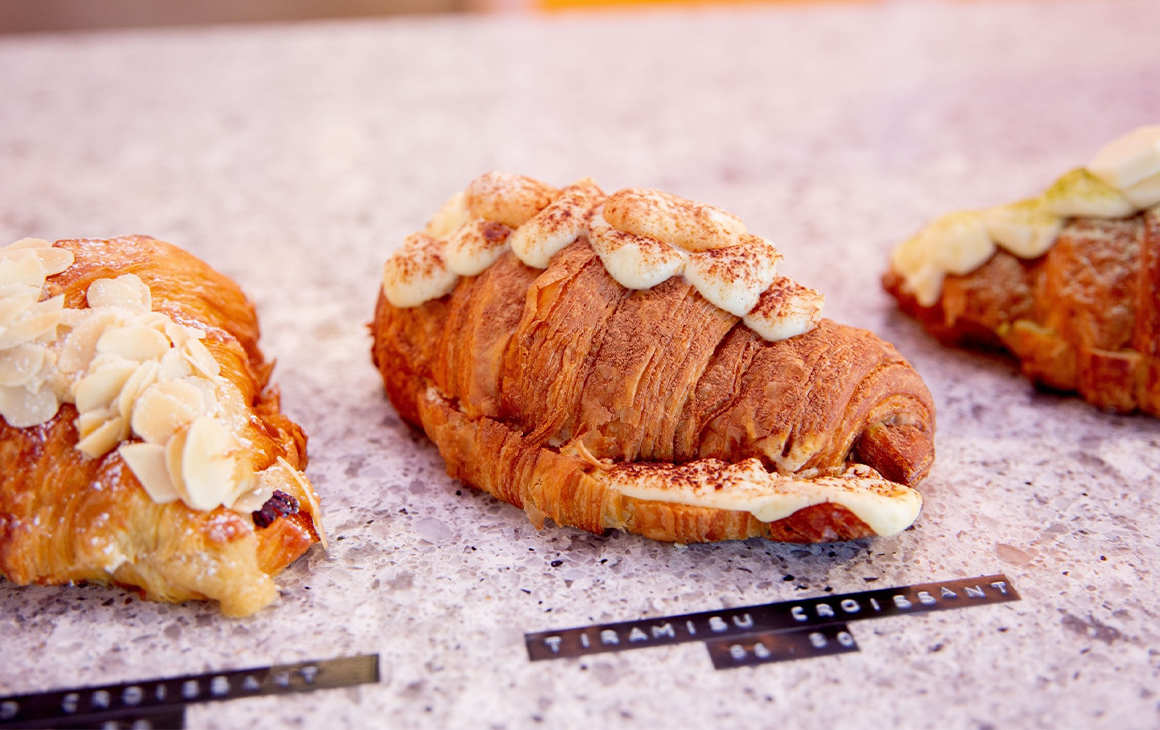 Superthing
WEST END
This new all-pink bakery has been making waves in Brisbane's baked goods scene thanks to their incredible loaded croissants, which come topped and filled with all manner of sweet extras—and have a perfect pastry to filling ratio to boot. Permanent numbers on the croissant line up include their tiramisu and chocolate hazelnut versions, but theirs also regular specials like matcha and white chocolate, strawberries and cream and lemon meringue.
Sprout Artisan Bakery
Fortitude Valley And Markets
Sure, Sprout Artisan Bakery do a damn good classic croissant, not to mention a perfect almond version, but their double baked croissants are the stuff of legend—if you can hit their James Street pop-up or market stall early enough to get your hands on one. We're talkng flavours like peanut butter and chocolate with cocoa nib praline, apple crumble or lemon cheesecake and blackcurrant—start lining up early.
Classic Croissants
Christian Jacques
Kangaroo Point
Each morning the baking counter at Christian Jacques holds a whole lotta' buttery deliciousness. Start the day off right by grabbing a coffee and a seriously beautiful pastry from this joint pronto. Expect almond, chocolate and plain croissants but also a few out of the box flavours like ham and cheese, custard, pistachio and raspberry.
Brewbakers
Albion
The long lines that develop most Saturday mornings at this Sandgate Road artisan bakery will be your first hint that their fresh croissants are some of the best in the city. With all products freshly made in the bakery next door, it's not surprising their crispy and delicious chocolate croissant and sweet almond croissant both earn rave reviews from regular clientele. With a coffee machine near the front door, you can get your caffeine hit while you wait to be served at Brewbakers.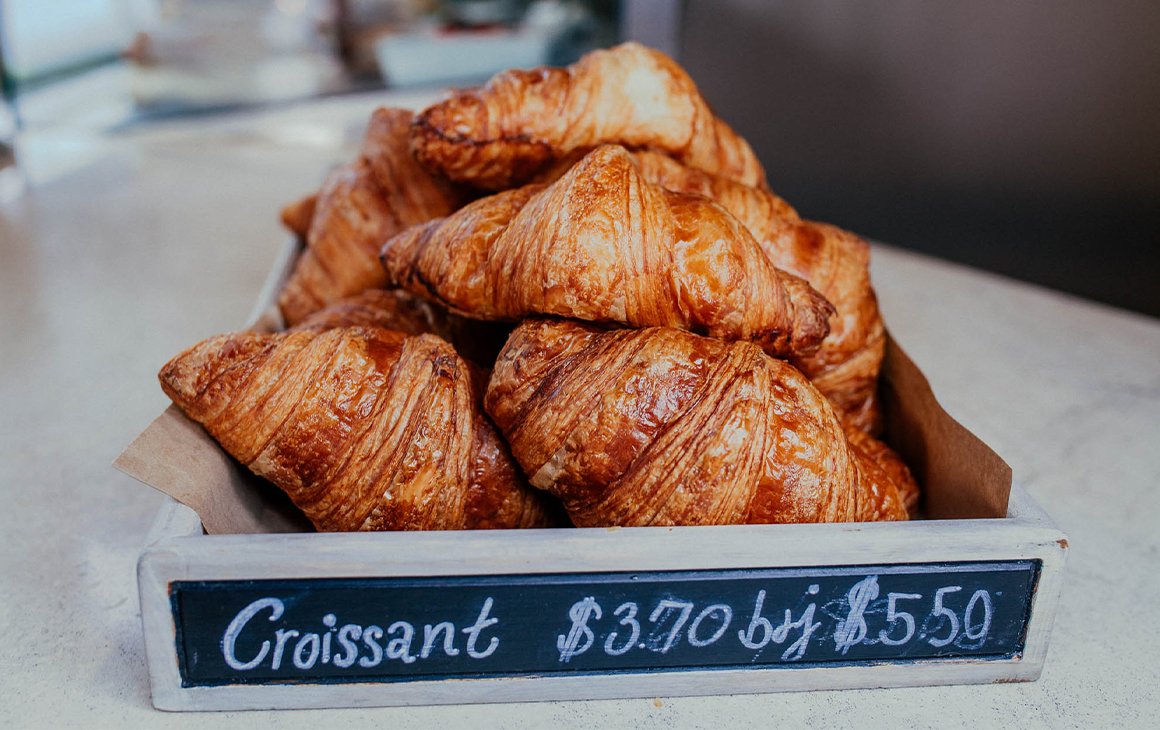 Chouquette
NEW FARM AND BRISBANE CBD
After yearning for the beautiful pastries and croissants she'd enjoyed during her extended visits to France over the years, Lara Sample took a short baking course at France's Institut National de Boulangerie Pâtisserie. She then returned to Brisbane, recruited a team of French chefs and bakers and opened Chouquette, opposite New Farm Cinemas. If you're eating in, try one of their exquisitely buttery, flaky croissants with butter and a slathering of Chouquette raspberry jam.
King Street Bakery
Bowen Hills
The perfect morning pit stop for anyone who works in the Valley or Bowen Hills, King Street Bakery bakes up fresh, flaky croissants on the daily, ones that will leave crumbs all over your newly ironed work shirt, just like a good croissant should. Pair it with a coffee and your day will be off to a perfect start.
Crust & Co
Newmarket
The freshly baked croissants at Crust & Co are free from preservatives and additives and are available in plain, chocolate, rain or choc hazelnut chocolate, but their pièce de résistance is the pistachio croissant filled with freshly made pistachio cream.
Banneton Bakery
Woolloongabba
Banneton Bakery has become something of a Brisbane institution and their croissants, which are large but light with just the right amount of air between their buttery layers, live up to the hype. Warm up this winter with a hot coffee and an amazing almond croissant or branch out with a cruffin, the lovechild of a croissant and muffin.
Looking for more baked goods? Check out Brisbane's best bakeries right here.
Image credit: Superthing, Ranyhyn Laine, Ariana Gillrie