Do you know how to hot pot? This steamy DIY-style feast is a fave among those who know it, but may be a confusing experience for those who don't, so let us clue you in. Basically, hot pot involves having a pot of boiling broth with its own burner on the table in front of you. You'll order up a few plates of raw meat and vegetables, which you dip into the soup for a few minutes to cook (you might want to practice your chopstick skills for this), before dipping in sauce and putting straight into your waiting mouth.
Depending on the style of hot pot, there's a whole raft of other optional steps, from choosing your hot pot soup base to mixing up your own dipping sauce from a sauce bar, so we recommend taking a hot pot-familiar friend for your first foray. And to send you on your way, here's where to dip a slab of marbled wagyu into a hot pot in Brisbane, whether you want Sichuanese-style spicy soup, all-you-can-eat hot pot or Japanese shabu shabu.
HaiDiLao
Sunnybank
The opening of HaiDiLao in Sunnybank this year was a big deal for hot pot lovers. The restaurant chain is ubiquitous in China, with over 176 locations in 53 Chinese cities and a large international footprint besides. After opening in Sydney and Melbourne, the eatery has now landed in Sunnybank, and is definitely worth the trip. Here, you can choose to have one, two or four different soup bases in the one pot (with dividers), will find a handy cheat sheet on the wall to help you mix up your sauces, and can order everything from marinated beef and quail eggs to tofu skin rolls and bok choy for dipping from a handy iPad. You'll find HaiDiLao on the top level of Market Square.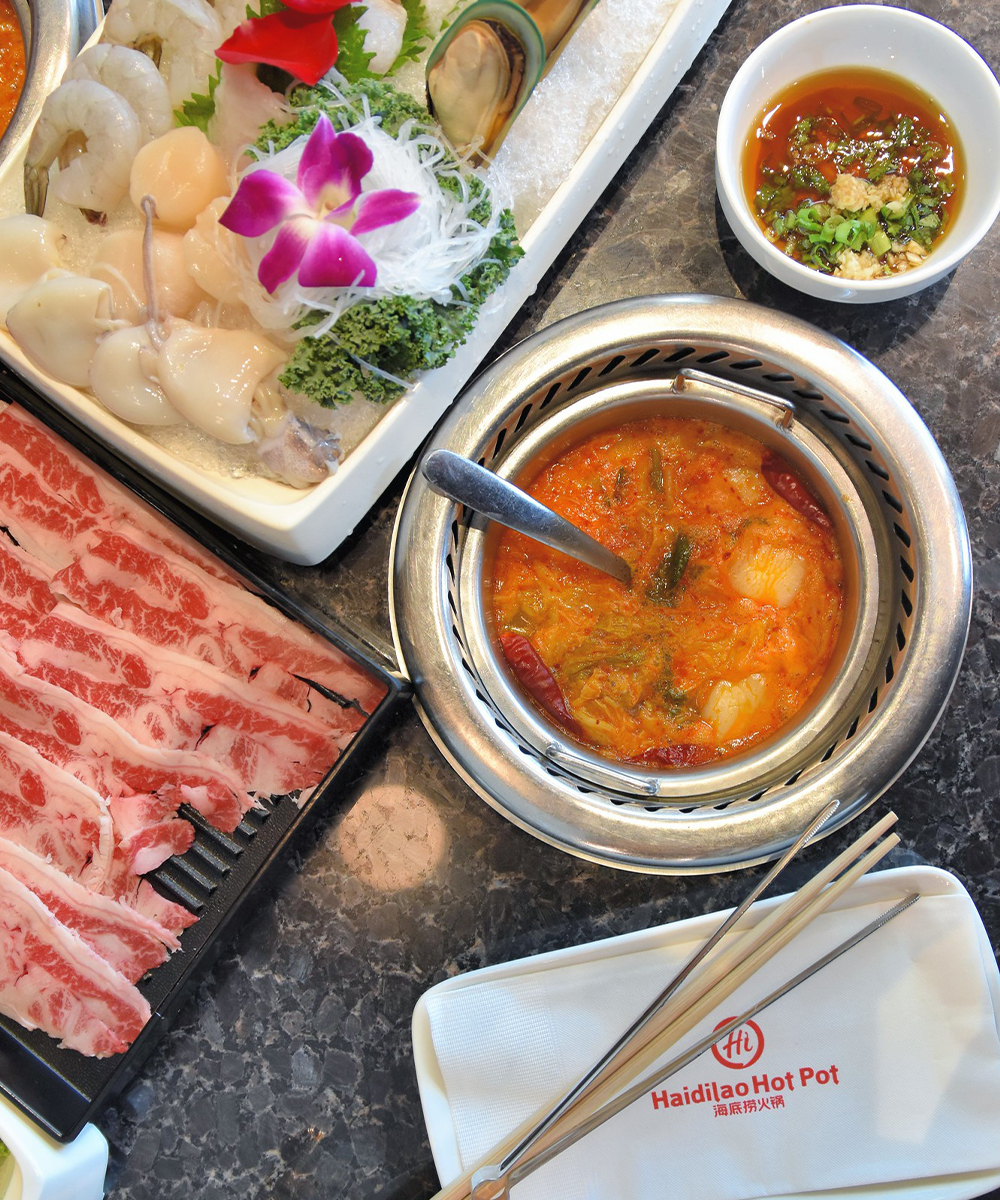 Shabu House
Brisbane City
If it's Japanese hot pot you're after, Shabu House is the place to go, and you'll want to take a hefty appetite, because this place is all-you-can-eat. For between $35 and $46 per head, depending on when you go, you'll get to choose your soup base (there's flavours like tom yum, miso and fish), then serve yourself a selection of meat, veggies and noodles from the buffet. Bonus, while you wait for everything to cook you can hit the sushi and hot food bar, which is all included in the price per head.
YX Mini Hot Pot
Sunnybank
Save your visit to YX Mini Hot Pot for payday, because this place is a little boujee. On the plus side though, everyone here gets their own individual broth pot with its own burner, meaning you don't have to share (great for anyone still off sharing meals after Covid). It also means you can get a little adventurous even if your dining buddy isn't keen on pork stomach slices and beef tripe, or just stick to familiar bites like chicken slices and basa fish fillet. Keep an eye out for the robot waiter too.
Seafood Hotpot Buffet
Sunnybank
Seafood Hotpot Buffet combines an all-you-can-eat buffet experience with individual broths, which come in colourful pots for you to get cooking in. There's seven different soup bases to choose from here, but don't take too long to decide between curry potato and butter spicy, as you only get two hours to feast. Once you've chosen, hit the buffet for fresh ingredients, sauces and even spices to add to the pot—with 150 different types of food to choose from, the combinations are endless.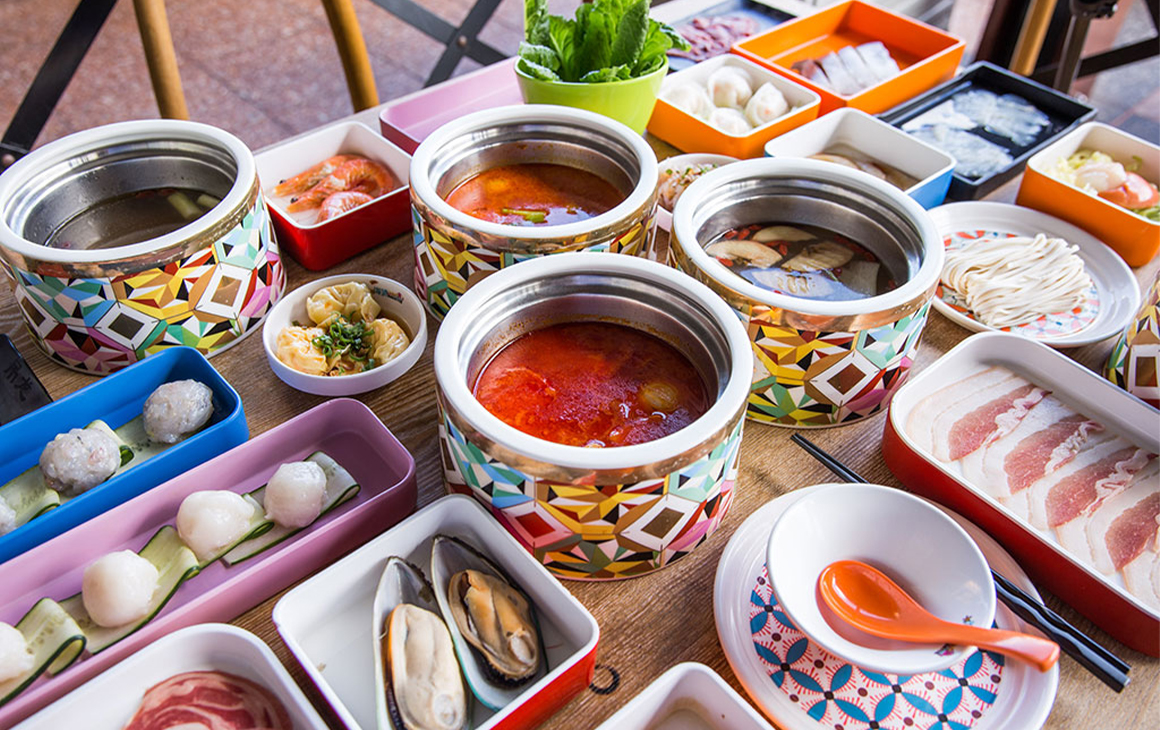 David's Hotpot
Calamvale
A Melbourne bourne brand, David's Hotpot's claim to fame is their beef 'barbies'—thin slices of beef which come draped over a barbie doll, much like those toilet roll dollies your nan used to have. Tacky? Yes. A fun novelty we'll travel for? Also yes. You can customise your soup base of choice from slightly spicy to crazy spicy (that's literally what's on the menu) and choose from a range of traditional and not-so-traditional meats—luncheon meat, anyone?
In The Jin
Macgregor
Another hot pot spot that hit Sydney first before coming our way, In The Jin is all about Sichuan flavours. Things are a little more old school here, so you'll do your ordering by ticking boxes on a paper menu. Choose your soup bases and then decide between dipping meats like your basic pork belly slice and fish meat ball, and more spenny options like lobster tail and abalone slice, as well as noodles and sides. The menu even tells you how long to cook everything which is handy if you're a newb.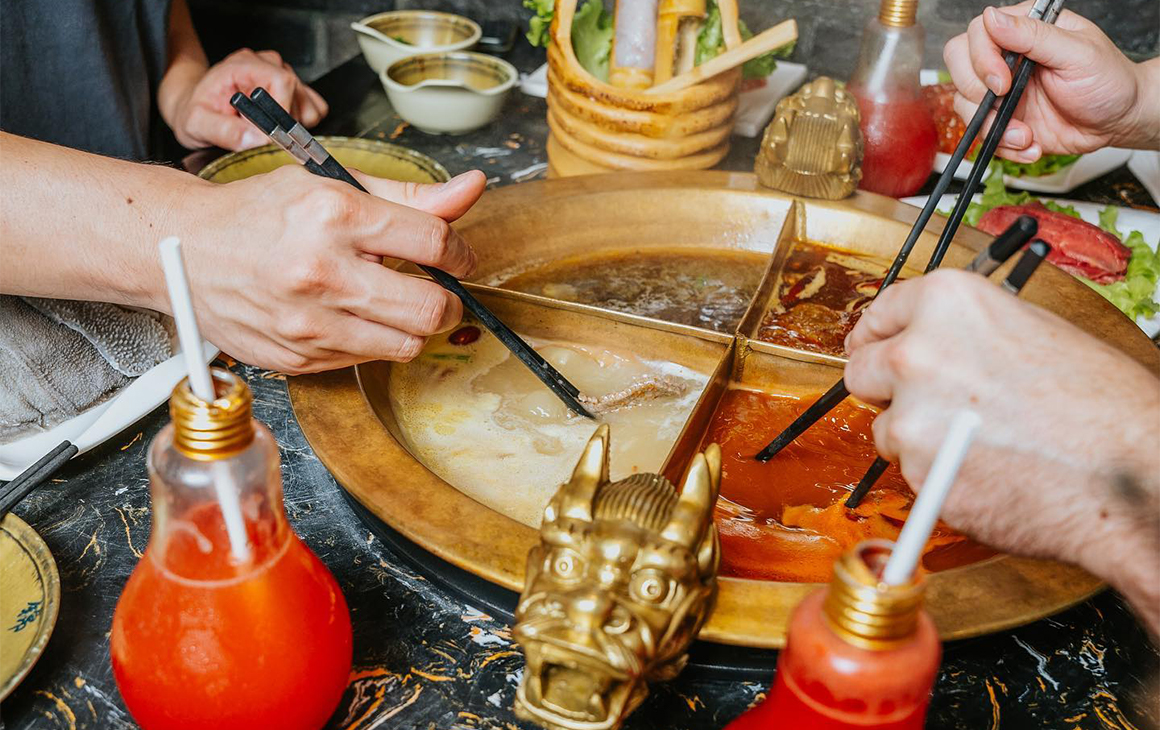 Sono Portside
Hamilton
One for the total hot pot virgins who have no idea what they're doing and are a little apprehensive about it, Sono Portside is here to guide you through their style of Japanese hot pot. Choose from one of just four hot pot options to make life easy—wagyu sukiyaki, wagyu shabu shabu, live abalone shabu shabu or Alaskan king crab kani tonyu nabe. All served with fresh vegetables, staff will demonstrate the cooking process, and even add in rice and egg at the end to create zosui, or rice soup, which is arguably the best part of Japanese hot pot (if you know you know).
Bishamon
Spring Hill
Another Japanese hot pot option without a complex ordering system, Bishamon has been in business for over 17 years, so they've definitely nailed their take. Opt for wagyu beef or pork shabu shabu or sukiyaki (with a sake and sweet soy sauce broth), pork ton nabe (with a sweet miso soup) or udon suki, which comes with mixed seafood, wagyu beef, pork AND udon noodles. You'll need at least two people to order, so don't dine here with a hot pot naysayer.
Big fan of soup? Check out Brisbane's best pho right here.
Image credit: David's Hotpot, In The Jin, Experience Sunnybank, J Pellgen/Flickr