In our opinion you can't beat a steamy, spicy bowl of Brisbane's best pho when you're in need of some internal warming. Feeling sick? Pho is the answer. It's cold? Pho. Hungover? Pho. This beefy Vietnamese noodle broth is like a big warm hug for your insides and is cheap as chips, making it the OG cure-all dish for any occasion.
Here's our roll call of where to get Brisbane's best pho (in no particular order, because how could we choose one over the other?).
Pho Queue
Annerley
Pho Queue, with its tongue-in-cheek humour and traditional preparation, is up there with the best pho in Brisbane. The pho itself is rich, and you can choose rare or cooked beef, meatballs, brisket, bone marrow, beef rib or premium beef cuts to add to your soup. Their menu even features Australia's most expensive bowl of pho coming in at $120, which can be ordered by appointment only and comes complete with a wagyu eye fillet, wagyu brisket, beef rib, oxtail, gigantic slab of bone marrow and gold leaf flakes.
District 1
Fortitude Valley
With a multitude of different types of pho, including beef, spicy beef, chicken and crispy chicken, District 1 is leading the game in terms of variety. All their pho is made on aromatic stock, rice noodles and all the accompanying sides, all you need to do is pick your protein.
Ngon
Paddington
With a restaurant overlooking the gorgeous hills of Paddington, Ngon dishes up a chef's selection pho, which features a rich broth, thick-cut noodles and Vietnamese herbs, as well as tender beef cuts. We feel warmer just thinking about it.
Tan Thanh
Inala
Considered the best in Bris by many aficionados, Tan Thanh in Inala is a big favourite for fragrant, home-style pho, served from 8 am seven days for the real-deal Vietnamese breakfast experience. Options include the classic rare beef, brisket, extra-fatty brisket, beef balls and tendons, or a combo of all of the above. The best bit? The fast service means that you can pop in and get a bowl of steaming noodle soup on the table in a matter of minutes.
Pho City
Brisbane City
If the name Pho City doesn't give you an idea of what kind of goods are being served, then cast your eye and taste buds toward their salty soups. Served with chicken, beef, meatballs or a combination of them all, Pho City's pho is up there with the best in town.
Mamma Do
Spring Hill
If flavoursome broth simmered for 12 hours and spruced up with noodles, rare blanched beef and beef brisket doesn't get you drooling, we don't know what will. Mamma Do knows exactly how to satisfy your pho cravings, and with add ons like egg, tripe, tendon and beef balls, you'll be absolutely spoilt for choice.
Café O Mai
Annerley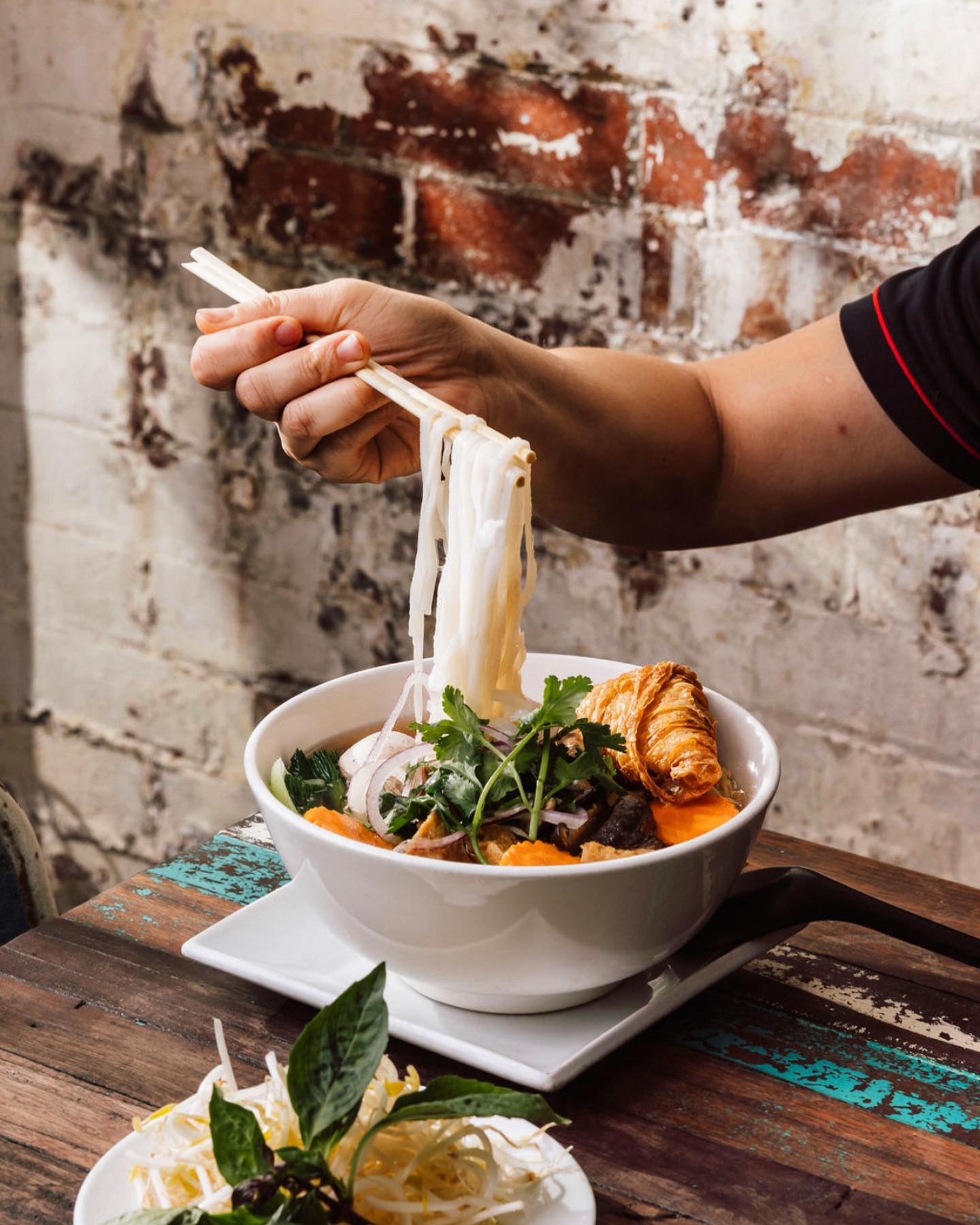 Café O Mai in Annerley knows how to add a touch of luxe to pho. Using Cape Grim grass-fed Black Angus in their beef pho and free-range meat in their chicken pho, it's a cut above. Vegetarians are taken care of too: the pho with tofu, mushroom, carrot and Asian greens is a winner.
Pho An
Inala
For pho that has rare beef, well-cooked brisket, beef balls, fatty beef, drumsticks (and that's not even all the options) Pho An will have you slurping on their hearty soup all day. Topped off with all the usual goods like noodles and herbs, the only trouble you're gonna have is choosing which flavour.
Ben's Vietnamese
Woolloongabba
Dishing up signature Chinese and Vietnamese dishes, Ben's Vietnamese heroes their pho, which comes with chicken, beef, seafood or a combination of each. Or, if you're feeling adventurous, slurp up their chilli beef and pork or the special beef noodle soup.
Chac's Vietnamese
Inala
Chac's Vietnamese dishes up every kind of beef noodle pho you could imagine, with sliced beef, brisket, tendon, tripe, beef balls, and then, for something different, some chicken noodle soup. We're talking all the noodles, herbs and salty broth you could ask for.
Xin Chao
Bowen Hills
Whether it's rare beef, sous vide chicken breast, or tofu puffs and seasonal mushrooms, Xin Chao in Bowen Hills' homemade pho will leave you feeling all warm and fuzzy inside on those colder nights. If you're wanting to venture out beyond the staples, Xin Chao also serves up crispy chicken noodle soup and even pork and prawn wonton noodle soup.
Pho Hung
Sunnybank
If you want a truly authentic bowl of pho, drop by Pho Hung in Sunnybank's main market square. This institution has rightly earned a reputation as one of Brisbane's best purveyors of pho—super soothing on a cold night.
Trang
West End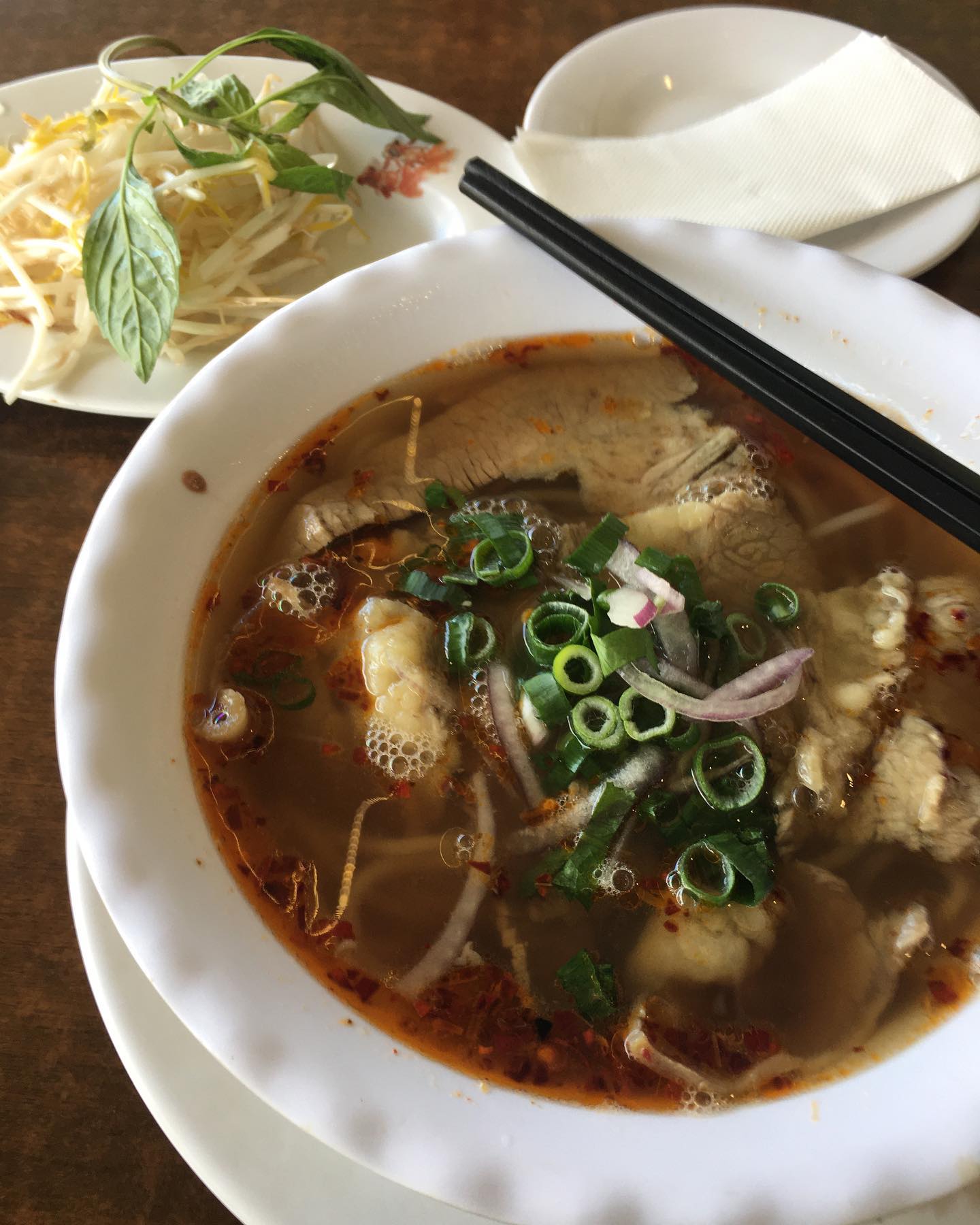 Local favourites Trang are well known for the rice and noodle dishes they serve, but their pho is one of their underestimated specialities. Their broth is rich and warming, and all the add ons will keep you returning to Trang's every day of the week.
The Vietnamese
Fortitude Valley
With an extensive range of pho, The Vietnamese is pulling out all stops to make sure you get all the choices of the delicious soup. If you've got a craving for beef, pork, chicken or even duck noodle soup, The Vietnamese will kit you out with their umami goods, with all of the fresh sides.
Van Vietnamese Restaurant
Darra
True Vietnamese food aficionados head straight to Van Vietnamese in Darra for an all out pho feast. These guys know what's up, dishing out big ole bowls of tasty and traditional pho with all the trimmings to warm your little heart.
Red Lotus
Annerley
The big brother restaurant of Café O Mai, Red Lotus in Annerley also packs a punch with their pho offering. The huge bowls mean you'll never go hungry. May we suggest a counterpoint for Red Lotus' warming pho? Their 'soda chanh' is a deliciously tangy Vietnamese lemon soda that sets off the soup nicely.
Vietnam Corner BBQ Restaurant
Sunnybank
Another Sunnybank favourite, Vietnam Corner BBQ Restaurant is gloriously nondescript; grabbing a bowl of pho from Vietnam Corner BBQ Restaurant feels legit, and the authentic pho they're dishing up is the real deal.
Quan Thanh
West End
A Brisbane Vietnamese restaurant with a good dose of laid back appeal, Quan Thanh's pho bowls are the stuff of Brisbane soup legend. Known for pumping out a classic rendition of pho over many years, you can't find a better option in town.
Phat Pho
Teneriffe
With a motto of un-pho-gettable, Teneriffe local gem Phat Pho is bound to have you dreaming about their beef and chicken pho for days to come. With all bowls, including their vegan pho, served with pho rice noodles as well as all the usual, delicious extras, you're tastebuds are guaranteed to get a flavour workout.
Want more of the good stuff? Feast on Brisbane's best banh mi here.
Image credit: Pho Queue, Cafe O Mai