What's not to love about a crusty baguette, slices of BBQ pork belly, pickled carrot and coriander with a hint of fish sauce? Obviously nothing, because Brisbane's best cafes have been embracing this delectable Vietnamese treat with a passion and have been producing some epic banh mi combinations that would do our friends in Vietnam proud.
If you haven't organised your lunch today (or let's be flexible, your dinner or breakfast) here's a handy list of the top spots in town to get your hands on Brisbane's best banh mi.
Banh Mi Now
Brisbane CBD
Hidden away in the heart of Adelaide Street, the hole-in-the-wall sandwich shop known as Banh Mi Now prides itself in mastering the art of making a delicious banh mi. Fill your roll with some crackling pork belly goodness topped with the wonders of their special chilli caramel sauce. The vegans of Brisbane are not left out either, Banh Mi Now has created an outstanding chilli soy nugget roll that even the meat-eaters are lining up for.
Scotts Road Deli
Darra
When we left Scotts off the list the first time around, there was an uproar from Brisbane banh mi lovers the likes of which we've never seen. Though we've not had the pleasure of trying them ourselves, ask any Vietnamese food fiend where to find the best banh mi in town and they'll tell you—this tiny spot in the heart of Darra, where they've been dishing up perfect rolls for over a decade, and still sell for them for no more than $7 a pop (yes, prices have gone up, thanks inflation). Hot tip, they're cash only, so make sure you've got some change.
Banh Mi Factory
Zillmere And Newstead
Whether it's at their Zillmere or Newstead outpost, Banh Mi Factory serves up traditional family-recipe banh mi, with options from tender, juicy pork to grilled beef, chicken and tofu. Pickle your carrots, julienne your cucumber and ready your tastebuds, because this eatery has generous servings, overloaded with flavour from their secret lemongrass and honey marinade. Banh Mi Factory is bound to get your mouth watering and nose running (depending on how much chilli you like).
Mister Bui
Nundah
Good banh mi is slightly harder to find on Brisbane's north side, but Mister Bui is one spot serving up a roll worth travelling for. All the traditional flavours are on the menu—pork, crispy roast pork, grilled lemongrass pork, teriyaki chicken, meatball and teriyaki tofu—but it's their breakfast banh mi that gets us salivating. Vietnamese meatballs and fried egg combine on a soft fluffy roll to create the breakfast of champions.
Mrs Luu's
Milton, Bowen Hills And Brisbane CBD
Mrs Luu's has become renowned for their crowd favourite, The Three Little Piggies banh mi with Viet porchetta, BBQ pork and Viet ham. If that doesn't float your boat (why not?), try the omelette banh mi with sautéed onions. Drool.
Porkees
Fortitude Valley
Porkees closely guards their homemade pate and mayo recipes, but they're open about the amount of pride (and locally sourced ingredients) that go into their famous banh mis. Porkees add a dash of gourmet to their rolls with spring onion and soy on top of the traditional carrot, cucumber and coriander. Let your eyes graze before you choose from glazed chicken, marinated beef, caramelised pork (sorry, just dribbled everywhere) or the famous 'Porkee,' which involves three different types of cold cut pork. Don't walk, run.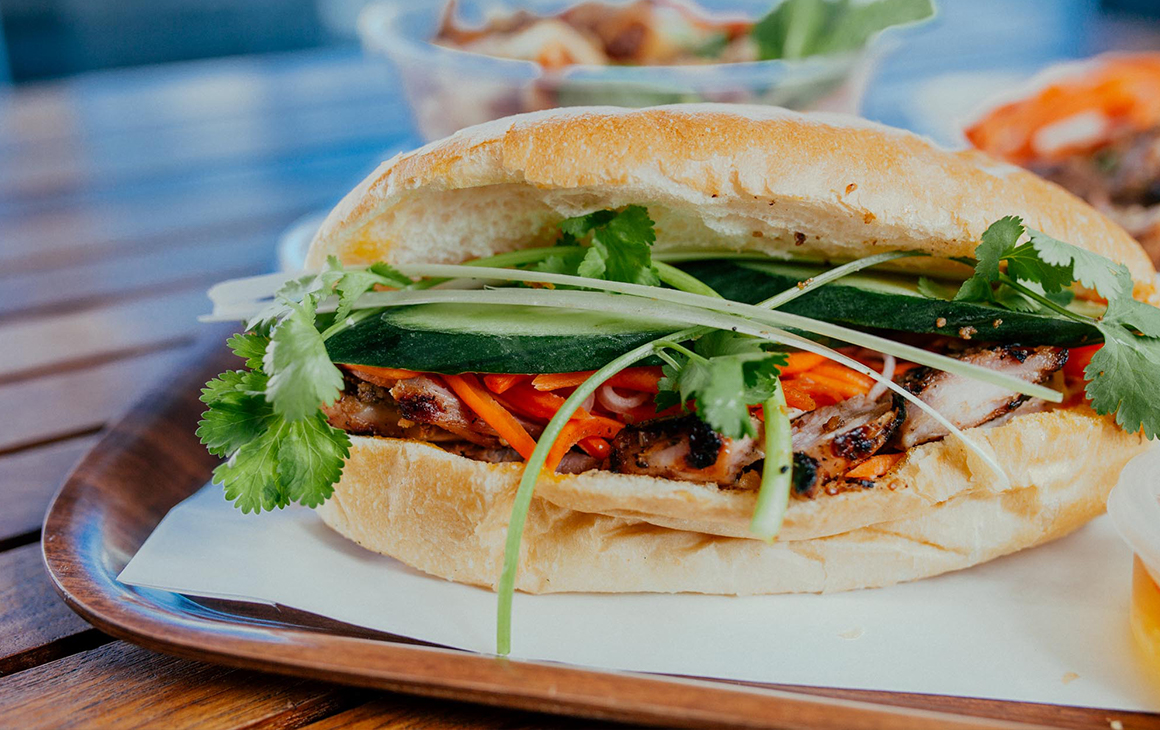 My Street Food Vietnamese
Woolloongabba
My Street Food Vietnamese lives up to their name and provides the delicious Vietnamese goods. Their banh mi has spicy lemongrass chicken and flame-grilled pork, topped with all the traditional fresh toppings and smothered in delicious house-made aioli.
Mr Bill's
Wakerly
Smack bang in the middle of Wakerly's industrial zone is where you will find the wonders of Mr Bill's banh mi. Don't let the location put you off, because this hidden gem is worth finding, as you'll certainly work out if you stop by for a weekday lunch and see the crowds. Our baguette of choice goes to their Three Little Piggies banh mi, with Vietnamese porchetta, BBQ pork and ham, as well as all the usual toppings of course.
Doolandella Bakehouse
Doolandella
This little bakehouse in Doolandella makes their banh mi using tiger rolls fresh and hot out of the oven. And for any vegetarians out there losing their mind over the lack of options on this list, they also happen to do a vegetarian 'bbq pork' banh mi that will have you jumping in the car quicker than you can say 'Where on earth is Doolandella?'
Little Hoi An
The Gap
Hidden like the precious gem it is, Little Hoi An offers an extensive range of banh mi, with the meat preparation styles spanning across the culinary terrain of grilling, roasting, frying and steaming. From chicken to beef and pork, there's also some honey meatball banh mi's on the menu, guaranteed to lock your taste buds and tongue into a lifelong craving contract. The only thing you'll be left wanting is the recipe.
Cloe's Restaurant & Cafe
West End
If a well balanced, fast and stomach-friendly lunch is what you're after, look no further than Cloe's, West End, aptly named, as all the rolls seem to scream these exact words. Picture it—the soft, flaky bread roll, bursting at its seams with either crispy pork, grilled chicken or beef, wedged alongside carrot, cucumber and a perfect amount of coriander. Top it off with homemade pate and butter, you've got a salty, sweet, light-but-rich lunch, right off a main road.
Viet Fresh Rolls
Springwood
Viet Fresh Rolls is proof that lemongrass flavour compliments everything, their menu boasting three meats in the marinade; beef, chicken and pork. If you're looking for something a little more groovy, there's also BBQ chicken, as well as traditional pork, and an exclusive tuna and avocado roll. The rolls themselves are picturesque, the meat succulent and the vegetables fresh and crisp, giving you a chance you feel good as it tastes.
Wow Banh Mi
Stafford And Aspley
Wow Banh Mi takes pride in their huge range of banh mi flavours and combinations, but our favourite is definitely the char grilled pork meatball banh mi, complete with pickled carrot, cucumber, coriander and home-made mayo.
District 1
Fortitude Valley
Situated in the heart of Fortitude Valley, it's no surprise that District 1 is one of the best places to find authentic street food. Their banh mi—also known as the District 1 baguette—gives you traditional Vietnamese flavour with a modern spin. Choose from slow-roasted pork belly, xui mai (pork and water chestnut meatballs coated in a smooth tomato sauce), lemongrass beef or sautéed mushroom and caramelised onion and experience true baguette heaven.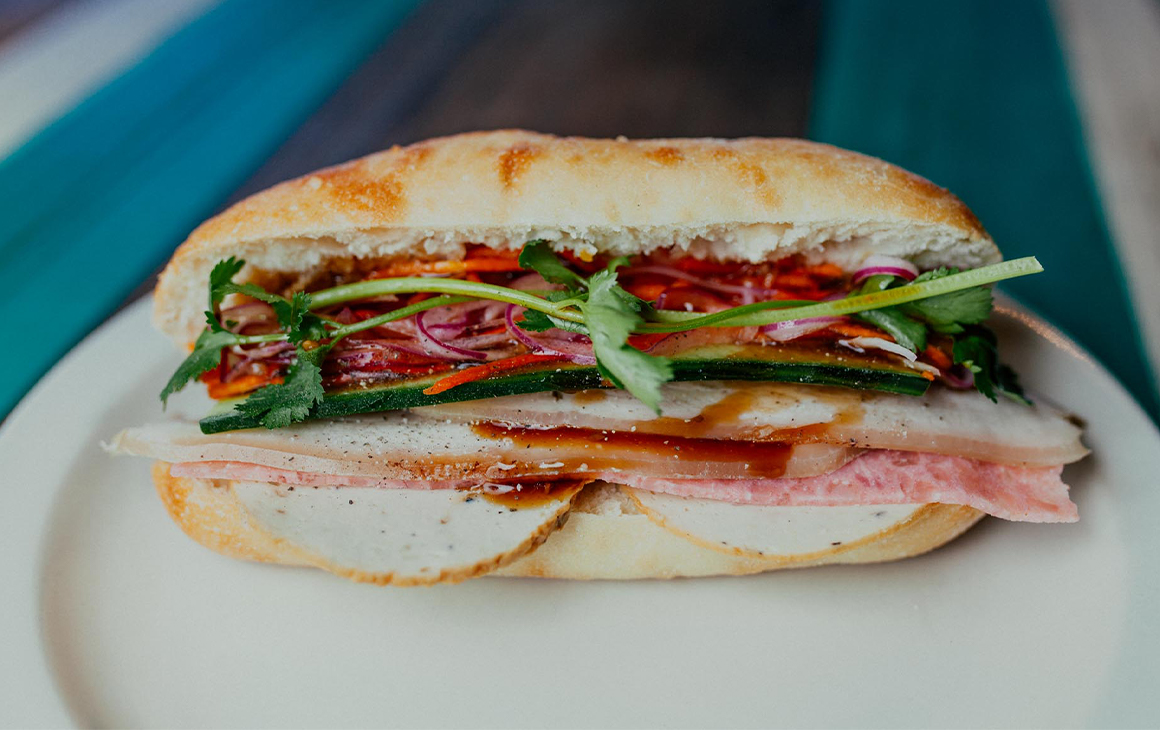 Café O Mai
Annerley
Café O Mai takes authentic Vietnamese flavours and gives them a Western twist. Head on down to try their lemongrass beef or pork crackling banh mi made with Byron Bay Berkshire pork and house made hoisin sauce. If you're feeling especially adventurous, stop by for breakfast and try the bacon and egg banh mi.
Urban Saigon
Yeronga
As the name suggests, Urban Saigon brings exactly what it states—a little piece of international flavour and culture to its corner occupancy in Yeronga. The feast begins as you enter, as the menu flashes its colour and simplicity at you, and the large, ready-to-be-filled bread rolls sit patiently in the corner of the glass cabinet. At its best, Urban Saigon is street food that has been perfected for the interested wanderer, and the knowledgeable local. Wander in or make the trip.
Banh Mee Time
South Bank
Put the 'me time' into your day with Banh Mee Time (BMT) and have a 'treat yo'self' moment the next time you're in South Bank. It might be a small, hole-in-the-wall type place, but don't let the size put you off, the flavour and care in the food is BIG. Vegetarian friendly, and dishing up some signature meats like crackling pork and deep fried soy chicken (peep the +$1 for these ones), BMT is like TNT for your mouth, but it leaves you feeling the opposite of crushed.
An Cafe And Banh Mi An
Kangaroo Point And Rocklea
If you're after fresh, authentic and healthy Vietnamese food that lingers on your taste buds, An Cafe is the place—either at their Kangaroo Point cafe or their Rocklea Market stall. Their life goal is to sell the best Vietnamese pork roll, aka banh mi, anyone has ever had, and we can raise our hands to that. If pork isn't your meat of choice, there are plenty more flavours to choose from, like lemongrass beef roll or a spicy tofu roll. Honestly, why not get them all.
Bun at 8 Street
Mt Gravatt
Hunt down 8 Street in Westfield Garden City's food court and you can cure your shopping appetite at Bun Vietnamese Street Food. When it comes to Vietnamese street food and whipping up a delicious banh mi, Bun does it right. The choices are close to endless where you can top your banh mi with either lemongrass pork, chicken, beef or tofu. Best of all, Bun give you the option to mix two choices of meat on one banh mi—and we say you should always double up.
Love a fluffy roll? Check out Brisbane's best bao buns here.
Image credit: Banh Mi Now, Ariana Gillrie