Broken Hearts Burger Club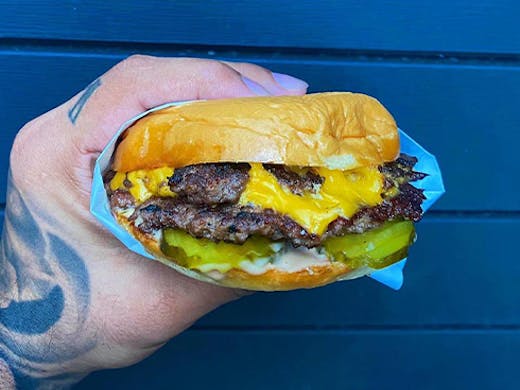 How dedicated are you to finding the perfect burger? You know, one with the softest, most uniformly toasted bun, a melt-in-your-mouth meat patty, gooey melted cheese and just the right amount of sauce. Well, no matter how many burgers you've eaten your way through in the quest for perfection, we bet it's not as many as the creator of Broken Hearts Burger Club, Jay Gordon.
Unlike the rest of us, who spent lockdown binging our way through Netflix, Gordon spent the pandemic trialling, testing and perfect the ultimate LA-inspired smashed patty burger through his Instagram page, Peer Reviewed Burgers. After building up a following of fans and willing taste-testers, selling out several burger pop-ups and finally landing on the formula for burger perfection, the only thing left to do was open an actual burger joint—and so Broken Hearts Burger Club was born.
Landing in Morningside, the no-frill burgers spot is all about one thing—the perfect burger (with crispy fries on the side of course). Sure, there's some other bites on the menu, including a crispy fried chicken sandwich, loaded fries and chilli, but the star of the show is the classic, hand-smashed burger. A patty (you can double or triple it if you like) made up of a blend of chuck steak, high end steak cuts and bacon, American cheese melted over top, pickles and a dollop of house-made sauce is all sandwiched in a soft toasted bun, with the option to add lettuce, tomato and onion if that's how you like it.
Once you've got the burger in your hot little hands, you can either eat it there in the 50s diner-style dining area or take it home to chow down on at home—a good option if you tend to end up with more burger sauce on yourself than socially accepted. Either way, make sure you grab a milkshake to wash it all down—there's chocolate, strawberry, peanut butter, lime and vanilla to choose from.
Image credit: Broken Hearts Burger Club
---