Sasso Italiano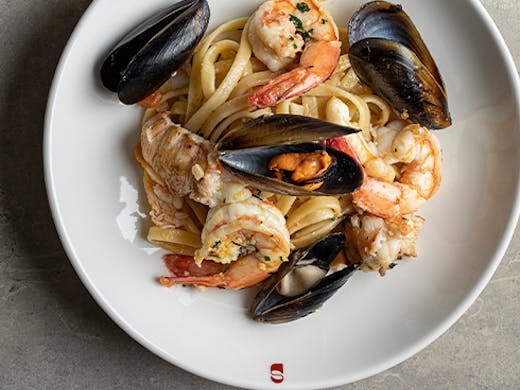 Landing in Woolloongabba's South City Square, Sasso Italiano was inspired by the lively, old-school trattorias of the USA in the 70s—neighbourhood spots where you could find good food, dim lighting and good times. The venue's design reflects this inspiration—sleek and modern it may be, but the stone floors, marble tables, red leather chairs and golden lighting definitely give off a funky Little Italy vibe, complete with an outdoor patio for balmy nights smashing pizza and wines in the breeze.
Coming out of the open plan kitchen is a lengthy line up of traditional Italian eats, from crudo and antipasti to pizza, pasta and steak. Start things off with the likes of fried olives stuffed with veal and pork confit, yellow fin tuna tartare and burrata sprinkled with bread crumble, then move on to the pastas, which include seafood-stufffed linguine marinara and spaghetti cacio e pepe. Secondi dishes include the classics like bistecca alla fiorentina, a traditional Florentine steak cooked on the bone, and then there the pizzas. We're talking margherita, capricciosa, diavola and gamberi—all the favourites are here.
Hopefully you're a fan of negronis, because there's 10 variations on the cocktail list to sample, including the Purple Haze Negroni, which blends Husk Distillers Ink gin, hemp suze, Rinomato Americano Bianco and skeleton leaf, to sample. There's plenty of other cocktails to choose from if you're not though, both classic and more creative, while a mix of Australian and Italian wines round out the wine list and Sasso's bespoke beer, Birra Cazino, brewed up especially with the help of local legends Aether Brewing, is on tap.
Read more about Sasso here.
Image credit: Ranyhyn Laine
---