Woolloongabba has been getting a hefty share of our attention lately, thanks to a raft of new bars and eateries hitting the southside 'burb. One foodie precinct we haven't quite delved into yet is South City Square, the residential and retail development still under construction on Logan Road. However while the entire social hub still has a while to go before completion, the first of many planned restaurants in the dining precinct is about to open its doors, and it's whetting our appetites for more.
Officially opening on Thursday 18 November, Sasso Italiano was inspired by the lively, old-school trattorias of the USA in the 70s—neighbourhood spots where you could find good food, dim lighting and good times. The venue's design reflects this inspiration—sleek and glamorous it may be, but the stone floors, dark wooden tables, brown banquet seating and golden lighting definitely give off a funky Little Italy vibe, complete with an outdoor patio for balmy nights smashing pizza and wines in the breeze.
Don't worry that there's not an expert on Italian food in the kitchen though—owners Vincent Lombino and Jared Thibault (former Ovolo and QT food and beverage directors) have recruited Amalfi Coast-born Head Chef Gabriele Di Landri, who's had stints at the likes of Chiswick Restaurant and Aria. Coming out of the open plan kitchen is a lengthy line up of traditional Italian eats, from crudo and antipasti to pizza, pasta and steak.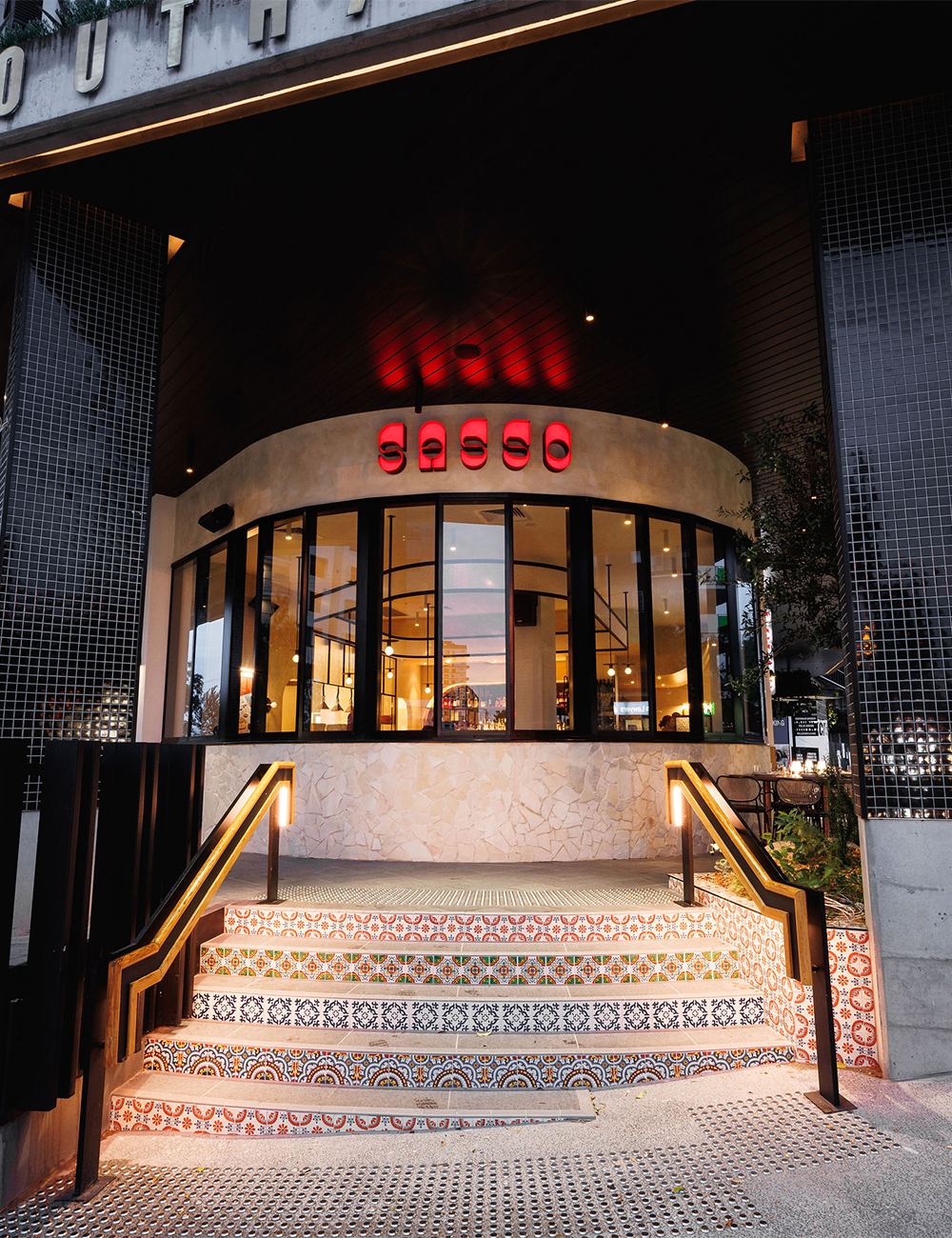 Start things off with the likes of fried olives stuffed with veal and pork confit, yellow fin tuna tartare, mussels in garlic, chilli and white wine sauce and burrata sprinkled with capers bread crumble. You could probably make yourself an entire meal from the starters, crudo and antipasti alone, but then you'd be missing out on so much more. There's the pastas, which include seafood-stufffed linguine marinara, spaghetti cacio e pepe and ricotta and burnt butter raviolone, secondi dishes like bistecca alla fiorentina, a traditional Florentine steak cooked on the bone, and of course, the pizzas. We're talking margherita, capricciosa, diavola and gamberi—all the favourites are here.
There's a whole other menu you need to peruse though, and it's possibly even more enticing than the food. Thibault, who's led some of Australia's best bar programs, has curated an entire menu dedicated to negronis, with over 10 kinds on the list. Hopefully you're a fan of the classic cocktail, because there's variations like the Fig Negroni, featuring Widges London Dry gin, native fig apertif, sweet vermouth and dehydrated fig, and the Purple Haze Negroni, which blends Husk Distillers Ink gin, hemp suze, Rinomato Americano Bianco and skeleton leaf, to sample.
There's plenty of other cocktails to choose from if you're not though, both classic and more creative, as well as a handful of spritzes and zero alcohol concoctions (which we love to see). A mix of Australian and Italian wines round out the wine list, while Sasso's bespoke beer, Birra Cazino, brewed up especially with the help of local legends Aether Brewing, will be on tap.
So if you're a lover of all things Italian (who isn't?), you really need to check out Sasso. Find everything you need to know here.
Looking for a nightcap? Check out this hidden bar in Woolloongabba.
Image credit: Supplied