Italy's best-loved dessert, Tiramisu (literally meaning 'pick me up') was named for its energising layers of marsala-soaked sponge, creamy mascarpone and coffee—interesting, considering we'd argue that most of us know it today as the last nail in the food-coma coffin brought on by an Italian feast. Either way, we'd never say no to a good one.
And luckily, we've no shortage of spots to sink our teeth into its mushy layers here in Brisbane, either—from the most traditional of recipes to the most contemporary, plates of tiramisu dot our city north to south. We asked you for your favourite tiramisus in Brisbane on Instagram, and you definitely had some suggestions. As recommended by you, here are 10 of the best tiramisus in Brisbane.
Ciao Papi
HOWARD SMITH WHARVES
With a penchant for fresh, flavoursome fine Italian food comes an obvious spot for tiramisu on the menu, as is so at the riverfront Ciao Papi down under the Story Bridge. If you like your tiramisu with a side of serious water views and top-notch wines, here you'll find all three in copious amounts, and all equally satisfying.
Bianca
FORTITUDE VALLEY
If you like your tiramisu classic but with a good kick of booze, Bianca's tiramisu is for you. Layers of coffee liqueur-soaked savoiradi biscuits and creamy mascarpone will knock your socks off after your Italian fest. It's the perfect way to finish off date night at one of Brisbane's prettiest restaurants.
Rosmarino
FORTITUDE VALLEY
You are probably already very familiar with Rosmarino's culurgiones cacio nduja, their pillowy potato stuffed pasta dumplings, but you haven't lived if you haven't tasted head chef Dario Manca's macinamisù. This one-of-a-kind take on tiramisu was inspired by Manca's grandmother, and involves still crisp sweet biscuits drowning in mascarpone cream, espresso and liqueur.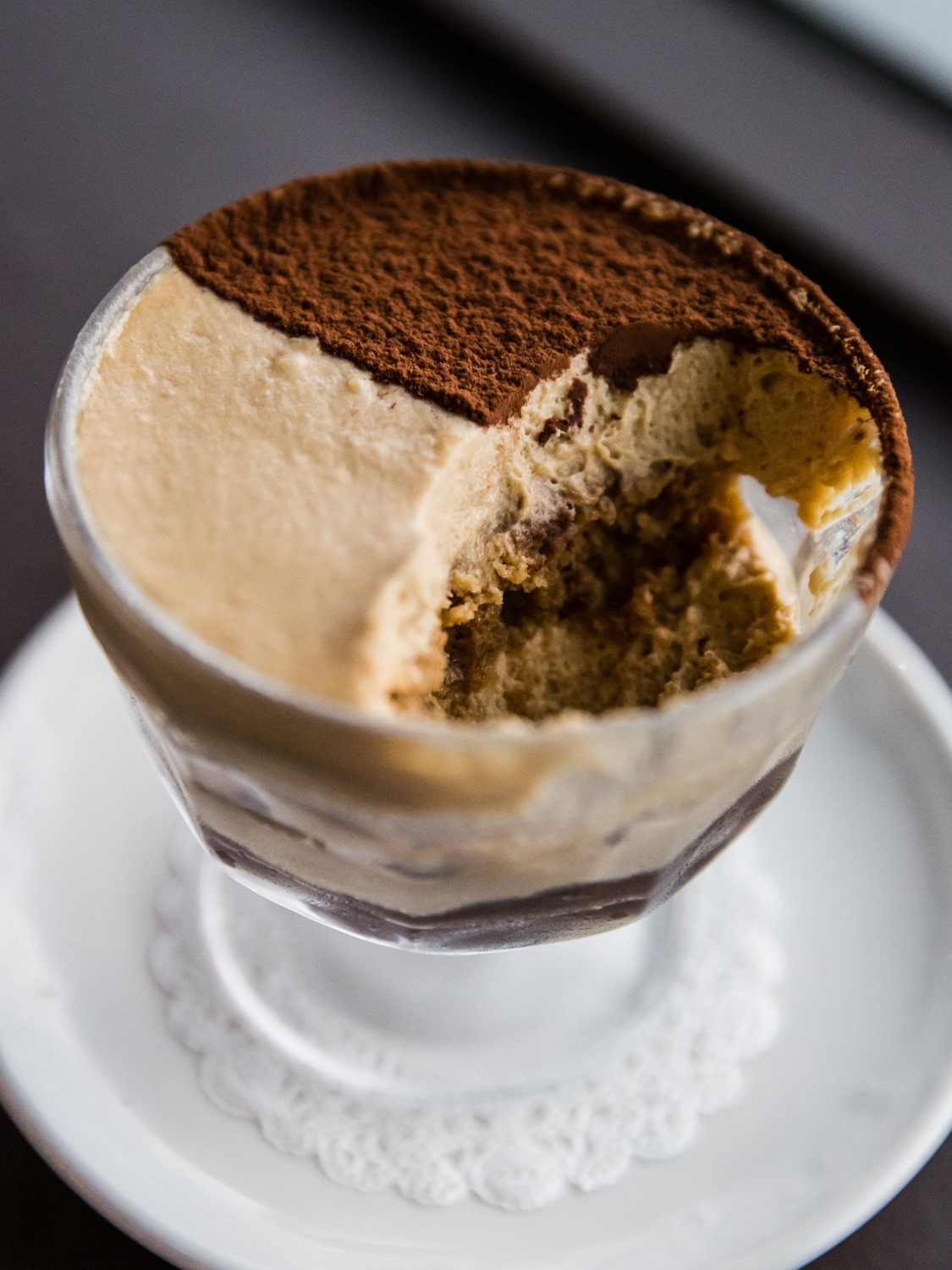 1889 Enoteca
Woolloongabba
Standing strong in Woolloongabba since 2008, 1889 Enoteca might not be pushing any culinary boundaries when it comes to tiramisu, but that's kind of a compliment. No deconstructed tiramisu insight, no maraschino cherries, no shaved white chocolate—just good old tiramisu proper, served stacked in a crystal glass kind of like you'd expect at one of those so-tacky-they're-cool dessert bars in little Italys the world-over. Except delicious.
OTTO
SOUTH BANK
OTTO's head chef Will Cowper might be known for his creative, boundary-pushing Italian fare, but when it comes to tiramisu, it's head pastry chef Gianna Ephraims' who's in charge of the classic dish. Dig a spoon through the top layer of soft cocoa powder and scoop up mouthful after mouthful of savoiardi, marsala, espresso and mascarpone cream.
Mosconi
Fortitude Valley
No date night at this cosy Italian spot is complete without dessert—even if it is just to extend the time you get to spend lingering in Mosconi's stunning venue. We love that it comes topped with a scoop of dark chocolate sorbet, just for a little extra kick.
Eterna Dining
Fortitude Valley
Eterna Dining isn't just about the crispy roasted portchetta and truffle burrata. In fact, the tiramisu at Eterna is essential eating—even if you're full after downing an entire bowl of carbonara tortelli. The recipe changes daily to incorporated different flavours, so you might even need to go back for more.

Popolo
SOUTH BANK
It's hard to save room for anything at this iconic riverside spot, but we suggest you let the stunning city views distract you from nabbing the last four-cheese arancini ball and bite of ricotta gnocchi so that you've got more room for the finale. Popolo doesn't stray too far from the classic rendition and why would they with this slab of cocoa, espresso liqueur, savoiardi and mascarpone perfection?
Nonna's Nightmare
West End
Nonna's Nightmare's tiramisu comes with a pretty heft twist—just like everything else on the menu, it's completely vegan. Yep, cream and all. Obviously this one goes out to the plant-based eaters out there, but hey, if you're curious how they can make a vegan tiramisu taste so damn good, we suggest trying them out.
Julius Pizzeria
SOUTH BRISBANE
You say Beccofino, we say Julius Pizzeria—it's all good, and you're covered on both sides of the river with this iconic duo's Italian style trifle made with coffee, mascarpone and sponge finger biscuits.
If you're still deciding on your first course, slice up Brisbane's best pizza here.
Image credit: 1889 Enoteca, Ciao Papi, Popolo