According to the songs, love is a many splendid thing—it's grand, it's all you need and it's in the air.
Young love, old love, puppy love, friend love, tinder love, even unrequited love, all deserve to be celebrated (or commiserated if referring to the latter) not just on Valentine's Day or anniversaries, but any day and for any excuse. And you know what they say? Full bellies = warm hearts, so cancel mini golf, turn off Netflix and say 'no' to strolls on the beach—fill those bellies and stoke the fires of love.
Roses are red. Violets are blue. If you love food, then here are the most romantic restaurants in Brisbane for you.
Mosconi
Newstead
Who knew that a surplus World War II building (one of Brisbane's very few, we might add) just off James Street could be transformed so beautifully into a European-esque alley wine bar and bistro? Mosconi's rustically chic interiors of monochrome fresco flooring, chestnut wood and exposed walls, together with their menu smattered with European flavours will transport you to Italy in the best possible case of deception. We love to love the vannella burrata to start, followed by the beef cheek ragu. But it's their wine list that will have you at 'hello'—a true masterpiece of Australian and European vino wares. Tres romantico!
Libertine
Brisbane CBD
With chandeliers, boudoir-inspired interiors and some sought-after nooks to sit in, Libertine is a Barracks favourite, adored by all for its delicious and opulent French-Vietnamese menu and décor. Create your own banquet to share from classic Asian-style favourites, each with a decadent twist—think lamb dumplings, tiger prawn croissants, cracklin' twice-cooked pork belly or a DIY green papaya salad. Arrive early and have a cocktail together—the Libertini is a fun and fruity take on an old darling.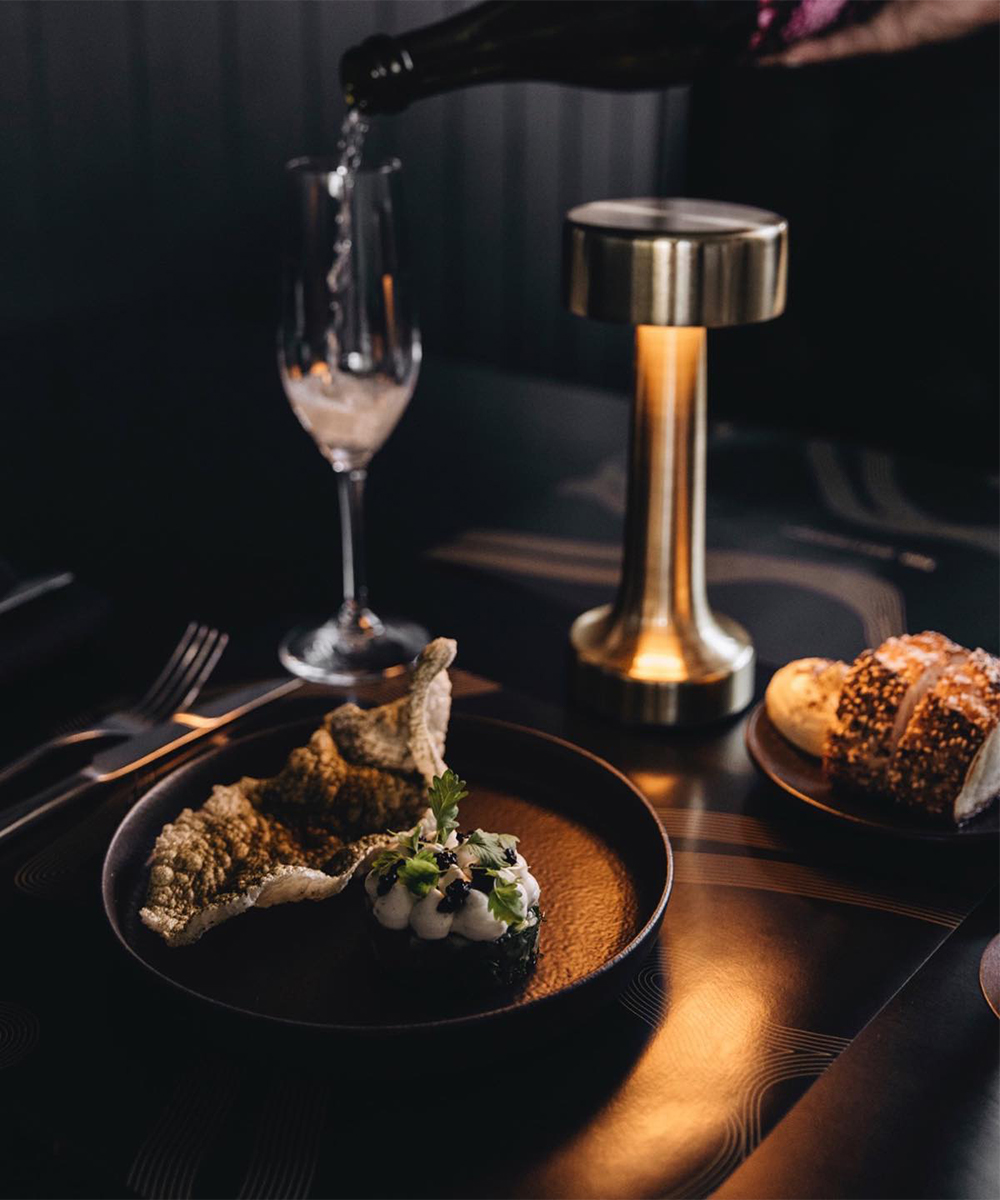 Rogue Bistro
Newstead
Rouges often get a bad name (unless you like that in a beau), but not this gem. Newstead's Rogue Bistro may currently be operating out of their sleek function space next door, but it's dark and sultry vibes are still ready to knock your socks off. With a six-course degustation menu that changes every month, all the hard work of choosing what to order is done for you—so you've got more time to really get to know each other (especially if you opt for the matched wines to help ditch the inhibitions and get the conversation flowing).
Deer Duck Bistro
Auchenflower
Delight in a uber indulgent degustation at this intimate bistro in Auchenflower. Deer Duck's moody lighting and lush antiques set the scene for a clandestine rendezvous, but the modern European menu will have you shouting from the rooftops. As we mentioned earlier, pull out all stops and experience one of the degustation menus (five, short or long course) AND wine pairings for something extra special.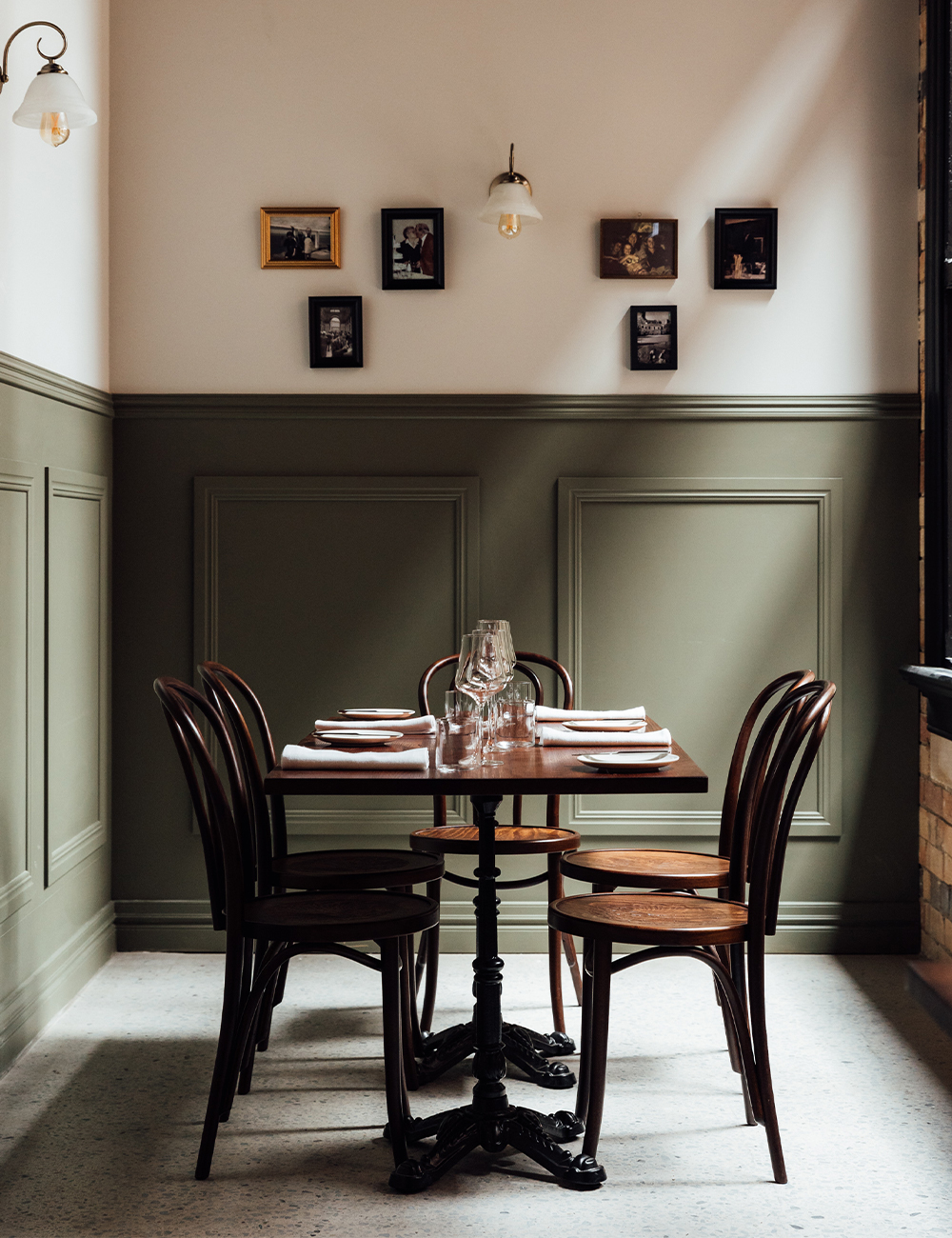 Rosmarino
Fortitude Valley
With vintage looking lights hanging from high ceilings, exposed brick walls, pops of sage green and a glass-walled wine cellar in pride of place in the centre of the venue, Rosmarino is a stunner, and the perfect spot for an intimate date night. Take a seat and start your romantic feast with antipasti and focaccia—save room for mains though, because you won't want to skip out on the house made pastas and mains like the pan-rendered dry-aged duck breast with amaretti crumble. If you can fit anything else in after that, there's always a weekly rotating dessert—and their tiramisu just happens to be the best we've ever tasted.
Essa
Fortitude Valley
Just off the bustling main strip in Robertson Street, ESSA is moody and atmospheric, with darkened interiors that set the mood as soon as you walk in the door. A couple of seats at the bar is as intimate as it gets, and you'll feel as though you have your own personal bartender. This is a spot for the serious foodie couple though—simple but creative dishes hero local produce, with entrees like fried chickpea beignets with caramelised scallop cream and shared mains like the wagyu rib with purple mustard and bearnaise sauce and a sied ofr fried kipflers compté.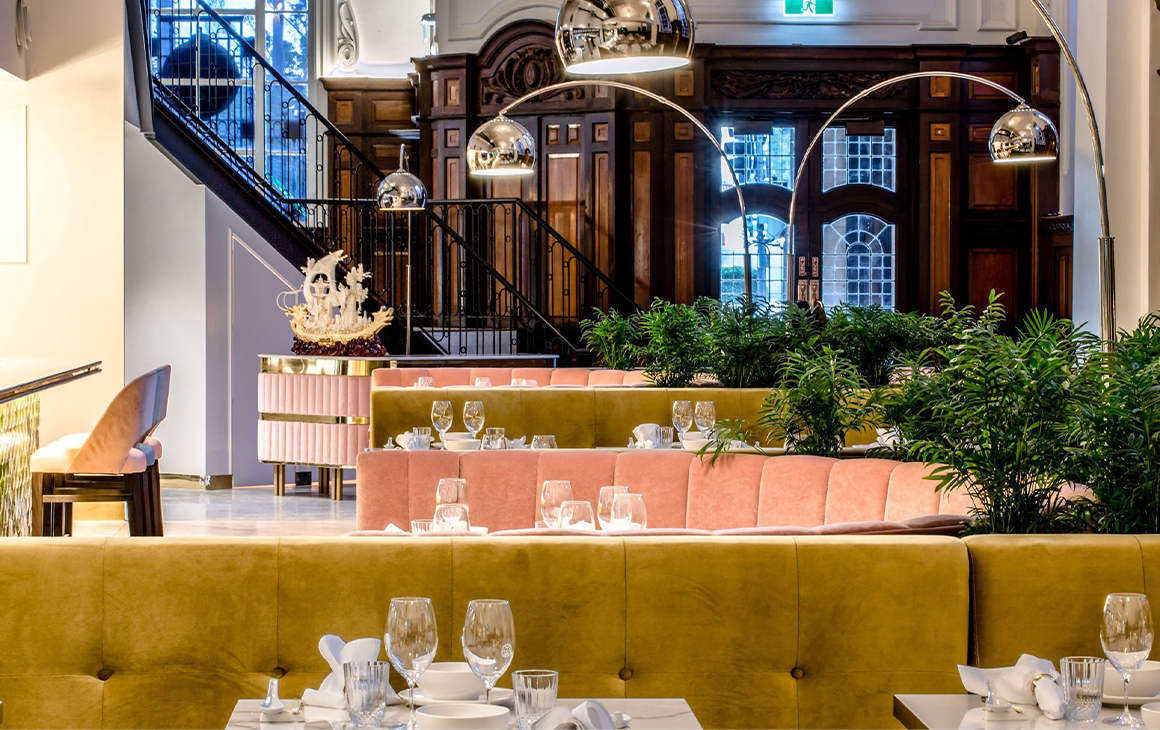 Donna Changs
Brisbane CBD
In a classic love story of east meets west, we have Donna Changs, (another) CBD restaurant with all of the date night vibes. The food boasts a union of iconic eastern flavours, Sichuan and Cantonese, with the menu uniquely off-set with two key cooking methods—woodfired and traditional dim sum. The interiors are utterly jaw-dropping, with pink velvet booths and crystal chandeliers, all in the surrounds of one the city's most historic old bank buildings. Be sure to share a dessert, whether it's the dark chocolate mousse or the fried caramel ice cream—or don't share at all.
Signature By Emporium
South Brisbane
Ever get confused about what 'modern Australian cuisine' actually is? We do too, but we also know that it is very part as delicious as it is mysterious, and South Bank's Emporium Hotel houses one of the most beautiful restaurants to sample it in. Signature is a bona fide babe (think velvet chairs, a marble bar and a stunning light feature) but its modern Australian menu is the real reason to lock in a hot date. Tuck into crispy Brisbane Valley Quail, juicy Longreach organic lamb or coral trout with borlottie beans, kohlrabi and salmon roe or just go for the 5-course tasting menu and get the best of the best.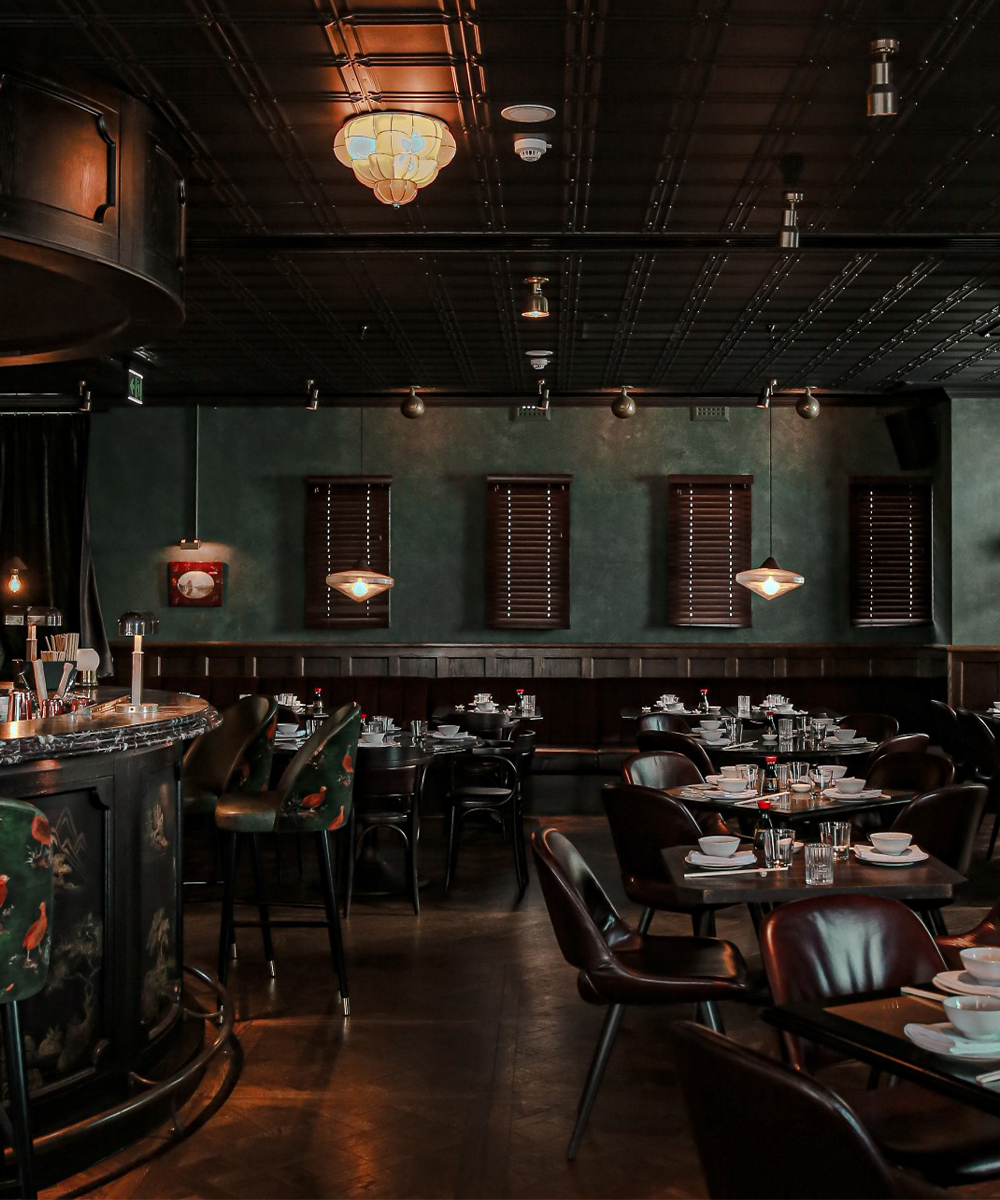 Stanley
Howard Smith Wharves
Though a table out on Stanley's riverside deck is a gorgeous spot for dumplings and champagne, it's their upstairs dining room where we'd be taking a date. Here you'll find jaw-dropping interiors far and away from the sunny spaces outside, complete with mural-lined walls and hanging lanterns that pay homage to traditional Chinese design aesthetics. It's the perfect romantic destination for making eyes at one another while you scoff Peking duck pancakes and salt and pepper squid. Just don't make a mess with your chopsticks.
Malt Dining
Brisbane CBD
Looking for the perfect place to show your someone special a real good time? Malt has, and always will be the epitome of luxurious Brisbane fine dining. Not only for its location—the historic three-level Wenley House in the heart of the CBD—but it's award-winning food, cooked to be shared and enjoyed together. The menu is a multicultural spread, easy to navigate and wonderfully delicious.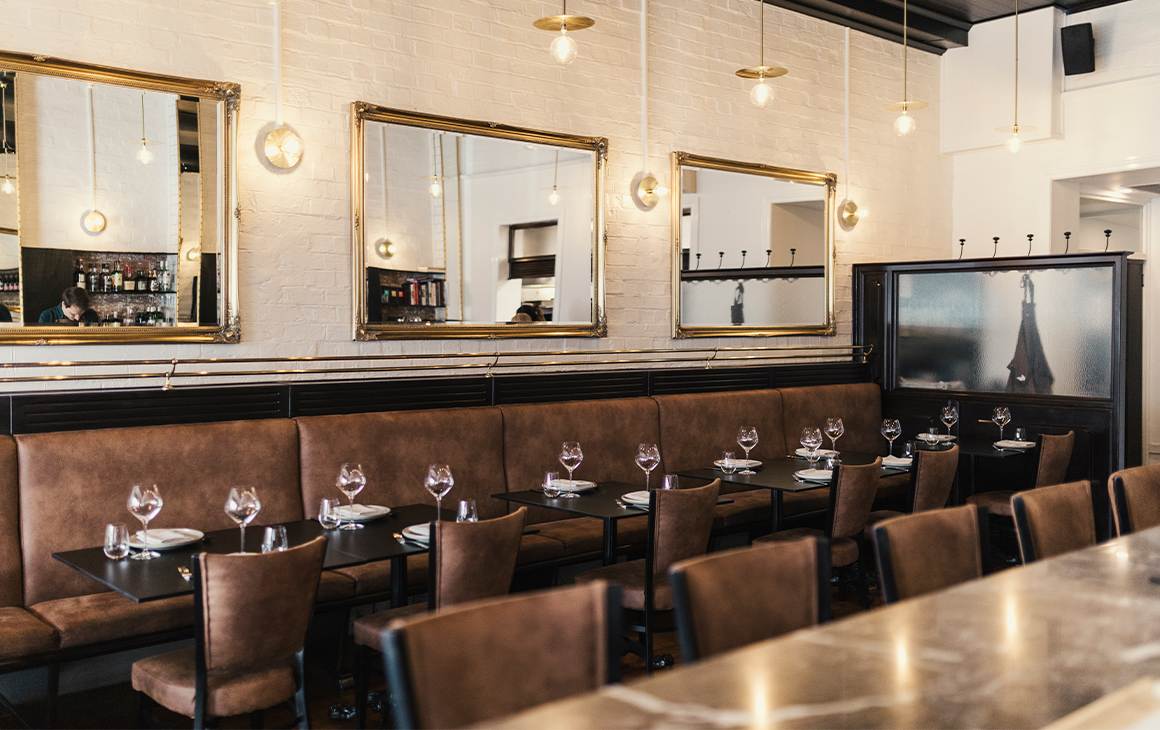 Nota
Paddington
Filled with exposed brick, timeless leather seats and lashings of natural light, Nota is as warm and welcoming as they come. Sit down to uncomplicated, contemporary Australian dishes, all designed to share, with comfort foods like tempura fish sandwiches, spanner crab pasta and Nonna's ragu on the inventive small plates menu. There's also a smashing wine menu if you're in the mood for a drink.
Agnes
Fortitude Valley
If the flickering firelight coming from the kitchen doesn't do it for you, dessert up on the rooftop terrace with the rest of your bottle of wine sure will. Agnes's dimly lit interiors are just the spot for a loved up rendezvous, especially if you start things off with a cocktail in a dark corner in the bar just next door. The only problem? You'll be so full by the time you leave that you won't be feeling any action when you get home.
Want some date night ideas that aren't dinner and a movie? Find them here.
Image credit: Grace Elizabeth Images, Donna Changs, Stanley, NIRA Creative