Raise your hand if you can remember the worst date you've ever been on. Now, we bet that date idea from hell also happened to feature some variant of the traditional dinner and a show that left you feeling like Netflix and takeaway would have been a much better option than whatever the heck just happened.
Don't worry, we've all been there. If you really want to win over your beau, it's time to step up your date game. Luckily, we're here with the best alternative date ideas in Brisbane that'll blow your dinner plans straight out of the water. Just think of us like your fairy godmother, but one that knows where they keep the good wine.
Date night coming up? Here's 16 of the best date ideas Brisbane wide that aren't dinner and a show.
Sail The River In A Picnic Boat
GoBoat | Kangaroo Point
Want to live out that scene from The Notebook? You know, the one where Ryan Gosling is paddling a canoe while gazing romantically into Rachel McAdams' eyes. Except instead of a canoe, it's an electric GoBoat puttering down the Brisbane River. Without the hard work of paddling, you and your SO can cruise along with a picnic and some drinks. No boating licence required as these eco-friendly babies go slow and are easy to drive.
Try Your Hand At Darts
Oche | Fortitude Valley
If you've got a competitive streak, and aren't afraid to let your date see it, Oche is the place to test your dart throwing skills over G&Ts and delicious bar food. The classic game has had a high tech makeover here, with electronic dartboards that keep score for you to put a stop to any arguements—because we don't want that on date night. Not only is it a heap of fun, but Oche also boasts a menu designed by Ben Williamson of Gerard's Bistro fame. In the spirit of that flavour temple, we recommend the popcorn bekaa chicken and a lager to wash it down.
Blend Your Own Bottle Of Wine
City Winery | Fortitude Valley And City
How do you make science experiments fun? Simple, add booze. This Wine Blending Workshop at City Winery Brisbane is the perfect place for you both to enhance your palate and create your own signature drop. Spend 1.5 hours learning the art of wine blending (and tasting) then bottle, seal and label your own blended bespoke wine. So come on all you wine lovers! Find out all the details here.
Eat Your Way Through A 7-Course Dego
Deer Duck Bistro | Milton
Ok, this one is a dinner date—but it's a dinner date with a difference. Instead of just sitting down to your typical entree, main, dessert, you'll sip and sup your way through seven delectable courses from Milton's Deer Duck Bistro. The restaurant itself is as unique as the experience, full of cosy corners and antique armchairs, so if you need talking points, the quirky lamps and odd paintings surrounding you are a good place to start. Or just ask for matched wines with each course and really loosen those tongues—you'll be deep in conversation by dish three at the latest. Book here.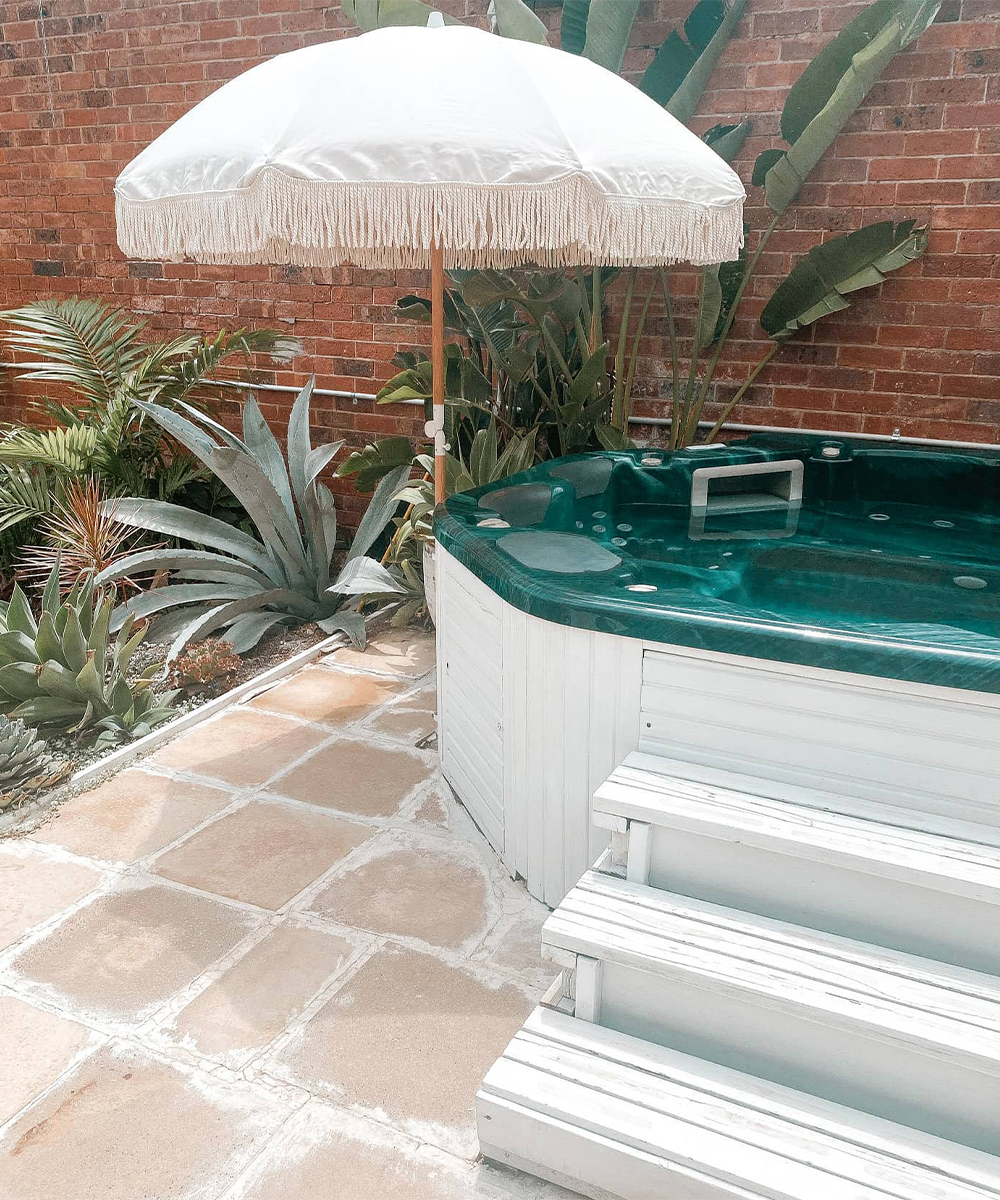 Soak And Steam An Afternoon Away
Cenote Casa Bathhouse | Woolloongabba
For a date that requires minimal movement, and definitely zero stress, Cenote Casa Bathhouse is the place to go. This stunning outdoor bathhouse will have you stripping down and nabbing a glass of bubbles before soaking in the warm massaging bubbles of the hydrotherapy spa, taking a refreshing dip in the magnesium plunge pool, sweating it up in the cedar wood dry sauna and blissing out in the sauna. In between, you can relax in the multiple inviting lounge areas, sipping on herbal tea in the shade or basking in the sunshine.
Paint And Sip A Masterpiece
Pinot & Picasso | South Brisbane
If you're looking for ultimate paint and sip set up, look no further than Pinot & Picasso. Not only can these guys teach even the most novice of painters a thing or two about painting with acrylic on canvas, but they will also equip you with a glass of BYO wine to make the process all the more enjoyable. So whether you consider yourself creative or not, you're bound to have a good time and you'll even leave with your very own masterpiece to take home.
Make Your Own Gin
Brisbane Distillery | West End
If you want a novel date idea, look no further, because the botanical brewers at Brisbane Distillery are your ultimate wingmen. They host gin-making masterclasses where, under the helpful guidance of one of BD's talented distillers, you and your squeeze can craft a bespoke bottle of gin from scratch. For a more casual experience, you can select a combination of your favourite botanicals and the distillers will mix it up into a 100ml bottle for you to try with tonic right then and there in the secret bar. Need snacks? Head just down the road and snag a slice from Pie Town.
Book In A Boujee Hotel Staycay
Various | Around Brisbane
Nothing says romance quite like breaking out of your day-to-day routine. Why not a complete location switch-up with a night away at a hotel with your squeeze? Say hello to a night of luxury, mini bar treats and fluffy oversized robes. For the full boujee influencer experience we'd suggest The Calile on James Street or Crystalbrook Vincent at Howard Smith Wharves, but you can fund a full list of the most luxurious hotels in Brisbane here.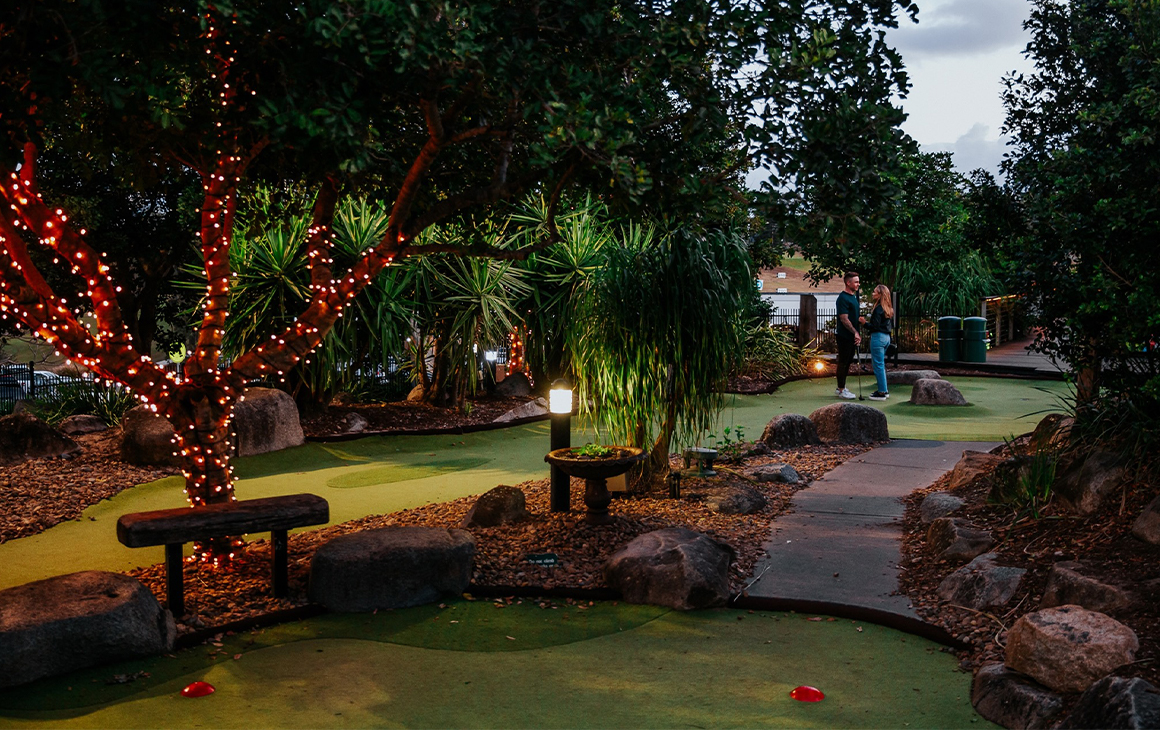 Play A Round Of Mini Golf
Victoria Park Golf Course | Herston
There's more than one place to play mini golf in Brisbane, but Victoria Park gets our vote for being the place to take a date. Not only is the course full of quirks and outdoors (and fully licensed, might we add), but it's also side by side with the Victoria Park garden bar and bistro, where you can stop in for a jug of something and even a feed once you've finished all nine holes. Also, being that it's mini golf, absolutely no one (including your date) will care if you cheat.
Cool Down With Ice Skating
Various Locations
What is the one thing that every Netflix Christmas special has in common? If you said bad writing, shame on you, because the answer is an ice skating scene, or rather, a scene where the luckless hero/heroine cops scorching sex eyes from their frosty love interest across a frozen pond. Just because we live in a subtropical climate is no reason why you or your beloved need miss out on the cheesiness and romance of a day on the ice. Luckily, Brisbane happens to have some cracking ice skating rinks where you can escape the sick joke of a hot Christmas and go for a little icy scoot scoot.
Release Some Pent-Up Anger
Rage Cage | Wolloongabba
Ever felt the need to smash some stuff up? Whether you answered yes or no, Rage Cage in Highgate Hill, while not a conventional date night, is certainly worth experiencing at least once. Here you'll find a purpose-built smash cage, filled with all the necessary safety gear to allow you to smash until your heart's content with a baseball bat in tow. Get ready to pulverise crockery, electrical items, creepy gnomes, you name it, it's yours to smash. Destruction therapy at its finest.
Cook Your Way To Their Heart
Vanilla Zulu | Newstead
If you ask us, there's no better skill in life than that of cooking, which is why Vanilla Zulu is one of our top picks for the perfect date idea in Brisbane. Run by award-winning Ched Mel Alafaci, this place is a one-stop-shop for learning everything there is to know about cooking. Choose from team-building cooking classes, traditional classes, or a six-week Chef skills course to really get you in check. With a focus on fresh, fast, and delicious meals, you'll be raring to get home and test out your newly acquired skills. Book yourself a class here.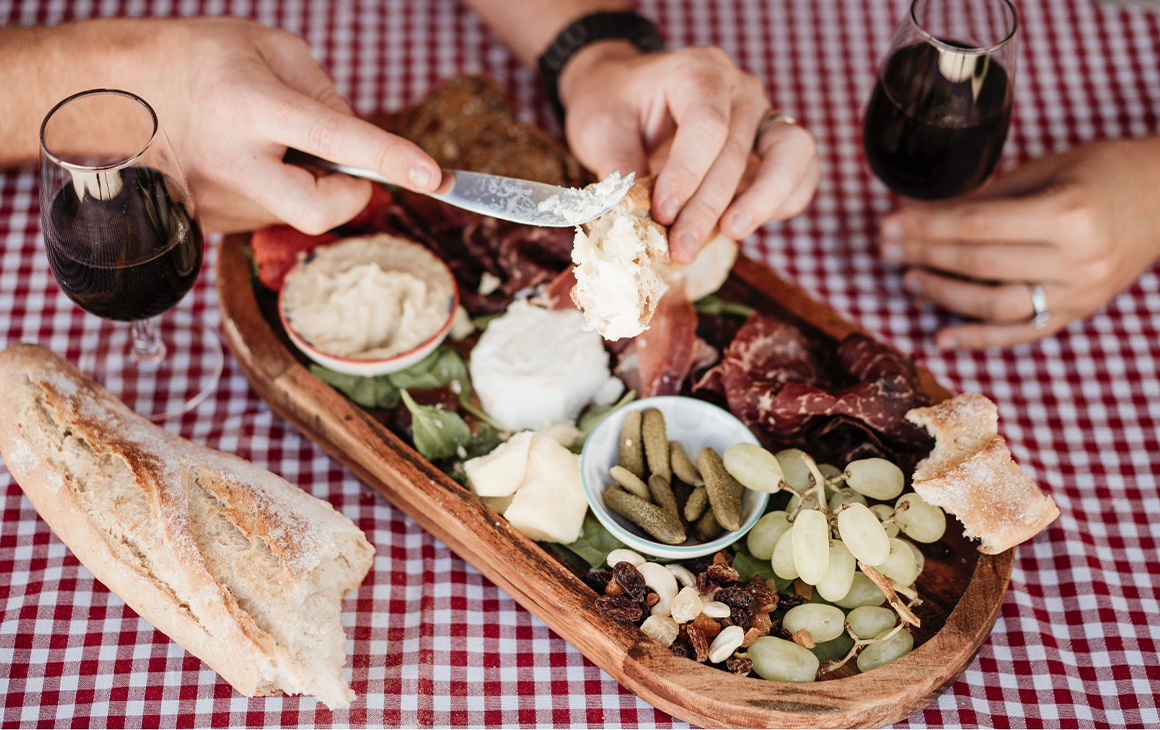 Go On A Mystery Picnic Hunt
Amazing Co | Around Brisbane
While a park picnic with your partner always hits the spot, why not add a little adventure into the equation? Mystery picnics with Amazing Co reimagine a classic date activity. If you both love a bit of puzzle-solving and some healthy teamwork, this experience is for you. You'll be sent a series of riddles and clues to solve, each of which will send you to a different location to pick up a stunning picnic spread of artisanal products. Romantic AND entertaining. Just select your location, tailor your picnic to your dietary requirements, and you're all done. Read more about this prime date idea right here.
Cuddle Koalas And Feed Kangaroos
Lone Pine Sanctuary | Fig Tree Pocket
Skip dinner and dessert and start your cuddle sessions at the beginning of this date—cuddle a koala, we mean. At Lone Pine Koala Sanctuary, you and your partner can cuddle Australia's favourite furry friends, feed kangaroos and come face-to-face with dingoes. And there's a new café that's opened on the premises so once you've finished gushing over the cuddly cuties, you can have a bite to eat. Find out more here.
Take A Brewery Tour
Felons Brewing Co | Howard Smith Wharves
Why just sink a beer over a dinner when you can go behind the scenes? At Felons Brewing Co you can learn all about the behind the scenes happenings of a brewery. For $35pp, get to know the ingredients, craftsmanship and philosophies behind all their beers. And here's the part you've been waiting for—you get to taste the beers too. So whether you're beer connoisseurs, avid homebrewers or just a casual drinker, this tour packs a punch. For bonus points, afterwards you can jump on a scooter and do a brewery hop through the four other breweries nearby around Newstead and Fortitude Valley, like Stone & Wood, Green Beacon, Newstead Brewing and Range Brewing.
Relive Your Childhood Dreams
Urban Xtreme | Hendra
Imagine dozens of interconnected trampolines, a crazy parkour course, climbing walls, ninja course, indoor ski slope, and a dodgeball court. Well, you don't have to imagine anymore, because this is exactly what you can expect at Urban Xtreme, Brisbane's massive indoor aerial super park where bouncing, climbing, running along walls and slam dunking is all a part of the fun. Sounds like the ideal Brisbane date idea to us.
Just want a romantic dinner? Check out Brisbane's best restaurants here.
Image credit: GoBoats, Cenote Casa, Victoria Park, Amazing Co