We're always giving you guys some pretty great tips on how to get your chow on in Brisbane, but we also like to balance that out by giving you some great tips on how to get outdoors and explore too.
If you're trying to find a great way to spend your weekend that doesn't involve Netflix and ice cream, we've unearthed some of the best spots for hiking near Brisbane. So, whip on your hiking boots, get out there and start exploring.
Mt Barney
This three-hour return walk along a rocky trail to the Lower Portals of Mt Barney is well worth the workout. As well as being a pretty (and calorie-burning) hike, the pools at the end are a sight to see, framed on either side by granite boulders. It's a stellar spot for a summer dip, and you can also camp nearby, though you will need to sort your permit in advance.
Mt Coot-tha
Starting from the Mt Coot-tha lookout and winding down to the JC Slaughter Falls picnic area, Summit Track is one of the most iconic hikes in Brisbane for very good reason. This trail, located only a hop, skip and jump from the CBD, features an Aboriginal art trail, a gushing waterfall (after a good rain day) and spectacular views over the city from the summit. Sunset is a particular favourite, as the sun paints the sky in the most gorgeous colours, while many locals use the trail purely for exercise.
Mt Tamborine
Aptly named, 'the green behind the gold' Tamborine Mountain has a wealth of incredible walks and hikes just begging to be explored by foot. From the moderate walks at Witches Falls and Sandy Creek Circuit, to the gorgeous Palm Grove Rainforest Circuit, any time of year is a good time to visit. From sub-tropical palms to imposing giant strangler figs and lookout points seemingly on every corner, these walkways are perfectly suited for the more relaxed walker.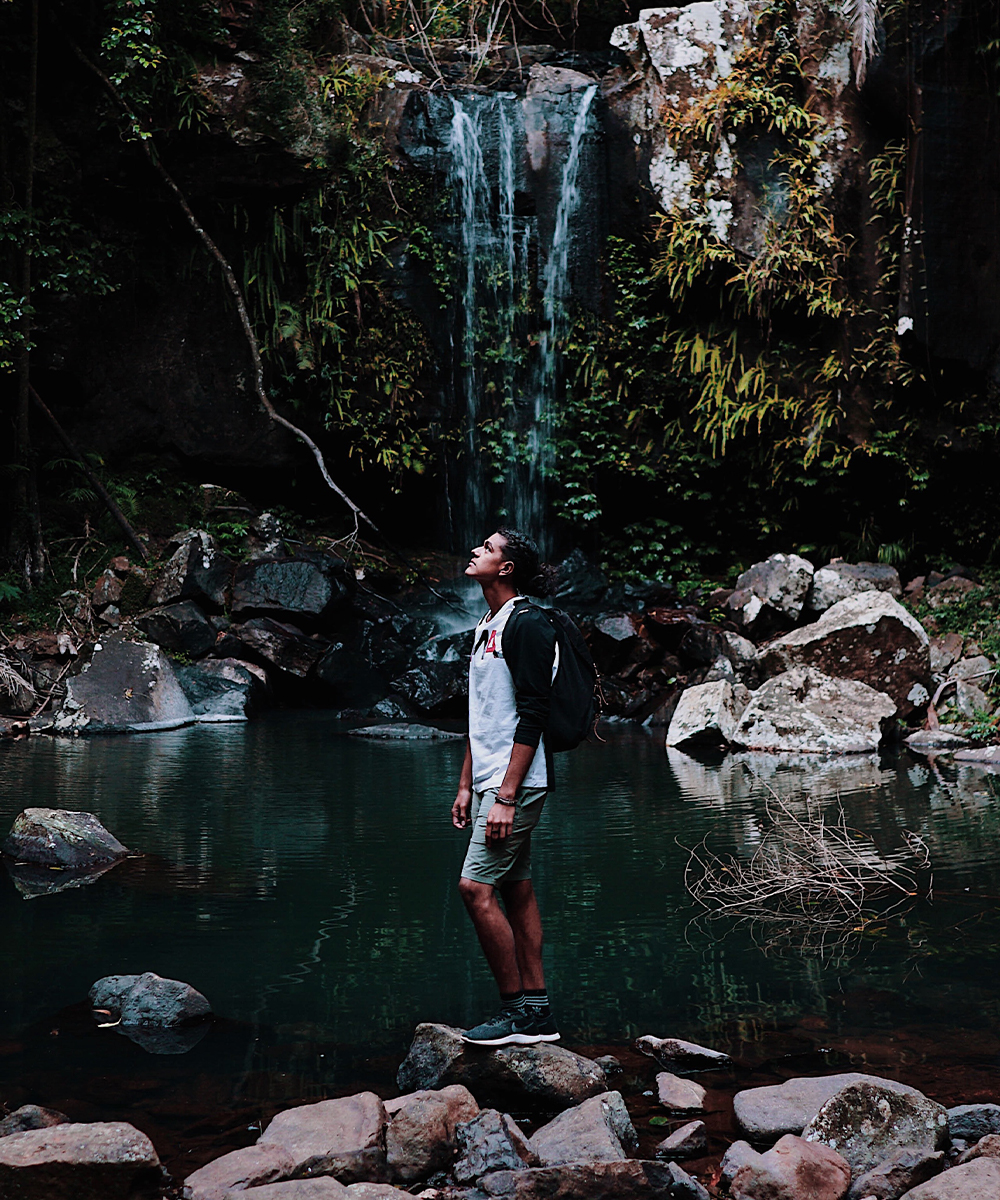 Lamington National Park
While this one is a little bit of a journey away from our fair city, Lamington National Park is home to a collection of stunning natural splendours that should be at the top of everyone's bucket list. The Morans Falls track easily takes the prize for best bushwalk near Brisbane, winding through layers of volcanic lava flows and a subtropical rainforest before ending with killer views over Morans Falls and the surrounding valley. This adventure is one that will definitely make it onto your Instagram feed.
Glasshouse Mountains
How do you get the best views of the Glasshouse Mountains? Climb one of them, of course. While they've all got their pros, if there's one to add to the to-do list this season, it's Mount Ngungun. With uninterrupted views of the neighbouring mountains, your Ngungun experience is guaranteed to put a spring in your step for the rest of the day. The round trip takes about two hours and, while any time is a good time to climb, we're a sucker for a sunrise at the summit.
Springwood Conservation Park
What used to be a quarry site is now a hidden forest paradise set in the middle of suburban Brisbane. The area boasts caves and cliffs, a gorge and rocks precariously balanced atop one another as well as wildlife including koalas and sugar gliders. Try the short Stringybark Lookout track at 570m or the Gorge Discover Circuit at 1.45km which will take you out to the gorge and back. Just be prepared to tackle a deathly set of stairs that will put your buns and legs to the test.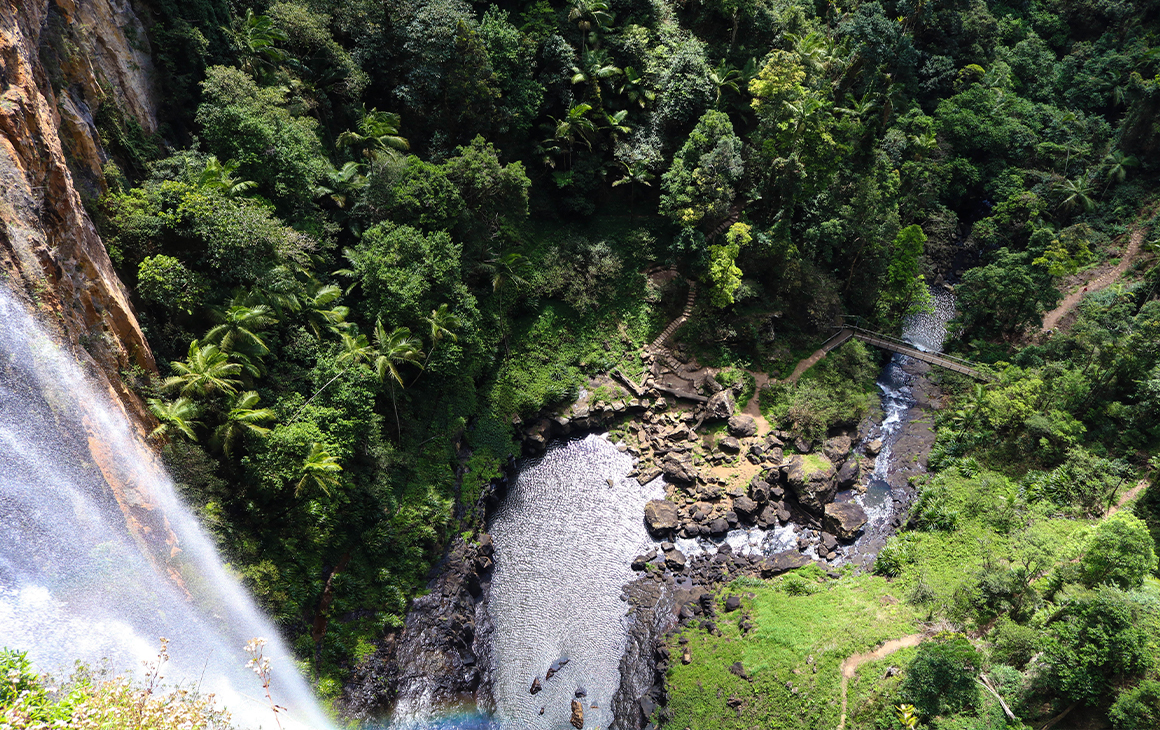 Springbrook National Park
Springbrook National Park offers heaps of different trails including the famed Natural Bridge Circuit (about an hour walk) with some of the most stunning waterfalls you'll ever see, and even glow-worms in the evening, as well as the rewarding two-hour Twin Falls circuit on which you pass behind two waterfalls. For those who are a bit more serious, the 14-kilometre Warrie Circuit (about a six-hour return journey) will see you descend into the rainforest, cross creeks and gullies, and ascend the western side of the gorge.
Kondalilla Falls National Park
The Kondalilla Falls area is abundant with native animals, including wallabies, platypus, goannas and many different species of frogs and birds. A trip to this corner of the Blackall Ranges will see you exploring winding wooden pathways and towering trees, straight out of your Ferngully dreams. Try the 4.7km Kondalilla Falls Circuit which has over 300 steps and passes through the freshwater rock pools of Skene Creek, perfect for a quick dip to cool down.
D'Aguilar National Park
There are a few different trails you can take in the D'Aguilar National Park, from the moderate to the more advanced, depending on your abilities and experience. The Park offers spectacular views out to Moreton Bay and the chance to explore subtropical rainforest, hoop pines, waterfalls, eucalypt forests and remote gorges. If you're unsure where to start, try the 1.9km Rainforest Circuit.
Prefer to stay a little closer to home on your hiking adventures? Find your favourite urban Brisbane walks here.
Image credit: Marc James, Chris Fuller, Sebastian Hans