Move aside, rom-coms: we're upping the standards for date night goals everywhere with the top spots for mini golf Brisbane has to offer.
It's time to whip out those score-cards and prep your trash talk (not too trashy though—it is date night guys), because these courses are the best relationship test this side of IKEA. Fancy a round? Here's where to find the best mini golf courses in Brisbane.
X Golf's Hey Caddy
North Lakes
If you're like the rest of us and have missed international travel, then X Golf's Hey Caddy is here to help by taking you on an 18-hole round trip. Located in the centre of North Lakes, Hey Caddy brings a superior putt putt experience allowing players to touchdown at Coachella, visit the Great Wall of China, explore Melbourne's Hosier Lane, and even experience Mexico's Day of the Dead. Away from the healthy competition on the golf course, Hey Caddy also offers a range of food options as well as a fully licensed bar for those wanting to enjoy time on the sidelines. Open day and night, Hey Caddy is the perfect location for a family outing, a boozy afternoon with friends or even a date night.
Holey Moley
Fortitude Valley And Brisbane City
Brace yourself for complete and putter madness. Holey Moley, the cult-like chip-and-putt that took the city by storm a few years ago now has two epic Brisbane locations, and you'll want to make sure you check them both out. Their Fortitude Valley location was once a church but it's now a huge, two-storey, putt putt lover's dream. Their newer Brisbane city location is inside Strike Bowling, so if you find yourself sick of mini golf (which is practically impossible) then you can always take the competition to the bowling alley. Both venues are offering an abundance of punny cocktails and plenty of food to keep everyone satisfied.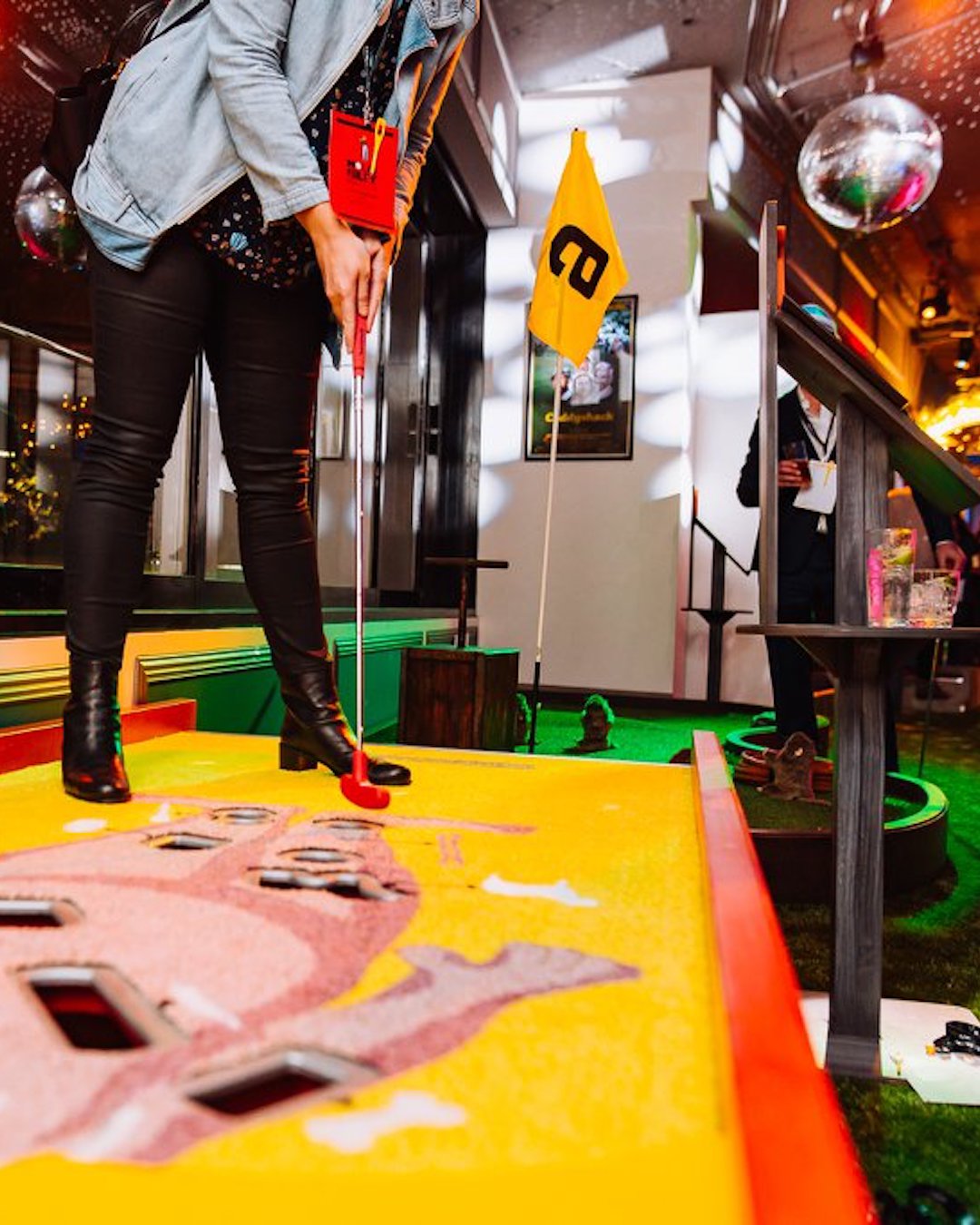 St Lucia Golf Link
St Lucia
Set amongst the beautiful, leafy St Lucia scenery this putt putt course is part of the stunning St Lucia Golf Links venue. The course's new addition is perfect for those who like the idea of golf but not the whole serious golfer thing—so basically most of you. The putt putt course is open from 7am to 9pm daily so you can go every night after work to brush up on your skills before you get your gang together for a round. You're also more than welcome to grab a drink from the Garden Golf Pavillion Bar to quench your thirst while you play.
Undersea Putt & Play
Redcliffe
If you've ever found yourself playing putt putt and wishing you could play underwater, surrounded by glow in the dark sea creatures, you are in luck. Redcliffe has the perfect course for mini golf lovers looking for a change of scenery. Undersea Putt & Play is perfect for kids and adults alike—the 18-hole green transports you to the bottom of the ocean with real and mythical sea creatures being the feature of the course. Once you've completed the course there's a café and bar attached, plus an arcade full of games if you want to stay competitive.
Golf Central Brisbane Airport
Skygate
Ladies and gentlemen, this is your captain speaking. Stow those tray tables and get your driver ready, we're about to travel the world in 18 holes. Whether you're touching down, waiting for a flight or shopping until you drop at DFO, this spot is worth a fly by for some of the best mini golf Brisbane has to offer. Plus, with balls served up next to beer, burgers and punny cocktails (shout out to the Who's Your Caddy), a round at Golf Central just sounds so much better than trawling the sales racks at DFO, doesn't it?
Victoria Park
Herston
Got a few hours to putter around? Brisbane icon Victoria Park is known for some of the best mini golf fun in town (and not just for the frosty beer you can sling in your other hand). Whether you're mapping out date night or your next birthday gathering, this fully licensed day and night course is the ultimate mini golf experience. Bonus, the views of the city skyline are something else, as long as you tear your eyes away before you start swinging.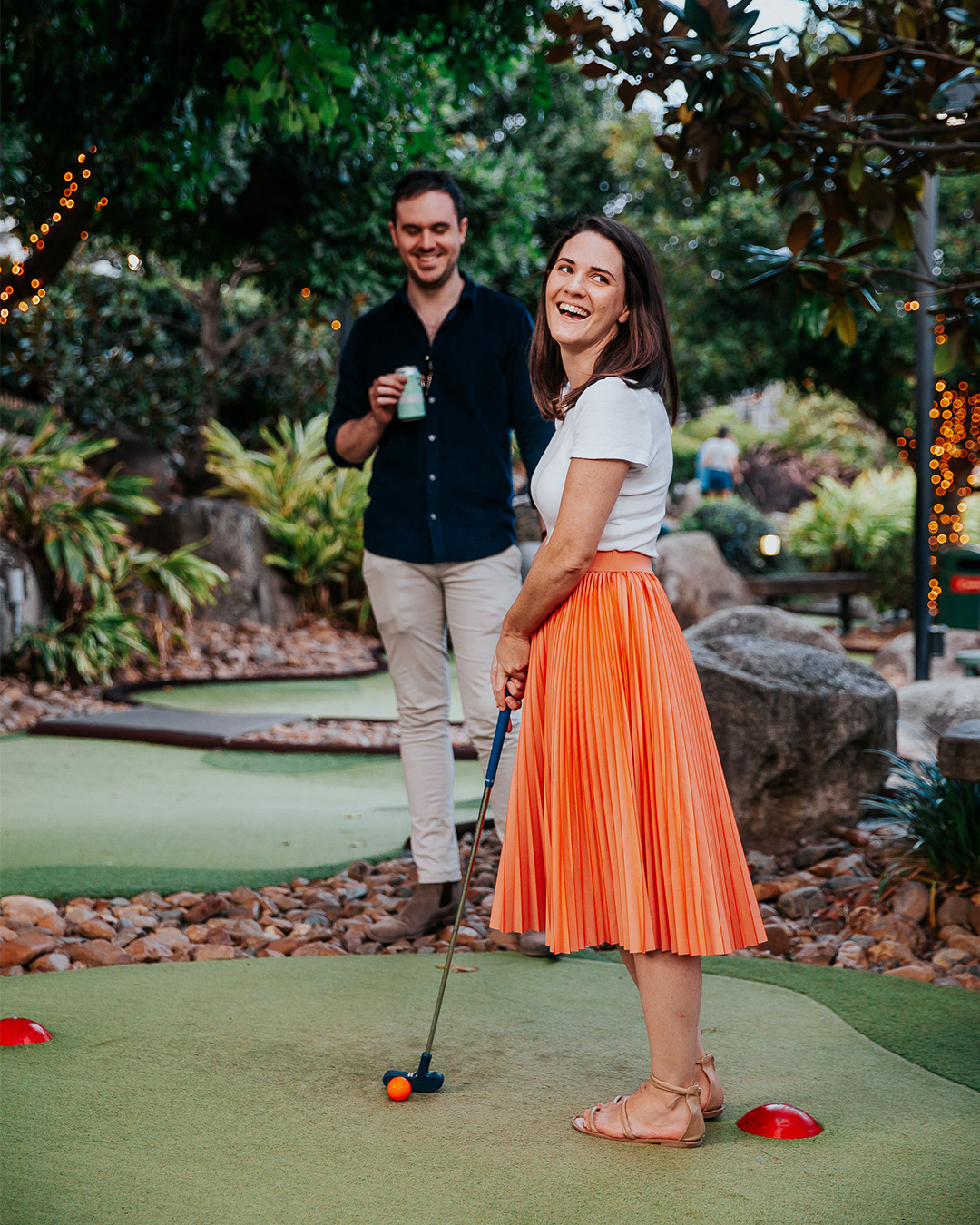 Meadowbrook Golf Course
Logan
The Meadowbrook mini golf course is truly one of a kind. It's the first ever mini golf course in Logan so now southsiders can access the exhilarating fun that is putt putt right on their doorstep. The 18-hole course caters for both pros and beginners so if you're just getting started in your mini golf career there's zero judgment here. To top it off there's a food truck and beer garden adjacent to the course and the venue is fully licensed so you can sip and putt your way through the experience.
Thunderbird Park
Mt Tamborine
Just when you thought annihilating your friends' putt-putt scores couldn't get more beautiful, life, uh, finds a way. Like the elusive velociraptor, your very own Jurassic adventure lies in wait, tucked within the rainforest canopy of Mt Tamborine. Line up those balls at Thunderbird Park's dino-themed mini golf for an expedition through water hazards, rock traps, bridges and almost definitely no raptors. Probably.
Mt Gravatt Mini Golf
Mt Gravatt
Put your best foot forward at this out-of-the-box golfing experience. Along with 18 holes of mini golf, Brisbane putters flock to Mt Gravatt Mini Golf for its specialty footgolf course. Just for kicks, we recommend checking it out: footgolf swaps putters for your feet, and the golf ball for a soccer ball. You get the gist.
Putted yourself a high score at all the best mini golf Brisbane wide? Check out the best things to do on a rainy day.
Image credit: Hey Caddy, Holey Moley, Victoria Park