We've all had a 'what are the best things to do in Brisbane?' request from a visiting friend or family member and come up with an absolute blank when put on the spot. Or maybe you're always just feeling like your weekends are incredibly empty, and you need a lengthy list of things to fill them with, free, paid or otherwise.
Well, bookmark this site and prepare to start ticking things off (or tell all your friends and take credit for the ideas—we won't tell), because here are 50 of the absolute best things to do in Brisbane, whether you're a local or not.
Things To Do In Brisbane
1. Bask In The Sun At Howard Smith Wharves: Ask anyone where to take someone who's new to Brisbane and they'll tell you HSW. The wharves have become a quick favourite spot for lovers of great food, vibrant cocktails, and sunset views of the city from under the Story Bridge.
2. Sample The Best Of Brisbane's Food And Drink Scene On A Tour: If you don't know where to start exploring Brisbane's ever-growing food and drink scene, Kiff & Culture have you covered with their Artisan Food & Drink Tour, which stops at the likes of Southside, City Winery and Stone & Wood—they'll even drive you around the river city in a funky mini bus with your favourite tunes on full blast.
3. Keep Calm And Puzzle On In An Escape Room: Escape rooms are the ultimate bonding experience for the Pink Panthers among us. Look for clues, solve puzzles and enjoy a healthy dose of adrenaline—there's plenty to choose from, and you'll find Brisbane's best right here (there's even one with a bar).
4. Work Your Way Through Brisbane's Best Restaurants: Whether you're craving Japanese, Greek, or a mix of cuisines, Brisbane has a golden cohort of dreamy restaurants for you to dine in. From Same Same to Otto, say hello to feeds like no other at the best restaurants in Brisbane.
5. Hit The Dancefloor At A Live Music Venue: Nothing makes you forget your troubles like a couple of drinks at a good gig, and Brisbane has plenty of epic live music venues offering up local talent and massive acts who deserve to be heard and appreciated.
6. Shop Up A Storm At The Markets: Looking for fresh produce, artisan wares or tasty street food? You'll find all of the above at Brisbane's plethora of markets. Grab your favourite green bag (and pack your appetite) and find them all here.
7. Treat Yourself To A Bottomless Brunch: Introduce yourselves to the best meal of the day and before-noon drinking with a decadent bottomless brunch. Is it even brunch if there isn't a mimosa involved?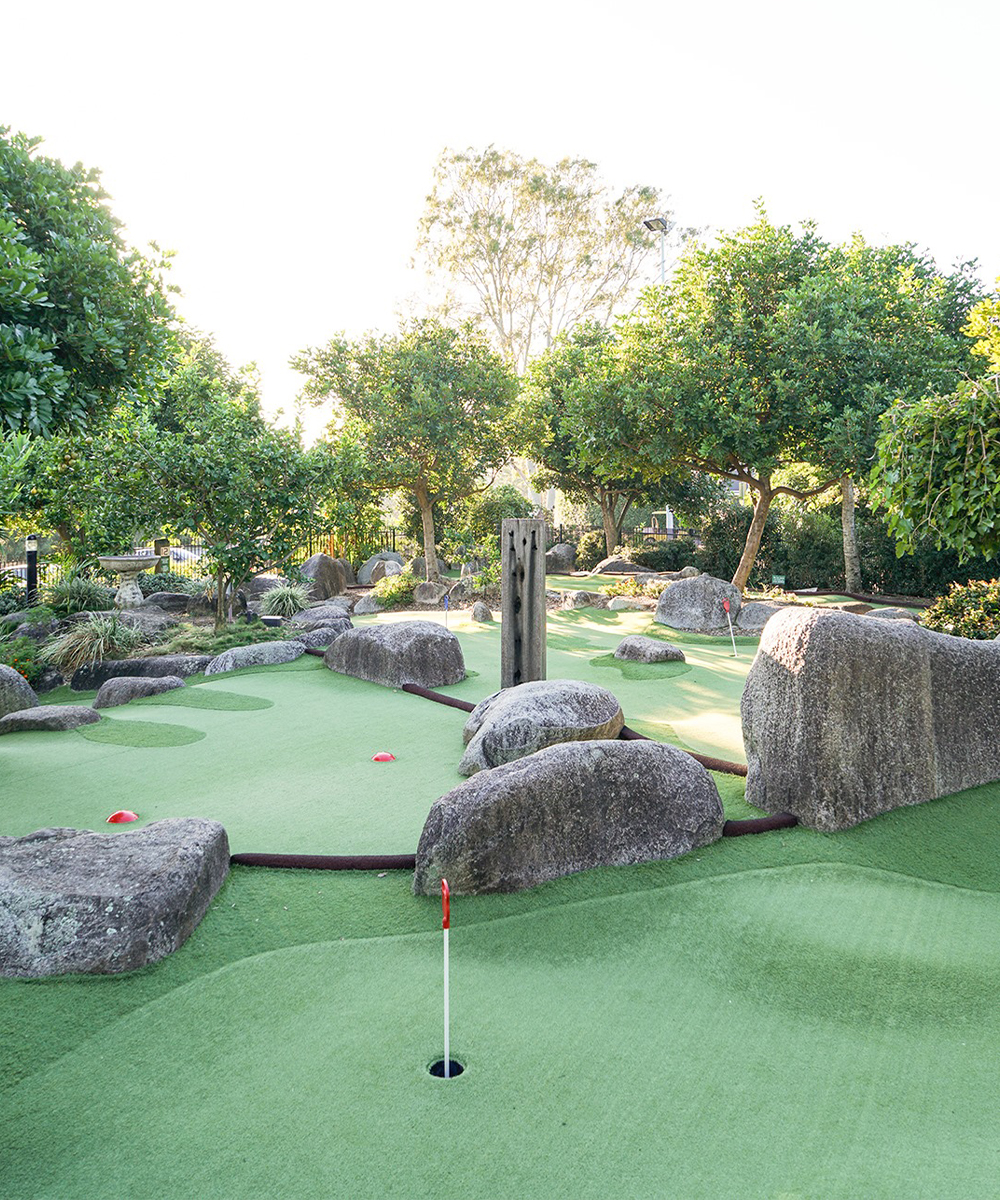 8. Get Competitive With A Game Of Putt Putt: Whether you want to putt your way through a crazy, indoor course with a sugar-laden cocktail in hand or catch the breeze at a chill (but still licensed) outdoor mini golf arena, Brisbane has it all. Find the best places to do it here.
9. Crack Open A Cold One At A Local Brewery: Breweries are plentiful in Brisbane so you'll have a great selection of venues to work your way through—preferably not all on the same day. Quench your thirst here.
10. Start Your Day At A Suburban Cafe: If there's one thing Brisbane has a lot of, it's amazing suburban cafes, dishing up seriously good breakfasts. In fact, there's so many of them, that we rounded up 50 to eat your way through with ease, and you'll find them right here.
11. Get Cultured At QAGOMA: Soak up the iconic permanent curation of art in Queensland Art Gallery or the vibrant, thought-provoking exhibitions at the Gallery of Modern Art, situated next to the State Library and Queensland Museum in South Bank. One of the best things to do in Brisbane, there's always something on for everyone so enjoy the air-con and channel your inner art critic.
12. Blend Your Own Wines At This Workshop: If you're keen on blending your own wines, City Winery's team of experts have you covered at this workshop. You'll even be able to take home your personal blend—it's a vino dream come true.
13. Make Your Own Gin At Brisbane Distillery: West End is home to a legit gin school, where you can learn how gin is made and bottle your very own concoction. Brisbane Distillery is where the magic happens—book yourself a lesson stat.
14. Feel Like Picasso At A Paint And Sip: Grab that bottle of wine sitting in your fridge and pop on an apron for a BYO paint and sip session. There's a studio in just about every corner in Brisbane (and even a clay and sip class if that's more your vibe), and you'll find them all here.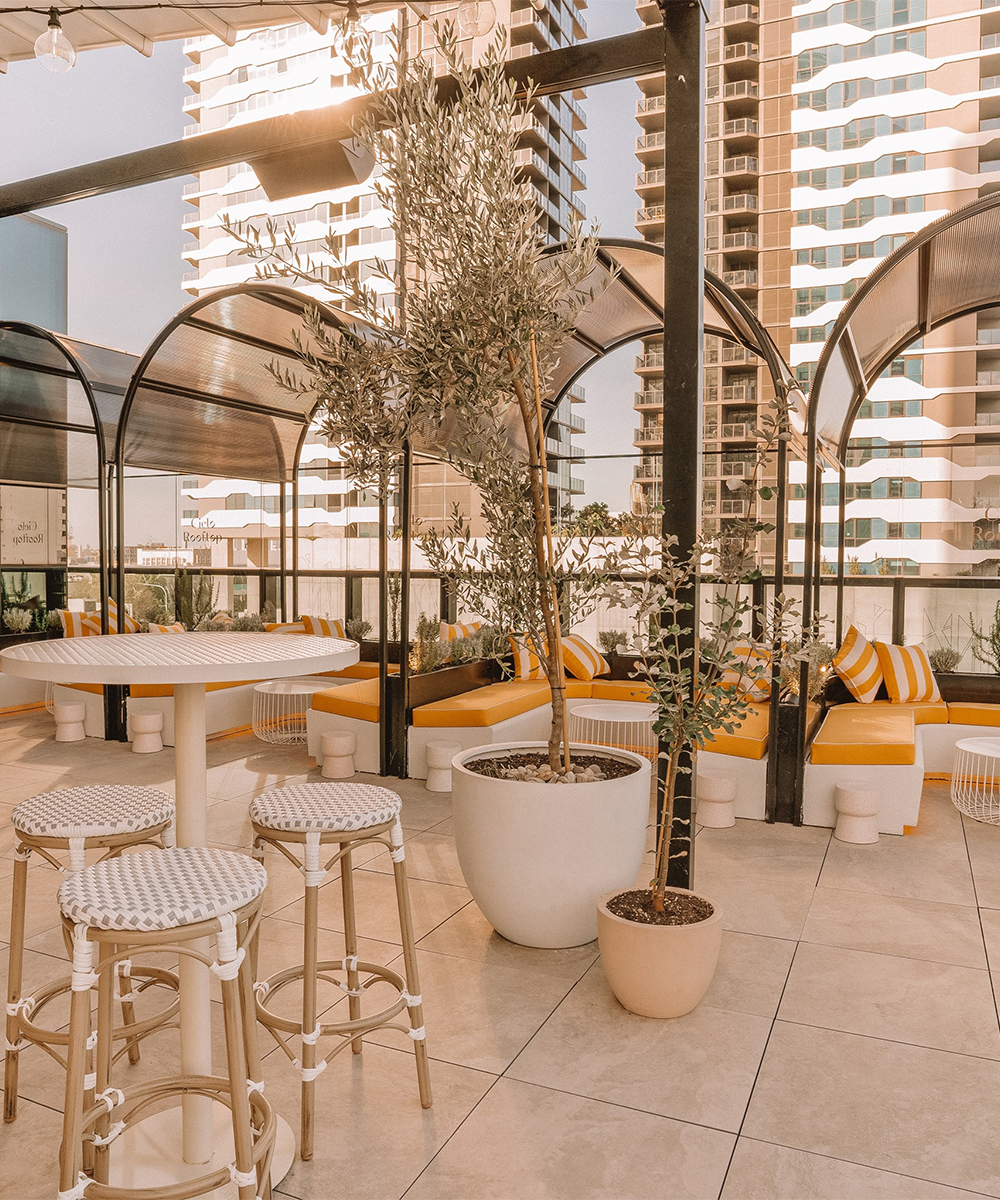 15. Enjoy The View From A Rooftop Bar: One good thing about Brisbane's endless summer is that it always accommodates rooftop bar drinking. Get ready to feel like royalty gazing over the city centre with a cocktail in hand. Find our faves here.
16. Feast On A Nine-Course Degustation: Deer Duck Bistro in Milton is famed for their incredible degustations, so if you're looking for one of the best foodie experiences in town, this is it. Nibble your way through nine delectable courses in their old world surroundings, and always get the matched wines. Book in here.
17. Eat Your Way Through Eat Street: This riverside containership market is full of all the street food delights you can think of, so wear loose clothing and prepare to feast. We recommend sharing plenty of smaller dishes, so you can eat more.
18. Take In The City Lights On A Night Climb: Enjoy Brisbane's night life with a twist on this three hour night climb of Kangaroo Point Cliffs. Everyone is welcome, from beginners to experienced climbers and equipment is provided so just show up and start climbing.
19. Get Romantic With A Pop-up Picnic: Picnic in style with a pop-up picnic set up for you in a location of your choice (we'd highly recommend by the water in Kangaroo Point). You'll be greeted with a full set-up—low set table, rugs, cushions, table setting and a picnic hamper.
21. Enjoy A Game Of Barefoot Lawn Bowls: Young or old, a classic game of lawn bowls will surely put a smile on your face. Take your shoes off, put your best linen outfit on, and book yourself a session at one of the best bowls clubs in Brisbane.
22. Hit Up This Grown Up Arcade Bar: B Lucky & Sons is an adult playground, filled with classic arcade games that you can play with a cocktail in hand. If you're after things to do in Brisbane, it doesn't get more fun than this.
23. Try Your Hand At Axe Throwing: If you want to take a walk on the wild side why not try axe throwing at MANIAX. Let off some steam and enjoy a beer while you do it—just watch where you're throwing.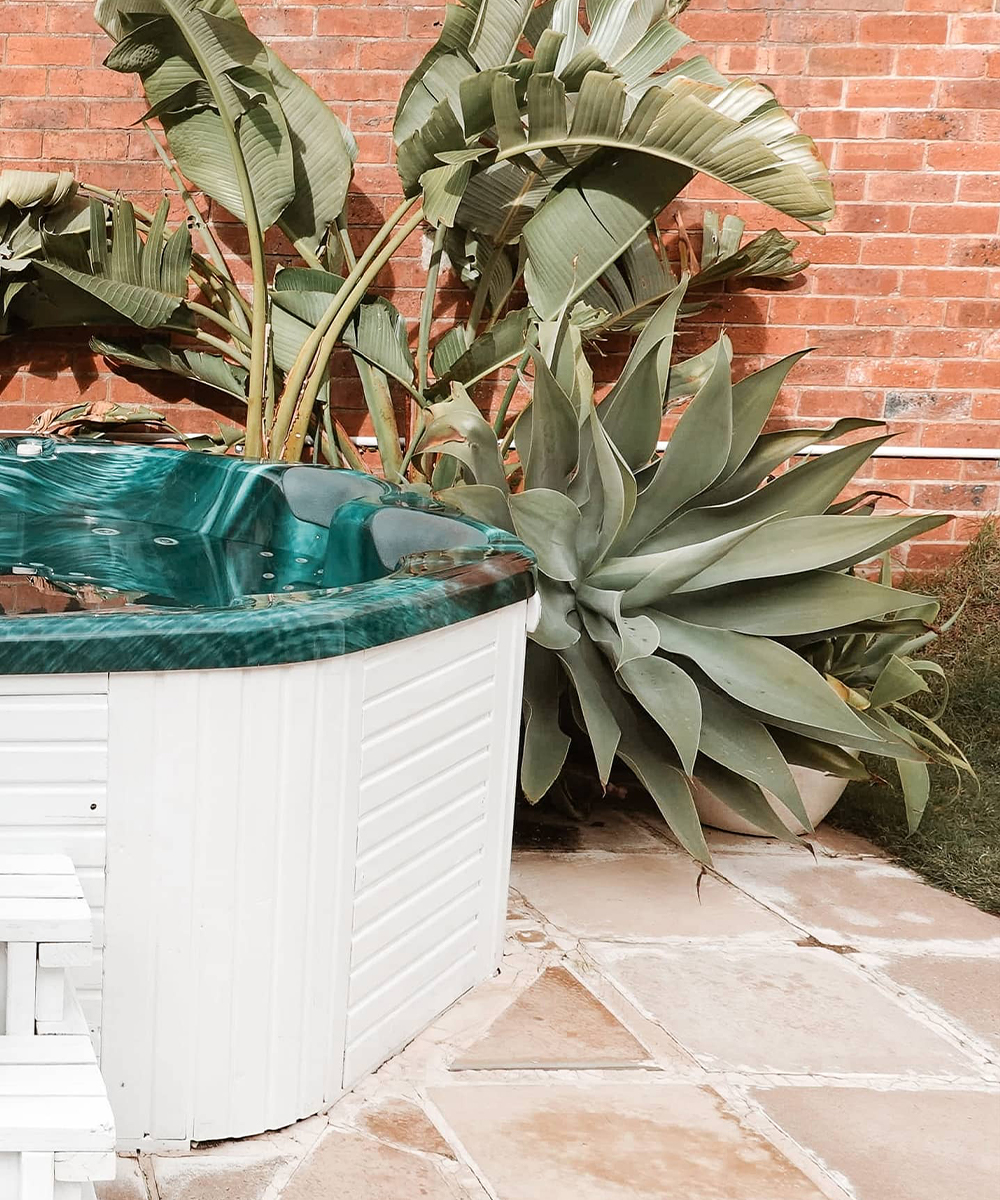 24. Soak In Luxury At This Outdoor Bathhouse: If you're looking to relax, Cenote Casa Bathhouse in Woolloongabba is the place to do it. This hidden oasis has a spa, sauna, steam room and magnesium pool, and it's only $45 for a two hour session.
25. Shop Designer Labels On James Street: Forget the Queen Street Mall, if you've got cash to splash, James Street is the best spot for some lavish retail therapy. Shop your way through Sass & Bide, Zimmerman, Witchery and more, then stop for a drink at one of the many bars.
26. BYO Picnic By The River At New Farm Park: Grab a blanket, some snacks and a cheese board and bask in the sunshine on a picnic at New Farm Park. Hot tip: this is one of the few public places you can crack open a drink (Roma Street Parkland is another if you're curious), so pack a bottle of wine too.
27. Feast Your Eyes On Some Street Art: Hidden down laneways, emblazoned on bridges and brightening up plain walls, Brisbane's street art will dazzle you. Have a stroll and go exploring—you can find some epic murals here.
28. Explore Brisbane's Hidden Laneways: Have a little sticky beak in all of these laneways and discover the hidden gems of Brisbane. Trust us, you'll feel like a tourist in your own city with all these tucked away spots.
29. Venture Into A Sea Of Purple On A Jacaranda Walk: Around September every year, Brisbane is carpeted in purple, thanks to the jacaranda trees dotting the city. You'll find the best places to see them here.
30. Walk The Brisbane City River Loop: Get your sporty spice on while soaking in city and river views on the lengthy river loop which includes a stroll through the City Botanic Gardens. Don't worry, there's plenty of places to get sustenance on the way, or you might even prefer to do it on a scooter.
31. Brush Up Your History At A Museum: Brisbane has a whole lot of fascinating museums waiting to be discovered by the budding historians inside us all. Save them for the next rainy day.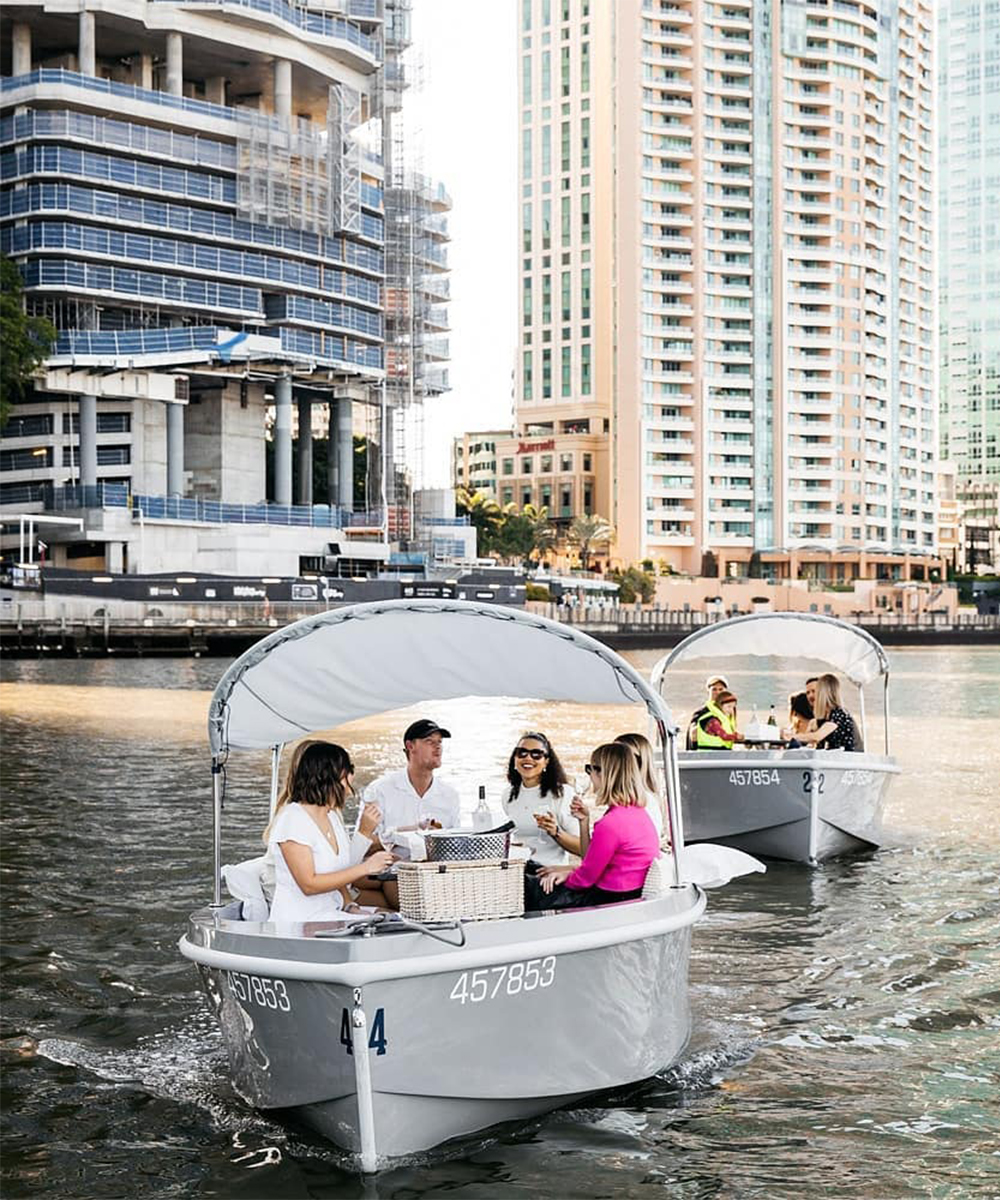 32. Cruise Up And Down The Brisbane River: Courtesy of GoBoat, you can cruise along the river in one of their electric picnic boats. Bonus, they're even dog-friendly, and you can BYO food and drinks (yes, even booze).
33. Cuddle A Koala And Feed Some Roos: Nestled in Brisbane's west side is Lone Pine Koala Sanctuary, where you can get up close and personal with a koala and meet a few other Aussie animals.
34. Hit A Bullseye At This High-Tech Darts Bar: This darts bar features a modern twist on a classic game where you'll bid farewell to the chalk scoring board and say hello to a high-tech automatic scoring system. Be on you're A-game—there'll be no room for fudged results in these dart games.
35. Play Pinball At This Awesome Arcade Bar: Take your pick from 15 vintage pinball machines, 25 arcade games and classic board games from the 70s at Netherworld Arcade Bar. The venue doubles as a diner, serving food and drink until late—sounds pretty ideal if you ask us.
37. Throw A Frisbee Around A Disc Golf Course: Ever played 18 baskets of disc golf? Well, here's your sign to dust off your frisbee and do just that at this disco golf course in Carindale.
36. Smash Stuff To Let Your Rage Out: Let out your pent-up anger, stress, or pain at Rage Cage, a room full of stuff for you to literally bash to heart's content with a baseball bat. It's cathartic, badass and the perfect destruction therapy.
37. Hop On A Brewery Tour Along The River: Brewery hopping has never been so easy thanks to River To Bay's river cruise that stops up and down the Brisbane River, hitting multiple breweries along the way.
38. Embrace The Greenery At A Manicured Garden: Inhale that fresh air and admire the botanical delights of the best gardens in Brisbane. Put on your Sunday best and be prepared for the endless photo opportunities. Mt Coottha Botanic Gardens is our favourite, where you can also stop at the Sir Thomas Brisbane Planetarium during your visit.
39. Catch A Movie At Blue Room Cinebar: This is a movie night with a difference—this tiny boutique cinema features comfy plush armchairs and lets you order dinner and drinks right to your seat, all for the standard ticket price of $16.50.
40. Puzzle Your Way Through A Challenge Hotel: Hijinx Hotel may look like a New York-style hotel bar, but inside are 10 challenge rooms to puzzle your way through, before you reward yourself with a drink at the bar.
41. Test Your Knowledge At A Trivia Night: Put all the random facts floating around your head to good use at one of Brisbane's best trivia nights. Grab some friends and put your knowledge to the test over a few beers—you might even win something.
42. Get Spooked On A Ghost Tour: Soak in a bit of Brisbane's haunted history on a ghost tour of Toowong Cemetary, Queensland's largest burial ground and undoubtedly the city's spookiest spot. Bring a friend, it might get pretty chilling.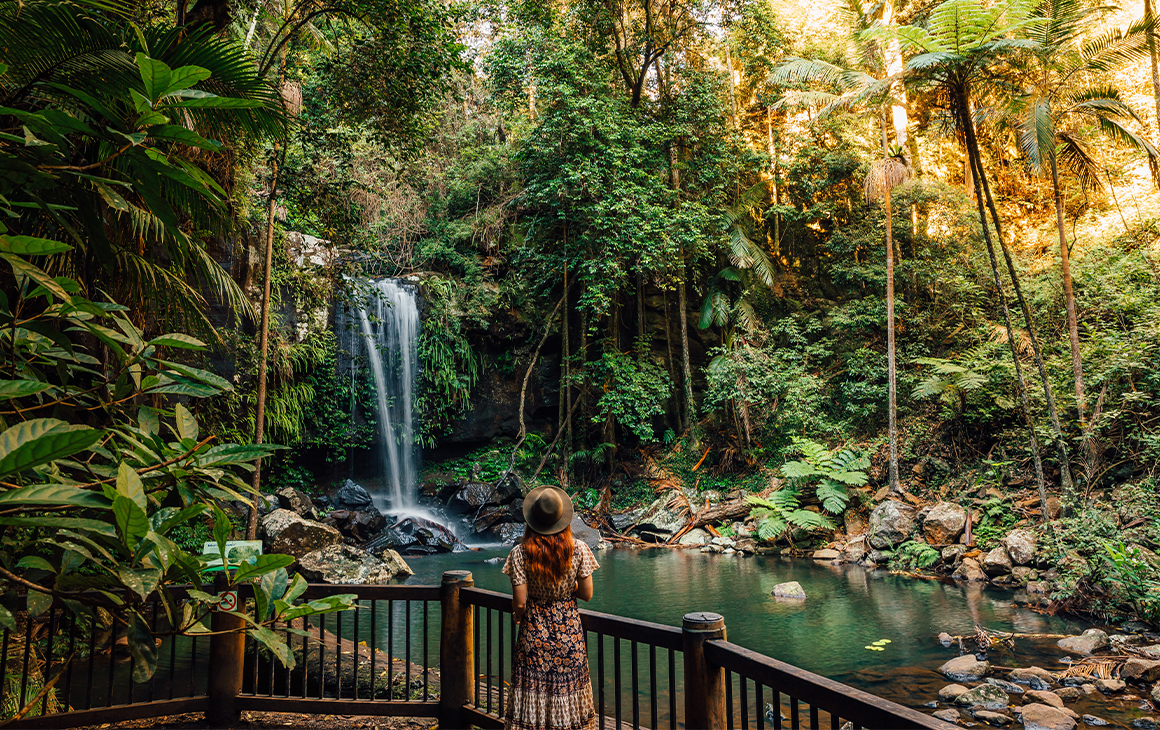 Things To Do From Brisbane
43. Go Chasing Waterfalls: Discover the best waterfalls in Brisbane all while getting your daily steps in with these epic hiking tracks. Not to mention, once you've reached your waterfall destination, it's the perfect spot to cool off.
44. Lace Up Your Boots For A Nature Hike: If you're looking to shake up your usual indoor routine, go for a hike and explore all the beautiful views, peaks and scenery around Brisbane. Who said you need to spend money to have a good time? Find our favourites here.
45. Venture Up The Mountain For A Wine Tasting: Witches Falls Winery is tucked away in Tamborine Mountain, but they're worth the drive for their amazing wines. You don't need even to break the bank—book in a tasting for $10 and pair it with an epic cheese board.
46. Picnic With An Alpaca: Sip wine and picnic in good company with an adorable alpaca (yes, you read correctly) thanks to Mountview Alpaca Farm in Canungra. You'll leave with a new bestie—and plenty of selfies on your camera roll.
47. Pretend You're At Hogwarts At A Harry Potter Store: Whether you need a new wand or you're after a sorting hat, The Store of Requirement in Samford has it all. Jump on your broomstick and go.
48. Island Hop Over To Tangalooma: It's paradise on our doorstep—Tangalooma Island Resort is home to breathtaking crystal clear waters, impressive sand dunes and friendly dolphins. Relax on the beach or join the activities on the island which is just over an hour's ferry ride from Brisbane.
49. Take A Dip In A Stunning Natural Pool: Grab your togs and be swept away by the beauty of the hidden creeks, waterholes, lakes, waterfalls and beaches in and around Brisbane. Nothing beats the serenity of these pockets of natural paradise—find our favourite natural pools here.
50. Whale Watch Like A Pro: Channel your inner David Attenborough and go whale watching at one of the many sites near Brisbane during the season. If you're looking for a little magic in your lives, spotting one of these gentle giants will seriously make your week.
Want more things to do in Brisbane? Check out our what's on guide, updated every month, here.
Image credit: Urban List archives, Victoria Park, Cielo Rooftop, Cenote Casa, Go Boat