If there was ever a time to shop local, it's now. Plenty of Brisbane's top local creators, producers and makers are at the markets, ready to fill your home, fridge and pantry with the coolest locally made goods and the freshest produce you can buy.
Grab your green bags and get shopping at all the best markets in Brisbane.
Keep scrolling for:
Pop-Up Markets
QAGOMA Autumn Design Market
Almost 60 of Brisbane's best local independent artisans will be popping up at the QAGOMA Autumn Design Market, which takes over the Gallery of Modern Art Forecourt on Sunday 19 March. Meet the makers and treat yourself to a diverse selection of ceramics, jewellery, homewares, textiles and clothing, with a backdrop of music by local DJs. Even better, make a whole day of it and see the blockbuster 'Air' exhibition at GOMA, featuring immersive and large-scale works by leading Australian and international artists.
When: Sunday 19 March, 9am to 4pm
Where: GOMA, South Brisbane
QLD Vegan Markets
Eat your way through the best in plant-based bites at the first Portside Wharf QLD Vegan Markets on Satruday 25 March. With live music to enjoy as you shop and taste your way through a line-up of more than 30 stalls, both vegan and vegan-curious market-goers can browse the lifestyle, fashion, and delicious food offerings, including BBQ not-pork buns, Mexican tacos, miso-glazed fries, brown sugar boba sundaes and much more.
When: 12pm-7pm, Saturday 29 April
Where: Portside Wharf, Hamilton
Farmers Markets In Brisbane
Brisbane City Markets
Ditch the supermarket and stock up on your weekly shop at the Brisbane City Markets. Bringing together the best artisans and producers from across SEQ, this is the place to pick up some of the freshest produce, to get your mid-week fix and check out some of the tastiest food stalls in town. Best of all, they're now in TWO locations, Reddacliffe Place on Wednesdays and Cathedral Square on Thursdays. The Brisbane City Markets are set to reopen in early February, so you've got no excuse to miss out on a drool-worthy lunch.
When: Every Wednesday, 8am–4pm, Reddacliffe Place, and every Thursday 8am-2pm, Cathedral Square
Where: Reddacliffe Place and Cathedral Square, Brisbane City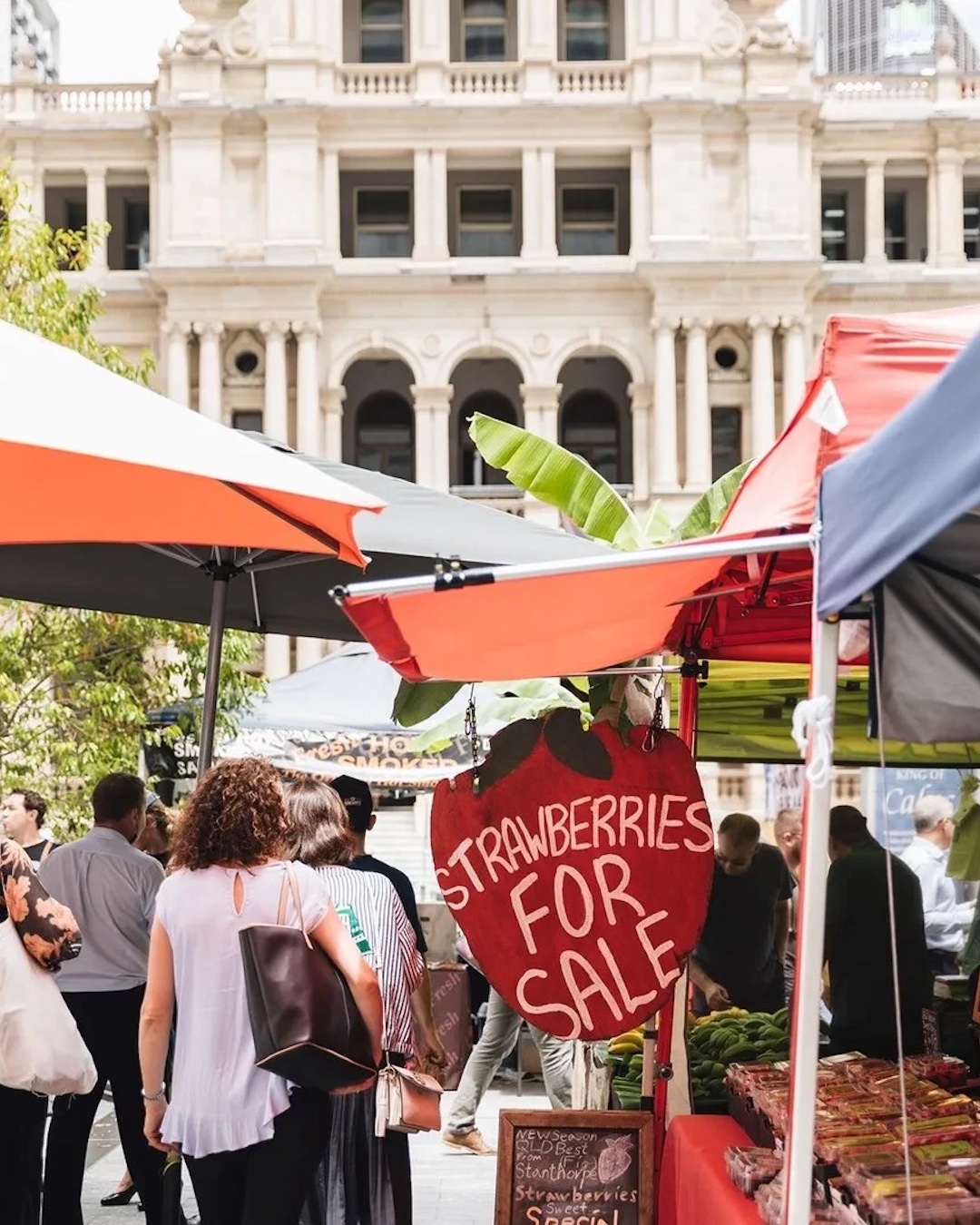 West End Market
A Brisbane institution, the West End Market is where you'll find a little bit of everything—from a number of local growers and producers selling their delicious wares to a heap of food trucks and local food stalls dishing up tasty eats, not to mention plenty of local craftspeople and creatives. Basically, you'll plan to just do your weekly fruit and veg shopping but come out with a heap of pantry goodies, a full stomach and probably a new outfit and some homewares. And you won't regret a thing.
When: Every Saturday, 6am—1pm
Where: Davies Park, West End
Nundah Farmers Market
You northsiders really are spoilt with Nundah's iconic Farmers Market. Open every Sunday from 6am to midday, you early risers are a shoe-in—it's the ideal spot to grab a bite to eat and a coffee from one of the stalls serving up freshly made brekky burgers, croissants and crepes. While you're there, it would be a crime if you didn't pick up your fill of Brisbane's best fresh fruit and veg too.
When: Every Sunday, 6am–12pm
Where: Station St (oppopsite Nundah Train Station), Nundah
Northey Street City Farm Organic Market
Didn't know Brisbane had a city farm? Well we do, and it's great. Also great is the Sunday markets they put on every weekend selling hyper local (aka farm fresh from next door) produce. Northey Street City Farm Organic Market is all quaint country feels—with all the food and fresh fruit and veg you'd expect—just in the heart of the city fringe. God, we're a lucky bunch.
When: Every Sunday, 6am–11am
Where: Northey Street City Farm, Windsor
Kelvin Grove Village Markets
Who doesn't love a little market trip on a Saturday morning to put off that weekend to do list. Every Saturday morning Kelvin Grove Village hosts a popular market in the heart and soul of the village. Farmers market style with organic fruits and vegetables, meats and cheeses and all of the fun arts and crafts your heart desires. The perfect way to start off your weekend right.
When: Every Saturday, 6am–1pm
Where: Kelvin Grove Village
Bardon Markets
They may be small in size, but Bardon Markets pack a punch. This quaint community market is all for its locals, and then some! Usually stocked with fresh fruit, veg, eggs, meat and baked treats, you seriously won't look back—but we urge you to hunt down the sausage rolls. 10/10.
When: Sundays, 7am–12pm
Where: Norman Buchanan Park, Bardon
Jan Powers Farmers Markets
The Jan Powers Farmers Markets are perhaps the jewel in the Brisbane market crown. In four fab locations across Brisbane and her surrounds, these gorgeous Brisbane markets are particularly tempting when the sun is shining. From the absolute best local produce, to the huge array of stallholders serving up some choice dishes, they are consistently voted the ultimate Brisbane market experience—and for good reason!
Brisbane Powerhouse
When: Saturdays from 6am–12pm
Where: Brisbane Powerhouse
Manly
When: Every 1st and 3rd Saturday of the month, from 6am–12pm
Where: Waterfront, Manly Harbour Village
Mitchelton
When: 1st Sunday of the month, 6am–12pm
Where: Blackwood St, Mitchlelon
Saturday Fresh Markets
These are some serious markets for serious market-goers—and we're not kidding. The Saturday Fresh Markets have been going strong for years and showing no signs of stopping—heck, not even the 2011 floods could stop them! With everything from fruit and veg to meat and fish, treats, flowers, pet supplies, nuts, honey, eggs, dairy, bulk shopping is a must! The Saturday Fresh Markets have recently reopened in a new undercover location, so add it into your calendar and get shopping!
When: Saturdays 6am–12pm
Where: Sherwood Road, Rocklea
Milton Markets
The Milton Markets are adult, kid and pooch-friendly and are all about supporting our local South-East Queensland farmers, growers, artists, chefs and alike. Head on down for a great selection of the best local produce around! Be quick though (stock doesn't last long!).
When: Every Sunday, 6am–12pm
Where: Cribb Street, Milton
Carseldine Farmers And Artisan Markets
In-season and all-local fresh produce, the Carseldine Markets are the perfect spot to feast and enjoy local live music. Relax, unwind—there's plenty of room for the kids to run around—and enjoy a quality coffee. A Brisbane market must-do this month.
When: Every Saturday, 6am–12pm
Where: QUT campus on Beams Road, Carseldine
Lifestyle Markets In Brisbane
The Market Folk
There's nothing quite like local shopping, talking to the maker and getting a feel for the product—which is exactly what you can do at The Market Folk's regular market pop-ups across. Shop fashion, art, vintage, homewares, plants, pots, ceramics, skincare and more. You'll know you're buying local, because the creator will be right there behind the stall. Their full 2023 calendar is still in the works, so keep an eye out for event announcements here.
The Handmade Markets
A market under flying whales—now that's something you don't see every day. The Handmade Markets take place on the second Saturday of every month, and they're worth the visit. Explore the artisanal product range from over 60 local makers. Located in the Whale Mall within Queensland Museum, come see the incredible quality and craftsmanship from the Queensland community. And don't worry, the onsite cafe will be ready with your frantic market shopping refreshments. Bonus, you can tie it in with a visit to GOMA next door.
When: 9am–3pm, second Saturday of every month
Where: Whale Mall, Queensland Museum
The Collective Markets
A Brisbane market institution and open until 9pm on a Friday and Saturday, the Collective Markets are the perfect occasion for a Friday night knock-off. Peruse a plethora of local artists showcasing handmade crafts, paintings, fashion, homewares and some of the best street food in town. On the first Sunday of every month, there's even more reasons to visit with the Young Designers Markets showcasing talented up and comers of the Brisbane art scene.
When: Fridays 5pm­–9pm, Saturdays 10am–9pm, Sundays 9am–4pm
Where: South Bank Parklands
Riverside Market
With so much to do, buy, eat and look, the Riverside Markets are a great way to spend a Sunday, especially now that they're bigger and better than ever. One of Brisbane's oldest running markets is also one of its most vibrant. With live music, loads of international food and coffee, and tons of art, fashion and gifts on sale you've got a bevy of fun things to do on your chill Sunday morning.
When: Every Sunday, 7am–3pm
Where: Brisbane City Botanic Gardens
Suitcase Rummage
Head to Brisbane Square for its bi-monthly Suitcase Rummage, where you can pick up anything from second-hand clothes and bags, to jewellery, shoes and one-of-a-kind homemade and handmade pieces. Get your hands ready to rummage, because these suitcases can be pretty full, and competition for a sequin jacket can get intense.
When: First and third Sunday of the month, 12pm–5pm Where: Brisbane Square, Brisbane City
The What We Make Design Market
A brand new monthly design market, The What We Make Markets kick off in Bulimba in March 2023, happening on the 3rd Sunday of every month (with the odd random Sunday thrown in to the mix—check their website for dates). Here you can find fashion, earrings, homewares, art, fair trade, ceramics and more, all created by amazingly talented Brisbane designers.
When: 3rd Sunday of the month
Where: Bulimba Community Centre, Bulimba
Brisbane Genki Markets
Located in the bustling Charlotte Street, the Japanese influenced Genki Markets are the perfect way to end the week. Expect Japanese snacks like takoyaki (fried octopus balls), taiyaki (fish-shaped sweet pastry) and matcha cakes ideal for on-the-go market shopping. Genki Mart owner, Mitch Fujimoto, started the event to show off local talents who create pottery, jewellery, crochet accessories and art. With gorgeous arts and crafts, delicious street food and drinks, and all-round positive vibes, how could you not want to visit? And if you miss out this time, there is always the following fortnight.
When: Two Sundays a month, check their socials for dates
Where: Charlotte Street, Brisbane CBD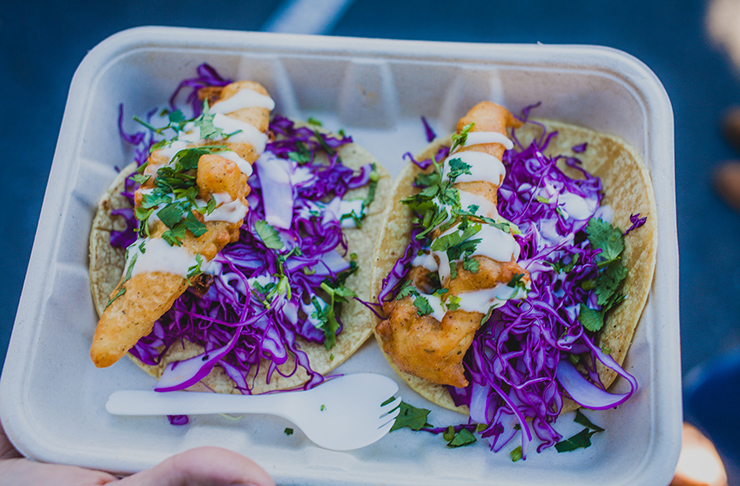 Twilight Markets In Brisbane
Westoria
If a Friday night spent eating food truck fare, listening to live music, sipping cocktails and—wait for it—having your fortune told sounds like your idea of a good time, you're going to want to check out Westoria, West End's brand new twilight markets, Westoria. Brought to us by Goodwill Projects, who manage a heap of markets and events around town, the new markets are designed to be a little bit weird and whimsical, complete with fire twirlers, stilt walkers, undercover actors and glitter face painting. Rotating food vendors include the likes of Gnocchi Gnocchi Brothers, Wagyu Blacks, Roll It Ice Cream Co and Cairo Eatery, with plenty of artisan market stalls to shop as well.
When: Returns in Autumn 2023
Where: 120 Jane Street, West End
Eat Street Northshore
The first of its kind in the country (yeah, let that sink in) Eat Street Northshore is notorious for their incredible and, really extraordinary dishes. If you're into the latest food trends, this is the place to be. With over 180 dining and entertainment shipping containers, permanent bars and restaurants and entertainment areas (moonlight cinemas, anyone?) they're bound to please. Loaded doughnut fries, rainbow soft serve, you name it, Eat Street Northshore has got it.
When: Fridays and Saturdays, 4pm–10pm, Sundays, 4pm–9pm
Where: Hamilton Foreshore
Bite Markets
Calling all foodies and lovers of international cuisine, treat yourself to a culinary journey around the globe with dishes from Italy to Malaysia, Spain to Japan, Turkey to Tibet, and everywhere in between. A collection of food trucks combined with seating areas and fairy lights, Bite Markets is the casual weekend dinner plan worth getting the gang together for—and it's even puppy friendly.
When: Fridays and Saturdays, 4pm–10pm
Where: North Harbour, Morayfield
Next up, check out our favourite food trucks.
Image credit: Brisbane Markets, Ariana Gillrie