Let's be real: it's never not a perfect time to sink a tinny, and with all the glorious taphouses in our sun-soaked city, we're hardly going to settle for a subpar brew, so we've rounded up the best breweries in Brisbane for the ultimate crawl.
Expect seasonal brews, solar-powered innovation, cheeseboards, and lashings of IPA as we gambol through the hops and vats behind Brisbane's finest brews. Here are the best and brightest brains in brewing, and where to find them.
Slipstream Brewing Co.
Yeerongpilly
Slipstream Brewing is one of the growing collective of breweries in the Yeerongpilly/Salisbury realm, in chorus with Ballistic and Helios. Their core range features a rye pale ale, a German pilsner, an IPA and an XPA, and a pretty darn good stout, all available to buy by the growler (which is great if you have a hectic brew obsession). Slipstream also regularly hosts food trucks and live music at their brewery, making them a great place to check out on a Friday arvo.
Sea Legs Brewing
Kangaroo Point
A decidedly nautical local, Sea Legs' 15 hectolitre brewery is located right next to the Story Bridge on Main Street, and has become a fast favourite with locals since opening earlier this year. Pouring from the taps is an all to drinkable core range as well as some seasonal and experimental brews, and because it's irresponsible to drink on an empty stomach, the brewery is also equipped with a contemporary pub menu, perfect for a long, lazy lunch.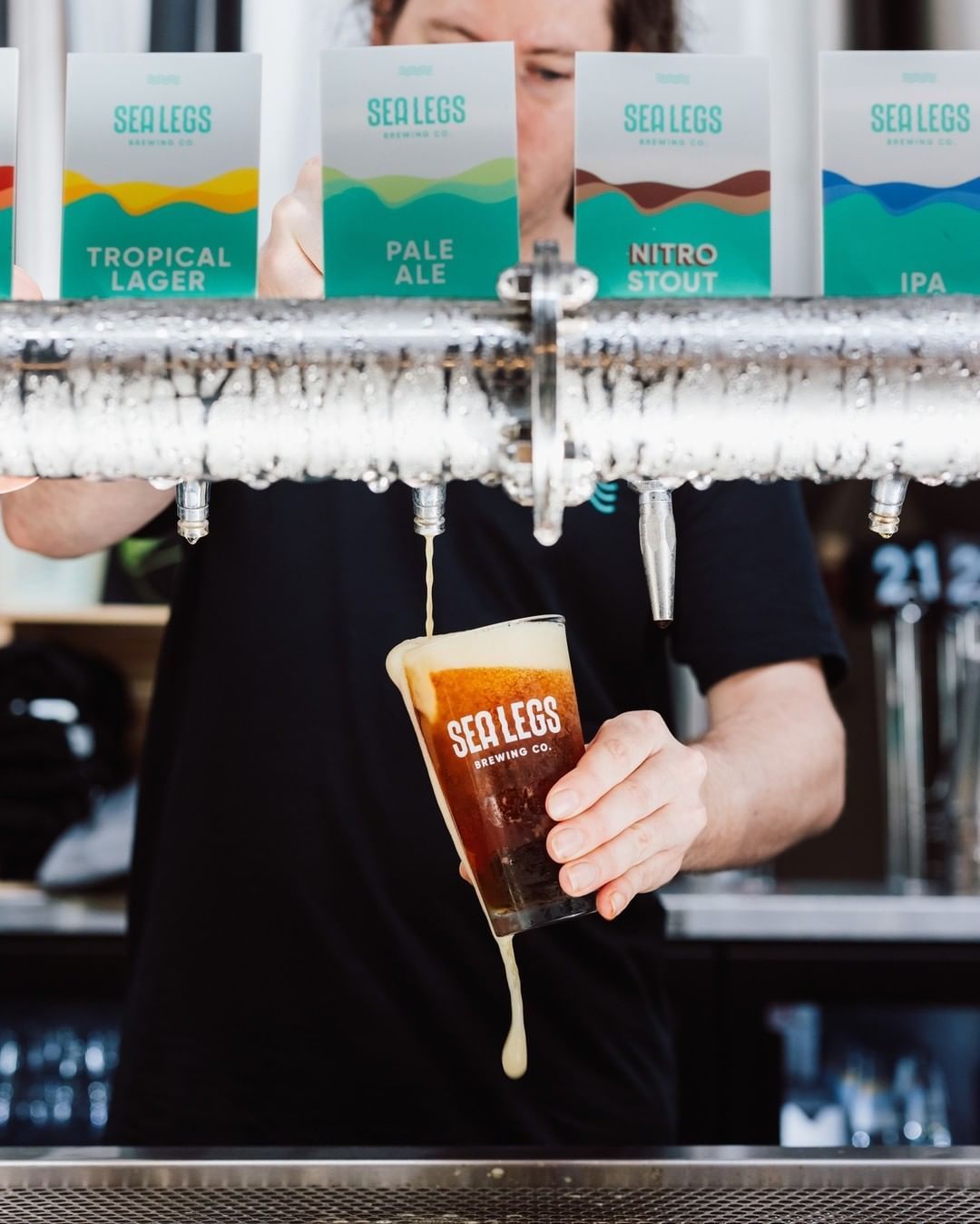 Brewdog
Murrarie
When Scottish craft beer trailblazer BrewDog announced they were opening a taproom and brewery in Brisbane, beer lovers across the city were frothing. Since then, the riverside brewery has lived up to expectations, with all the iconic brewery's iconic creations on tap, along with regular Brisbane-only special releases. The vibes—particularly in the sunshine outside—in the industrial-style brewery are always high, especially on the weekends when local musicians provide a soundtrack to the beer-drinking, with plenty to eat on the menu as well.
Soapbox Brewing
Fortitude Valley
The Valley's first brewery, Soapbox is the perfect haunt for the motormouth in your crew. They feature up to seven brews at a time (all made on site) consisting of their five core beers plus two specialty fellas that change seasonally, including some wacky creations that definitely need to be tried.
Stone & Wood
Fortitude Valley
Finally open after months of waiting, Stone & Wood's Brisbane brewery is housed in a cavernous, heritage warehouse in the Valley. The building is a red-brick stunner, with plenty of space to sink a schooner after work on a Friday, slinging Stone & Wood's regular craft line-up, plus some limited-edition beers, brewed right on-site.
Black Hops
East Brisbane
Formerly Semi-Pro Brisbane, this East Brisbane brewery was taken over by the Gold Coast's Black Hops in 2020—and they've been winning over tastebuds ever since. They do have a strong core range on tap and in cans, but you could go a few visits without ever getting around to trying them thanks to the ever-changing specials that are always on offer, each more adventurous than the last. There's no kitchen here, but there are pop-up food trucks every weekend to make sure you don't go hungry.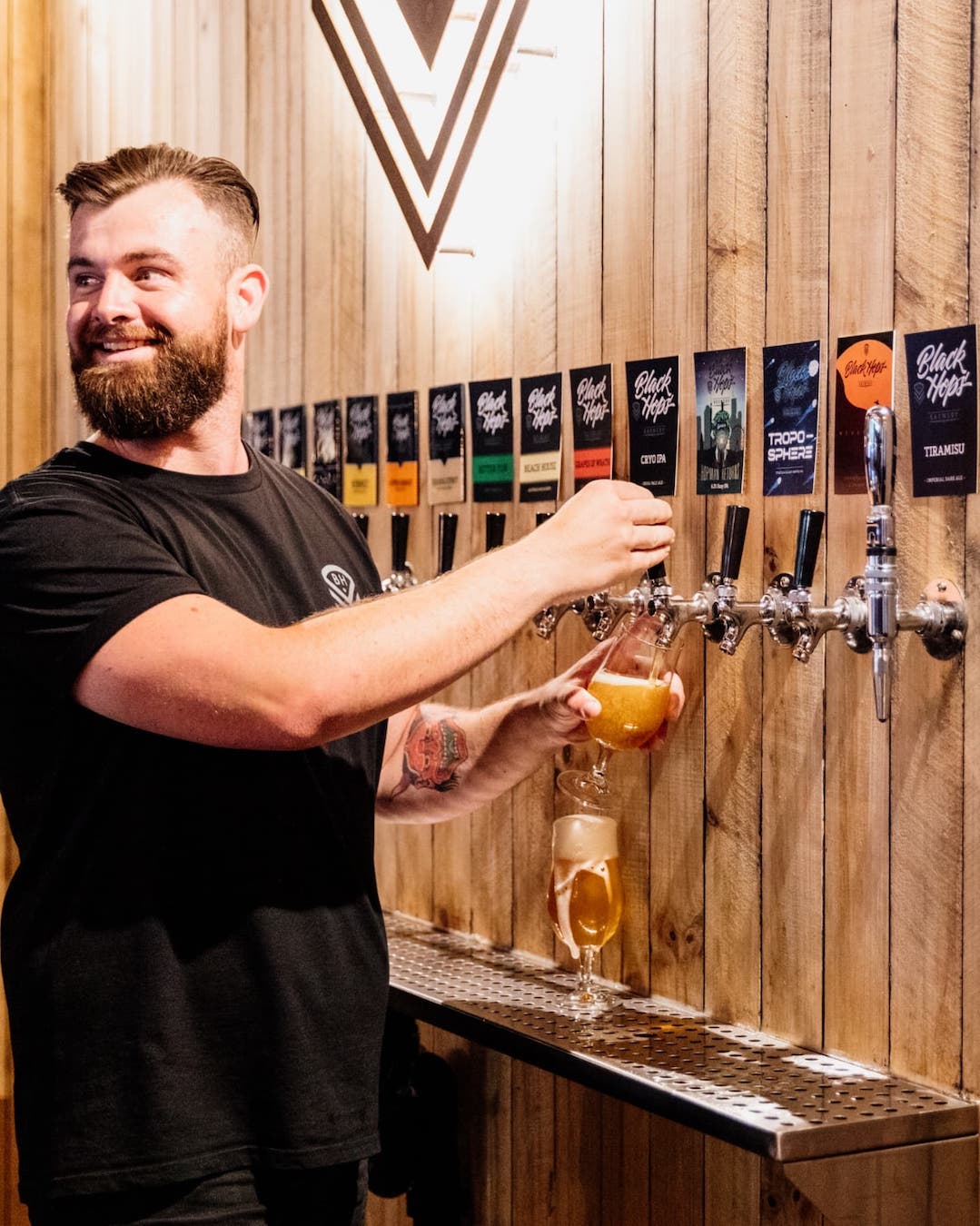 Brisbane Brewing Co.
West End
Slip down a sneaky little alley off Boundary Road and you'll find yourself in a beery oasis, complete with a spacious outdoor area and top things to munch on. At the Brisbane Brewing Co craft beer brewery and bar you could sample one (or two) of their 10 freshly brewed beers, which you'll also find at their Brewhouse in Woolloongabba.
Felons Brewing Co.
Howard Smith Wharves
Situated along the riverfront underneath the Story Bridge, Felons Brewing Co. is the jewel in the crown for mega precinct Howard Smith Wharves. Not only boasting an enormous boardwalk, beer garden, and shady patio areas, Felons brew their four beers plus a cheeky cider on-site under the bridge. Their lager is a real crowdpleaser, while their pale ale is perfect for an arvo session. Pair with their burgers or wood-fired pizza and you're onto a winning combo.
Bacchus Brewing
Capalaba
Named after the Roman god of strong drink, Bacchus Brewing rose to fame thanks to their dessert-inspired beers—think a chocolate Toblerale, the nutty Peanut Brittle Gose and a Rocky Road-like Rocknroada. Don't worry if you prefer to stick to the classics though, as they also brew the usual IPAs, pilsners, pale ales and dark lagers. You'll find all these and more at tier Capalaba brewery, with seating outside in the sunshine and in their airy shed.
Range Brewing
Newstead
Housed in a minimalist warehouse space in Newstead, Range Brewing has erred away from a set range of house beers in favour of an always-changing roster of ten house-brewed frothies. A simple menu of share platters, garlic bread, and slow-rise sourdough pizzas are on hand to soak up your digressions, and a large fridge full of six-packs you can take away will tempt even the fussiest beer drinker.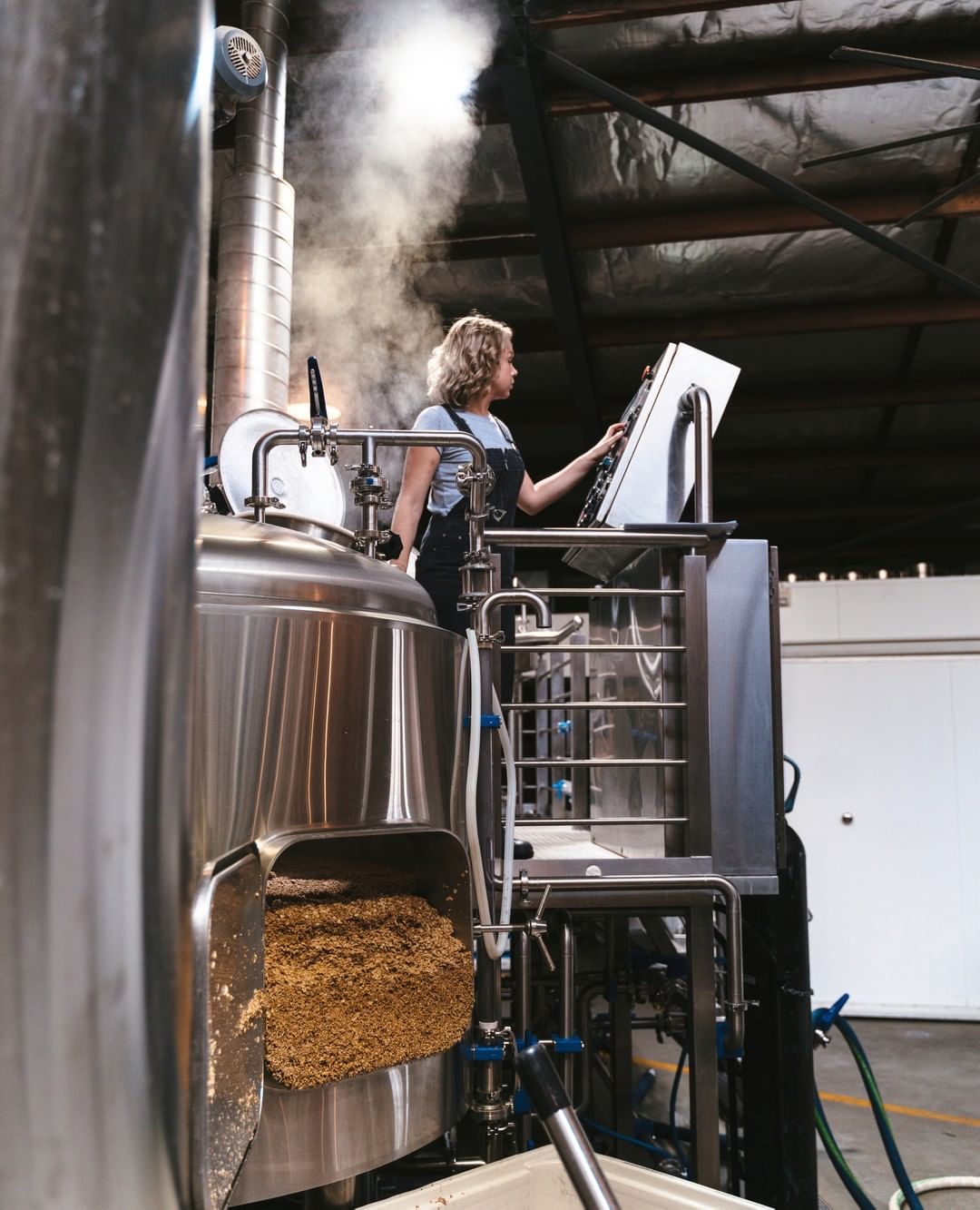 Helios Brewing
Yeerongpilly
Inspired by Greek mythology and fuelled by sunlight, Helios is Brisbane's premier solar-powered brewery. Energy efficiency = maximised. In keeping with this credo, each and every beer, including their core selection and seasonal brews, is inspired by a different character from Greek mythology. If you want something a bit dark and mysterious, try the hard-hitting Medusa Black IPA.
Fonzie Abbot
Albion
Though Fonzie Abbot has been brewing beers almost since they started roasting coffee beans, their tap house is almost brand new, taking over one corner of their roasting and brewing shed in Albion. It might be small, but you don't need plenty of space to enjoy a brew, and you can even get a view of the brewing tanks from the upstairs seating area.
Catchment Brewing Co.
West End
Deep in inner-city brewing territory is where Catchment Brewing brews and pours their specially-crafted beers. With an art deco ambience, their attached restaurant is one step up from pub food with gourmet offerings matched perfectly to their beers, or another drink of your choice. They also often brew a 'specialty beer' as something a little bit spesh to keep things fresh.
Newstead Brewing Co.
Newstead and Milton
From little things, big things grow, and so goes the tale of Newstead Brewing Co which started brewing beer in a steel house on Doggett Street, Newstead in the 1940s. Flash forward to today, and the iconic brewery trades in two prime Brisbane locations, historical Newstead and Castlemaine street in Milton, where you'll find Brisbanites unwinding seven days a week with their range of brews, bites and industrial beer-hall vibes.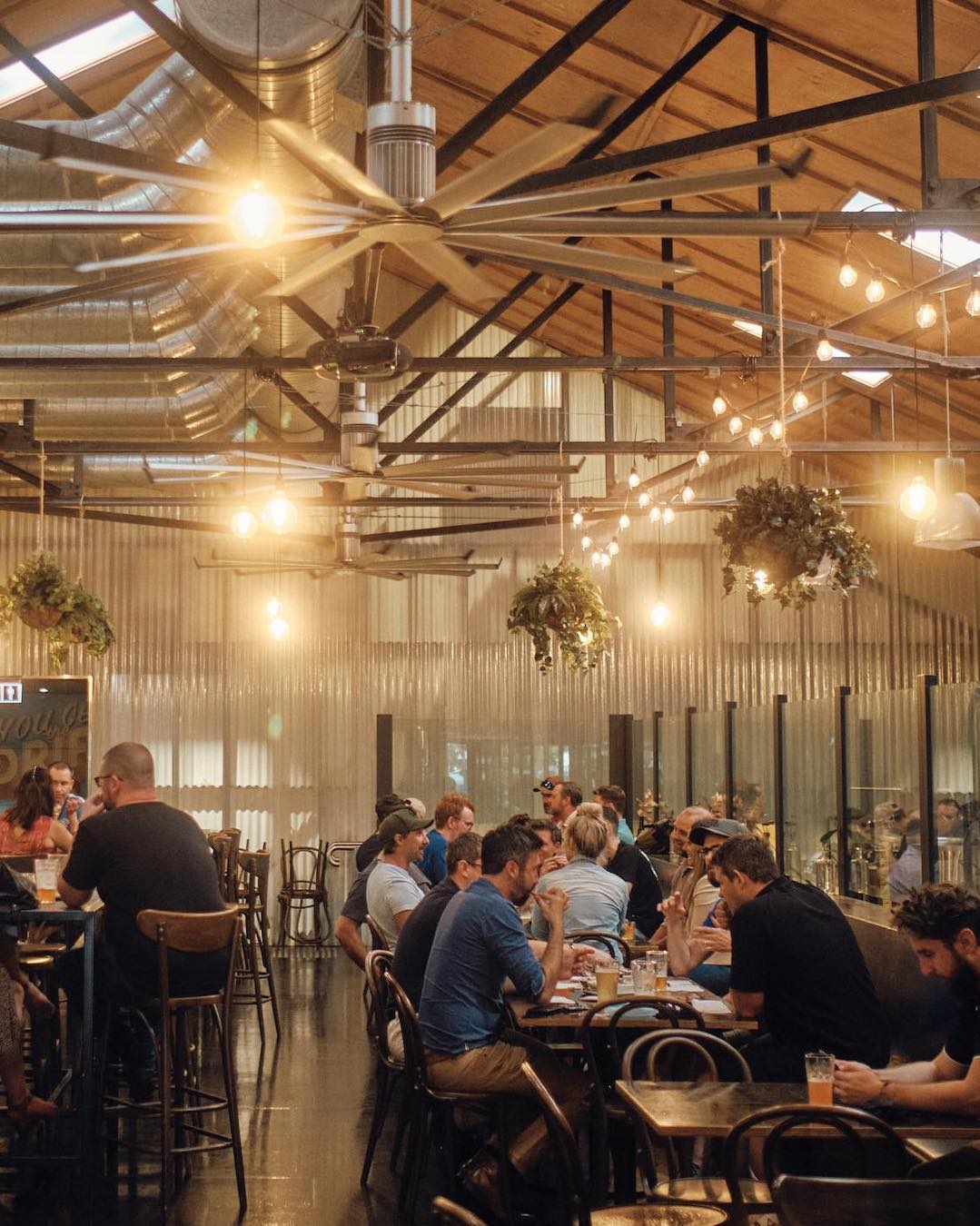 4 Hearts Brewing
Ipswich
Though not technically in Brisbane, 4 Hearts Brewing is worth a mention here—and the drive (with a designated driver of course). The Pumpyard Bar, where you can enjoy the brewery's beers on site, is quite the looker, with gleaming silver tanks visible from wherever you sit, and the brews are big and bold, with regular specials to sample. There's even a gluten-free single hop pale ale on the line-up—so tell your coeliac friends. There's a tasty menu of beer food too, from stuffed cob loaves to pizzas, burgers and hotdogs.
Ballistic Beer Co.
Salisbury, Springfield and West End
You can find Ballistic Beer Co. and their hoppy tides flowing in Salisbury, Springfield AND West End, so you're never far from one of their craft brews. The brewers describe their beers as, 'the meeting of something old and something new,' which seems a perfect fit for a suburban Brisbane renegade brewery. You can also find their beers at various other bars around Brisbane.
Aether Brewing
Northgate
Having moved from their Milton spot to the northside, Aether Brewing is reppin' it for Northgate's local craft flavour. Their beer selection of IPAs, ales, stouts, and pilsners keeps locals in good form, while their food includes some of the finest sandwiches in town (and perfect with a pint).
All Inn Brewing
Banyo
The sheer diversity of All Inn Brewing's beers alone is enough to entice you out there. There is literally something for every palate, even the trepid beer drinker. Year round, their core range keeps us plenty entertained with brews like the Sabre session ale and the Bill F. Murray malt liquor, but we're frothing over their seasonal range which includes a summer ale and a couple of extra pale ales, perfect for the hot weather.
Revel Brewing Co.
Bulimba and Morningside
Hanging out close to the water on Bulimba's Oxford Street is Revel Brewing Co, and you can also find them in a fresh new location in the equally riparian Rivermakers precinct. Their range of brews is constantly growing, and encompasses a range of bevvies from oatmeal stout to crisp cider, all brewed for and inspired by their loving locals. They also offer a bunch of snacks and pizzas to round out the experience.
Green Beacon Brewing Company
Newstead
The founders of Green Beacon Brewing Company, Adrian Slaughter and Marc Chrismas, felt that Brisbane's craft beer culture was ready for some cultivation when they set up their Brewhouse in the boom suburb of Teneriffe back in January of 2013. In terms of beer appreciation, things have really come along in leaps and bounds in the River city since those heady days, and the Beacon has been lighting the way for the Brisbane brewery scene, with offerings such as the aromatic and subtly sweet Windjammer IPA and the malty Anchor Amber Ale.
Image credit: Sea Legs Brewing, Black Hops Brisbane, Range Brewing, Newstead Brewing Co