Every glass of wine is a testament to the human accomplishment that found a way to make fruit juice into alcohol. It's also a toast to the growers' triumph over the elements. In Brisbane we like to celebrate these vast accomplishments by ensuring wine is free-flowing on (almost) every corner.
So don't go ruining your palate on anything less, tonight we pray to Bacchus: these are the best wine bars in Brisbane.
Mr Chester
Newstead
More like a wine bunker, Mr Chester is changing the typical Brisbane wine bar experience. Every visit is a series of pours punctuated by an ongoing dialogue with the sommelier. They also have a full menu, including cheese and charcuterie, that's all designed to pair with something in their cellar.
Greenglass
CBD
Specialising in French food and Australian wine, Greenglass was a curveball from the Votan brothers of Happy Boy fame. Their selection of wines is a constantly rotating library of the latest bottles from premium Australian makers.
Snack Man
Fortitude Valley
Also by the Votans (and right next to Happy Boy) Snack Man has newly opened for snacks and pre-drinks with a laser focus on wines. Come by for weeknight knock-off drinks and check out the list with a side of some authentic Chinese snacks.
The Valley Wine Bar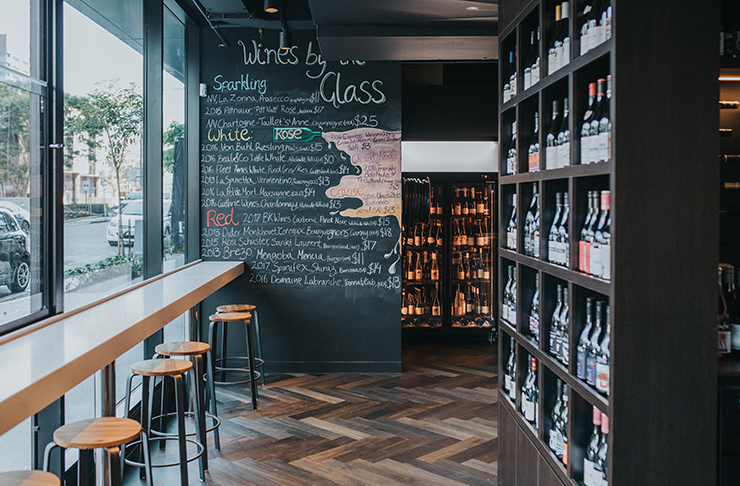 Fortitude Valley
Champions of natural wines, The Valley Wine Bar is an ultra slick cellar where you can sample the best of the latest things happening in wine production. As well as wine, Valley Wine Bar also a carefully selected range of icy tinnies and artisanal spirits to suit your fancy.
The Local Larder and Wine Bar
Ashgrove
Catering to a local love of wine and cheese, The Local Larder is fast becoming an Ashgrove institution. If you're after a reliable vino connection that feels like home, the Local Larder is for you.
City Winery
Fortitude Valley
Brisbane's last inner-city winery was around in 1860. Picking up the mantle of what is now a heritage practice, City Winery sources grapes from growers in Australia's premium regions then ferments them into liquid gold for Gerler Wines right from their warehouse on Wandoo Street. The space will also provide private dining, event capacity, and a modern Australian restaurant so you can have the full experience.
Carl's Wine Bar and Cafe
Teneriffe
Located in Teneriffe, Carl's is a wee offshoot of City Winery, boasting the entire range of wines from Gerler Wines and tastings every day of the week. They also offer breakfast and lunch every day of the week, and dinner from Thursday to Sunday for a well-rounded food and wine experience.
Coppa Spuntino
CBD
With a list of Italian wines and complimentary apertivo served daily, Coppa Spuntino is a little chunk of Italian real estate just on the other side of Red Hook. Their cellar presents a well-curated selection of wines with enough choice to spoil you but not so much that you venture into indecisive panic. Just know that, whatever bottle you land on, you'll be guaranteed something good.
La Lune Wine Co.
South Brisbane
From their laneway digs on Fish Lane, La Lune promises fine dining and finer wines to the thrum of a casual European bar. It's stylish, inventive, and everything a wine bar should be. Come for a glass, a snack, or a meal, it's all perfect.
The Silver Fox Wine Bar
CBD
Right next to Walter's Steakhouse and across the way from the Royal Botanic Gardens is where you'll find The Silver Fox. Both elegant and cosy, the Silver Fox trades from 4pm until midnight, so it's the perfect thing to take the edge off a long day.
ARC Dining and Wine Bar
Howard Smith Wharves
The latest plot at Howard Smith Wharves, ARC promises organic, sustainable, minimal intervention wine before a gorgeous river view. Their sommelier Ian Trinkle has built up a cellar of more than 500 bottles, so you're sure to find something stellar, and any accompanying charcuterie is made from scratch by ARC's brilliant team of whip-smart chefs, led by Alanna Sapwell.
Image credit: Grace Elizabeth Images; Yaseera Moosa for Urban List