Is it just us, or is it that the harder you have to look, the more awesome the bar? We've trekked down random alleyways, taken our chances at nondescript suburban shops and crept under strip clubs all in search of Brisbane's hidden bars. And find them we did.
At these drinking establishments you'll find excellent G&Ts, killer cocktails and a sense of mystery, all in the one spot. From walking through fridge doors and venturing into Narnia-esque wardrobe cupboards, here are the best hidden bars Brisbane has to offer.
Next Episode
South Brisbane
Walking along South Brisbane's Fish lane any night of the week you'll catch a purple glow spilling out onto the street from one particular shopfront. This purple glow is coming from an empty yet open barbershop, where on a wall adjacent to a big mirror hangs an old school red phone. Lyrics from Young Thug's smash hit glow in neon and read 'pick up the phone, baby' and when you do, you'll be asked for the secret code. Get it right and what was once a giant mirror opens to a reveal pulsing bar. This bar? It's called Next Episode. A giant Notorious B.I.G mural overlooks the fun of the bar, while DJs pump out the latest and greatest hip hop and RnB vibes. Drinks on the menu pay homage to all sorts of hip hop greats like the Hendricks Lamar with Hendricks gin, aloe vera nectar, fresh citrus and housemade syrup. If you're looking for the coolest hidden bar in Brisbane, this is it.
The Walrus Club
Toowong
As college students dance the night away at The RE a few blocks away, and those more their parents' demographic enjoy a luxe meal at The Boatshed upstairs, something brews underneath The Regatta. The smell of Cuban cigars and rum (perhaps one of the 300 kinds they serve below deck) wafts from a dark, humble staircase marked only with a single walrus—you've found The Walrus Club. Descend down said stairs and you'll probably be met with the sounds of a jazz band. The exposed brick and hidden nooks are lit with wax-dripping candles and conjure the perfect date vibe, as bartenders get to work slinging impressive cocktails and spirits. Hot tip, don't order off the menu—tell the bartender what kind of flavours and spirits you like and they'll whip you up something entirely new.
Update: After closing due to flood damage earlier this year, The Walrus Club is reopening on 11 August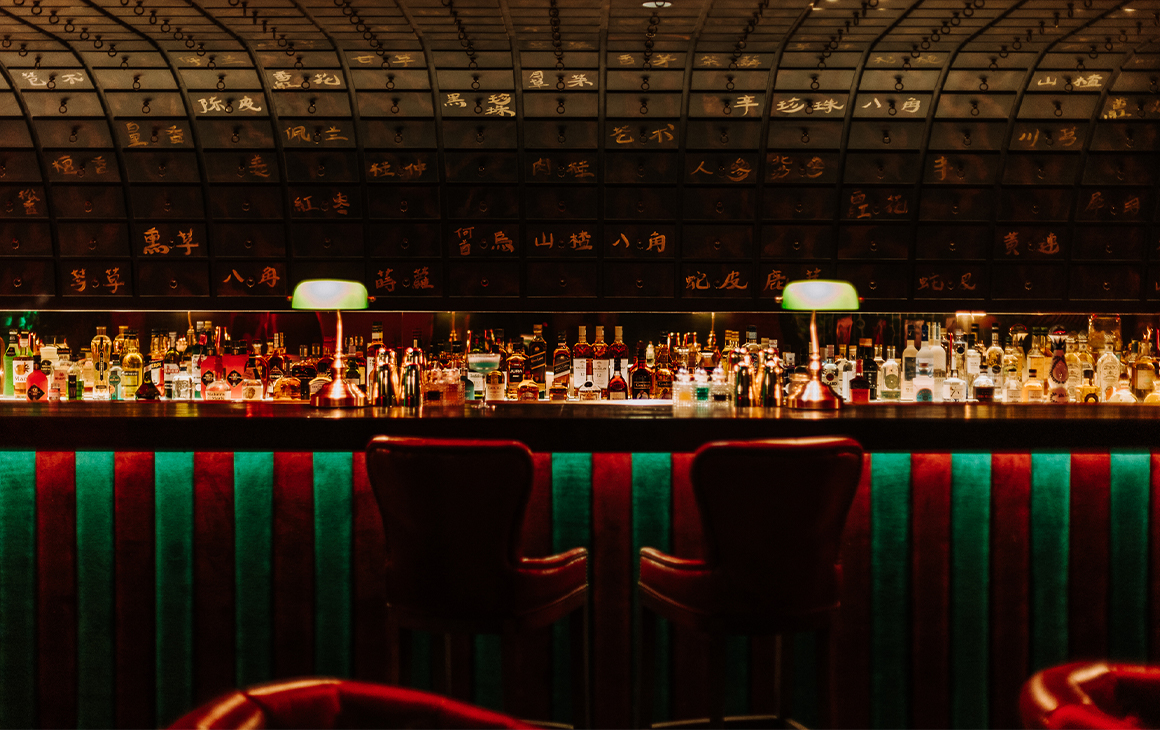 Cindy Chows
Fortitude Valley
Hidden behind what appears to be the sliding door to a commercial fridge inside Ling Lings in Fortitude Valley is Cindy Chows—quite possibly Brisbane's most sultry and interesting hidden inner-city waterhole. Once you finally find said entrance, you're swept back to 1920s Shanghai and drawn into an alluring curved bar behind which sits an impressive collection of spirits. Don't expect the familiar ol' faithful cocktail at Cindy's though—instead sip on premium tipples like the Shanghai Grand, with whisky, vermouth, amaro, apricot brandy, vanilla and walnut bitters or the seductive Lady Absinthe, a cocktail tower designed to share, filled with absinthe, citrus, syrup and cucumber.
The Boiler Room
Fortitude Valley
Tomcat is a long-term Valley resident—though tucked in a tight spot next to Prohibition, its neon red sign is unmistakable. If you look beyond the pool table, a door sneakily blends into a mural of Bill Murray so well that you have to move closer to spot it. Through this door is The Boiler Room—a hipper, more grown-up, moved-out-of-home-older-sibling version of the grungy bar just next door. Pull up to the bar for some vintage champagne or charcuterie boards to share and choose a cocktail you're sure to like from their novel of a cocktail list.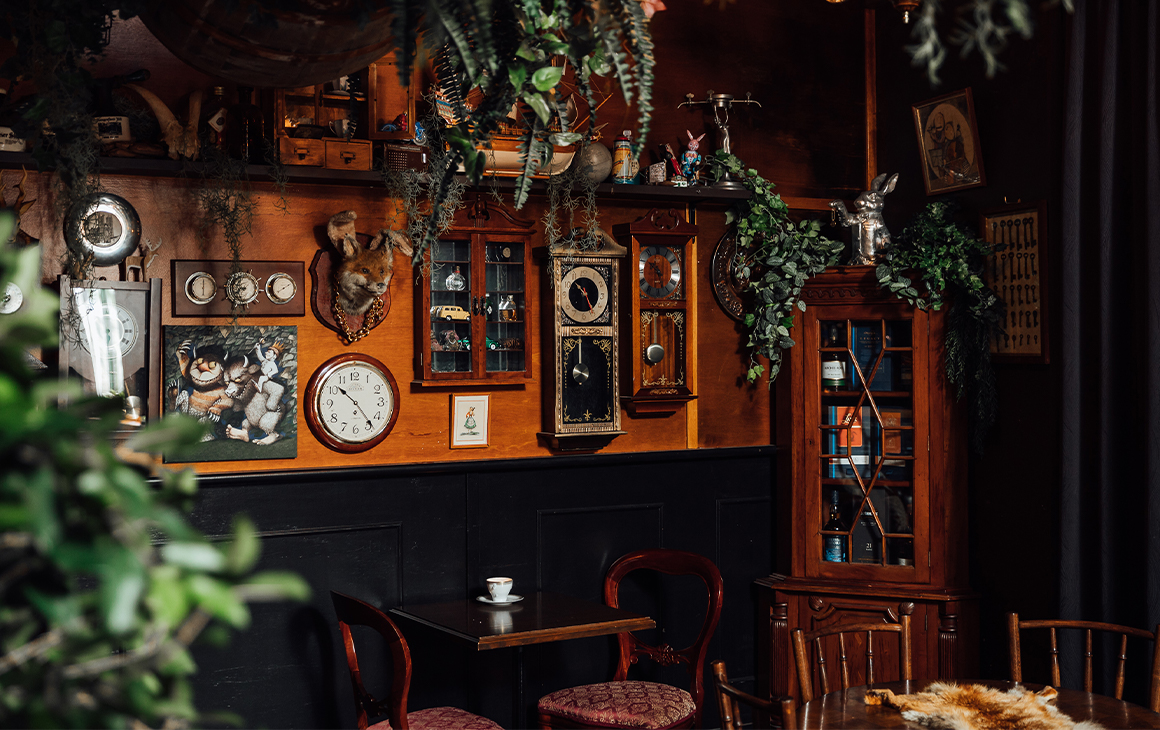 Mrs J Rabbits
Woolloongabba
Stored away in Woolloongabba's Electric Avenue is Mrs J Rabbits—a password-locked speakeasy-style bar. Slink up the antique stairs and look for a regular wardrobe (peep the golden gatekeeper on top), enter the password obtained from downstairs and enter the hidden bar Narnia-style—straight through the cupboard. Inside you'll find the dark academia vibe of your dreams as well as a condensed cocktail list featuring hits like Aslan's Pride, a rich winter-perfect blend of Johnnie Walker Black, vanilla liqueur, fig vincotto, chocolate, strawberry and lemon. Perhaps you'd rather something a little fierier, in which case the Jabberwocky is for you—gin, cognac, oloroso, strawberry, Earl Grey tea and rhubarb are shaken together, set alight and sent to your moodily lit table.
The Mermaid Bar
Petrie Terrace
There is truly not another bar in Brisbane that even comes close to The Mermaid Bar inside Lefty's Music Hall. Disguised as a fire escape door, the hidden entrance is child's play compared to the decor awaiting inside. A giant shark leaps from one corner, perhaps to dodge the fish netting covering the ceiling while a massive ship sits gloriously behind the impressively stocked bar. Old school diving helmets, ship memorabilia and tattoo-style sirens are dotted around the bar—the only thing missing is one of those funny singing wall fish. There's an extensive cocktail list but take it on expert recommendation that you order a whiskey apple with fresh apple juice.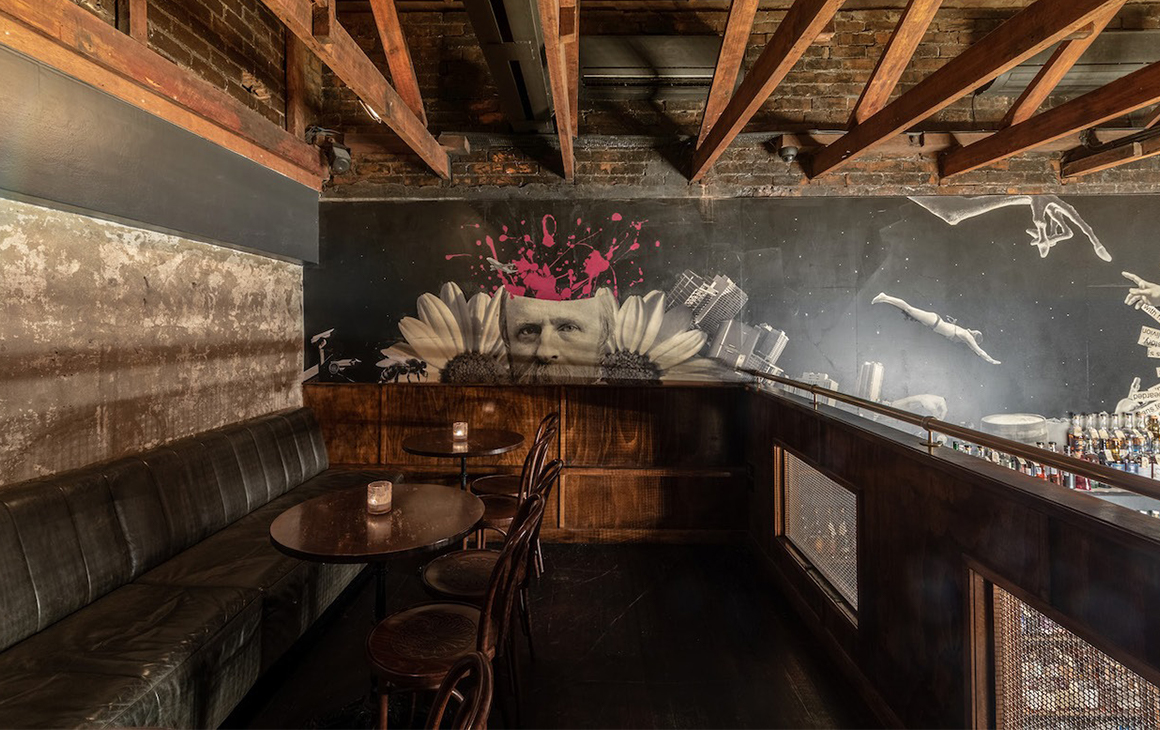 Savile Row
Fortitude Valley
Tucked behind an unassuming little orange door is the entrance to Savile Row—a swanky cocktail bar that's definitely too good for your 3am self. When you enter (pre-tequila shots, if you please), you can't miss the enormous chandelier over the bar that lights up the giant wall of spirits and an uber-cool wall decal. Perched on your stool at the bar, you can watch pro bartenders sling downright works of art like the Rosie Beginnings—a combination of vodka, chamomile-infused lillet blanc, hibiscus cordial, lemon, soda and topped with the most impressive foam we may have ever seen.
Greaser Bar
Fortitude Valley
The first challenge is finding Greaser Bar down the creepy alley it calls home, but take it from us—the real challenge is leaving in one piece with the same amount of sins you came in with. The underground bar serves both as a playground for young bands to break into the Valley music scene and hangout spot for stars (yes, I met Freddy Crabs there one night). Aside from drinks galore, classic cheeseburgers and banging fried chicken flies out of the kitchen here and into regular and devoted customer's mouths.
Prefer not to have to follow secrect clues to a hidden bar in Brisbane? Scope out these Brisbane rooftop bars instead.
Image credit: Next Episode, Dino Renda, NIRA Creative, Saville Row