Going out for drinks with friends when you're in your mid-twenties can sometimes get a bit monotonous. Heading to the same couple of bars week in, week out, where the pokies are louder than the DJ's iTunes playlist, the bartenders never know what an old fashioned is, and the carpet is always sticky (from what, we're not exactly sure). Yet your friends continue to drag you here each weekend because… Actually, you have no idea why they keep dragging you here.
If this scenario is all too familiar, put your foot down and introduce them to the wonderful world of the West End bar scene.
As far as locations to wet your whistle go, West End is on the up-and-up. Whether you're looking for craft beer, whiskey bars, tiki bars, cocktails, live music or superb bar food, West End has your bases covered. The options are (almost) endless, and because it can be hard to satisfy the needs of all individuals when you're out with a group, we recommend you try all of them.
Strap on your metaphorical seatbelt (don't drink and drive, y'all!) as we take you through the best of the West.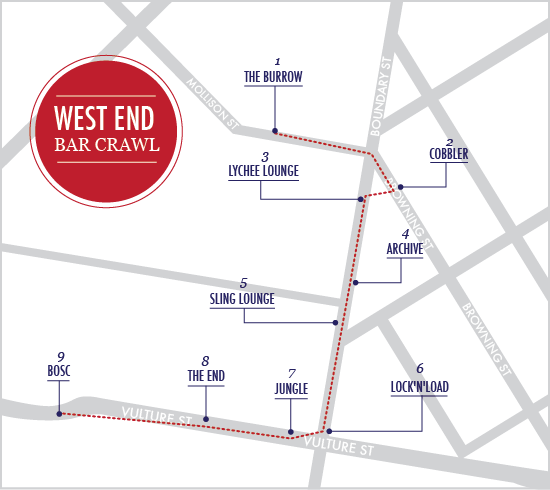 The Burrow in West End is probably better known for their food than drinks (and with homemade pizzas on crispy bases, featuring a unique range of toppings like the swordfish and watermelon, it's hardly a surprise). However, this warm and cosy little nook also has an extensive range of craft beers, ciders and alcoholic ginger ales. Open from breakfast through to late night, this spot is perfect for an afternoon drink and feed.
Jack it up a notch and head to brand new whiskey bar, Cobbler. It's decked out with vintage sports memorabilia, and one of those rad sliding ladders on a bookshelf like you would find in Bruce Wayne's library. Cobbler is BYO food, so order from a nearby restaurant or rock up with a wheel of brie and some Clix. The bartenders' knowledge of their product is astounding, so be sure to try one of their amazing cocktails, but beware, they're not for the faint hearted!
Mosey up Boundary Street to Lychee Lounge, an exotic, oriental bar, well known for its impressive cocktail offerings. They draw from fresh produce and exotic spirits, which combine to make some truly unique flavours. Lychee Lounge is great for larger groups of people with a wide range of tapas plates, perfect for sharing (or not!).
Since opening in 2011, Archive Beer Boutique has cemented its spot as one of the best craft beer bars in Brisbane. There are eighteen beer taps, which constantly rotate throughout the month, and over 400 different bottled beers to choose from. Pity you only have two hands! They've also got some top-notch pub grub, with the likes of wagyu beef burgers, chicken parmas, eye fillets, and pizzas to name a few. The venue itself is super rad with vintage furniture, newspaper-ed walls, pool tables and dartboards: A great place to start the night and line the stomach.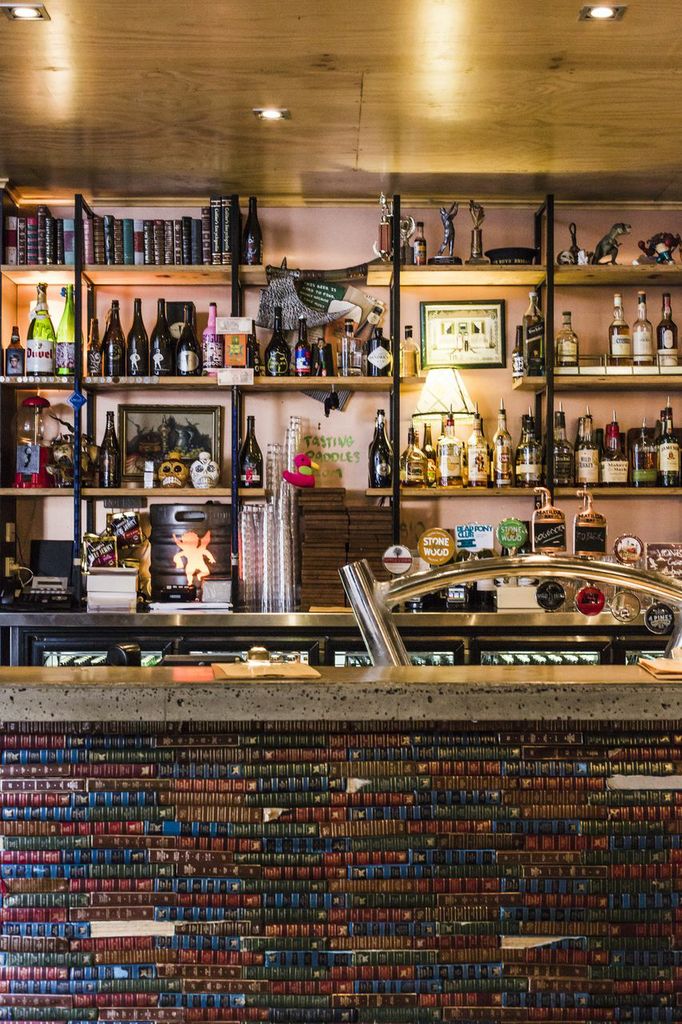 What sets
Sling Lounge
apart from other cocktail bars in West End, you ask? They have mixologists, people! And they know what they're doing, too. Sling Lounge has a laidback atmosphere, with an outdoor courtyard that houses the majority of the classy drunkards. Sling Lounge has been around since 2007, and they pay due respect to the classic cocktails, but also get inventive, using hand-carved ice and liquid nitrogen to really step things up a notch.
A little further up the road is West End institution, Lock'n'Load Bistro. The crew at Lock'n'Load like describing themselves as a drinkery with food. Open from breakfast through to supper most days, they provide a welcoming and casual environment with live music, and a great courtyard area where most of the drinks are consumed. You'll find this place packed on a clear Summer's night. It's also great to see a bar not afraid of serving jugs and towers of beer, and don't even get us started on the wine and cocktail lists! This is a great spot for an after-work unwind.
Let's get tropical! Brand new tiki bar, Jungle only opened last week, and sports some snazzy tiki-themed furniture and styling throughout. You can treat yourself to some exotic cocktails served in monkey-shaped mugs (because tumblers are so 2012). Perfect for a girls night, or for a S.N.A.G. to take his date. (Because chicks love getting lei'd and drinking cocktails out of monkey butts. Fact.)
The End
at Vulture Street is a hip little space, squeezed into the space formerly occupied by Trash Video. They kept a heap of treasure from the video store and have used it to decorate the bar, along with vintage furniture. The crowd at The End is casual and eclectic, with folks stopping by for the rad tunes, long list of local and international beers, and seasonal cocktails. The End is a must visit for anyone in the area.
Just next-door is Bosc, a recent addition to the West End scene, and the self-proclaimed home of the gin cocktail. Gin is going to be the go-to drink for the upcoming summer, so get behind it! They've also got eight beer taps that are changed over on a monthly basis, and a great wine list. They even have wines for your vegan "friends" (read: acquaintances). Decent bar snacks and tapas make Bosc a great all-rounder.
Well, there you have it. Get your mates out of their comfort zone and try something different (and because the bars are all so close to one another, it's only a short walk to the next one if you want a change of scenery!).
Are there any we missed? Where is your favourite spot for a bev' in West End? Let us know in the comments below!
Keen for more West End goodness? Check out our best breakfast guide, or find our picks of the precinct here!
Image Credit: Geoff Zabell, KMNDlifestyle,