Covent Garden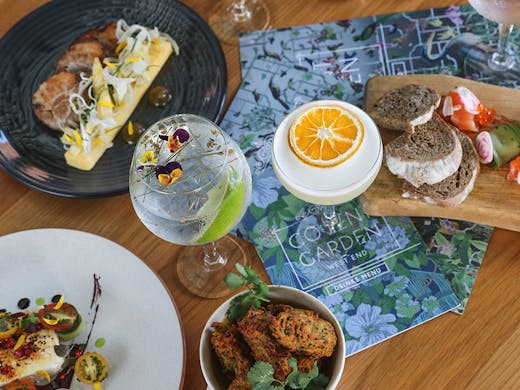 The verdict
Brisbane's West End bar scene got a serious shake-up when the gorgeous, two-storey Covent Garden bar arrived in town, throwing an oh-so refined spanner into the works.
Taking inspiration from the iconic British landmark, this completely revamped bar is bursting with lush greenery, multiple bars (including one hidden), and two courtyards to transport you from Brisbane straight into a verdant botanical oasis (complete with a huge, luminous stained glass ceiling dome!).
It won't just be the luxe interior that will have you hitting up Covent Garden on the reg: it stocks over 170 different types of craft gin to help you find your perfect thirst quencher. Yep, you'll have access to 170 different gins to mix and match to your every whim, complete with a nifty flavour chart to help you pick the perfect distillation. Genius.
In keeping with the theme, there's an entire cocktail menu made exclusively with Australian gins (because yes we're biased, but we do make bloody good gin). It's a tough choice between the Clover Club (gin, raspberry, lemon, egg white), French 75 (gin, lemon juice, gomme syrup, champagne) and the Last Word (a potent mix of gin, green chartreuse, maraschino, lime), so we obvs suggest you try them all.
The best part? If you like your gin with a side of Marie Antoinette flair, Covent Garden run a stellar G + High Tea on the daily (until 6pm). $45 will get you a pitcher of G & Tea, plus a luxe spread of sweet and savoury delights. Sign. Us. Up.
For those who don't love gin as much as we do, don't fret, Covent Garden has an excellent selection of house cocktails as well. Our picks are the Twisted Polish Maid (vodka, elderflower liqueur, lime juice, cucumber, thyme syrup) and the Los Alves (white tequila, creme de cassis, lemon juice, agave and blueberries). Feel like something a bit more classic? Aperol Spritz and Pimm's Cup are on tap. We kid you not.
Oh, if you're the kind of person who can't go anywhere without eating, they've got your back, too. There's the small bites if you're feeling a little peckish (think manchego croquettes, chipotle chicken taco, and brisket sliders) and more substantial meals like roast lamb shoulder, pork collar with cheddar polenta and tasty saffron rice with Moreton Bay bug and roast garlic for when hanger strikes.
Trust us when we say that once you've entered Covent Garden's trendy doors, there'll be no turning back.
Images: Grace Smith
---