Damn if West End isn't a foxy suburb. Every free nook seems to be crammed with some such delight and it feels like there's something new on every corner. With such a glut of choice it can be heckin difficult to sort out the really stellar joints so we decided to cast a discerning eye on the general mélange of taprooms and feasteries that comprise the West End sprawl.
The results are in and here is your definitive guide to a foodie's picks of West End. Keep it handy on your next urban ramble:
Cafes
Morning After
Named for the hazy dawn after a night of regret, these guys are masters of getting you back on your feet. Their all day menu is an eclectic motley featuring carbonara, red velvet waffles, eggs benny, and even a fancy McMuffin. If you're not much of a bruncher, check out Morning After's nightbefore dinner events every Friday and Saturday night. The current evening menu has a decidedly Grecian influence, with butterbings and parfait for dessert.
Miss Bliss Wholefoods Kitchen
Championing health and wellness above all else, Miss Bliss is a haven for the clean-eating foodie. Their entire menu is health-conscious and tasty to boot, making them the ultimate go-to for a meal out that won't derail your gains.
Lokal + Co
These guys are our Nordic reps in the West. Crafting modern dishes from fresh, seasonal ingredients, Lokal + Co's offerings include Nordic snacks like smørrebrød (open sandwiches) and gravlax alongside sweets like pineapple fritters and some piquant curveballs like their caramelized miso eggplant. Décor-wise, Lokal + Co really nails it. Their clean lines and rose gold fittings really stick it to my IKEA dresser.
Plenty
You won't find a rigid list of dishes on Plenty's social, and that's the whole point. They're always looking for ways to reduce waste and promote sustainability, so their daily offerings reflect the seasonal selection of the freshest local produce. That isn't to say that they have nothing constant, there's always slammin' coffee flowing as well as plenty of refreshing bevs ideal for a summer arvo.
Sol Breads
Like all good bakeries, Sol Breads offers a daily spread of leavened fancies. Their earthy and rustic focaccias, pizzas, and frittatas are perfect for a reliable lunch that'll fill and satisfy, and go down a treat with a salad from their cabinet or a muffin from the countertop.
Just Earth
Powered by a desire to honour fair trade, Just Earth is a café with a conscience. Their foundation seeks to aid woman disadvantaged in the labour market with a percentage of all profits, further incentive to swing by for lunch. Their menu is expansive and can accommodate vegetarian, vegan and gluten free diets. It's also a pretty good roastery if you fancy picking up some beans to take home.
Grown Café
Spruiking sustainability and locally sourced ingredients, Grown Café is the latest addition to West End's café scene. Their plant-based ethos resonates through their modest menu, which features house-made hash, scrambled tofu and avocado gazpacho.
NYC Bagel Deli
Wary of inauthentic bagelries your breakfast? Never fear; these guys are the real McCoy. If you fancy yourself a bagel with 'the lot' check out the flavour-packed Club, otherwise you can't go wrong with NYC's classic cream cheese shmear.
West End Coffee House
Offering Khao Tom Gai, pulled pork fried rice, and Chinese dumplings first thing, West End Coffee House is the dark horse of breakfast. Flying under the banner of North-East Thai cuisine, their early offerings are some of the most unique pre-noon feeds around.
Wrapture
This West End institution recently had a saucy revamp but don't worry, the menu has remained constant. Wrapture has no fewer than 22 different wrap fillings on the lunch menu and they are all pretty slamming, but the one with falafel, hummus and tabouli is particularly so. They also offer plenty of flavoursome bowls if you don't dig on the bread thing, as well as an entire breakfast menu of wraps and hearty feeds.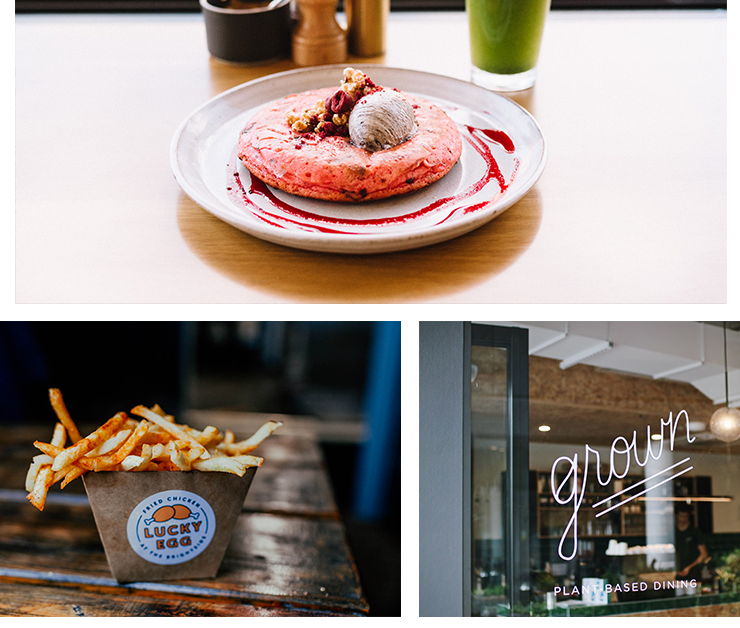 Restaurants
AJO Dimonius
These guys bring the best of Sardinia to the Boundary Street crowd with their authentic offerings of the finest Italian carb. When you're looking for hand-stretched pizza slices fresh from the stone, swing by AJO Dimonius and let 'em fix you up nice.
Street Falafel
Besides being the unofficial clubhouse for Brisbane's community of straight-up groovers, West End is also home to the most authentic falafels this side of the Middle East in West End's Street Falafel. Make sure you get around the falafel plate with tarator sauce, Beirut fries, fattoush and mixed pickles.
Govinda's
Run by local Hare Krishnas, Govinda's is a vegetarian restaurant offering the most affordable and altruistic feeds in Brisbane. Their feast meal more than lives up to its name with jasmine rice, vegetable curry, dahl, vegetarian koftas, tomato chutney, pappadams and semolina pudding for afters. A deadest steal at 12 clam.
Lucky Egg
Trading out of the tender embrace of Boundary Street's Good Time Bar is Lucky Egg's second temple of crispy fried chicken. Expect the same baskets, burgers, and wings that first charmed us at their Brightside store, as well as some rice bowls and some pretty nifty meal deals. Lucky us.
PJ's Steaks
As the only place in Brisbane to find authentic Philly cheesesteaks, PJ's Steaks is the real MVP. They offer a couple of variations on the melty sub, as well as hoagies, hot dogs, onion rings, and some of the best fries going.
Original Dave's Low and Slow BBQ
From humble beginnings motoring around Brisbane in the back of a food truck, Original Dave's has found a permanent park in West End to house his American BBQ operation. Here is where you'll find an All-American feast of succulent, smoky meat with fixings and plenty of lager to wash it down with.
Bird's Nest Yakitori
Everyone seems to have their own way of doing chicken but when it comes to coal-grilled skewers Bird's Nest's is the only name in the game. As Brisbane's premier yakitori spot, they've set a benchmark for the tastiest chicken going, and flaunt some of the most creative uses of the bird we've ever seen. We highly recommend swinging by for a bincho grilled don rice bowl for lunch.
Trang Vietnamese Restaurant
Responsible for introducing most of Brisbane to the joys of phō, Trang is a firm favourite of West End and darned reliable for authentic Vietnamese. Expect all your very favourite traditional dishes done spectacularly well.
Luigi's Italian
For classic, heart-warming Italian you simply cannot pass up Luigi's. Sharing their space with Holloway Eyewear, this little bistro specialises in classic Italian dishes like polpette and carbonara as well as a whole bunch of pizzas.
Chop Chop Chang's
Covering everything from bar snacks and street food, to spicy curries and button-popping banquets, Chop Chop Chang's is your reliable stop for flavour-packed satisfaction any time of the day. Their Pan Asian offerings have never let us down and really raise the bar for fusion.
Brisbane Brewing Co.
Taking over an entire laneway off Boundary Street, Brisbane Brewing Co. elevates their brewing operation with perfect snacking accompaniments like classic pub grub and cheeseboards to go with the tides of ale.
La Macelleria
After wooing us hard from their original digs in Teneriffe, La Macelleria set their sights on West End as the location for their second gelato store. All gelato is made in-house from the freshest ingredients and using the traditional methods from Bologna, gelato's spiritual homeland. The West End store has all of La Macelleria's classic flavours, as well as a couple of changing weekly specials to keep things fresh.
Image credit: Hayley Williamson; Yaseera Moosa; Ariana Gillrie for The Urban List