By day, we flock to Woolloongabba to perk up on specialty coffee and buy industrial quantities of cheese at the delis. Come night time, Brisbane's antiquing homeland lights up with bistros, restaurants and bars flogging everything from pizza to pad Thai with some live tunes and a hell of a lot of whisky and wine thrown in.
Screw Uber Eats, put on some layers and get amongst it you couch pests. These are the best restaurants in Woolloongabba.
Electric Avenue
There's a lot going on in this quarter and it feels like every inch of space is working harder than Kris Jenner. Downstairs, Electric Avenue splits between their expansive bar offering cocktails and the best bar food you've ever had, and the pillowy bistro area serving up share plates, hearty burgers, and decadent mains for the main event. Upstairs is the secluded Jack Rabbits whisky lounge where you can settle in with a smoky nightcap and mellow in some live jazz like the prohibition-era scoundrel you wish you were.
1889 enoteca
Half restaurant, half wine cellar, 1889 enoteca is as much about the drop as it is about the dish. The focus for their wine selection is on Italian natural wines (read: low intervention), which harmonises nicely with their Roman-style menu of classic Italian dishes including pasta and stuffed zucchini flowers. They'll even go full Italian and bring you into the family fold with a three-course Sunday lunch.
Detour
This weird and wonderful contemporary bistro comes to Woolloongabba at the behest of Damon Amos, the man behind Public's most revered dishes. The same kind of innovative flair dresses the menu at Detour, which is conveniently split into two agendas catering to either omnivores or herbivores (the latter of which is also conveniently vegan). Expect Amos signatures like the Kentucky Fried Duck and fossilized carrots alongside some fresh newbies like emu tartare and gunpowder wagyu.
Pawpaw Café
Known for slammin' breakfasts on weekends, Pawpaw Café also offers pretty hectic fusion situation for dinner on Wednesday through Sunday. Stuff like pineapple fried rice, pad Thai and massaman curry are all on offer, making it the perfect pleaser for those nights when you can't decide between Indian or Thai.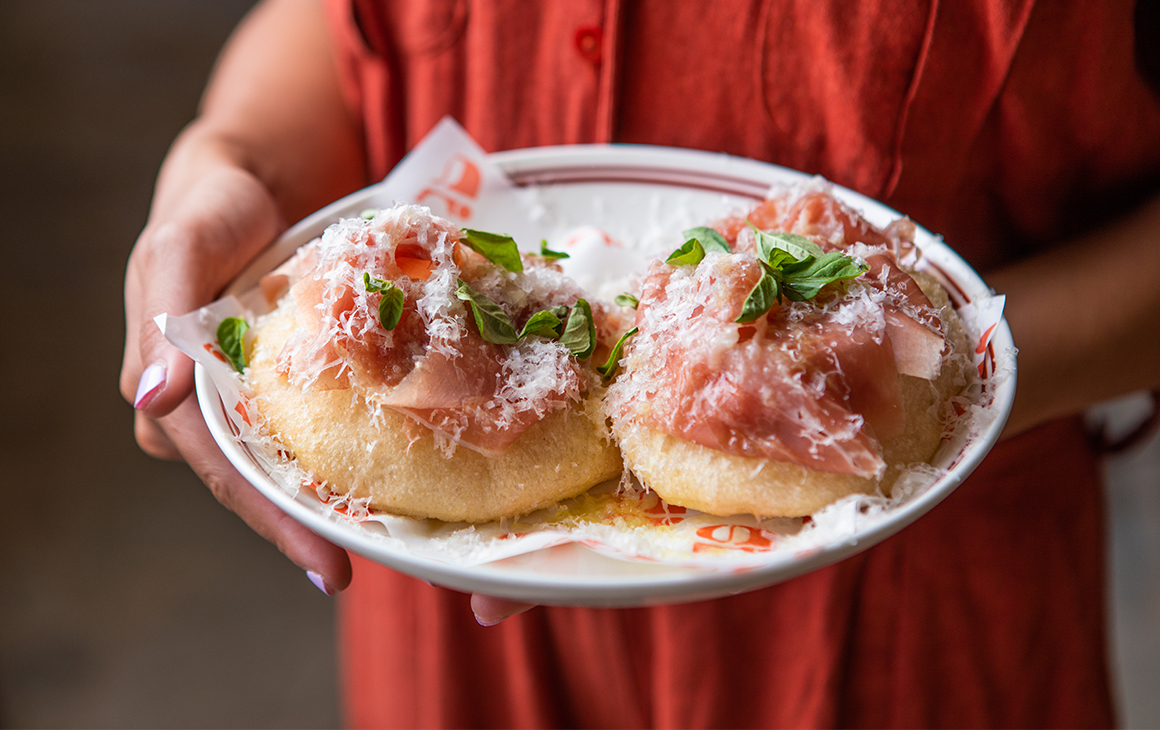 Sasso Italiano
Located in Woolloongabba's South City Square, Sasso Italiano restaurant was inspired by the lively, old-school nieghbourhood trattorias of the USA in the 70s—only with a sleek, modern upgrade. Coming out of the open plan kitchen is a lengthy line up of traditional Italian eats, from crudo and antipasti to pizza, pasta and steak. Seriously, take a big group and bags the big round table which takes pride of place in the centre of the restaurant—you'll want to try everything. And if you're a fan of negronis, there's 10 variations on the cocktail list to sample here.
C'est Bon
For a classic French bistro experience you can't pass up C'est Bon. These guys kick it old school with traditional dishes from escargots and duck a l'orange to thin and flaming Crêpes Suzette. If, like me, you nosh at the behest of a tyrannical sweet tooth, order C'est Bon's dessert degustation, which gets you three desserts and relieves the panic of indecision.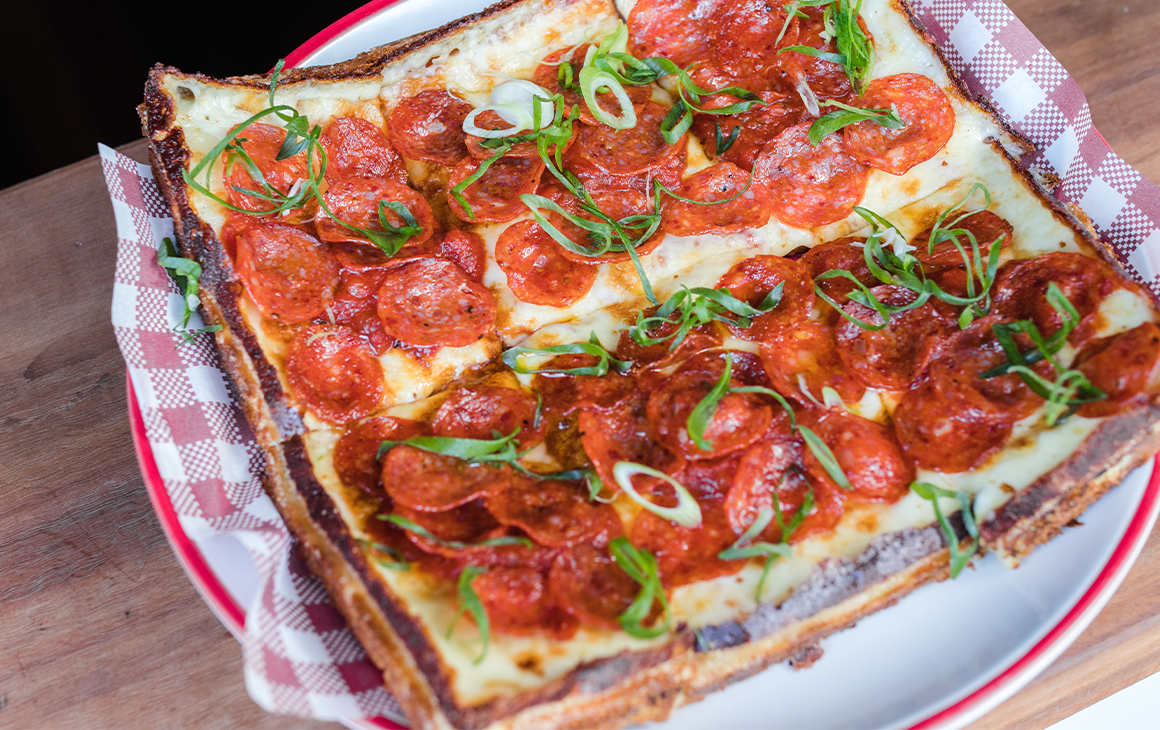 Mr Badgers
Another venue from the team behind Electric Avenue and Canvas, Mr Badgers' claim to fame is the life-sized tram taking up most of the interior—but the food is pretty damn good too. Perfect for a casual midweek dinner, quick lunch or even after work drinks, you can snack on multi level charcuterie boards, epicly crusty pizzas and share plates like wings and calamari. And we highly recommend nabbing a table inside the tram for the full Mr Badgers experience.
Frankie's Smokehouse
As you might guess from the name, low and slow cooked meats are the name of the game at Frankie's Smokehouse, and you'll find them coming hot out of the smokers five days a week. Melt-in-your-mouth brisket, pork ribs and pulled pork are best paired with coleslaw, soft bread rolls and fries for a feast worthy of the south.
Superfly Pizza
This smashing pizza operation can summarise their edict with a three-pronged credo. pizza, balls, booze And that's exactly what you'll get. Whet your appetite with some cheesy arancini balls or pork and beef meatballs and a cheeky negroni, then get stuck straight into the pizza situation. Superfly's pizzas are made on hand-stretched dough, and come with both traditional and not-so-traditional toppings, with regular specials to slice up each week.
KCS Chicken
This cosy, romantic looking spot may not look like a fried chicken joint, but after switching their focus from fine Korean fare to crispy chicken mid-2020 year in the midst of lockdown, KCS has never looked back—turns out 'Gabba locals love their fried chicken. Their tender pieces come in flavours like original, secret soy and KCS hot sauce, and the boneless fried chicken comes with a side of house made kimchi—we recommend ordering the mashed potato and wombok slaw as well.
Clarence
This modern Australian bistro is bringing some pretty special creations to its heritage location in the cute Clarence Corner, right near the Mater. With a focus on sustainably sourced produce and protein, expect super seasonal dishes like shallot tarte tatin with goats cheese, coral trout with sprouting cauliflower and almond, and dessert of pear and polenta cake with honey ice cream. Clarence does dinner Thursday–Sunday, and prix fixe lunches on the weekend.
Little G
Having moved over from their previous home in Dutton Park, Little G is well known for their rotating menu board of pizzas featuring creative toppings like nothing you've ever tasted before. We're talking the likes of Wagyu cheeseburger, Reuben, spanakopita and spaghetti and meatballs. Yes, on pizza. Keep an eye on their Facebook for specials, and pop in whenever one takes your fancy. And always get a cookie for dessert.
The Morrison Hotel
If you're bordering on hangry and looking for a winner, dinner at the Morrison Hotel cuts to the damn chase. They offer a whole bunch of quality pub grub but it's the steaks everyone gathers round. Using only high quality Australian beef, these cuts are cooked perfectly and come complete with toppers and sides. Once you're done head over to their resident Naked Whisky Bar to fulfil your Ron Swanson fantasy.
Image credit: Hayley Williamson, Judit Losh, Ranyhyn Laine