Casa Chow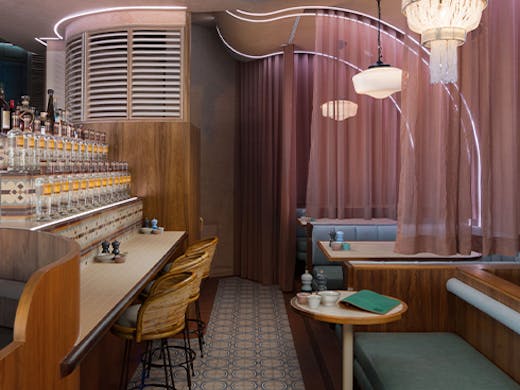 Casa Chow comes to us from the duo behind Sasso Italiano, one of 2021's standout openings and a fellow resident of up and coming foodie precinct, South City Square. Pegged as a high energy bar and restaurant, Casa Chow is as much about the drinks as it is the food, with a DJ booth to provide a backdrop of Latin beats as you wine and dine.
Plenty of effort has gone into designing the jaw-dropping venue, which features plenty of Peruvian elements like colourful wooden shutters and patterned tiles. Hidden away behind the large central bar are plush blue booths lit by mismatched chandeliers and divided by sheer pink curtains, with high tables scattered throughout the rest of the space.
You'll start your experience with drinks of course, and where Sasso Italiano focuses on Negronis, Casa Chow instead has a dedicated Pisco Sour menu, with five different variations of the South American sip to drink your way through. There's also a lengthy list of creative signature cocktails and piscos, as well as a handful of local and South American beers and wines.
Once your thirst is sated, it's time to turn your attention to the food. Starting with either the tuna or kingfish ceviche served with crispy wontons is a must, and you can't go wrong with the potato and chorizo empanadas either. On the more Cantonese side of things, the dim sum menu offers up the likes of XO crab spring rolls, crispy fish bao buns and scallop and prawn wontons, while the wok and grill section features options such as dan dan noodles, pork lo mein with fresh egg noodles and steamed market fish.
Read more about Casa Chow here.
Image credit: Supplied
---