Woolloongabba—a suburb so hard to spell, one might shy away from typing it into their GPS. But what if we gave you a good enough reason to brave all those double letters?
Lately, Woolloongabba has become a breeding ground of top-notch cafes with the vibes to match. So ditch the cricket game and grab the pals—it's brunch time and we've rounded up the best cafes Woolloongabba has to offer..
Pawpaw
A staple of Brisbane's breakfast scene for years, Pawpaw never disappoints. Their extensive and ever-changing menu of breakfast and lunch dishes leaves little else to be desired—think XO crab omelettes, mac 'n' cheese eggs benedict, Malaysian yellow curry, and pancakes with actual fairy floss on top—what else could you possibly want? And, if your answer to that was "drinks!", Pawpaw has you covered there too, with their list of breakfast cocktails, and a huge range of wines, beers, and non-alcoholic beverages.
The Baker's Arms
Charming specialty bakehouse The Baker's Arms has become a Woolloongabba staple, serving up cup after cup of delicious coffee over the years. Owned by Eugene Phua, Campos coffee co-owner, you know each boost of caffeine from this cafe has been carefully brewed to perfection. Their menu boasts eclectic dishes like lamb shawarma, bread and butter pudding, truffled mushrooms on toast, house made gnocchi, and, of course, the huge range of baked goods in their display case—there's something for everyone.
Mr Badgers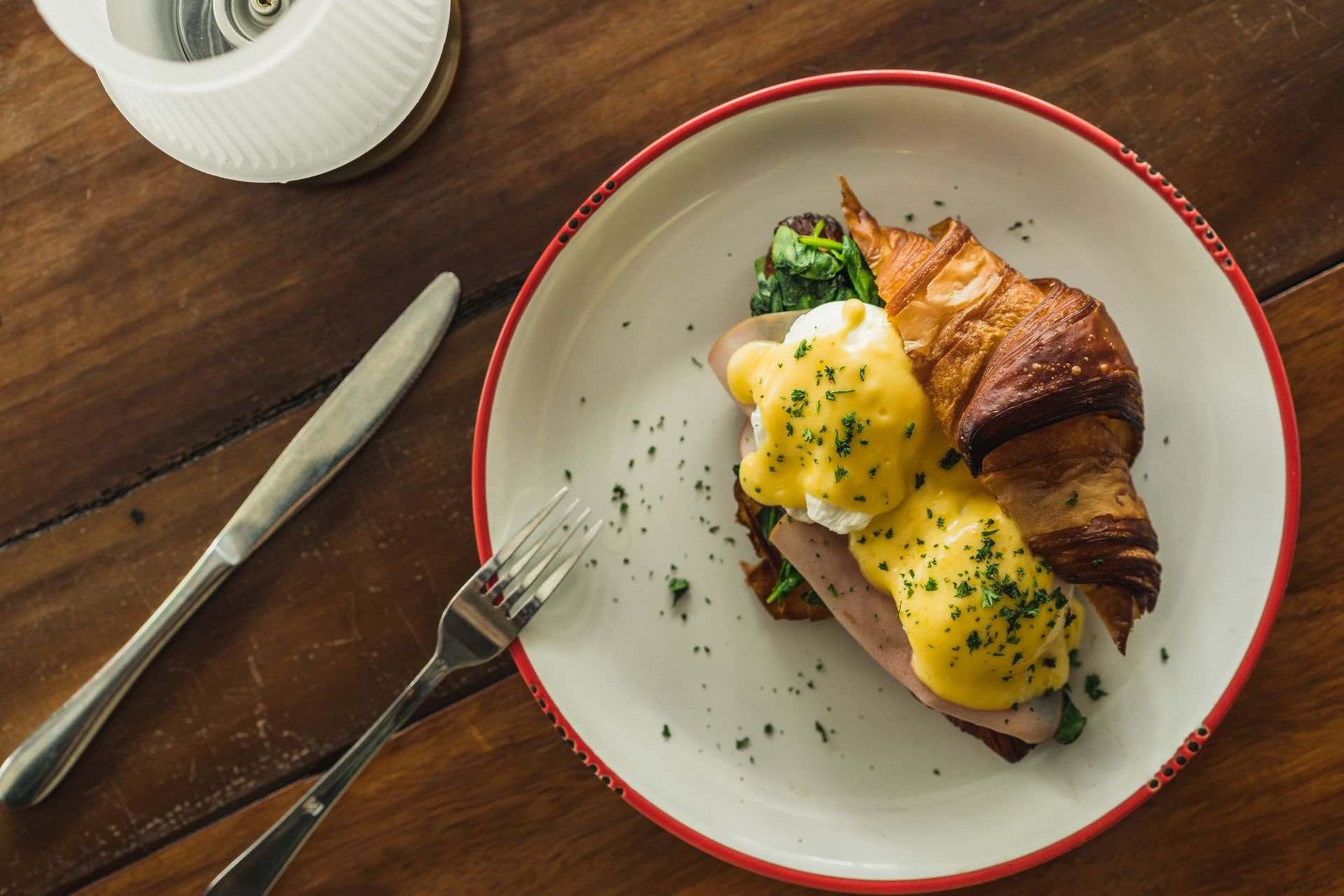 If you're fanging for a classic brunch with a side of time travel, Mr Badgers might be for you. Be taken back in time as you chomp into some homemade waffles while sitting in an old tram car. Don't worry, if waffles aren't your cup of tea, the old-timey diner has other options too, including a full spanish breakfast, coconut panna cotta, and a decent range of pizzas, bagels, and sandwiches.
Make My Day
Coffee and toasties under the light of a pink neon sign? That would definitely Make My Day—see what we did there? This sleek cafe operates under the principle of "do one thing, and do it well," and, boy, do they do their toasties well. Their menu differs day-to-day, but if you have the chance to grab their kimchi toastie, do so with both hands and a healthy dose of enthusiasm.
Brown Dog Cafe
A cute, quirky, hole-in-the-wall joint on the bustling Logan Road, Brown Dog Cafe is the perfect place to relax and watch the world go by. The decor has a simple but fun feel to it, with artwork from "Where the Wild Things Are" speckled across the walls. Grab the Brown Dog burrito, a japanese omelette, salmon bruschetta, or a peri peri chicken burger and soak up the ambience. Who knows, you might even spot a dog or two…
Neesh
Are you after a brunch with more of a kick? Neesh is the place to be. The funky cafe and bar not only offers a vast array of lunch and breakfast options, but also has a boozy bottomless brunch that you may or may not remember up for grabs. The package includes a savoury platter of fried eggs, cheese kranskys, sourdough and more, a dessert platter of sweets like crème brûlée French toast and fried crème anglaise, and all the mimosas and sparkling wine you'll need to make your stay worthwhile.
Coffee Supreme
New Zealand-based speciality coffee giant Coffee Supreme has blessed us with a cafe in our midst. With the same beans that they supply to fan favourites like Nodo and Reverends, Coffee Supreme Gibbon Street is serving up piping hot cups of sunshine—and caffeine. Fret not though, if the coffee is too bitter for your tastes, their cinnamon sugar sourdough can add some sweetness into your day.
Over the brunch scene? Check out the best restaurants in Woolloongabba here.
Image credit: Pawpaw, Mr Badger, Neesh