South Bank restaurants are really having a moment right now. Years ago, when we thought of South Bank we pictured (a lot of) tourists, Expo 88 and maybe the odd Brisbane restaurant or two.
Yet South Bank has really upped its cool-factor in the last few years. Now it not only boasts million-dollar views of our city's ever-evolving skyline but one of Brisbane's best restaurant line-ups.
From top-notch seafood on the river to the best Italian this side of the Mediterranean, to pimped-up pub fare and fine dining moments, we've put together your go-to hit list of the best South Bank restaurants.
Popolo
They've been dishing up decadent Italian fare to the the masses for over 11 years, but after a gorgeous makeover in 2022, they certainly don't look it. One of our favourite Italian restaurants in town, Popolo's menu is all about modernised versions of the classics, served in a sociable share-plate style. Take a seat under the iconic neon sign, scout out some riverside views and consider your evening sorted.
Bourbon Street
Who needs an expensive flight to New Orleans when you can just stroll over to Bourbon Street? Just like the Big Easy, Bourbon Street's menu is a delightful combination of Southern, Creole and French influences. Let's break that down for you—their menu includes chicken 'n' waffles, gumbo, jambalaya, Southern fried chicken, and, of course, sweet beignets. Live out your Princess and the Frog fantasies or your Vampire Diaries dreams, we won't judge either way.
OTTO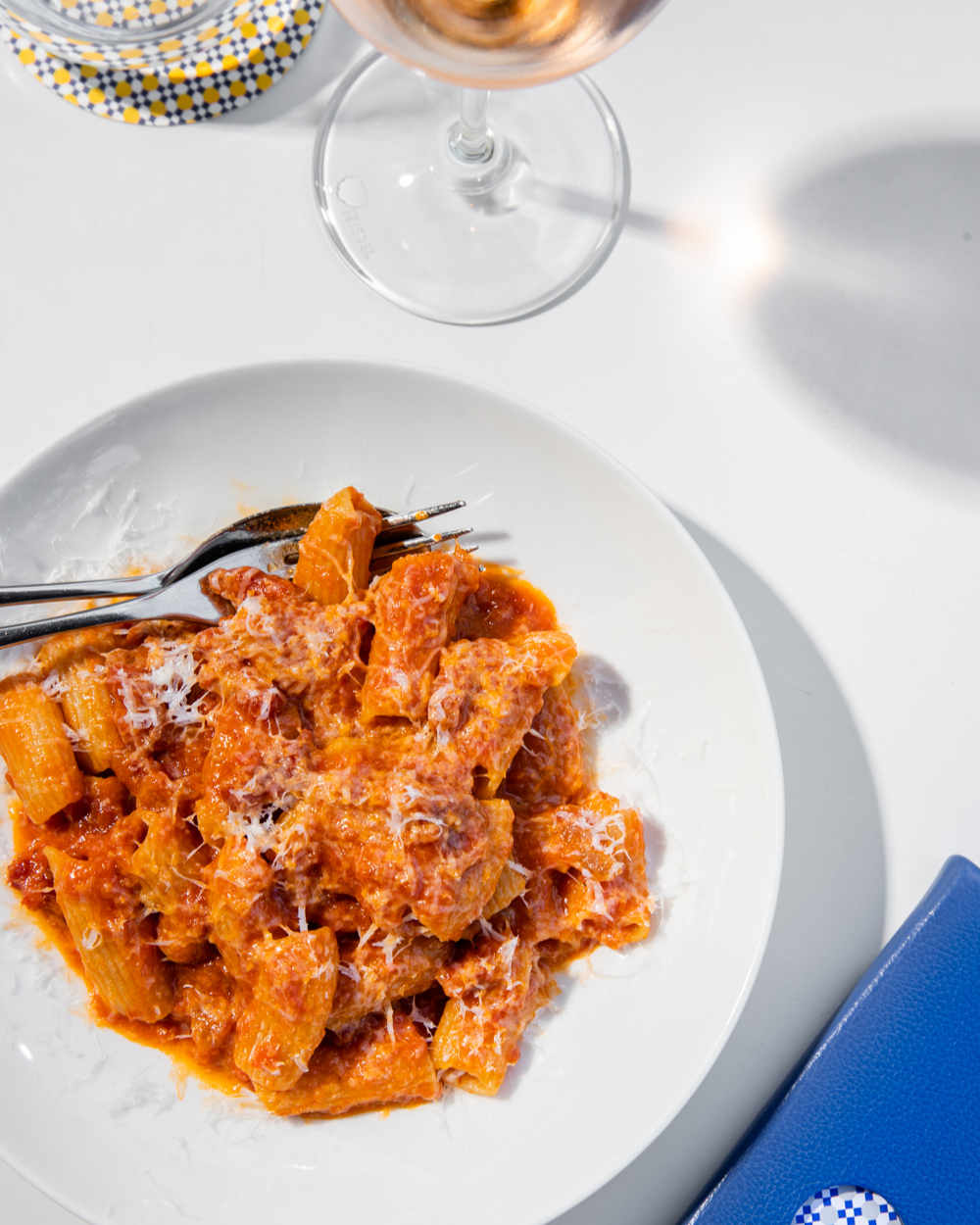 Don't know what the words "Ristorante" and "Osteria" mean? Hit up OTTO to find out. Their Osteria is a casual vibe, perfect for a sneaky snack by the river—or aperitivo al fresco if you're feeling cultured. Their Ristorante, on the other hand, is a gem to save for a glamorous date night. Head Chef Will Cowper takes Italian fine dining to a whole new level, with unashamedly simple yet classic dishes that will leave you lusting after them for days. Think champagne lobster spaghetti, marinated italian olives, and an affogato to top things off.
Vici
Wood panelling, funky light fixtures and unbeatable Italian eats? Sounds like Vici. Though the menu is ever-changing, you can expect wood-fired pizzas, fresh pasta and various antipasto. Feel free to grab a bite at any time of day, because Vici is open for breakfast, lunch and dinner. Basically, you can live there if you want—and after one taste of their food, we know you'll want.
Olé
Let's be real, it's sangria season all year round. You'll be wrapped to know that South Bank is also home to Olé, where you can get no less than six different kinds of this fruity sip, by the glass and by the jug. If you are in need of something that actually resembles sustenance, however, this is also the spot to dine on Spanish delights like seafood paella, tapas of grilled prawns, beef and pork meatballs with crusty bread and patatas bravas, and of course, sugary churros.
Embers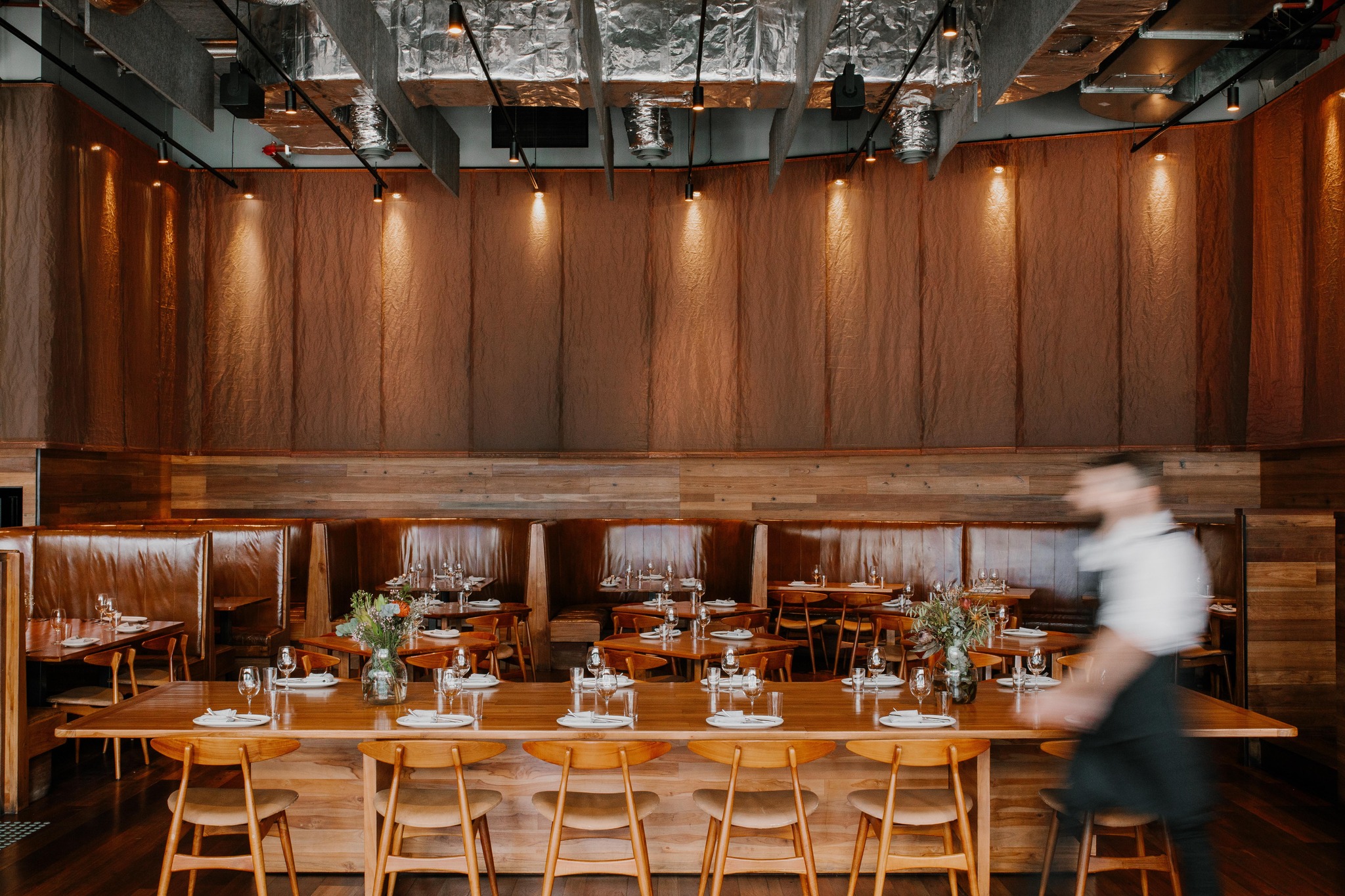 A restaurant inside a pub? Call that restaurant-ception. Actually no, we call that Embers, the fine dining joint inside The Charming Squire. Their menu, fuelled by the wood-fired grill and rotisserie, boasts dishes like dry aged sirloin with bearnaise sauce, wood-roasted lamb and hot smoked salmon. Pair that with The Charming Squire's finest grog and you've got yourself a solid night out.
Gnocchi Gnocchi Brothers
You had us at gnocchi. Australia's first official dedicated gnoccheria landed in South Bank last year and our carb-loving tastebuds couldn't be more excited. Take your pick from a serious selection of pasta goodness, featuring flavours like wild mushroom and truffle, slow cooked bolognese or pesto. Yup, we're officially drooling.
River Quay Fish
Bringing together stellar riverside views and fresh as fish, River Quay Fish is delivering some of the best modern seafood in Brisbane. We recommend taking on this one during sunset, where an array of twinkling city lights will set the mood for the evening. Pull up a chair on the patio and take your pick from their extensive craft beer list, experimental cocktail collection and moreish seafood menu.
Ma Pa Me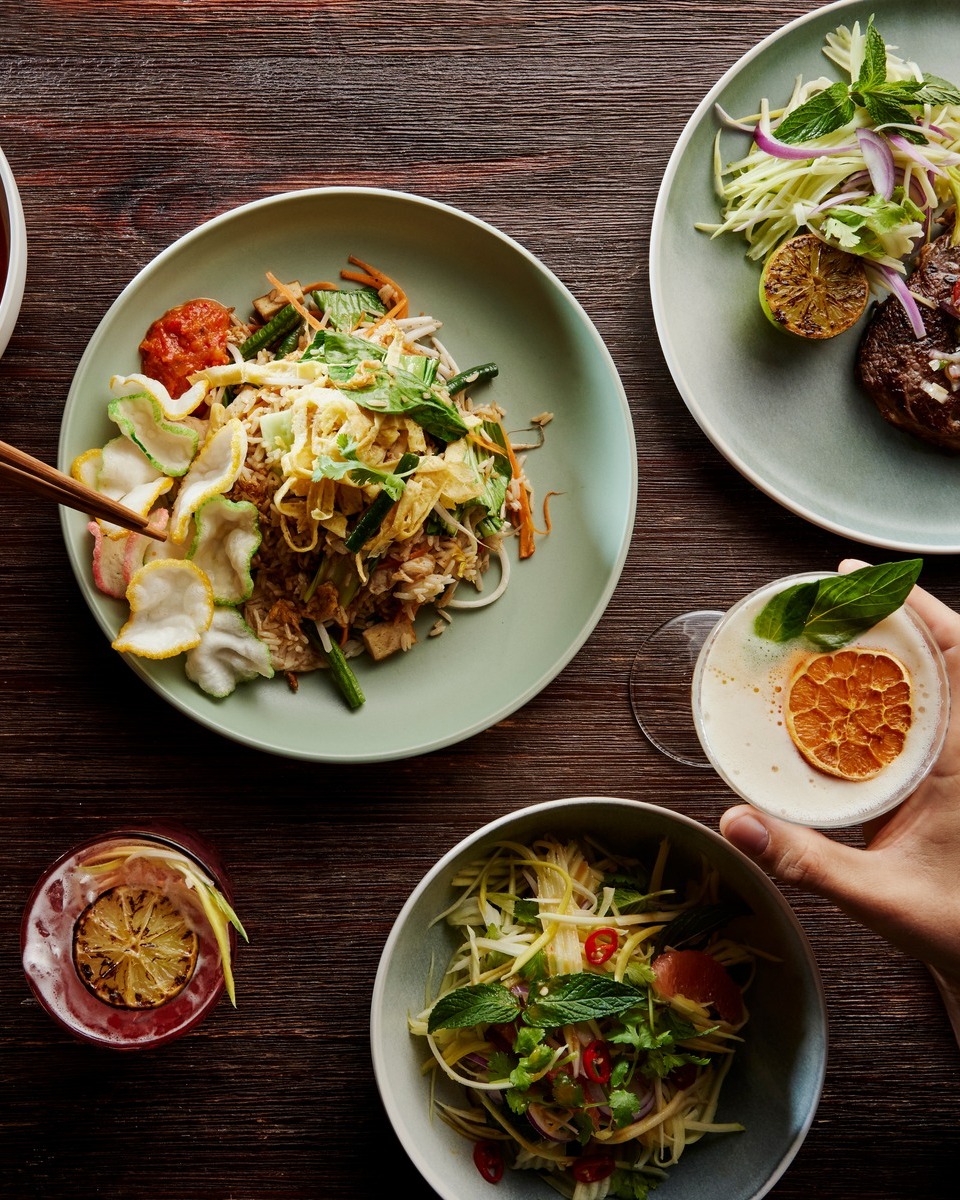 A step above a mum and pop shop comes Ma Pa Me, a restaurant inspired by Head Chef Alfan Musthafa's grandma and grandpa—hence the name. The Indonesian and South-East Asian fusion menu gives the feel and nostalgia of a home-cooked meal. Chow down on the "good son" nasi goreng, the "birthday" beef curry, or the "festival" sirloin. Spoilt for choice? Don't fret, you can always grab a banquet. There's even a vegan banquet for all you planet savers out there.
Aquitaine
For a whimsical French moment minus the expensive plane ticket, book in at Aquitaine along the waterfront. The perfect venue for that special celebration, the team here serve scrumptious South-West French-inspired cuisine. From classic to contemporary dishes, take your pick of the a-la-carte menu or go all-in with the degustation.
Hop & Pickle
Hop to it, tucked away down Little Stanley Street is an outfit offering all the comforts of pub food pimped to the max. With a menu slinging their signature deep-fried pickles (a must-try) alongside seasonal dishes and a holy-grail Sunday roast, we promise your bellies will be more than satisfied after a meal at Hop & Pickle.
Harajuku Gyoza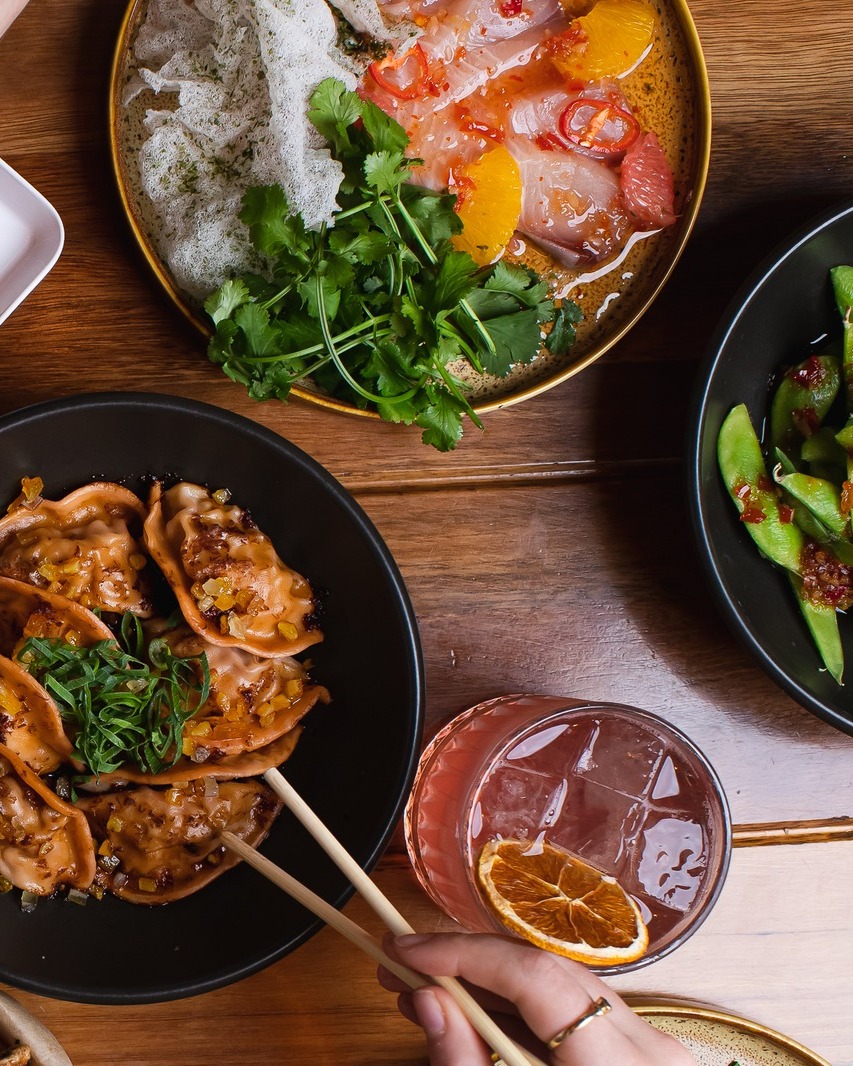 We've always valued the concept of doing one thing and doing it well—enter Harajuku Gyoza and their dumplings. Lemongrass chicken, garlic butter crab, shiitake mushroom ('scuse our french), smoked salmon, mozzarella—you name it, it's probably in a gyoza by now. And if for some unknown and crazy reason, you choose to go to Harajuku Gyoza and don't want dumplings, even though it's literally in their name, there are other options too, including various share plates and curry bowls.
Mucho Mexicano
A meal at Mucho Mexicano are what dreams are made of. Free-flowing margaritas, pitchers of sangria, hearty bowls of guac and tonnes of taco options on offer, what more could you want? Well, let's not forget to mention the stack of nachos, enchiladas and churros on the menu. Plus, they do three tacos for only $11.50 on Tuesdays—we'll see you there.
Zeus
Get around Greek street food at South Bank favourite, Zeus. Serving an array of dazzling dishes starring Australian-Hellenic flavours, you can expect everything from a selection of dips to hearty pita wraps and slow-roasted meats. Hot tip: try their latest creation the Zorba the Chip Pita, a fluffy pita stuffed with chips, tzatziki, feta and mustard mayo—you won't regret it.
El Camino Cantina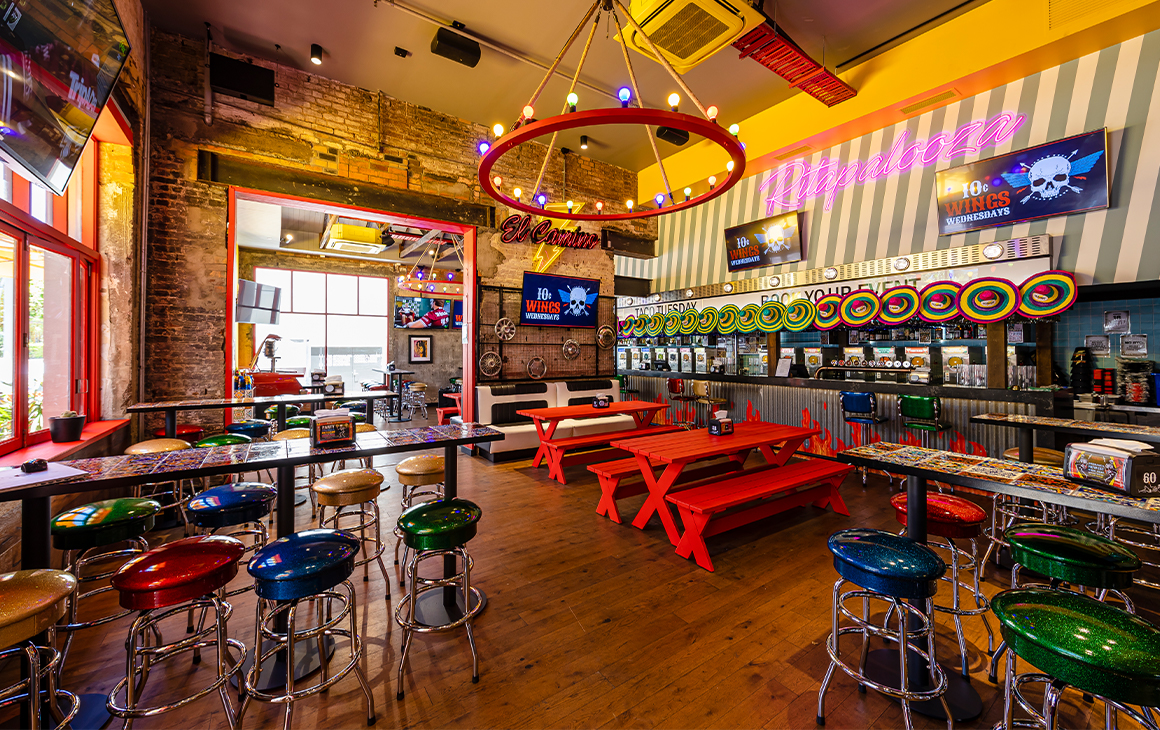 If giant frozen margs, giant colourful sombreros, and the potential for a giant hangover is what you're after, look no further than El Camino Cantina. Buckle in for a night of Tex-Mex classics: tacos, burritos, fajitas, buffalo wings, and nachos. But, much more importantly, El Camino Cantina is known for their margaritas. Strawberry, mango, and classic margs are always up for grabs, but if you play your cards right, you might just go when their Nerds-flavoured margs are on the menu.
Ahmet's
A meal at Ahmet's will easily transport you to Turkey. From the vibrant and colourful decor to the traditional menu favourites, here is where you find true, authentic Turkish food in Brisbane. Alongside abundant banquet menus, you can also expect live music and belly dancing to show up on occasion.
The Jetty
With a name like 'The Jetty' it goes without saying that this is THE seafood destination to hit up in South Brisbane. Think oysters with fresh lemon and a crisp white wine—and that's just to get you started. This is another 'make use of this top-notch view' kind of place so you won't be disappointed if you're here during the sunlight hours.
Tai Tai
Nestled amongst Grey Street is a vibrant Cantonese-style eatery serving you a flavour punch from every angle. Their tasty sharing-style menu encourages experimenting and exploration, taking your tastebuds on a journey from spicy steamed buns to moreish dim sum.
Looking for more options for South Bank restaurants? South Brisbane's best restaurants are just a hop, skip and a jump away.
Image credit: Popolo, Otto, Ma Pa Me, Harajuku Gyoza, El Camino Cantina